Store Your Luggage near Downtown Chicago
About Downtown Chicago
The Chicago Loop is enclosed by the Chicago River to the north and west, Lake Michigan to the east, and Roosevelt Road to the south. It's second only to Midtown Manhattan as the nation's largest commercial business district and boasts some of the world's tallest skyscrapers. Whereas in years past the Loop was known largely as a neighborhood for work, increasing student populations and the influx of high-rise residential towers have bolstered the demand for more dining and nightlife options in the area.
Fun fact: Indiana, Illinois, Michigan and Wisconsin can all be seen from atop the Willis Tower (also known as the Sears Tower) in Downtown Chicago.
Things to Do in Downtown Chicago
As one of Chicago's most bustling areas, the Loop has no shortage of things to see and do. We recommend taking part in at least a few—if not all—of the following experiences in Downtown Chicago:
Indulge in Chicago's famous deep-dish pizza at Lou Malnati's, Pequod's, or Giordano's
Catch a concert at the Chicago Theatre or a stage production at the Goodman Theatre, Oriental Theatre, or Cadillac Palace Theatre
Head to Daley Plaza to see an outdoor Picasso sculpture and check out the rotating schedule of cultural and foodie events
Enjoy major events at Grant Park, including the Taste of Chicago food festival in July and Lollapalooza music festival in August
Drink and dine with unbeatable views at the Willis Tower's Signature Room at the 95th
Embark on a day-long tour of Museum Campus by visiting Shedd Aquarium, Adler Planetarium, and the Field Museum
Uncover the best of Chicago's historic building designs at the Chicago Architecture Foundation and Chicago Cultural Center
Transit Options in Downtown Chicago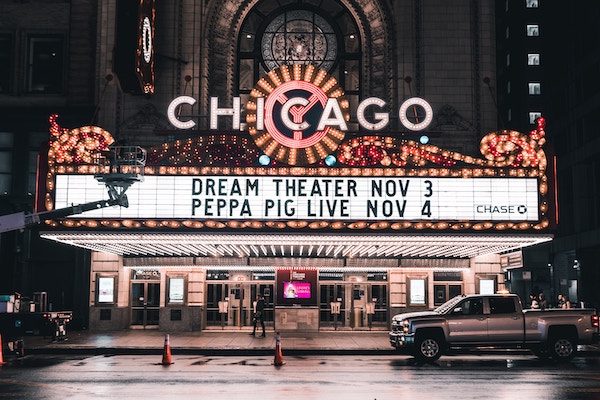 Luggage Storage near Downtown Chicago
Whether you're looking for bag storage in Chicago as a local or luggage storage as an out-of-towner, you can count on Bounce and our partners to watch over your things for a minimal daily rate in the Windy City.
Choose from our select partners below for hassle-free bag and luggage storage accessible from Downtown Chicago:
Art Institute of Chicago
The Art Institute of Chicago is consistently rated as the top arts attraction in the city. Large bags aren't permitted in the exhibitions, so drop them off with Bounce before heading to this storied art museum.
Millennium Station
Millennium Station is Chicago's third-busiest train station. Commuters will be pleased to know that Bounce bag storage in Chicago is accessible from Millennium Station.
Soldier Field
Soldier Field is a football stadium and the home field of the Chicago Bears. Given Soldier Field's limited bag allowance policy, your best bet is to store your things with a Bounce partner in Chicago before heading to the game.
Union Station
Union Station is Chicago's primary train station for intercity and commuter rail lines, serving approximately 140,000 passengers on weekdays. While luggage storage at Union Station is offered inside the terminal, Bounce is pleased to offer less expensive rates at several locations throughout the city.
O'Hare Airport (ORD)
O'Hare International Airport is the sixth-busiest airport in the world, serving upwards of 200 destinations. While luggage storage at Chicago O'Hare isn't available to passengers, you can book with Bounce for luggage storage near this Chicago airport.
Midway Airport (MDW)
Midway International Airport is Chicago's second-busiest airport. Since luggage storage at Chicago airports isn't offered, Bounce is a great option if you want to store your luggage near Midway Airport.
United Center
United Center is one of Chicago's top venues for sports and entertainment. Large bags, luggage, and other oversized items are not permitted into the arena, so book short-term storage for your things with Bounce before making your way to United Center.
How It Works
Book Online
Find the location closest to you. We have locations all around the city.
Drop Off Items
Show your booking receipt and you're good to go. Secured and insured.
Enjoy the City
Go about your day without lugging around your things.
Pricing
Simple, affordable, no hidden fees
Locations all over the city
Discounts at our partners
Reviews
What people are saying about Bounce
This was so cool!!!! Great service, extremely easy to use, and totally affordable! I didn't know where I'd leave my luggage while we explored San Fran, so I easily Googled luggage storage and found this company. At first it was a little odd dropping my bag off at a chocolate store, but the lady at the register was able to immediately pull up my reservation without any problems and then she put a lock on my suitcase and gave me a card to get it back with. She pushed the bag to the back of their s
Read more
Bounce storage is so convenient. This location is inside the Chancellor Hotel at Union Square, San Francisco. Super convenient location, close to transit, attractions. Hotel staff was professional and very pleasant. Great experience with Bounce and I will definitely use again.
Convenient to the Met, which does not allow luggage at coat check. Very easy check in and check out process, with lovely people at the front!
Can't believe I haven't used this service until now. So easy & convenient. I 100% recommend.
Bounce is the best luggage storage service provider in the New York. I sent an email at midnight , and I got an email back in 10 mins. They are not only solve my issue but also provide solutions. You have to try Bounce !!
I used Bounce during a recent trip to NYC, and I was pleasantly surprised at the ease and convenience of the process. To be honest, at first, I was very apprehensive. The thought of leaving your stuff at a random store, in a place where you are not from and you don't know whether is safe or not, it doesn't matter if anyone gives it a seal of approval, its difficult to be completely comfortable with the idea. However, I was very glad to be proven wrong. The place I chose was a great, clean bodega
Read more
Fantastic experience with Bounce! Stored a bag at the Grand Central location and on my last day at the 9/11 Memorial location. Both locations had friendly, efficient staff that were helpful and made everything very easy. Such a great option if your hotel isn't ready or you don't want the hassle of a bag in the city. Great, safe option. Thanks Bounce!
Frequently Asked Questions
Is there a maximum item size?
How do I cancel my booking?
Can I store my items for a week or a month?
Where are my items stored?
Do you offer hourly storage?
Do you have a location near X?
Are large bags more expensive?