Store Your Luggage in Downtown San Francisco
About Downtown San Francisco
San Francisco's Financial District (FiDi) is bound by Kearny Street, Washington Street, the Embarcadero, and Market Street. The neighborhood is bordered by SoMa (South of Market), Chinatown, Tenderloin, and Union Square. Downtown is home to all six of San Francisco's Fortune 500 companies, as well as a host of other corporations, real estate firms, law firms, banks, and other major businesses.
Fun fact: Downtown's Montgomery Street has one of the highest concentrations of financial, investment, and venture capital businesses in both the nation and the world at large. For this reason, it's also known as the "Wall Street of the West."
Things to Do in Downtown San Francisco
Downtown San Francisco might be known for all the hard work that takes place in the area, but it knows how it let loose and have fun, too. Check out the following attractions and experiences in the Financial District should you make it to the area:
Head to Embarcadero Plaza (formerly known as Justin Herman Plaza) for public concerts in the summer, ice skating in the winter, countdown celebrations on New Year's Eve, and the Great San Francisco Pillow Fight on Valentine's Day
Laugh it up at Punch Line, SF's oldest comedy club where legends such as Ellen Degeneres, Robin Williams, and Dana Carvey first flexed their comedic muscles
Stroll past the Transamerica Pyramid, San Francisco's version of NYC's Empire State Building and the second-tallest building in the city
Grab a bite at Tadich Grill, the city's oldest restaurant, or Wayfare Tavern for its famous fried chicken and other upscale American fare
Take your kids to the Exploratorium at Pier 15 for immersive experiences for art, science, and play
Check out the Embarcadero Center for shopping, dining, and movies
Stroll to neighboring Union Square to experience of one of San Francisco's most frequented and bustling areas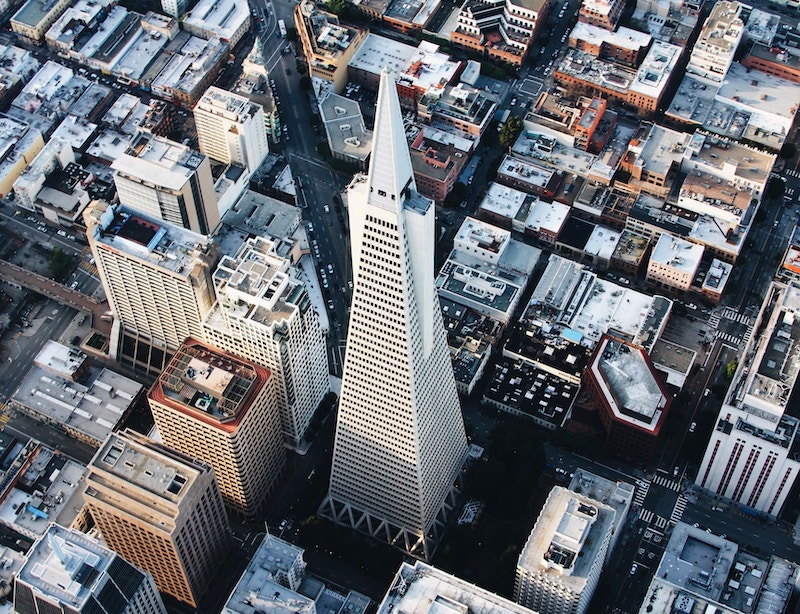 Transit Options in Downtown San Francisco
Muni F-Market streetcar
BART or Muni (J, K, L, M, N, or T) at Montgomery or Embarcadero
SFMTA cable car: California line
Caltrain: access to/from the San Francisco (Fourth and King Street) station via bus (N-Owl, T-Owl, 10, 30, 45, 81X, 82X, 91-Owl) or Muni Metro (N-Judah, T-Third Street)
San Francisco Bay Ferry via the Ferry Building
Luggage Storage in Downtown San Francisco
Want to explore San Francisco's Financial District but don't have anywhere to store your things? Bounce is here to help. Book short-term luggage storage in San Francisco's Downtown neighborhood free from worry and extra weight.
Choose from our select partners below for hassle-free bag and luggage storage in Downtown San Francisco:
BART Stations
The Bay Area Rapid Transit (BART) is a public transportation system that services San Francisco, Oakland, and the suburbs in neighboring Alameda, Contra Costa, and San Mateo counties. You can count on Bounce for bag and luggage storage near select BART stations.
Union Square
Situated in the heart of Downtown San Francisco, Union Square is one of the most concentrated commercial urban areas in the United States and is thus a major tourist attraction. From hotels and department stores to art galleries and theaters, chances are you'll find yourself in Union Square at some point of your stay in San Francisco—and a Bounce partner will be conveniently nearby to store your things.
Ferry Building
San Francisco's Ferry Building is a marketplace, office building, and terminal for for commuter ferries traveling across the San Francisco Bay. If you're traveling via ferry with bags in tow, you can count on Bounce for short-term luggage storage near the Ferry Building.
Embarcadero
The Embarcadero is the scenic roadway along the eastern waterfront of the San Francisco Bay. The most worthy waterfront views in San Francisco are adjacent to the Embarcadero, where you can find Bounce partners nearby to store your bags.
Moscone Center
The Moscone Center is the biggest convention and exhibition complex in San Francisco. If a work conference or leisure outing brings you in town to the Moscone Center, you can look to Bounce to conveniently store your bags and luggage close to the complex.
Oracle Park (AT&T Park)
Oracle Park (formerly known as AT&T Park) is home to the San Francisco Giants baseball team. If you're headed to a game or concert at Oracle Park with bags or luggage in tow, count on Bounce to book short-term storage in the area.
How It Works
Book Online
Find the location closest to you. We have locations all around the city.
Drop Off Items
Show your booking receipt and you're good to go. Secured and insured.
Enjoy the City
Go about your day without lugging around your things.
Pricing
Simple, affordable, no hidden fees
Locations all over the city
Discounts at our partners
Reviews
What people are saying about Bounce
This was so cool!!!! Great service, extremely easy to use, and totally affordable! I didn't know where I'd leave my luggage while we explored San Fran, so I easily Googled luggage storage and found this company. At first it was a little odd dropping my bag off at a chocolate store, but the lady at the register was able to immediately pull up my reservation without any problems and then she put a lock on my suitcase and gave me a card to get it back with. She pushed the bag to the back of their s
Read more
Bounce storage is so convenient. This location is inside the Chancellor Hotel at Union Square, San Francisco. Super convenient location, close to transit, attractions. Hotel staff was professional and very pleasant. Great experience with Bounce and I will definitely use again.
Convenient to the Met, which does not allow luggage at coat check. Very easy check in and check out process, with lovely people at the front!
Can't believe I haven't used this service until now. So easy & convenient. I 100% recommend.
Bounce is the best luggage storage service provider in the New York. I sent an email at midnight , and I got an email back in 10 mins. They are not only solve my issue but also provide solutions. You have to try Bounce !!
I used Bounce during a recent trip to NYC, and I was pleasantly surprised at the ease and convenience of the process. To be honest, at first, I was very apprehensive. The thought of leaving your stuff at a random store, in a place where you are not from and you don't know whether is safe or not, it doesn't matter if anyone gives it a seal of approval, its difficult to be completely comfortable with the idea. However, I was very glad to be proven wrong. The place I chose was a great, clean bodega
Read more
Fantastic experience with Bounce! Stored a bag at the Grand Central location and on my last day at the 9/11 Memorial location. Both locations had friendly, efficient staff that were helpful and made everything very easy. Such a great option if your hotel isn't ready or you don't want the hassle of a bag in the city. Great, safe option. Thanks Bounce!
Frequently Asked Questions
Is there a maximum item size?
How do I cancel my booking?
Can I store my items for a week or a month?
Where are my items stored?
Do you offer hourly storage?
Do you have a location near X?
Are large bags more expensive?