Store Your Luggage near Oakland Coliseum
About Oakland Coliseum
The Oakland-Alameda County Coliseum is located east of the San Leandro Bay in Oakland, California. The stadium first opened in September 1966. Oakland Coliseum is unique in that it's the only stadium in the country that's home to both an NFL and MLB team: Both the Oakland Raiders football team and the Oakland Athletics ("A's") have their home turf at Oakland Coliseum.
Fun fact: Oakland Coliseum has the proud distinction of hosting the most concerts by the Grateful Dead (66) between 1979 and 1995.
Things to Do at Oakland Coliseum
Given its status as home base for both Raiders and Athletics games, Oakland Coliseum is busy year round. The Oakland Raiders play their home games at the stadium throughout the NFL season, which typically lasts from early September through late December. The Athletics play their home games at Oakland Coliseum throughout the MLB season, which typically lasts from early spring through the start of autumn. Oakland Coliseum also sporadically hosts other sporting events such as professional soccer games, as well as concerts.
Transit Options at Oakland Coliseum
BART to Oakland Coliseum Station: Dublin/​Pleasanton–​Daly City, Richmond–​Warm Springs/South Fremont, Warm Springs/South Fremont–​Daly City, and Coliseum–​Oakland International Airport lines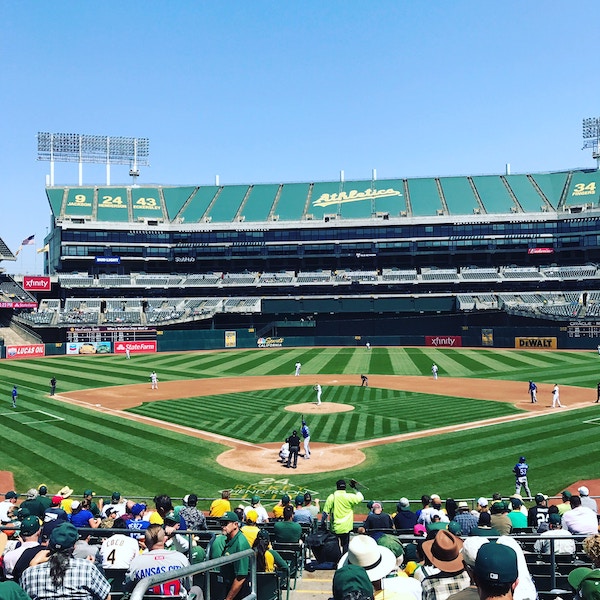 Luggage Storage near Oakland Coliseum
As per NFL regulations, Oaklands Raiders fans can only bring small clutch bags around the size of your hand. Otherwise, all personal belongings must fit inside your pockets or within a designated 12″ x 6″ x 12″ clear tote bag or a one-gallon freezer bag.
As per MLB regulations, Oakland A's game attendees are disallowed to bring bags larger than 16" x 16" x 8" past security gates. Bag check at the stadium is available at MLB games, but not NFL games.
If you're heading to a game from San Francisco via public transportation, we recommend storing your bags with a Bounce partner before making your way to Oakland Coliseum. The last thing you'll want is to have your game day ruined by not adhering to the stadium's bag policy and losing your cool or your things in the process. Furthermore, we doubt you'll want to wait in line for bag check at Oakland A's games, which is sure to be time-consuming. If you have bags or luggage with you on your way to the game, look no further than Bounce to safely store your things.
Choose from our select partners below for hassle-free bag and luggage storage accessible to Oakland Coliseum from San Francisco:
BART Stations
The Bay Area Rapid Transit (BART) is a public transportation system that services San Francisco, Oakland, and the suburbs in neighboring Alameda, Contra Costa, and San Mateo counties. You can count on Bounce for bag and luggage storage near select BART stations.
Oracle Park (AT&T Park)
Oracle Park (formerly known as AT&T Park) is home to the San Francisco Giants baseball team. If you're headed to a game or concert at Oracle Park with bags or luggage in tow, count on Bounce to book short-term storage in the area.
Downtown San Francisco
Downtown San Francisco encompasses the city's Financial District, and depending on who you ask, several other neighboring areas. Not only limited to business professionals, Downtown SF offers an array of attractions for visitors and locals alike. You can count on Bounce for safe bag and luggage storage in Downtown San Francisco.
Embarcadero
The Embarcadero is the scenic roadway along the eastern waterfront of the San Francisco Bay. The most worthy waterfront views in San Francisco are adjacent to the Embarcadero, where you can find Bounce partners nearby to store your bags.
Mission District
The Mission District, known as simply "the Mission" to locals, is a vibrant and diverse neighborhood in inland San Francisco. If you find yourself strolling the streets of the Mission, know that you can book short-term storage for your bags and luggage with Bounce.
Moscone Center
The Moscone Center is the biggest convention and exhibition complex in San Francisco. If a work conference or leisure outing brings you in town to the Moscone Center, you can look to Bounce to conveniently store your bags and luggage close to the complex.
San Francisco Airport (SFO)
San Francisco International Airport is the second busiest airport in California, and serves as a major gateway to Asia and Europe as well as destinations across North America. Luggage storage at SFO is up to six times the cost of storage with Bounce, so book with us to save your money for something special in the city.
How It Works
Book Online
Find the location closest to you. We have locations all around the city.
Drop Off Items
Show your booking receipt and you're good to go. Secured and insured.
Enjoy the City
Go about your day without lugging around your things.
Pricing
Simple, affordable, no hidden fees
Locations all over the city
Discounts at our partners
Reviews
What people are saying about Bounce
This was so cool!!!! Great service, extremely easy to use, and totally affordable! I didn't know where I'd leave my luggage while we explored San Fran, so I easily Googled luggage storage and found this company. At first it was a little odd dropping my bag off at a chocolate store, but the lady at the register was able to immediately pull up my reservation without any problems and then she put a lock on my suitcase and gave me a card to get it back with. She pushed the bag to the back of their s
Read more
Bounce storage is so convenient. This location is inside the Chancellor Hotel at Union Square, San Francisco. Super convenient location, close to transit, attractions. Hotel staff was professional and very pleasant. Great experience with Bounce and I will definitely use again.
Convenient to the Met, which does not allow luggage at coat check. Very easy check in and check out process, with lovely people at the front!
Can't believe I haven't used this service until now. So easy & convenient. I 100% recommend.
Bounce is the best luggage storage service provider in the New York. I sent an email at midnight , and I got an email back in 10 mins. They are not only solve my issue but also provide solutions. You have to try Bounce !!
I used Bounce during a recent trip to NYC, and I was pleasantly surprised at the ease and convenience of the process. To be honest, at first, I was very apprehensive. The thought of leaving your stuff at a random store, in a place where you are not from and you don't know whether is safe or not, it doesn't matter if anyone gives it a seal of approval, its difficult to be completely comfortable with the idea. However, I was very glad to be proven wrong. The place I chose was a great, clean bodega
Read more
Fantastic experience with Bounce! Stored a bag at the Grand Central location and on my last day at the 9/11 Memorial location. Both locations had friendly, efficient staff that were helpful and made everything very easy. Such a great option if your hotel isn't ready or you don't want the hassle of a bag in the city. Great, safe option. Thanks Bounce!
Frequently Asked Questions
Is there a maximum item size?
How do I cancel my booking?
Can I store my items for a week or a month?
Where are my items stored?
Do you offer hourly storage?
Do you have a location near X?
Are large bags more expensive?