About Oracle Park
Oracle Park is located in the South Beach neighborhood of San Francisco along the San Francisco Bay. It's been home to the San Francisco Giants (MLB) since 2000, and was named AT&T Park from 2006 through the end of 2018. The Giants have hosted World Series games at AT&T Park in 2002, 2010, 2012, and 2014. Matt Cain pitched the Giants' first perfect game—the 22nd in MLB history—against the Houston Astros at AT&T Park on June 13, 2012. The park has also hosted a number of concerts by leading artists including Beyoncé and Jay Z, Lady Gaga, and Metallica.

Fun fact: In October 2013, Kanye West rented out AT&T Park for his marriage proposal to now-wife, Kim Kardashian West.

Things to Do at Oracle Park
Oracle Park serves as home base for the San Francisco Giants throughout the MLB season, which lasts from early spring through mid-autumn each year. Non-baseball sporting events, concerts, and other special events and ceremonies take place at Oracle Park intermittently throughout the years. If you'd like to explore the areas neighboring Oracle Park, check out our guides to the Mission District, the Embarcadero, and more San Francisco neighborhood guides.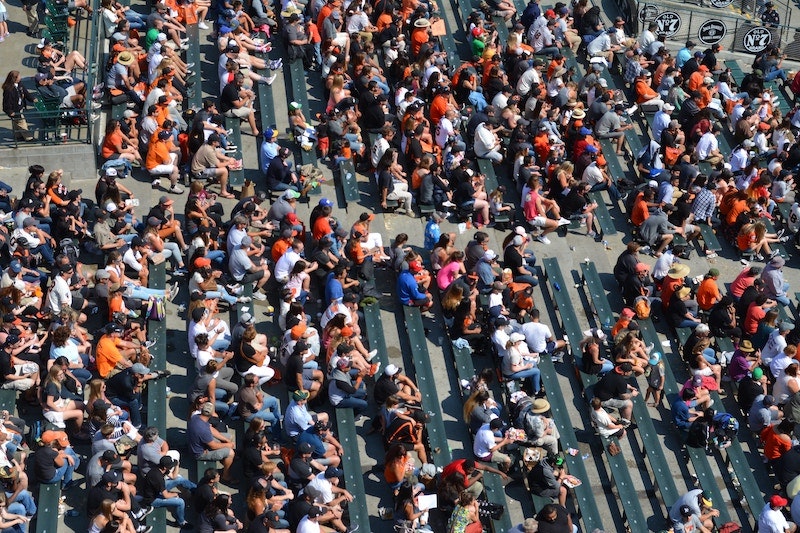 Transit Options at Oracle Park
Muni E-Embarcadero streetcar and Muni Metro (N-Judah, T-Third Street) at Second and King Street

Caltrain at San Francisco (Fourth and King Street)
Luggage Storage near Oracle Park
The Oracle Park area is known for being one of the most walkable neighborhoods in all of San Francisco. There are parks, waterfront paths, and streets that are easy to navigate on foot. However easy it is to walk around the area, it will be difficult to get anywhere when you have to carry cumbersome bags and luggage. We at Bounce believe it is better to live life light and make the most of your free time, without the burden of bags. Look for one of several Bounce partner locations near Oracle Park and spend your day hands-free. As well, Oracle Park disallows bags larger than 16" x 16" x 8" past security gates. If you have heavy bags or large luggage with you on your way to the game, look no further than Bounce to safely store your things.

Luggage Storage Options near Oracle Park
Dandyhorse San Francisco Bike Tours: If you want to see San Francisco and the Oracle Area in a fun way, consider renting a bike with Dandyhorse. Drop your bags and gear at a Bounce location and take a bike tour of the city. 

Foodie Adventures: These tours have been voted one of the best ways to see San Francisco. Enjoy all different kinds of cuisine as you eat your way through the Oracle Park area. Leave your luggage with Bounce first, so you are not held back by bags!

San Francisco Urban Adventures: If you want a guided tour that will give you a taste of the area from a locals perspective, this is the tour for you! You can't blend in with the locals if you are carrying lots of luggage, so leave those bags with Bounce before you start the tour.    

Alcatraz Island: Hop on a ferry and take a trip to this maximum-security prison. The guided tours are creepy, thrilling, and lots of fun! There is no room for excess baggage on the ferry or on the island. Drop your luggage off at a Bounce location and then start your tour. 

Anchor Brewing Company: The anchor brewing company is one of the biggest names in beer throughout San Francisco. You will want to bring your bags to a Bounce location before you head to the brewery. Then, relax and have a beer without worrying about your bags.  

Marrakech Magic Theater: Check out a live magic show that will completely amaze you. Drop off your luggage with Bounce first as space is limited inside this theater. 

The San Francisco Museum of Modern Art: This massive San Francisco museum is continuously changing and evolving with the art world. It is a place you do not want to miss! Leave your luggage with Bounce so you can easily navigate the multiple floors and exhibits. 

Museum of Ice Cream: All ice cream lovers need to stop at this incredible, new museum. There are hundreds of ice cream related exhibits providing hundreds of photo opportunities. Leave your luggage with Bounce so that you can jump in the pool of sprinkles without worrying about your bags.

Golden Gate Bridge: Take a stroll through Golden Gate Park and see one of the most iconic bridges in the world. You will enjoy your walk much more if you check your bags and parcels with Bounce first!