Bali Visitor Guide 2021: Everything you need to know
3 March, 2021
by

Bounce
Bali in Indonesia is a legendary tourist destination. This magnificent island is home to some of the world's best beaches and incredible scenery that attracts millions of tourists from around the world. A tropical paradise, it's the ideal location for water sports, sunbathing, hiking, and many other activities.

But there's more to Bali than just the beaches, as incredible as those are. Bali is also a great place to explore the unique and fascinating culture of Indonesia for yourself. This nation of over 17,000 islands is truly unique, and Bali offers the perfect place from which to explore it. Drop off your bags at a Bali luggage storage locker and immerse yourself in the vibrant culture and jaw-dropping scenery of this justifiably famous location.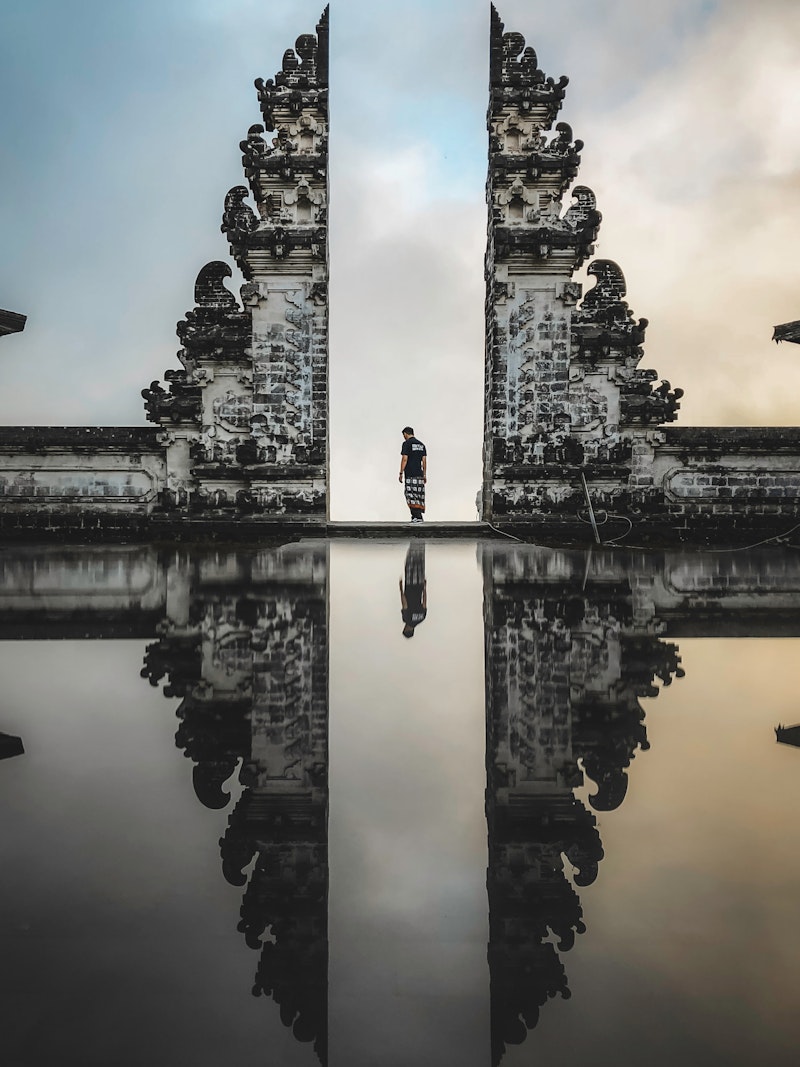 A weekend in Bali
A weekend in Bali is never going to be enough. Just seeing the best beaches of the island could take more than a couple of days, and that's before you even get started on the cultural attractions. However, if you only have a short time in Bali, you can at least see some of the most spectacular attractions.

Ulun Danu temple sits on the edge of Baratan Lake and is dedicated to the lake goddess. This striking shrine is one of the most peaceful places in Bali to visit, and is perfect for getting away from the bustle of the town and the beaches.

Ubud is the cultural center of Bali and the perfect place to see how locals live. Located among rice paddies, this fascinating region is also full of art galleries where you can dive deeper into the artistic life of the island.

You can't visit Bali and not go to the beach at least once. Everyone has their own favorite, and Bali has enough beaches that each one has its own specialty. Nusa Dua is great for families, while Seminyak is the place to party. But really, with all the gorgeous beaches Bali has, you can't go wrong.
Bali lockers
With its combination of magnificent scenery and fascinating culture, to say nothing of the incredible food, Bali has something to offer everyone. You'll be able to better enjoy what the island has if you travel light. Drop off your bags at a Bali luggage storage locker so you can explore more easily. Knowing your bags are safely looked after will be a weight off your mind as well as your back as you explore this justifiably famous locale.

Off the beaten path in Bali
With the number of tourists Bali gets, it's hard to believe you can escape the crowds. But as popular as the island is, there are still some places most tourists never reach. Drop off your bags at a Bali suitcase storage and visit some of these lesser-known areas.

Amed is a collection of villages along the coast that most people never visit. The top attraction here is snorkeling and diving thanks to the incredible visibility of the water. It's also cheaper to go diving here than most other parts of Bali, so if you're a fan of undersea exploration, it's definitely worth a visit.

If you love the outdoors, you shouldn't miss Sideman. This area is like an emerald jewel of rice paddies and tropical plants, and is the perfect place to hike among stunning waterfalls and epic mountain views. Leave the crowds at the beach and find some peace in the Balinese countryside.

Explore Menjangan Island. Home to a National Marine Park, this island is full of stunning temples and gorgeous forests where you can hike, and is surrounded by rich waters ideal for snorkeling and diving. The difficulty in reaching the island means you'll be able to escape the crowds and enjoy this paradise almost by yourself.
What to do alone in Bali
Bali is a great place to visit solo. Indonesia is remarkably safe, and Bali's popularity with international tourists means you'll always be able to find someone who speaks English. Plus, if you want to meet new friends, Bali's many international travelers means you'll never be lonely. Leave your bags at a luggage locker in Bali and enjoy your solo adventure.

Jalan Legian in Kuta is the nightlife hub of the island. You'll find an endless array of clubs, bars, live music, and just about anything else here. If you are looking to party and meet fellow travelers, there's nowhere better to do it than here.

Indonesian cuisine is a mix of various influences from across Asia. Bali is full of magnificent restaurants where you can sample local dishes, but at Bumbu Bali, you can even learn to cook them by yourself. Make a meal in the restaurant's well-equipped kitchen and then enjoy lunch with your fellow classmates.

Nourish your spirit in the sacred waters of Tirta Empul. Made famous by the movie Eat Pray Love, this temple complex has a number of pools regarded as sacred by Hindus. You don't have to be a believer to benefit from the temple's serene atmosphere and a dip in these refreshing waters.
The best souvenirs in Bali
As a legendary tourist destination, Bali has no shortage of souvenir shops. But if you're looking for something different, you can definitely find that here. For instance, you can decorate your home with a little piece of Bali from Kara Home Living, a home store that sells a variety of statues, rattan items, and other objects that simply scream Bali. Rattan bags are also popular, and Sukawati Art Market is a great place to pick them up. If you're more in the mood for a sweet treat, visit Pie Susu Enaaak, an establishment that's been making these famous Balinese pies since 1989. If you're a fan of bananas, Bali Banana sells banana cakes, cookies, and other items made from this tropical fruit.