Bangalore Visitor Guide 2021: Everything you need to know
4 February, 2021
by

Bounce
Located in sizzling southern India, Bangalore is a big city of more than ten million people. Like all of India, Bangalore is rich in culture both ancient and modern. Home to dozens of temples dedicated to some of India's many religions, Bangalore dates back to 890 at least. But despite its age, the city is emerging as a tech hub of India. Plus, its vibrant culture and reliably warm weather make it a great place to visit. More and more tourists are discovering the potential of this southern city for themselves.

Explore the ancient temples. Visit lively clubs and bars. Head out of town and see some of southern India's best natural areas. Whatever you like to do, chances are you'll find it in Bangalore. If you're ready for an adventure, you've come to the right place.

A weekend in Bangalore
As locals will probably tell you, you could spend a lifetime in Bangalore and never see it all. Partly, that's because this vibrant city keeps on changing. However, a weekend in the city will allow you to see some of its most impressive and popular attractions.

Explore Indian history at Tipu Sultan's Fort. This impressive castle-like structure was built in the sixteenth century by the Emperor of Mysore. Now, it houses a well-preserved temple and some stunning Islamic architecture. Drop off unneeded bags at a Bangalore luggage storage locker to explore this historic gem.

Bangalore isn't short on temples, but the Bull Temple is one of the most impressive. Located inside the massive Bugle Rock, this Hindu temple dates back to the sixteenth century and is famous for its elaborate carvings and historical significance.

Explore a relic of the British Raj at Bangalore Royal Palace. Built in 1878, the palace was modeled in part after Windsor Castle as a royal residence for a maharajah. Now, the palace is one of Bangalore's top tourist attractions, and an audio tour will explain more about the history and significance of the site.
Bangalore lockers
Bangalore is a busy and bustling place. The streets teem with life day and night, and you're never far from a crowd. Make things easier on yourself by dropping your heavy bags at a Bangalore bag storage. The lighter you travel, the easier you'll find it to get around. You can immerse yourself more fully in the beating heart of the city when you know your belongings will be safely looked after.

Off the beaten path in Bangalore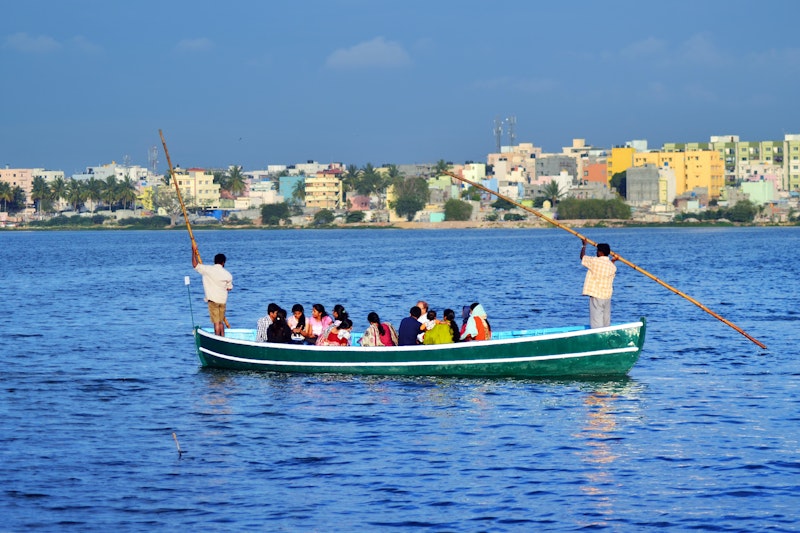 Bangalore is known for its temples and gardens, and these make fantastic places to visit. However, there's more to the city than just these tourist attractions. Drop off your bags at a Bangalore luggage locker and see another side to this fascinating city.

See one of the largest flower markets in Asia at KR market. You'll find more than just flowers here. Food, spices, utensils, and just about everything else can be purchased, but expect to haggle with the traders. If you can handle it, it's a fascinating glimpse of the real life of India.

See the modern side of India's Silicon Valley at Visvesvaraya Industrial and Technological Museum. This huge museum boasts interactive exhibits that explain India's impact on technology. Drop off heavy bags at a Bangalore bag storage and see what the future holds.

Take a relaxing boat trip on Ulsoor Lake. This urban lake is one of the jewels of Bangalore and a perfect place to relax. You can rent a boat to drift on the water or take a walk around the lake and recharge your batteries.
What to do alone in Bangalore
Often, big and busy cities are paradoxically the best places to explore by yourself. Traveling alone can make it easy to navigate Bangalore's crowds and see exactly what you want to see. Whether you're taking a solo vacation in Bangalore or traveling on business, you'll find plenty to do by yourself or with a companion.

Visit the botanical gardens of Lal Bagh. Famous for its massive greenhouse that hosts an annual flower show, this botanical garden is home to more than one thousand species of plants. The garden also contains a famous rock formation and is a great place to wander and take a break from the hectic pace of the city.

Have an adventure at Antaragange. This wilderness area outside the city contains dozens of caves and is a popular place for cave diving. Book an adventure tour to engage in some high adrenaline activities and make new friends as you explore the Indian countryside.

Take a wine tour of the Nandi Hills. India's wine industry is rapidly growing, and Bangalore's warm climate makes it a center of production. A guided tour will take you through the picturesque countryside outside Bangalore and allow you to sample the products of the local vineyards.
The best souvenirs in Bangalore
Shopping in Bangalore is an experience all by itself. For some of the best prices on products that may or may not be exactly as they appear, KR Market is hard to beat. Pick up some of the sandalwood products the area is known for or one of the silk saris that are must-have for every Indian woman. Alternatively, you could get some traditional Channapatna wooden toys from Kalaplanet and celebrate a two-hundred-year-old tradition. Coffee fans will love Gayathri Coffee Works, where you can pick up Indian Coorg coffee. Or for a sweet treat, get some Mysore Pak candy from Gundappa Sweets.