Bangkok Visitor Guide 2021: Everything you need to know
30 January, 2021
by

Bounce
Thailand's capital Bangkok is one of the world's most popular tourist destinations. Home to unique Thai culture, incredible food, and close to gorgeous scenery, Bangkok is a great place to visit for any reason. It's no wonder around 20 million people visit the city every year.

These millions of people find plenty to do in this ever-evolving metropolis. Full of incredible museums, famous nightlife, and cultural attractions, Bangkok can seem like a full-frontal assault on the senses for first-time visitors. And whether it's your first visit or your hundredth, you'll never run out of things to do in this Asian jewel. Immerse yourself in the vibrant atmosphere of this unique city and see why millions of people around the world recognize Bangkok as a wonderful place to visit.

A weekend in Bangkok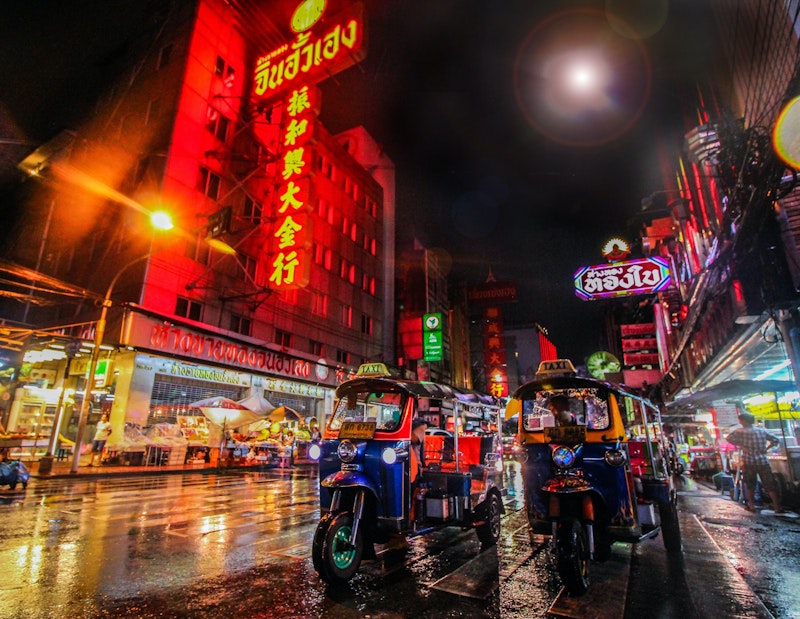 With only a couple of days in Bangkok, you'll really only be able to scratch the surface of everything the capital has to offer. On such a tight timeframe, there are certain attractions that simply can't be missed. Drop off your bags at a luggage storage service in Bangkok and get a glimpse of what the city has to offer.

See the unique architecture of the Grand Palace. Built in 1782, this imposing structure was the royal residence of Thailand's rulers. It's now home to a museum that explains the history of Thailand and houses the famous Jade Buddha. It's the perfect place to get some photos and learn a little more about the country's history.

See one of Thailand's most impressive temples at Wat Pho. The oldest temple in the city, this spiritual place is famous for its reclining Buddha, a statue so big you can only see it in sections.

Get lost among the busy stalls of Chatuchak Market. This weekend market may be the largest in the world, and you'll find just about anything you might want to buy here. You could easily spend the entire day mixing with the locals and meeting the traders while you pick out some unique gifts for people back home.
Bangkok lockers
Bangkok is a busy and lively place where you want to keep your wits about you. The frenetic pace of the city makes it a great place to explore on foot or via public transit, but you won't want to carry heavy bags with you if you can avoid it. That's why it's a good idea to drop off your belongings with a Bangkok luggage storage service. Travel light, and you'll be able to see far more of this fascinating city.

Off the beaten path in Bangkok
Bangkok is a must-see destination for millions of travelers from around the world. For that reason, as unique as the city is, it can sometimes feel overrun with foreign visitors. However, if you step away from the well-beaten tourist trail, the city still has plenty that can surprise you. Try some of these less well-known gems to see another side of Bangkok.

Lumpini Park is an oasis from the traffic and noise of the city. You can stroll the well-manicured lawns or hire a boat and explore the lake in the center of the park. Surrounded by skyscrapers, this green space is an intriguing place for photos and is perfect for some relaxation. Keep an eye out for the Asian water monitor lizards that hang out near the lake, but don't get too close.

See an airplane graveyard off Ramkhamhaeng Road. This isn't exactly a tourist attraction; instead, it's the yard where airplanes are stripped down and sold for scrap. Still, it's a fascinating place to wander and see pieces of planes in various states of being dismantled. Drop off your bags at a luggage locker in Bangkok and see this unique place for yourself.

Get creeped out at the Siriraj Medical Museum. The exhibits here, including mummified corpses and deformed organs, require a strong stomach. But for those interested in the history of medicine, this is a truly unique place to visit.
What to do alone in Bangkok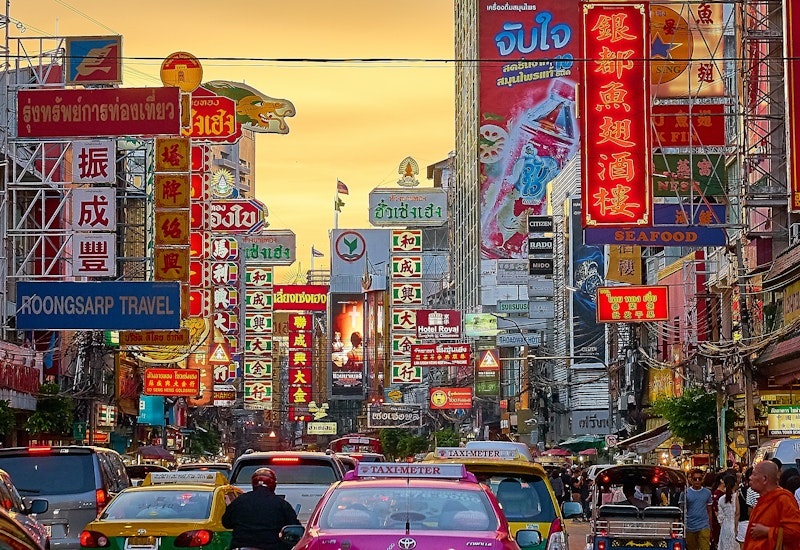 Thai people are known around the world for their friendliness and hospitality. Additionally, because it's so popular with both travelers and ex-pats, you'll find plenty of company in Bangkok if you want to. The city is so busy that you'll rarely feel alone, and traveling solo allows you to focus only on the things you truly want to do.

Everywhere you go in Bangkok, you'll find amazing street food. In fact, some of the best of what the city has to offer can be found on the heavily touristed Khao San Road. Wander from stall to stall trying some of the best Thai cuisine, or duck into one of the many bars to mix with both locals and foreigners.

Enjoy the excitement of a Muay Thai fight. This martial art, the basis of modern kickboxing, is steeped in ancient tradition and remains popular with the Thai people today. Join the crowd at a fight and cheer on the combatants like a local.

Take a cruise on the Chao Phraya River. This broad waterway winds through the city and offers spectacular views of the surrounding buildings. Try to head out on the water around sunset to see the ancient temples and modern skyscrapers light up against the sunset. Drop off your bags at a Bangkok bag storage and enjoy your boat trip.
The best souvenirs in Bangkok
Bangkok is home to many lively markets that are great places to pick up souvenirs. If you're looking for the classic gift from Thailand, a pair of baggy elephant pants are a backpacker's favorite and can be found in any souvenir shop in the city. You could also try a POY-SIAN herbal inhaler, available in convenience stores throughout the city. For something truly unique, head to Papaya vintage shop. This unusual store sells just about anything old and quirky. You'll find movie props next to vintage clothes, antique furniture, toys, and other surprising items.