Bogota Visitor Guide 2021: Everything you need to know
27 April, 2021
by

Bounce
The capital of Colombia is a prominent feature on many South American itineraries and rightly so. Bogota is found 2640 metres above sea level, making it one of the highest altitude cities in the world. This urban destination boasts true diversity, offering cultural attractions, landmarks from the colonial era, and picturesque cobbled streets. Stretching over the Andes, Bogota is home to nearly 10 million people and will leave a lasting impression on visitors. If you're looking for a city with real energy, you won't want to miss Bogota!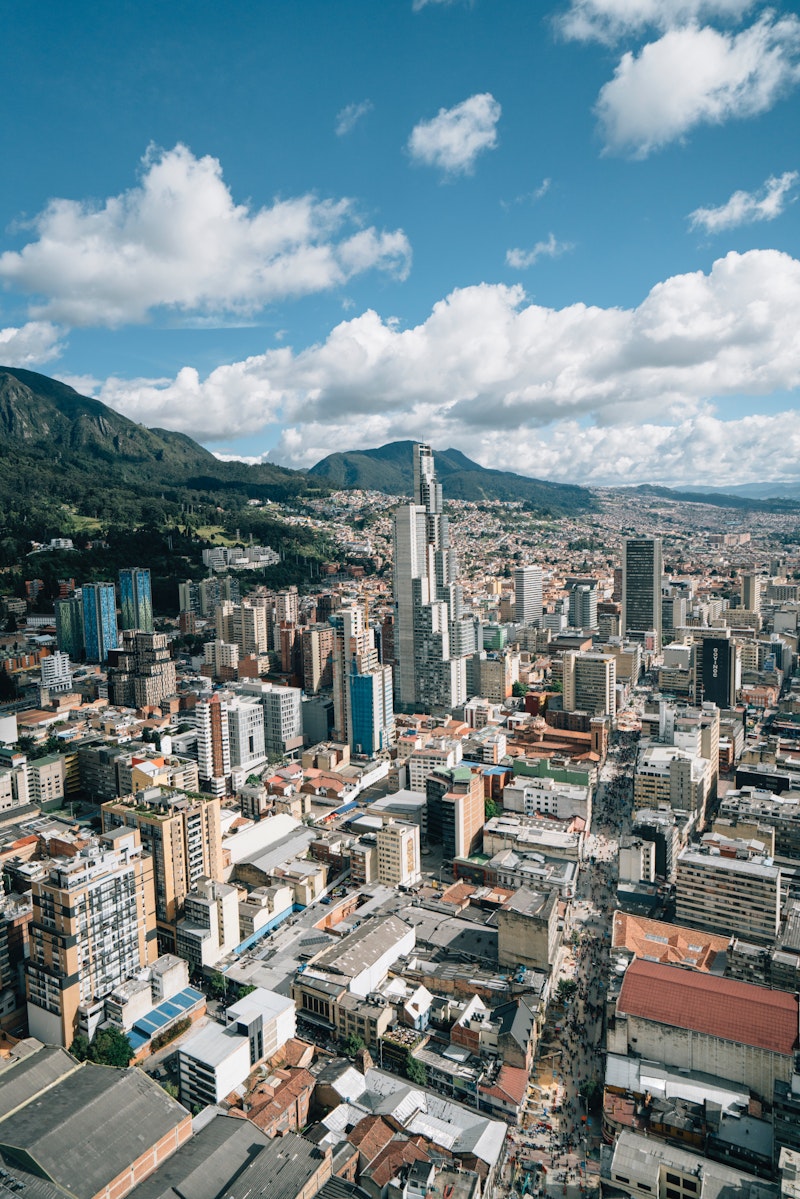 A weekend in Bogota
Bogota is the perfect weekend getaway destination as it has something for everyone. There's plenty of opportunities to get active or explore the outdoors, but also a whole range of things to do indoors if that's more your style. If you only have a short time in the city, we recommend making the most of local facilities to make your trip stress-free. For those faced with a late check-in or early check-out, use Bounce luggage storage service in Bogota. It will mean you can hit the ground running and won't waste a moment stuck with your belongings. 

Here are some of our favorite attractions in Bogota that should be included in any weekend itinerary.

La Candelaria - The charming historic center of Bogota is not to be missed. Spend some time strolling down the cobbled stone streets and admiring the colonial buildings.

Monserrate - This mountain stands over 10,000 feet tall and can be found right in the center of the city. Take the aerial tramway to the top for epic views.

Museo Botero - This museum houses an impressive international collection consisting of permanent and temporary exhibitions. 
Bogota Lockers
One of the most inconvenient aspects of travel is luggage. Whether it's getting on and off public transport or being stuck with your things on a layover, there's nothing more frustrating than dragging around heavy bags. Bounce understands this hassle and has provided a solution - flexible, affordable bag storage in Bogota! Check in items of all sizes for however long you need so you can truly enjoy your Bogota vacation.

Off the beaten path in Bogota
Bogota is an enchanting city and there's a good chance you'll find yourself wanting to explore beyond the typical tourist attractions. If you want to see a different side to Bogota, consider checking out the following sites.

Parque Jamie Duque - Located 30 minutes outside of Bogota, this attraction is as quirky as they come. The park has it all - an arcade, replicas of the 7 Wonders of the World, educational exhibits on Colombia and its history, and even a zoo! For a unique and unforgettable experience, spend an afternoon here.

Usaquen Street Market - This street market has earned an excellent reputation, so you'll want to experience it for yourself. Head here for great food, handmade products, and good vibes.

La Chorrera Waterfall - Get out of the city and visit the tallest waterfall in the country, La Chorrera. The hike is about a three-hour round trip but it's worth it!
What to do alone in Bogota
Bogota is a great destination to explore on your own. Local services like Bounce luggage storage lockers in Bogota make it easy for people to visit the city alone and take the hassle out of traveling.

Whether you are in town for business or pleasure, there's a whole range of things to see and do that are perfect for solo travelers. Here are some ideas to get you started.

Plaza de Bolivar de Bogota - This main square will help you to feel immersed in local culture. The perfect place for people watching.

Museo Nacional de Colombia - Learn all about Colombia's tumultuous history at the oldest and largest museum in the country. 

Jardin Botanico de Bogota Jose Celestino Mutis - Get some fresh air with a visit to these botanical gardens. Join a tour to learn about the gardens and local area.
The best souvenirs in Bogota
Finding the perfect souvenir can be a challenge. You want something that represents your trip but also has more meaning than a cheap keychain. Usaquen Street Market is a great place to start if you are looking for something unique. It has a range of handmade and artisan products that make excellent gifts. Artesanias Colombinas Doris Ortiz, located near Museo Botero, is another good option for unique souvenirs as well as standard items like t-shirts and mugs.