Cairo Visitor Guide 2021: Everything you need to know
6 March, 2021
by

Bounce
Egypt's capital city Cairo can be an overwhelming location to visit. This sprawling metropolis of over nine million people is the biggest city in the entire Middle East and one of the biggest in the world. An ancient meeting place of both Eastern and Western influences, Cairo is overflowing with vibrant life. Home to Egypt's top cultural institutions, Cairo is also the place to try some of the country's best restaurants.

And yet, Cairo is almost literally overshadowed by its past. Its skyline is dominated by the ancient pyramids that rise just outside the city and bring millions of visitors to Cairo every year. East meets West, past meets present, and travelers meet endless adventure in Cairo. Drop off your bags at a Cairo luggage storage service and prepare for the trip of a lifetime.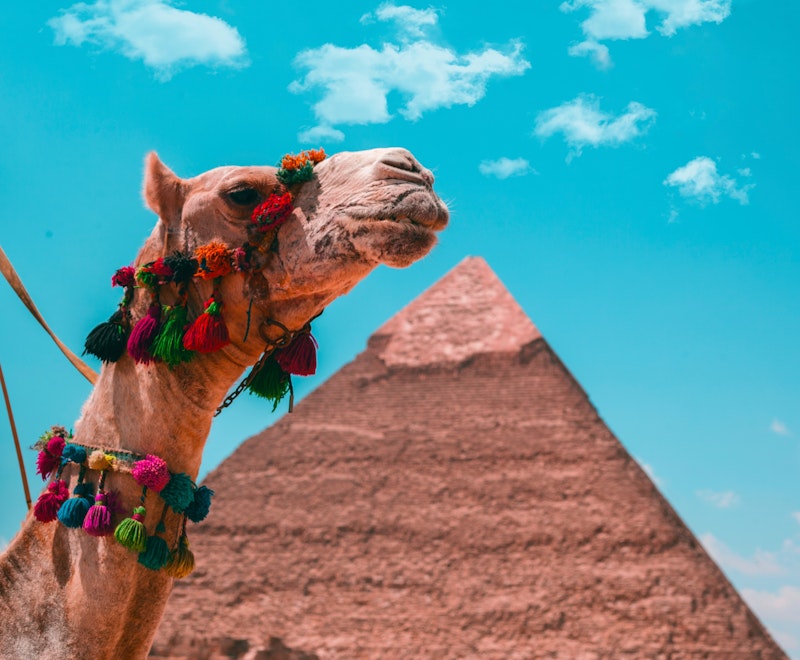 A weekend in Cairo
A weekend in Cairo is never going to be enough to see everything the city has to offer. But it will give you a chance to see some of the top attractions and perhaps start planning for your next visit. Drop off your bags at a Cairo bag storage, where they will be safely looked after while you explore.

It may be a cliché, but you can't go to Cairo and not see the pyramids. Literally; these ancient tombs can be seen from the city. But if you make the short journey out to the desert, the Great Pyramids of Giza are absolutely stunning and a true bucket-list destination.

To learn more about the pyramids and the ancient Egyptian culture that built them, visit Cairo's Egyptian Museum. One of the world's great museums, it would take years to see everything this massive collection houses. The Tutankhamen galleries are particularly stunning.

See more of Cairo's past at Al-Azhar Mosque. Built in 972, this mosque is incredibly well-preserved, and is home to one of the world's oldest universities. It remains an important religious site, so make sure to respect local customs when you visit to admire the gorgeous architecture of the mosque.
Cairo lockers
Cairo can't be summed up in one word, but if it could, that word might be overwhelming. In the best possible way. The huge population and lively street culture of the city make it a fascinating place to explore, but you'll be a lot more comfortable if you don't carry more than you need to. Drop off your bags at a Cairo suitcase storage so that you can travel light. The less you have to carry, the more you'll enjoy your time in the city. And you'll have peace of mind knowing your bags will be safely looked after until you pick them up.

Off the beaten path in Cairo
Cairo receives millions of visitors every year. Plus, its huge population can make it feel as though you're always in a crowd of one kind or another. But if you delve a little deeper into what the city has to offer, you can still find some lesser-known attractions that are well worth exploring.

Al-Azhar Park was only opened in 2005, but it's a much-needed breath of fresh air in the crowded city. This tranquil green space is the perfect place to take a stroll in the evening and enjoy sunset views of the old city.

Explore Cairo's hipster quarter on the island of Gezira. Zamalek is the city's trendiest neighborhood and is full of cafés and restaurants that are worth exploring. You can also visit the Museum of Modern Egyptian Art while you're there to learn more about the modern culture of Egypt.

The river Nile has defined Egyptian society for millennia. Visit an ancient form of river control at the Nilometer of Monastirli Palace. Built in 861, the Nilometer was used to measure the annual flooding of the river so that the rulers of Egypt could plan construction and food production in the city.
What to do alone in Cairo
Solo travel in Cairo can be thrilling. The infectious energy of the city means you'll never feel alone, and traveling solo can help you escape some of the tourist crowds. Drop off your bags at a Cairo luggage locker, and you'll be perfectly set up to enjoy your time in the city.

If you're looking for a vibrant atmosphere, you can't do much better than Khan el-Khalili. This sprawling bazaar is a labyrinth of different stalls and traders. While the main streets are devoted to tourist items, the sidestreets offer a more authentic glimpse of Egypt. Be ready to haggle and abandon all notions of personal space as you explore this intriguing area.

Explore Middle Eastern art at Cairo's Museum of Islamic Art. This institution holds one of the most important collections of Islamic art in the world, and the exhibits span centuries. Explore the history of Islamic art and culture and come away with a better understanding of what makes Egypt the way it is.

See another facet of Egyptian civilization in old Cairo. The Coptic Quarter is home to the relics of this ancient people, and also houses many of the city's Roman ruins. Check out the Coptic Museum and the Hanging Church next door to explore Christianity's history in the Middle East.
The best souvenirs in Cairo
With its sprawling markets, Cairo is a thrilling place to shop. You can pick up a plastic pyramid or Sphinx just about anywhere, but be prepared for some lengthy haggling over the price. Also, incense is a classic Egyptian item, and you can smell it almost everywhere you go in the city's markets. Khan El Khalili has a great selection. And for ancient Egyptian-themed statues and stones, check out Ashor bazaar. Handcarved wooden jewelry boxes also make a fantastic souvenir of Egypt. These elaborate boxes are as beautiful as any jewelry you could put in them, and you'll find plenty of authentic items at Al Zoghaby Bazaar.