Cancún Visitor Guide 2021: Everything you need to know
25 February, 2021
by

Bounce
You couldn't exactly call Cancún, on Mexico's legendary Mayan Riviera, undiscovered. In fact, the region is one of the most heavily touristed in Mexico. The Yucatan peninsula is home to dozens of resorts where people come to enjoy year-round sunny weather and incredible beaches in this Caribbean paradise. As a result, Cancún can seem like something of a rowdy party town overrun with foreign visitors.

But that's only part of the story. While Cancún is definitely a great place to party, there's more to this city than just foreign tourists. Dig a little deeper, and you'll find lots to like about this underrated city. Plus, of course, its legendary beaches are never far away. Drop off your unneeded bags at a Cancún luggage storage service and immerse yourself in this unique Mexican city.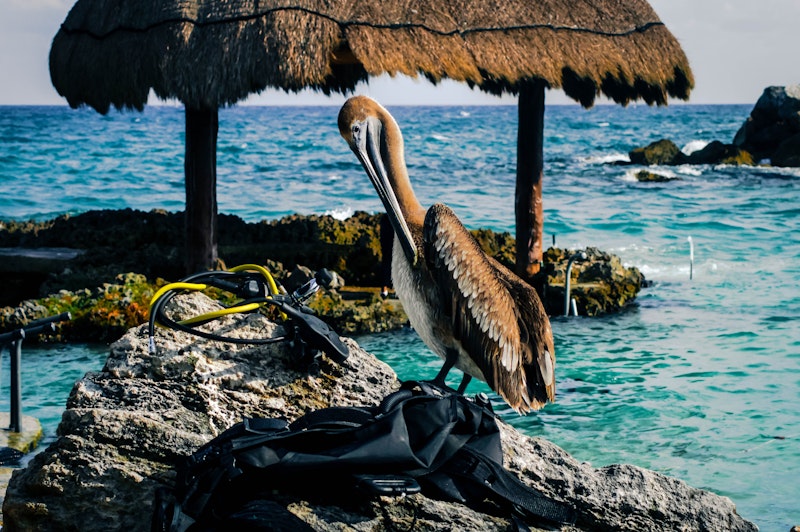 A weekend in Cancun
A weekend in Cancún will let you experience some of the best of what the town has to offer. A couple of days isn't going to exhaust everything there is to do, but it will give you a sense of what Cancún has to offer. Drop off your bags at a Cancún suitcase storage to make things easier.

Cancún isn't known as a family destination, but if you're traveling with kids, check out Parque de las Palapas. Located in the center of the city, the park offers a big playground and miniature electric cars you can rent for the kids. Plus, the palapas are stalls selling jewelry and crafts, along with delicious Mexican street food.

Get above it all at Torre Escenica. This brightly-colored tower is the highest point in low-lying Cancún, and has a rotating capsule that you climb onto at ground-level before it takes you to the top of the tower. It's a fun ride and offers incredible views of the gorgeous Yucatán coastline.

Okay, the stunning Mayan city of Chichen Itza isn't in Cancún. But it's close enough to the city that you can't visit this part of Mexico without seeing this wonder of the world for yourself. One of the most famous ancient ruins in the Americas, if not the world, this historic city is a fascinating place to explore and get a glimpse into the vanished culture of the Maya.
Cancun lockers
Cancún's warm weather makes you want to travel light. Make things easier on yourself by dropping off your unneeded belongings in a Cancún luggage locker. Bring only the essentials, and you'll have a much better time exploring this famous city. With your possessions safely looked after, you can concentrate on having fun.

Off the beaten path in Cancun
For all the foreign visitors Cancún gets, many of its best spots are relatively undiscovered. Step away from the resorts and the souvenir stalls, and you'll find plenty here that isn't overrun by crowds.

Playa Delfines is a blue flag beach that's relatively unknown to tourists. Most of Cancún's resorts have their own beaches, so this public beach is mostly used by locals. There's a roped-off swimming area and a beach bar, and the palapas are free to use when you need a break from the sun.

A 20-minute ferry ride from Cancún brings you to Isla Mujeres. This undeveloped island can be explored on foot, by bike, or on a golf cart. Full of stunning beaches and calm water that practically begs for you to swim in it, this beautiful island is a paradise not far from the city.

The Yucatan Peninsula is famous for its cenotes, or underground caves that were the main water source for the Mayan civilization. There are hundreds of these cenotes outside the city, and many of them make for great places to swim on a hot day. Regular tours take you to some of the most accessible ones so you can enjoy this unique experience.
What to do alone in Cancun
Cancún is undoubtedly a party and vacation town, and it can seem a strange place for solo travel. However, that's part of its strength. You won't find it hard to meet other people, and in a town that depends on foreign tourism, you don't need to worry about the language barrier. Drop off your bags at a Cancún luggage locker and enjoy your solo trip.

Cancún's Museo Maya is one of the best of its kind in the world. Home to some of the most impressive artifacts of the Mayan civilization, the museum is a great companion to a visit to Chichen Itza. Learn more about a fascinating lost civilization at this intriguing museum.

If you're looking to mingle with the crowds, don't miss Coco Bongo. Combining a huge nightclub with an impressive live show, Coco Bongo brings a little bit of Las Vegas to the Mayan Riviera. This place can get very crowded, but that's part of the fun. It's the perfect place to meet others and enjoy the hedonistic nightlife of Cancún.

Explore Mexico's vibrant aquatic life on a snorkeling tour. Even if you've never tried this sport before, knowledgeable guides will help you get used to the strange feeling of breathing with your face in the water. It's a perfect way to see some of Cancún's ocean life, including sea turtles, stingrays, and an infinite variety of colorful fish.
The best souvenirs in Cancun
Cancún fully embraces tourism, and so you won't struggle to find souvenir stores wherever you go. If you want to do some serious shopping, though, head to La Isla shopping village. This artificial island is home to a huge mall where you can find both Mexican brands and familiar international names. However, if you're after something with more of a local flair, visit Mercado Ki Huic for local handicrafts. But be prepared to haggle if you don't want to end up paying too much. You could also bring home a bottle of Xtabentun, a liquor invented by the Mayans and offered to their sacrificial victims.