Florence Visitor Guide 2021: Everything you need to know
11 February, 2021
by

Bounce
Florence is a romantic city that is a popular stop on any Italian itinerary. With its iconic Duomo, exceptional art, and the picturesque Arno River running through the city, it's hard not to fall in love with Florence from the moment you arrive. It's the perfect place to experience all of the best Italy has to offer–delicious food, friendly people, and charming, cobblestoned streets. 

Florence truly is a city that has something for everyone. With an endless array of quaint cafes and exquisite restaurants, there's no shortage of spots for foodies to try out some authentic pizza and pasta dishes. There are various museums and art galleries for the culture lover, with no Florence trip complete without a visit to the famous 'David' sculpture at Uffizi Gallery. For those seeking a more relaxed experience, pack a picnic or grab a gelato and stroll around the gorgeous streets to simply soak up the atmosphere. 

A weekend in Florence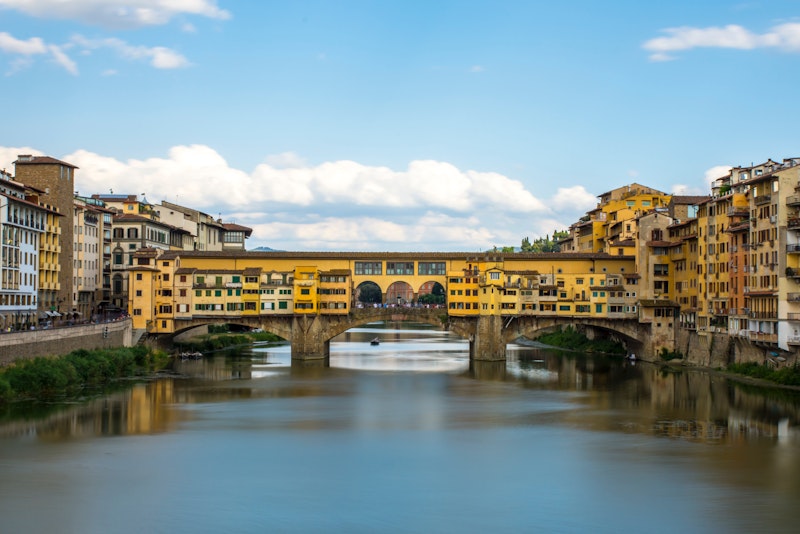 There's no shortage of things to see and do in Florence. In fact, you could stay there for months and still not see it all! That being said, you can still get a good taste of the city in a short amount of time if you add these popular attractions to your weekend getaway.

Uffizi Gallery: Florence is known for its art and no gallery is more popular than Uffizi. This is due in part to the fact it is home to the iconic 'David' statue, however there are many other masterpieces that are also worth seeing!

Duomo: This building is the most familiar Florence icon. Standing tall with its recognizable red roof and circular architecture, this stunning cathedral should absolutely make it onto your itinerary.

Ponto Vecchio: This popular bridge is lined with shops and offers stunning views over the river. It doesn't get much more romantic than this. If you happen to make some purchases while in the area, drop your bags at a Bounce luggage storage locker in Florence so that you continue exploring.
Florence Lockers
One of the most inconvenient aspects of travel is dealing with luggage. Nobody wants to be stuck with their bags, wasting precious vacation time, simply because they have a late check-in or early check-out! Book a luggage storage locker in Florence so you can leave your bags and continue your adventure.

Off the beaten path in Florence
Florence is full of popular attractions, but it also has a treasure-chest of hidden secrets. If you're willing to explore a little farther away from the city center, you'll be rewarded with stunning views, charming restaurants, and a whole different side of Florence.

Michelangelo lookout: Looking for a great view over the city? Head to Michelangelo lookout. It is possible to drive, but the walk up the stairs is a great way to get active and see even more of Florence. Get there early if you're visiting at sunset during summer, to make sure you get a good spot.

Oltrarno: Translating to 'across the Arno', the Florence region of Oltrarno is literally on the other side of the river. While few venture outside of the city center, those who do will not regret it. Take a stroll across one of the bridges to experience an authentic side of Florence. Make sure to grab a coffee or get a meal in one of the cozy restaurants.

Porta Romana: This historic site is a 13th-century gateway across the river. The area is definitely worth exploring, with plenty of photo opportunities and a park that makes a great spot for a picnic.
What to do alone in Florence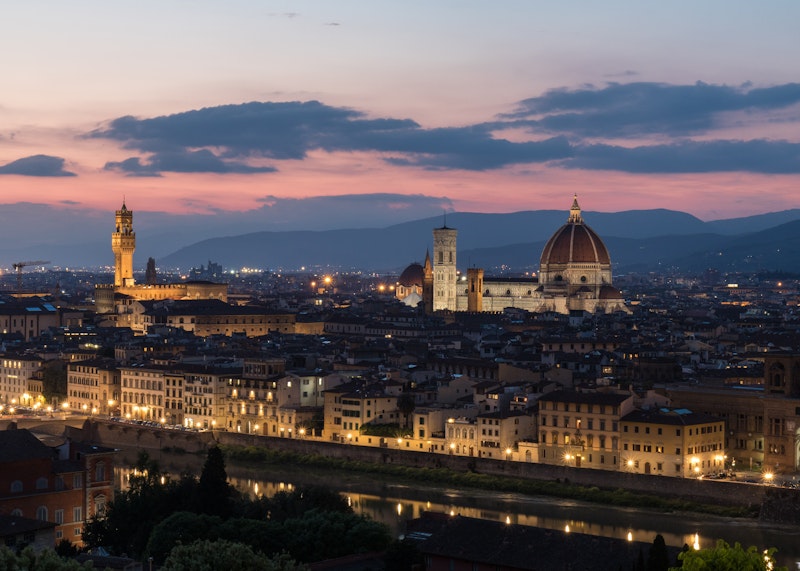 Florence is a great location for solo travelers, whether you're in town on a business trip or simply for leisure. If you're wondering what to do alone in this city, consider adding these items to your itinerary.

Visit the Piazza del Duomo: If you're looking to meet people, or simply do some people watching, there is no better place than Piazza del Duomo. With a variety of bars and restaurants, it's easy to grab a seat and make some new friends.

Get lost in the narrow streets: An afternoon in Florence can very easily be filled by simply strolling the streets and soaking up the fabulous Italian charm.

Join a cooking class: If you want some company on your trip, attend a cooking class. You can't beat Italian cuisine!
The best souvenirs in Florence
The Florence markets are some of the best spots to pick up some souvenirs. The city is known for its leather products and bags and belts make great gift ideas, or there's a range of artisan items and local produce that are also great choices. Head to Mercato Nuovo, Mercato Centrale or San Lorenzo Outdoor Market for all your souvenir needs. Once you've got everything you need, drop your bags at a Bounce luggage locker in Florence to save you carrying them around.