Hobart Visitor Guide 2021: Everything you need to know
9 February, 2021
by

Bounce
Australia's island state, Tasmania, is a place unlike anywhere else. With a distinct climate and ecology, Tasmania can feel almost like another country at times. But Tasmania and its capital Hobart are as Australian as they come. Hobart is the second oldest capital in Australia and is home to some of the country's oldest institutions.

First founded as a penal colony in the nineteenth century, Hobart occupies an important place in the history of Australia. But the city also offers stunning natural surroundings, including Mount Wellington, which dominates the city. Hobart is the perfect place to begin your exploration of Tasmania and see a lesser-known side of Australia. Drop off your bags at a Hobart bag storage and see the city for yourself.

A weekend in Hobart
A single weekend isn't going to exhaust all the options for things to do in Hobart, but it will give you a taste of what the city and Tasmania, in general, have to offer. Combining both historical attractions and natural splendor, you'll find more than enough to keep you busy over a weekend in Hobart.

Looming over the city, Mount Wellington is more or less a must-visit while you're in Hobart. Over 4,000 feet tall, the mountain is protected by a vast natural park, and the views from the top are stunning. A road lets you drive to the top, but you can also make the journey on foot if you're feeling adventurous.

See where Hobart got started at Sullivans Cove. The site of the first European landings, this area is now the city's main dock. Explore the old piers and enjoy the many cafés and pubs along the waterfront. You'll also find excellent seafood in this area.

Step back in time at Cascades Female Factory. This formal workhouse for female convicts was established in 1828. Located a couple of miles outside Hobart, this is the only facility of its kind remaining in Australia, and is worth visiting to see what life was like for the prisoners who became the first non-aboriginal residents of Australia.
Hobart lockers
Hobart is a great place to explore on foot. With many charming neighborhoods and a wealth of museums and historical attractions, being a pedestrian is one of the best ways to see the city. Make things easier on yourself by dropping off any unneeded bags at a Hobart luggage storage locker. That way, you can travel light and see more of this fascinating city.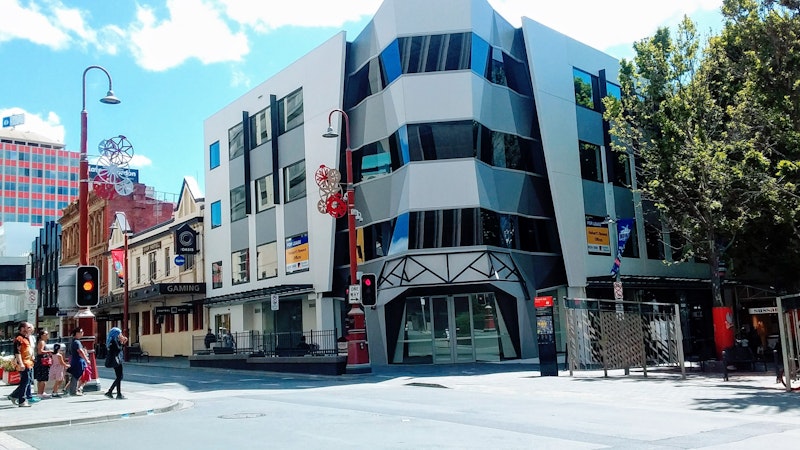 Off the beaten path in Hobart
The must-see attractions are all very well. You can't really visit Hobart without heading up the mountain or visiting the museums. But once that's done, there's lots more to the city than meets the eye. Drop off your bags at a Hobart suitcase storage facility and explore some of these lesser-known attractions.

See a rainforest without leaving the city at the head office of Forestry Tasmania. This government department houses a glass-domed greenhouse full of trees from the Tasmanian rainforest.

Delve into the spookier side of history with a penitentiary ghost tour. Hobart's history as a penal colony makes it an ideal place for ghost hunting, and these entertaining tours will take you through the penitentiary chapel and tell you some of the most chilling stories of the city's past.

Visit a unique fortification at Taroona Shot Tower. Located just outside Hobart, this circular tower is the only one of its type left in the world. 
What to do alone in Hobart
Hobart is an excellent city to explore by yourself. Laid-back Australian hospitality will make you feel welcome, and there's plenty to do here whether you travel by yourself or with someone else. Drop off your bags with a Hobart luggage storage service and explore the city alone.

Explore the state-of-the-art Museum of Old and New Art. Based around the extensive collection of a professional gambler, MONA is carved into a series of cliffs. As the name implies, it combines ancient Egyptian artifacts with cutting edge art from the modern era.

Explore one of Australia's best markets at Salamanca Place. Salamanca market is the perfect place to pick up local produce, handicrafts, and other items, and it lets you soak up the most vibrant atmosphere in the city.

The Tasmanian Museum and Art Gallery was founded by the Royal Society of Tasmania, the first Royal Society established outside of the UK. Dating back to 1848, the museum's collection covers fine art, zoology, geology, and the history of the island.
The best souvenirs in Hobart
If you're looking for something shiny to bring home, you should be aware that Australia produces 95 percent of the world's opals. These colorful gemstones make great gifts and jewelry, and you can find a good selection at Mawson Sheepskin and Opals. For something a little more eclectic, Salamanca market is the perfect place to pick up local produce and handicrafts that you won't find anywhere else. Or if you're a fisherman, head to Wigston's and pick up a truly unique Tasmanian devil fishing lure.