New York City Visitor Guide 2021: Everything you need to know
20 January, 2021
by

Bounce
Worldwide, there are a handful of cities that stand above all the rest. Huge cosmopolitan metropolises that seem to contain an entire world all of their own. Even among these cities, New York stands out. Sometimes described as the capital of the world, the Big Apple is unlike anywhere else on the planet.

Located in New York State on the East Coast of the United States, New York has been the gateway to America for centuries. Millions of people have come from around the world to settle or to pass through in the hope of a new life. It's a process that continues today. A capital of finance, culture, and art, New York is home to the United Nations and several other multinational organizations. Whether you're one of the millions who come to the city on vacation or for business, or even if you live in this fabled town, you'll never run out of things to do in the city that never sleeps.

A weekend in New York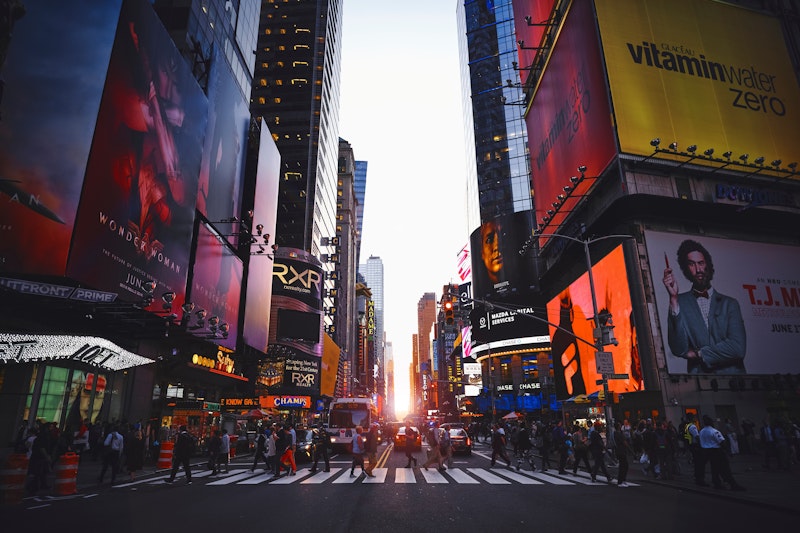 A couple of days really isn't enough to get to grips with a city this big and vibrant. Then again, a whole lifetime might not be enough either. Whether you find yourself with some time on your hands on a business trip or only have a few days to vacation in New York, there's so much to see and do it can be overwhelming. Here's some ideas to get you started.

Lose yourself in the impressive halls of the American Museum of Natural History. This Upper West Side institution never fails to delight kids with its hall of dinosaurs, but there are thousands of fascinating exhibits on display here. Spend a rainy day exploring, and you'll come away with a better understanding of the intricacy and beauty of the world we live in.

New York is a world capital of fashion, and the high-end brand names of the Upper East Side are a shopaholic's dream come true. But if you're looking for something a little more unique, head to the Lower East Side and explore the boutiques and vintage stores where real New York fashionistas hunt for bargains.

Sample some of the best cuisine in the city at Chelsea Market. The indoor food court at this vibrant market offers food from around the world, all of it enhanced by New York flair. Some of the hottest up-and-coming chefs in the country can be found here, so drop off your heavy bags at a New York luggage storage shop and bring your appetite.
New York lockers
One of the best things to do in New York is to simply take a walk through one of its many fascinating neighborhoods. Plus, the world-famous subway system makes it easy to get from one area of this huge city to the next. But whether you're traveling on vacation or for business, or whether you live in the city and just need a place to stash your bags while you're on the move, you'll find it easier to get around if you don't carry more than you need to. Store your belongings at a New York luggage storage service and get on with enjoying the city.

Off the beaten path in New York
New York is a city full of famous attractions like the Empire State Building, the 9/11 Memorial, Central Park, and the Statue of Liberty. If it's your first time in New York, you'll want to see them all. But once you get off the classic tourist trail, you can get a deeper understanding of this most complex of cities at some of the lesser-known spots.

Whisper sweet nothings to a partner in the Whispering Gallery. Located in New York's Grand Central Station close to the oyster bar, this unique location is an acoustic marvel. Stand under one of the arches, and anything you whisper will be carried up across the dome ceiling and down to the opposite arch. It makes for a slightly unnerving but truly incredible experience.

Visit a secret garden in the heart of the city at the Rockefeller Center. The rooftop gardens offer stunning views of St. Patrick's Cathedral and are a green oasis right in the heart of the city.

Go underground at the Old City Hall subway station. Accessible only by guided tour, the station was closed in 1945 and hasn't changed since. Wandering through this echoing subterranean space is like taking a trip back in time. Drop off your bags at a New York suitcase storage and see this haunting place for yourself.
What to do alone in New York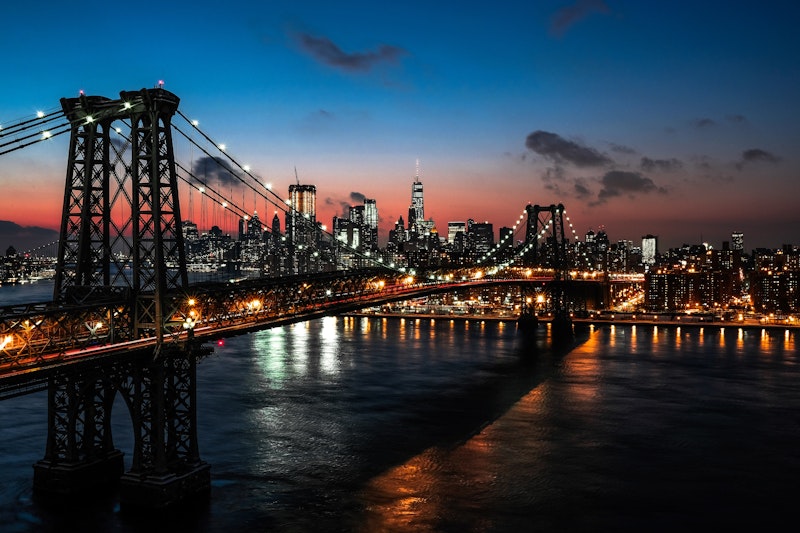 As paradoxical as it may seem, busy cities are often the best places to explore by yourself. And they don't come much busier than New York. Traveling by yourself allows you to pick and choose exactly what you want to do, and whatever you're into, you'll find it here.

New York has a restaurant scene that's second to none, and dining alone can often get you a spot where a large group would struggle. If you're willing to eat at the bar, you may be able to visit legendary eateries like Balthazar or Gramercy Tavern, where some seats are first-come first-served.

Explore the unique street life in Greenwich Village. Pop in and out of quirky bookstores, record shops, restaurants, and anywhere else that strikes your fancy as you wander this lively area. In a place so vibrant, you'll never feel alone.

See more of the city on a bike tour. Small group bike tours can help you safely navigate the city streets, and the guide will fill you in on what you're seeing. It's a great way to meet fellow travelers and explore the city together. Just make sure to drop off your bags at a New York bag storage shop before you head out on two wheels.
The best souvenirs in New York
In a city known for shopping, there's no need to go home empty-handed. Sure, you could pick up a miniature Statue of Liberty or an iconic I Love New York T-shirt from just about any bodega or souvenir store in town. But if you're after something a little more impressive, check out the jewelry made from old subway tokens you can get at Grand Central Station. Or head to Junior's Cheesecake and pick up a box of black and white cookies that have been a popular New York treat for over a century.