Niagara Falls Visitor Guide 2021: Everything you need to know
3 March, 2021
by

Bounce
Straddling the border between the United States and Canada, Niagara Falls is one of the world's most iconic natural wonders. Located on the Niagara River, the three separate waterfalls combine to make the largest waterfall in all of North America. No matter how many pictures or videos you've seen, nothing does justice to the sight and sound of this majestic natural phenomenon.

Niagara Falls has capitalized on its tourist appeal, and there's plenty of attractions on both sides of the border to keep you occupied. Once you've seen the waterfall itself, you'll find many other attractions to keep you busy. Drop off your bags at a Niagara Falls suitcase storage and prepare for a vacation that combines some of the best of what both Canada and the US have to offer.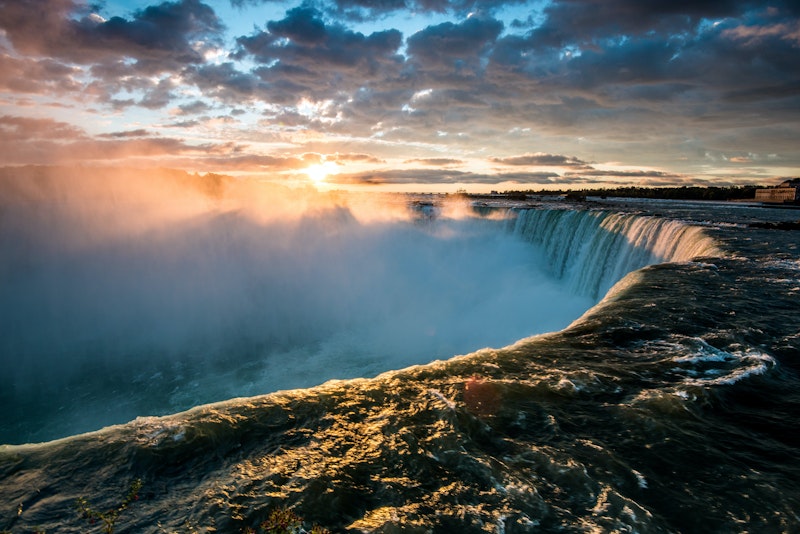 A weekend in Niagara Falls
A weekend in Niagara Falls is a good amount of time to spend getting to grips with the place. The falls are an extremely popular weekend destination for people from both sides of the border, and you'll find lots to keep you occupied over the course of two days. Don't forget to leave your bags behind at a Niagara Falls luggage locker to make your trip easier.

You can see the falls for free from multiple viewpoints along the water's edge. But if you really want to experience the roar of the water, take a Journey Behind The Falls. This tunnel winds behind the curtain of falling water, allowing you to experience the awesome power of the waterfall. Prepare to get wet.

Another classic way to experience the waterfalls is by boat. Boat tours leave from both the US and Canadian side and take you around the three waterfalls in the area. Feel the mist of the falls on your skin at this iconic attraction.

The Whirlpool Aero Car has been a feature of Niagara Falls since 1916. This open cable car runs over the Niagara River above the falls and allows you to see the impressive Niagara whirlpool. If you have a head for heights, this is an unforgettable experience.
Niagara Falls lockers
There are many different ways to enjoy the falls and the town that has grown up around them. But all of them will be far more pleasant if you don't carry more baggage than you need to. Drop off your unneeded bags at a Niagara Falls luggage storage so that you can enjoy your trip to the fullest. Traveling light means you won't have to focus on anything other than enjoying yourself.

Off the beaten path in Niagara Falls
Niagara Falls is an unabashed tourist town, and it receives plenty of visitors every year. But if you're looking to escape the more obvious attractions, you can find a few hidden gems. Drop off your bags with a Niagara Falls bag storage and seek out some hidden gems.

See a truly unique house on the New York side of the falls. Built by a man who claims he talks to God, this brightly colored home is intended to be the last thing all humans see on Judgment Day. Either way, it's a great photo opportunity and a testament to one man's obsession.

Electrical pioneer and genuine mad scientist Nikola Tesla was inspired as a child by a photo of Niagara Falls to harness the power of hydroelectricity. This influence is commemorated by a statue of the iconic figure on the US side of the falls. Have your photo taken with the great man and pay homage to his genius during your trip.

Check out a spooky local legend at the Screaming Tunnel. This former rail tunnel is reputed to be haunted by the spirit of a young girl from the 1800s who was killed by her father. Now, it's a local tradition to light a match inside the tunnel and wait to hear the screams of her restless spirit. Whether you believe it or not, the tunnel is a unique place to visit and is part of local folklore.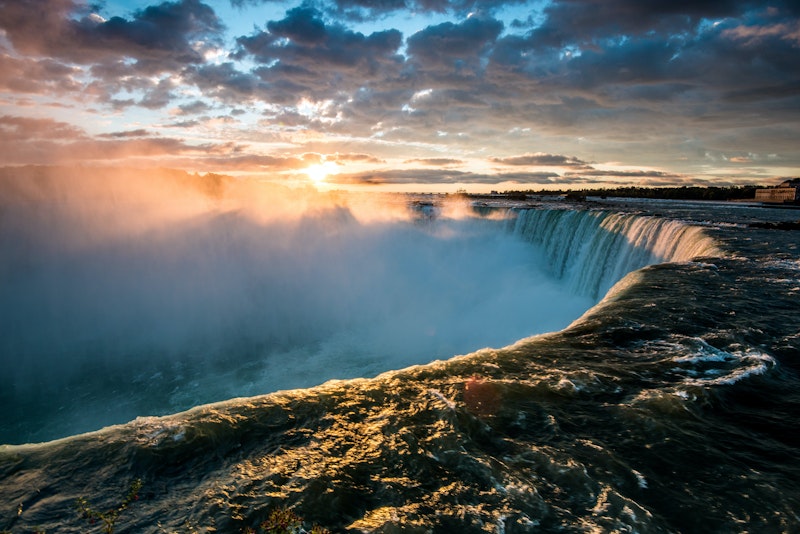 What to do alone in Niagara Falls
Niagara Falls is a popular destination both for romantic couples and families. As such, it can seem like an odd place to visit on a solo trip. But the welcoming town has something for everyone, and traveling solo means you can focus only on the things you most want to do.

If you're feeling lucky, the Canadian side of the falls is home to an impressive casino. And the Great Canadian Midway complex aims to please all ages, with rides and arcade games available. Nothing beats a trip that pays for itself, so try your luck at the table games and see if you get lucky.

Tours can be a great activity to do on a solo trip. There are tons of different tours that will let you explore the wider region around Niagara Falls. A brewery and distillery tour will let you sample the local produce, and you can even take a 420 tour to learn more about Canada's thriving cannabis industry.

Treat yourself to the ultimate in relaxation at one of Niagara Falls' many spas. Massages, facial treatments, and even a healing salt cave are all available at Niagara Falls to get you in tip-top condition.
The best souvenirs in Niagara Falls
Thanks to its popularity with tourists, Niagara Falls has souvenir shops just about anywhere you look. Depending on which side of the falls you visit, you'll be able to pick up classic Canadian or US souvenirs to commemorate your visit. You can buy bottled water direct from the falls, maple syrup, postcards, keychains, and all the usual tourist items. If you're looking for something a little fancier, a bottle of local wine is always appreciated. Visit Wine Rack for a great selection. Niagara Falls is also home to a Hershey's Chocolate World store where you can pick up hundreds of different varieties of the iconic candy.