Quebec City Visitor Guide 2021: Everything you need to know
10 February, 2021
by

Bounce
Quebec City is the capital of the French Canadian province of Quebec and is the center of Quebecois culture. The second-largest city in Quebec after Montreal, Quebec City is known for its delicious delicacies, friendly locals, and European architecture. 

Quebec City was initially inhabited by Algonquian Native Americans who called the area Kébec, which translates to "where the river narrows." A French settlement dating back to 1608, Quebec City has kept most of its French roots, with around 95% of the population speaking French as their first language. 

Planning a vacation in this cosmopolitan North American city? Bounce has you covered with Quebec City luggage lockers dotted across the city. Check online now for the perfect storage facility to suit your adventure in Quebec City.

A weekend in Quebec City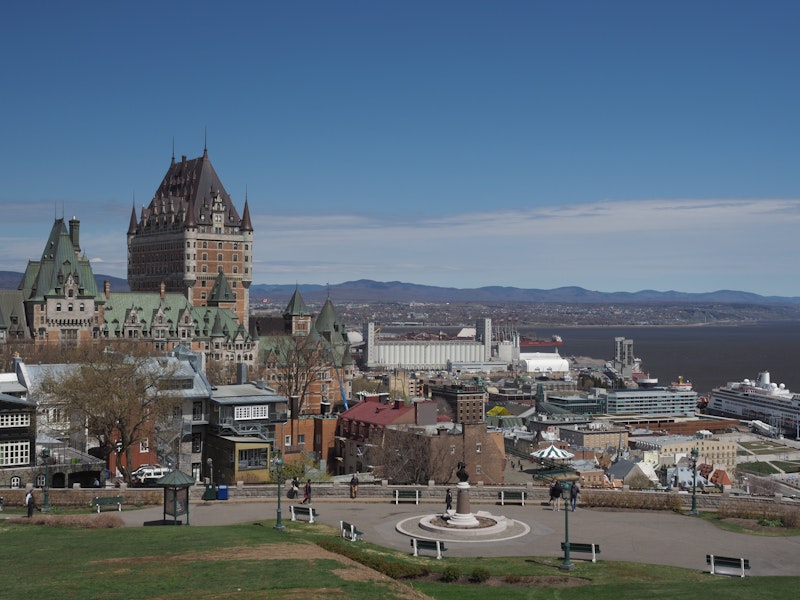 While lesser known than metropolitan Montreal, Quebec City is becoming increasingly popular with vacationers looking for a relaxing weekend away. Take a walk around Quebec City's narrow cobbled streets and discover these top attractions.

Looking for the perfect place to stay? Consider the luxurious Fairmont Le Château Frontenac. Open for over 100 years, this chateau is a National Historic Site of Canada. It sits on a hill in Old Quebec, providing some of the best vistas of the city.

Learn about Quebec's history on the Plains of Abraham. An important part of Canadian history, the Plains of Abraham was the site of a 1785 battle during the Seven Years' War between French and British colonies. 

Another fascinating historic sight worth visiting is the Citadelle of Quebec. One of the oldest military forts in Canada, the Citadelle of Quebec contains some intriguing exhibits, including over 300 historic medals and personal accounts from World War II.

Dine out at one of the finest restaurants in Quebec City. Known for its high-class gastronomy, some of the best eateries in town include Restaurant Legende, Restaurant Initiale, and iX pour Bistro.
Quebec City lockers
Quebec City is one of the safest cities in North America, and its compact city center makes it easy to traverse on foot. However, with narrow, cobbled streets and plenty of yearly snow, you might want to think twice about carrying anything cumbersome around. Bounce offers the best storage lockers in Quebec City, with secure and eas- to-locate facilities across the city. Download the Bounce app to find a Quebec City luggage locker so you can explore Quebec City freely without your heavy belongings. 

Off the beaten path in Quebec City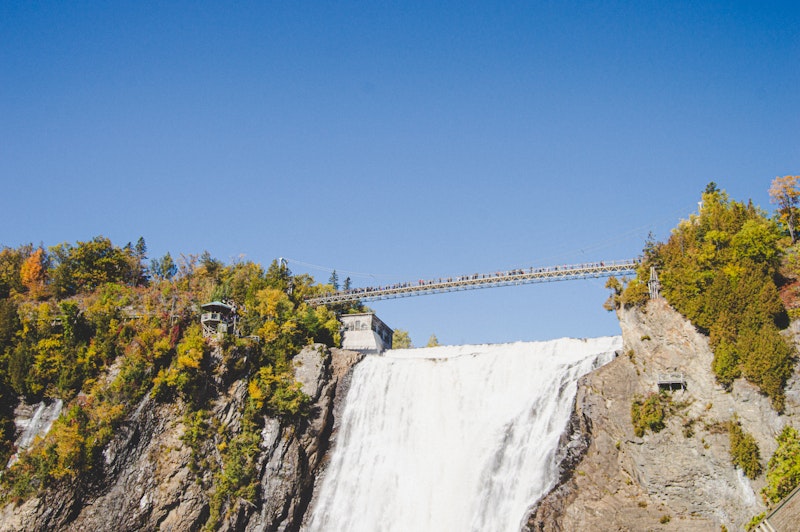 Canada is known for its vast wilderness, and Quebec is certainly no exception. In and around Quebec City, you'll find mile after mile of open space to explore and get back in touch with nature. Stop by a Quebec City bag storage service and check out some of these excursions off the beaten path. 

Discover the power of nature at the sublime Montmorency Falls. At 272 feet high, Montmorency Falls are significantly higher than Niagara Falls and is the perfect place for an adventure. Ride a cable car to the top of the waterfall or hike along one of the hair-raising trails up the cliffs. 

Spend the day skiing at Stoneham Mountain Resort. This ski resort features over 40 runs spread across four mountains and is the perfect place to show off your winter sports skills. 

Plan a romantic riverside stroll along La Promenade Samuel-De Champlain. Stretching for 2.5 miles along the St. Lawrence River, the promenade is great for a picnic and features an 80-foot-tall observation tower for panoramas of Quebec City.  
What to do alone in Quebec City
Alone in Quebec City? Don't fret, as you'll find plenty to do across one of the friendliest cities in North America. From museums to monuments, here are a few of the best activities in Quebec City for solo sightseers. 

Discover Quebecois culture at the Museum of Civilization. With exhibitions for all ages depicting local historic and cultural events, the Museum of Civilization is a superb way of learning about Quebec. 

Spend the day shopping along the historic Quartier du Petit Champlain. One of the oldest commercial areas in North America, the quaint Quartier du Petit Champlain features boutique stores, theaters, restaurants, and more.

Admire the beautiful Cathedral-Basilica of Notre-Dame de Québec. The oldest church in Canada, Cathedral-Basilica of Notre-Dame de Québec boasts gilded dome ceilings, intricate stained glass windows, and the crypts of Quebec governors and bishops.
The best souvenirs in Quebec City
You'll find plenty of fabulous souvenirs to pick up during your visit to Quebec City. Quebec is known for being one of the largest maple syrup producers globally, so the perfect gift for folks back home is some maple-flavored mementos. From syrup to beer to butter, you'll find a huge range of maple products in Quebec City. If you're planning to pick up some edible treats for home, swing by Quebec City's Grand Marché.

Other traditional souvenirs include t-shirts, mugs, and snow globes inscribed with Quebecois catchphrase "Tabarnak", or a small Quebec flag. If you'd prefer something unique, pick up a piece of art from the rue du Trésor or some handmade crafts from the local First Nations artisans.