Sofia Visitor Guide 2021: Everything you need to know
8 March, 2021
by

Bounce
Sofia, the capital of Bulgaria, is one of the oldest cities in Europe, and therefore in the world. Located in the western part of the country, the city has been inhabited since at least 7000 BC. This astonishing historical heritage makes it a fantastic place to explore the long story of human civilization in a part of the world the remains relatively unexplored.

But Sofia offers more than just its history. Bulgaria's economic engine and cultural hub is the gateway to a fascinating country that has only recently started to welcome foreign visitors. With some of the best Internet connectivity in the world and a highly educated population, Sofia is becoming a place that ranks high for remote workers and digital nomads. And for travelers, the Bulgarian capital offers an experience like no other. Drop off your bags at a Sofia bag storage and get to know Bulgaria.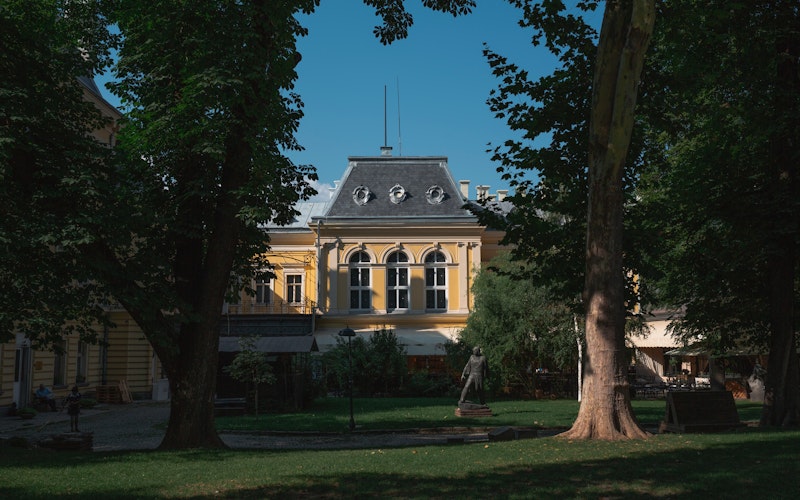 A weekend in Sofia
Sofia is a large city with plenty to offer, so a weekend isn't going to exhaust all there is to do here. However, it may be long enough to see some of the main sites and appreciate the atmosphere of the city. Drop off your bags at a luggage locker in Sofia and see what makes the city so special.

Saint Alexander Nevsky Cathedral is an icon of the city and one of the largest cathedrals in the Balkans. Dating back to the 1880s, the cathedral was built as Bulgaria emerged from Ottoman rule and claimed its independence. It remains the spiritual heart of the city.

See the oldest building in this ancient city at the St. George Rotunda. The red brick church dates back to the fourth century and is surrounded by the ruins of Roman Serdica, as Sofia was once called. It's the best place to appreciate the long history of the city.

Go shopping on Vitosha Boulevard. This is where Sofia residents come to spend and be seen, and is home to luxury brands beloved around the world. Even if you're not there to shop, you'll find plenty of cafés and restaurants to enjoy, and the street offers a great view of Vitosha Mountain.
Sofia lockers
As a very ancient city, Sofia is a great place to explore on foot. You can make things easier on yourself by dropping off your bags with a Sofia luggage storage service. That way, you can explore with peace of mind, knowing that your belongings will be safely looked after until you're ready to pick them up again.

Off the beaten path in Sofia
Sofia itself has only recently started to embrace its tourist potential. And beyond the better-known sights of the city, there is a wealth of interesting places to explore. Allow yourself to get off the beaten path in Sofia and you'll find some memorable things to do in the Bulgarian capital.

Get some peace and quiet at Boyana Church. This medieval building is listed as a UNESCO World Heritage site and is located close to Vitosha Mountain. Sofia isn't short of ancient churches, but what sets this one apart is its peaceful setting surrounded by trees on the outskirts of the city.

See more of Roman Serdica at the amphitheater. Only discovered in 2004, this ancient theater and arena is now part of a hotel, but is free to visit for anyone who wants to see it.

Sofia's central mineral baths were opened in 1913 to take advantage of the area's geological activity. Although the baths themselves have been closed since the 1980s, the grand building still stands and makes for great photographs. The gardens surrounding the baths make for a pleasant stroll, and the natural hot springs feed a fountain at the center so you can see just how warm the water gets.
What to do alone in Sofia
Traveling solo lets you escape the crowds and tailor your trip to your own preferences. Drop off your bags at a Sofia suitcase storage and explore by yourself. Whether you're traveling on business or for vacation, Sofia has plenty to offer solo travelers.

The National Institute of Archaeology is the best place to come to grips with the complex story of Sofia. With its origins way back in prehistory, this sprawling museum covers every era of the city's long life and is the perfect place to learn more about a fascinating part of the world.

Get an incredible view over the city from Vitosha Mountain. Rising more than 7000 feet above the city, the mountain is a vast nature park featuring a ski resort and endless summer hiking trails.

Explore Sofia's twentieth-century history on a Communist tour. This entertaining tour will take you to some of the major sites of the capital during its period of Communist rule. It's fascinating to hear the stories of this way of life that is still within living memory.
Best souvenirs in Sofia
Winemaking in Bulgaria dates back to the ancient Thracians. Bulgaria still produces a lot of wine, and a bottle makes a great gift. Visit EnjoyWine for an impressive local selection. Additionally, you may not know that Bulgaria is the world's largest producer of rose oil. You can pick up rose-themed soap, shampoo, chocolate, tea, and just about anything else at the Bulgarian Rose Company store.