Taipei Visitor Guide 2021: Everything you need to know
4 March, 2021
by

Bounce
Taiwan is a country like no other. And its sprawling capital Taipei is many visitor's first encounter with this unique island nation. One of the world's biggest cities, Taipei is home to more than 2.5 million people. As well as being the political center of the country, it's also the economic and cultural hub, making it the perfect place to immerse yourself in both Taiwan's rich history and future.

Taipei is also blessed with a stunning location, meaning there's lots to explore both in and outside the city. Drop off your bags at a Taipei bag storage and get ready for the adventure of a lifetime in Taiwan's vibrant capital.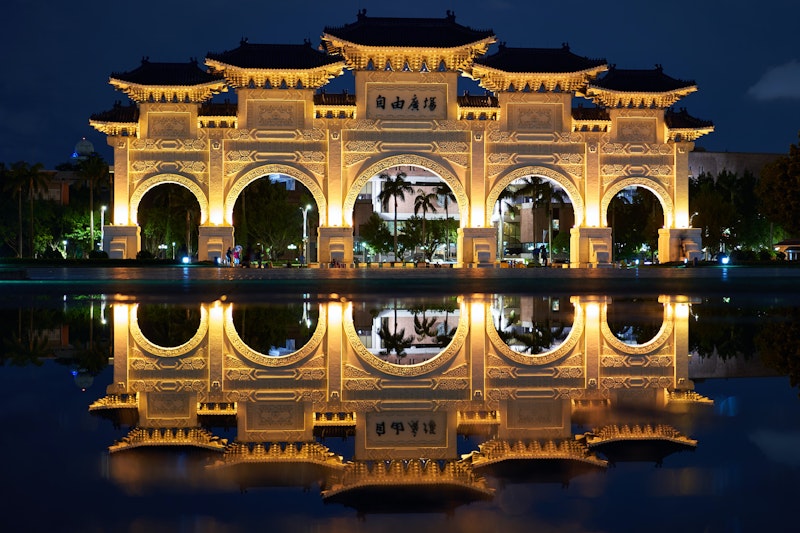 A weekend in Taipei
A weekend in Taipei isn't going to do more than scratch the surface of what the city has to offer. Still, a couple of days gives you enough time to see many of the main attractions. Make things easy on yourself by dropping off your bags at a Taipei suitcase storage before you set out.

Taipei spent some time under Japanese control, and you can see a relic of this at Jiufen. Once a mining town during the late 19th century, it's now a great place to explore. Along with the fascinating history, the town offers sea views, mountain vistas, and plenty of shops and restaurants to explore.

 Visit the National Palace Museum to see some of the most outstanding relics of Imperial China. The former rulers of mainland China moved to Taiwan after the Chinese Civil War in the twentieth century, and they brought many stunning artifacts with them. A walk around the museum is the perfect way to understand more about Taiwan's history.

See the spiritual side of Taiwan in its gorgeous temples. Some of the temples, such as Longshan and Bao-an, date back to the eighteenth century and are recognized as World Heritage Sites. These incredible structures have to be seen to be believed.
Taipei lockers
Taipei is a fascinating place to explore, but the combination of culture shock and the size of the city can make it overwhelming at times. You can make things easier on yourself by dropping off your bags at a Taipei luggage locker. You'll feel a lot more confident exploring, knowing your things are safely looked after, waiting for you to return.

Off the beaten path in Taipei
Escaping crowds in a city like Taipei isn't easy. It's not just the tourists you have to avoid, but sometimes the locals too. Still, even in this metropolis, there are places you can go to get away from it all.

Take a hike on one of Taiwan's many beautiful trails. Xiangshan, for instance, offers great views of the city and can be reached on the city's Metro system. Jinmianshan is a little more strenuous, but allows you to explore parts of Yangmingshan National Park just outside the city.

Celebrate the life of the father of Taiwan at Doctor Sun Yat-Sen Memorial Hall. Doctor Sun was the first president of Taiwan, and was also known as a medical doctor and a philosopher. The hall serves as a museum of the man's life and a cultural center that often hosts events celebrating Taiwanese heritage.

If you've never eaten out of a toilet, Taipei gives you the chance. Modern Toilet restaurant is a bathroom-themed eating establishment where toilets act as chairs, and miniature toilets serve as bowls. It is the perfect place to get some unusual photos to show to your friends back home.
What to do alone in Taipei
Often, big and bustling cities turn out to be the best places to visit on a solo trip. This is definitely true of Taipei. The city is generally safe, and the locals are extremely friendly. Plus, traveling alone makes it easier to navigate the sometimes crowded attractions of the city. Drop off your bags at a Taipei luggage storage service and you'll have a great time exploring what the city has to offer.

Taipei's night markets are legendary. You can buy just about anything at the many markets the city hosts, and you'll find some of the best food in the world. Shulin is the biggest, stretching over 12 acres. Lose yourself in the crowds and you won't feel even a little bit alone.

The National Taiwan Museum is a perfect place to learn more about this island nation's complicated history. There's more on offer here than just history. You'll also find great exhibitions on anthropology, natural history, and other fields of science.

Taipei is one of the world's greatest destinations for food lovers. Embrace this side of the country with a cooking class. You'll shop for fresh ingredients at local markets and prepare a meal with instruction by a local chef. It's a great way to meet other travelers and learn a new skill.
The best souvenirs in Taipei
The many markets of Taipei make souvenir shopping an adventure all by itself. You can find almost anything at the markets, from unique food items to handicrafts to traditional Chinese medicine. For a classic Taiwanese treat, pick up some pineapple cake. Tea is also a great purchase to remind you of your trip. Or you could purchase a sky lantern from Shifen as a memento. Finally, for authentic cultural souvenirs, visit the National Cultural and Creative Gift Center. Prices may be higher than you'll find at the markets, but you'll know you're purchasing the real thing at this high-end store.