Whistler Visitor Guide 2021: Everything you need to know
25 February, 2021
by

Bounce
Located in British Columbia on Canada's Pacific coast, Whistler is one of North America's top ski resorts. Just north of the major city of Vancouver, this mountain playground is famous around the world for its skiing, snowboarding, and winter sports. It was even the site of many events in Canada's 2010 Winter Olympics.

But despite its fame as a winter destination, Whistler is a great place to visit at any time of year. In summer, the mountain surroundings and abundant wildlife make it the perfect place to explore the Canadian outdoors. And when you've had enough of the backcountry, the charming village itself has everything you need to enjoy great food and drink and lively nightlife. Drop off your bags at a Whistler luggage storage locker and see what makes this town so popular with visitors from across Canada and around the world.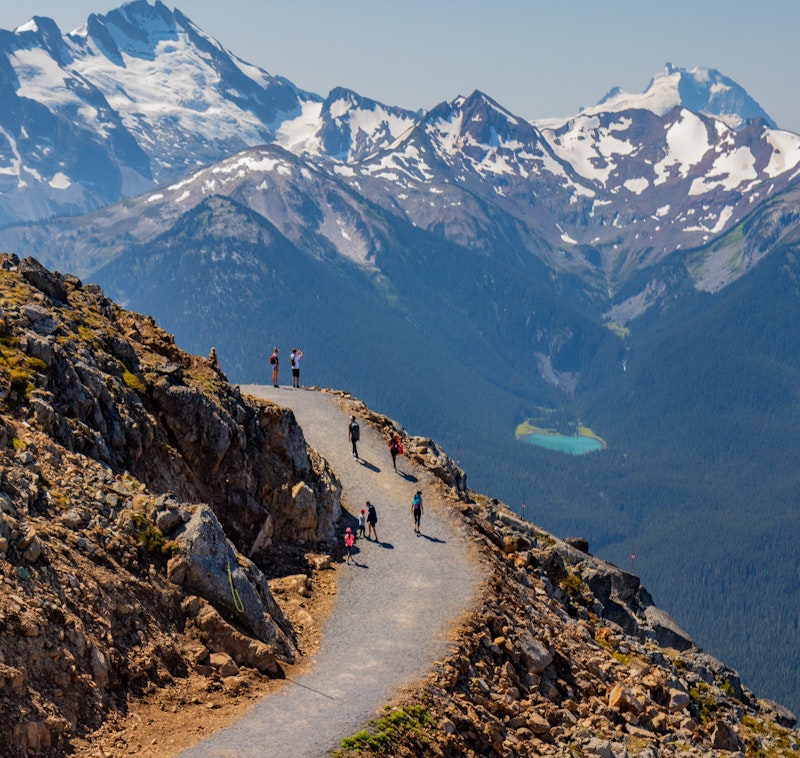 A weekend in Whistler
Although the mountain backcountry that surrounds it is virtually endless, Whistler itself is a relatively small town. A couple of days should be enough to let you experience what the region has to offer. Whether you visit in the busy winter season or the increasingly popular summer, you'll find plenty to do in this mountain village.

It's impossible to talk about Whistler without mentioning skiing. The mountains of Whistler and Blackcomb are home to numerous ski slopes, ranging from beginner to expert difficulty level. Skiing and snowboarding are hugely popular in the winter months, but cross-country skiing, tobogganing, snowshoeing, and other sports are also practiced here.

When the snow recedes in summer, Whistler Mountain is home to a thrilling bike park. Bring your own mountain bikes and BMXs or rent them in town and enjoy this challenging circuit.

As well as the gondolas that climb the mountains of Whistler and Blackcomb, the Peak to Peak gondola runs from the summit of one to the other. It's an amazing way to get an unparalleled view of the jaw-dropping mountains surrounding the village, and the perfect place to get some unbelievable photos.
Whistler lockers
The center of Whistler Village is pedestrianized and closed to cars, so you'll need to explore on foot. You can make things easier on yourself by dropping off unneeded bags at a bag storage in Whistler. That way, you'll know your belongings are being safely looked after while you enjoy the laid-back vibe of the village.

Off the beaten path in Whistler
Whistler gets plenty of tourists both in the winter and the summer. So many, in fact, that the small village can sometimes seem overrun. But with all the Canadian wilderness that surrounds the village, it's not hard to find some places away from the crowd. If you're willing to do some exploring, there are plenty of lesser-known attractions well worth seeing.

In 1956, a speeding train derailed outside Whistler and crashed into the forest. The train cars were determined not to be worth moving, and so they remain there to this day. A hiking trail leads to the crashed train, which has become a favorite location for graffiti artists. To find the train, you may need to ask a Whistler local, as the site is not well marked. But it does make for a fascinating hike through the forest.

Green Lake is the largest lake in Whistler, and in the summer, is the perfect place to explore by boat. Rent a kayak or canoe and paddle through the turquoise waters while admiring the alpine scenery that surrounds you. It's a tranquil way to enjoy a sunny day and get away from the crowds.

On one edge of Green Lake, the ghost town of Parkhurst sits hidden in the forest. Once a logging outpost, the town was developed in the 1930s, but abandoned in 1966. Now the old buildings are covered in vibrant graffiti, and you'll even find abandoned vehicles from the mid-twentieth century among the silent trees.
What to do alone in Whistler
Whistler combines the youthful and hedonistic atmosphere of a party town with the epic wilderness that surrounds it. As a result, it's a great place to travel by yourself. If you're looking to meet new people, you won't have a hard time doing so on the ski slopes or in the bars after night falls. And if you want solitude, the mountain wilderness surrounding the town is the perfect place to be alone. Drop off your bags at a Whistler bag storage and enjoy your trip to the fullest.

When summer pushes back the snow from the slopes of Whistler Mountain, hundreds of black bears emerge from their dens. It is thrilling to see these animals in their natural habitat, but you don't want to run into one by yourself on a trail. Instead, take a bear tour with a licensed guide to see these magnificent animals. Limited to small groups, these tours are a great way to meet new people and enjoy the wildlife that is part of Whistler.

Enjoy the local produce on a Whistler craft beer crawl. BC in general and Whistler in particular are home to many newly emerging craft breweries, and you can sample some of the best offerings on a craft beer crawl through the village.

Take part in evening yoga at the Audain Art Museum. This small museum is dedicated to art celebrating coastal BC, but it also hosts yoga classes both indoors and outdoors where you can center yourself along with visitors and locals alike.
The best souvenirs in Whistler
Whistler is very much a tourist town, and you won't need to go far from the village to find souvenirs. The village stores sell classic Canadian items such as maple syrup, Pacific salmon, and hockey memorabilia. But for something a bit more original, you can visit the iconic Fairmont Château Whistler. The hotel gift shop sells honey made by the beehives on the roof of the hotel. Alternatively, you could celebrate the indigenous people of Whistler at the Squamish Lil'wat cultural center. Artwork by some of BC's top First Nations artists can be purchased here. You can also buy locally made candles, jewelry, and perfume at 3 Singing Birds, a charming store in Whistler Village.