5 THINGS TO DO in LAGOS, PORTUGAL
Published by:

Chelsea Baker & Mac Candee
21 February, 2020
Lagos, Portugal – We're beach people so we have been to our fair share of beaches all over the world and Lagos is definitely by far one of the most unique. You can't look out over the ocean without seeing incredible rock formations seemingly floating in the water. You can't walk onto a beach without the very real chance of finding a cave to explore. You can't get on a boat without weaving in and out of the rock formations' crevices. Sounds pretty magical, right? It is.

Now, because it is as unique as it is, that means it's definitely a popular spot which in turn means that you will more than likely experience crowds and inflated prices – But it's still Portugal which is one of the cheapest western European countries and the crowds are worth braving for a few days spent exploring all that Lagos has to offer. Keep reading to see and learn about what to do in Lagos, Portugal and with that some of the best beaches in Lagos, Portugal! These encompass our recommended list of 5 Things to Do in Lagos, Portugal.

Not a fan of reading, but want to know more about Lagos?

We've also put together a YouTube video that encompasses all of our below recommendations in an easy-to-view visual format: https://www.youtube.com/watch?v=wTpDxoAhX1Q

Now, before we jump in, it's important to note that this list is in no particular order of best to worst or vice versa! Each recommendation has its own qualities that make it worth visiting – and hopefully there's something in here for everyone!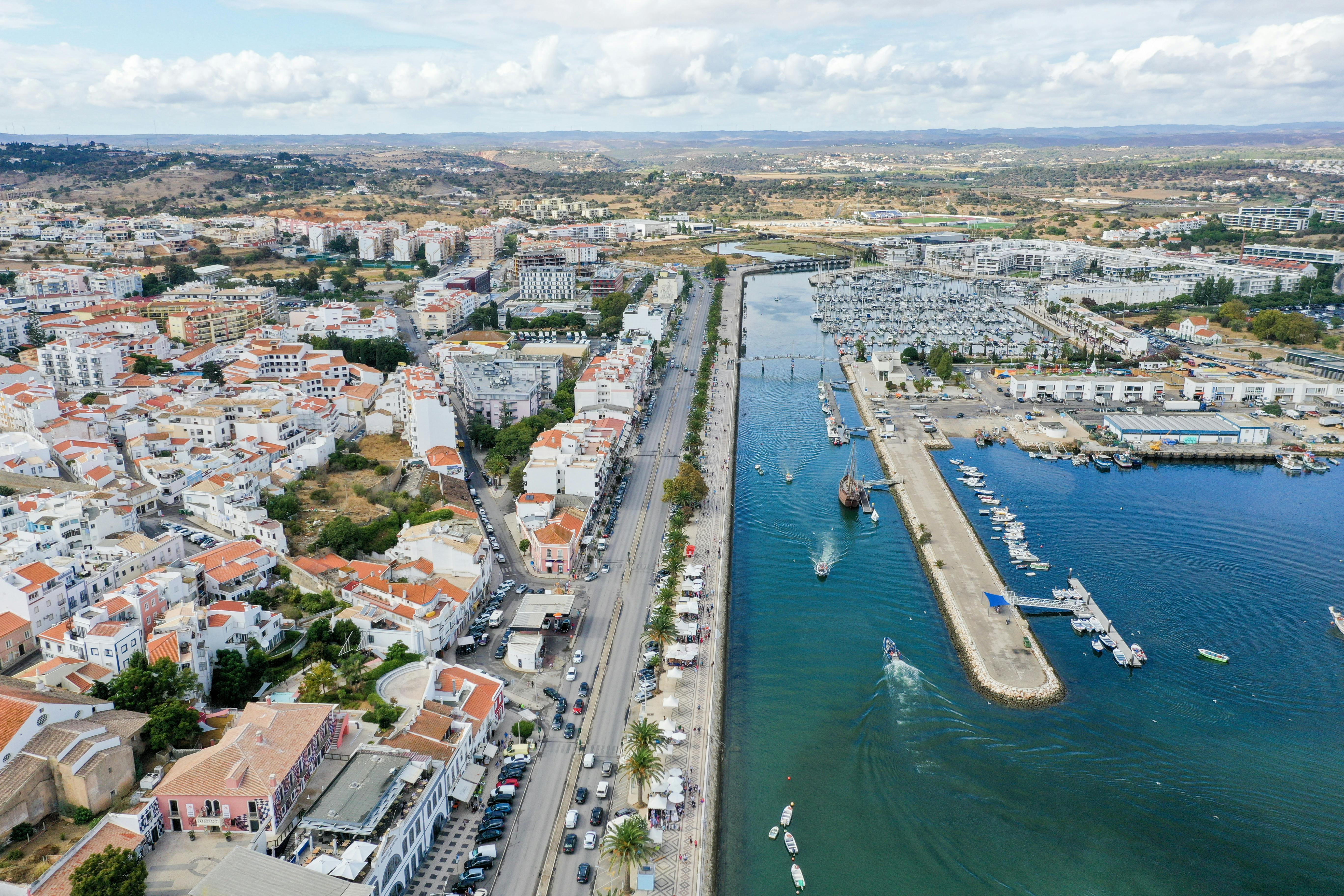 #1 Praia Dona Ana (Beach)
First on our list of what to do in Lagos, Portugal as well as best beaches in Lagos, Portugal is Praia Dona Ana. As you come upon this beach, you are first greeted by an incredible viewpoint overlooking the beach, the ocean, and the rock formations surrounding both. Take a minute to snap some photos (maybe a couple for the gram!) and then walk the few flights of winding stairs down to the beach. Once you get to the beach, find yourself a spot and plop down for a day of sun, swim, a few drinks from the restaurant that sits on the beach, and maybe even some cave exploring.

#2 Boat Cruise
Second on our list of what to do in Lagos, Portugal is a boat cruise. Boat cruises are our favorite 'excursion' to do literally everywhere we go (geography and weather permitting, of course). We love being out on the water surrounded by sun, food, and drink. You can't really go wrong with that combo, can you? Well the boat cruise we did in Lagos definitely did not disappoint on any of those accounts. We always look for the best value in everything that we do; and the cruise that we did through the company Bluefleet was the best value in Lagos that we could find. For 50 Euro (there were other tours that cost more than this that did not offer as much), it was the only tour that we could find that offered unlimited drinks (both alcoholic and non-alcoholic), appetizers/snacks, a FULL lunch like we're talking a half chicken with a salad and chips and then dessert, AND it brought along a smaller boat to take small groups of us on a tour through the caves. They limit capacity to a max of ~12 people so it doesn't feel overcrowded – there's plenty of room for everyone on the boat, and it lasts 3.5 hours. We didn't want it to end! We met quite a few awesome people and we ended up spending the rest of the day at the beach with one of the other couples. Needless to say, we could not recommend doing this boat cruise more!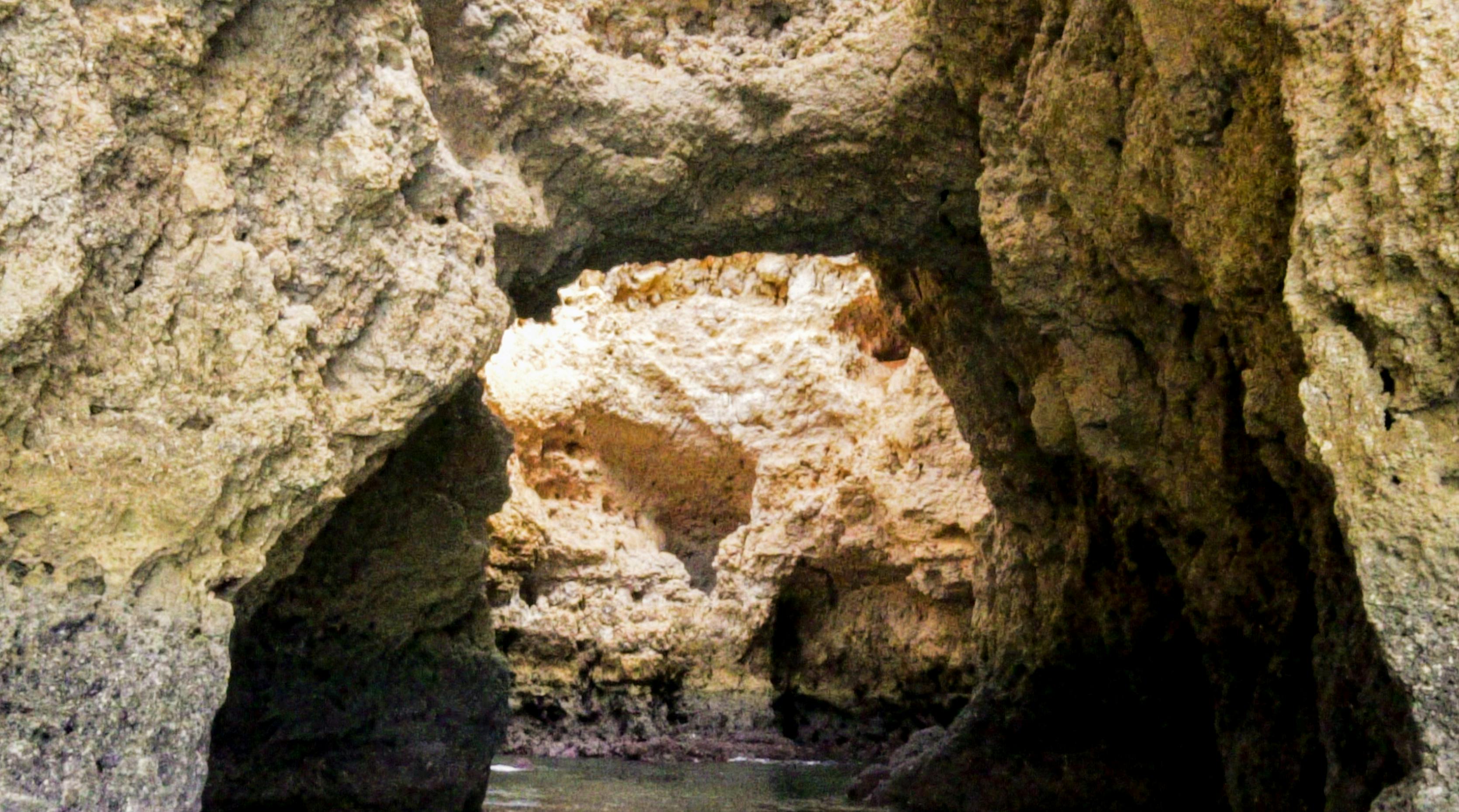 #3 Praia do Pinhao (Beach)
Third on our list of what to do in Lagos, Portugal as well as best beaches in Lagos, Portugal is Praia do Pinhao. A much smaller and somewhat more secluded beach than Praia Dona Ana, Praia do Pinhao is definitely a beach to check out if you're looking to avoid the crowds and find a beach more off the beaten path. The entrance has unfortunately been tagged with a lot of graffiti, but don't let that steer you away from making your way down to the beach. It's enclosed on 3 sides by rock formations towering above it and when we were there (in September), there were only 3 people on it who had the beach to themselves.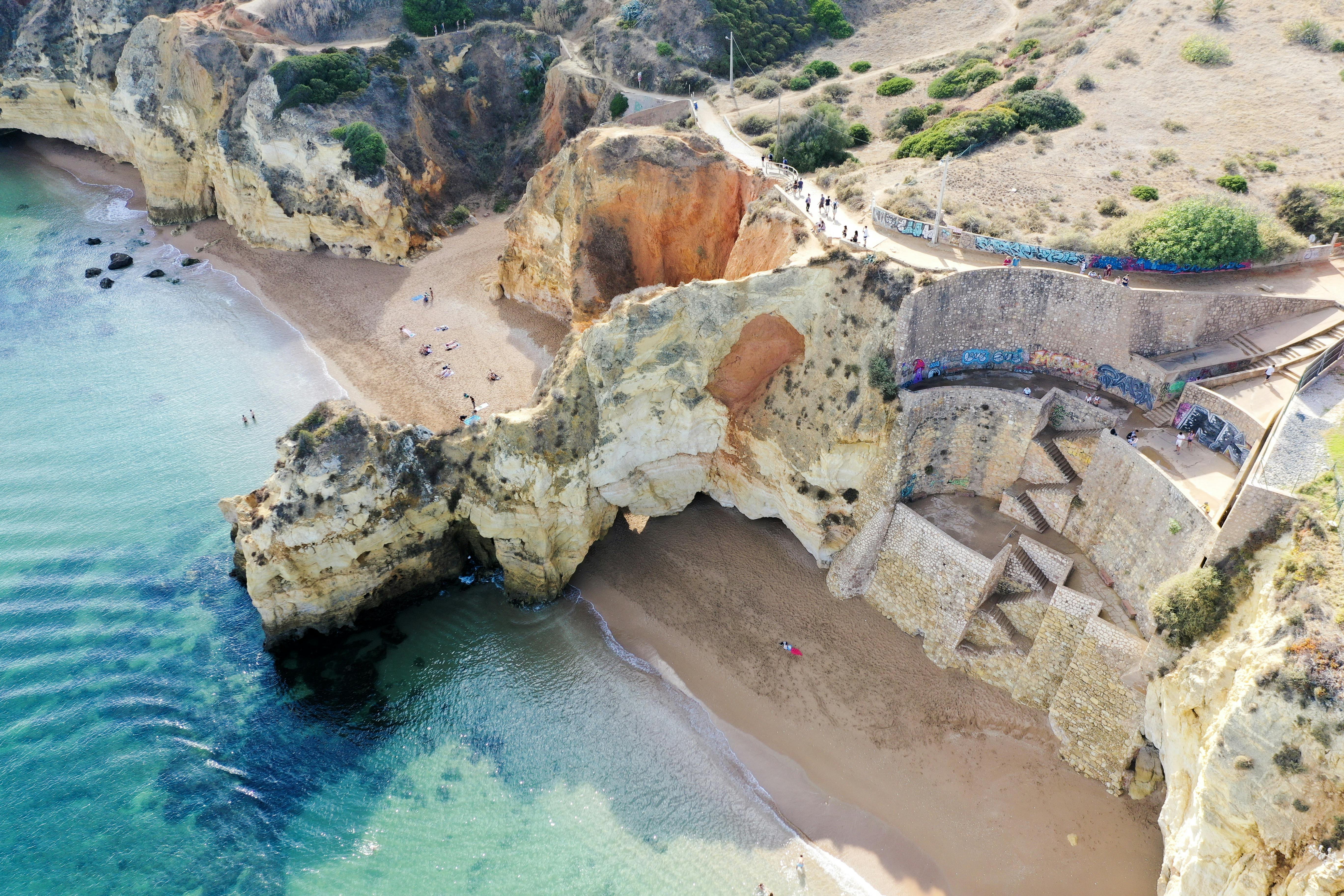 #4 Praia do Camilo (Beach)
Fourth on our list of what to do in Lagos, Portugal as well as best beaches in Lagos, Portugal is Praia do Camilo. Praia do Camilo is a little further down the beach from Praia Dona Ana. What makes Praia do Camilo different? There are paths on the tops of the rock formations that lead you to incredible viewpoints surrounding the beach, multiple caves that you can wander in and out of, and a nice modern restaurant at the top where you can grab some food and/or drinks when you maybe need a bit of a break from the sun.

#5 Ponta da Piedade
Last on our list of what to do in Lagos, Portugal is Ponta da Piedade. Ponta da Piedade is the point of Lagos meaning it's surrounded on 3 sides by the ocean and therefore has 3 sides of rock formations that lend themselves to incredible views over the open ocean. There are boardwalks that wind all the way around it making it easy to get around and get to that perfect Instagram spot. This is also THE place to watch the sunset in Lagos. Unfortunately, it was cloudy when we were there but we heard that had we seen a sunset, we would not have been disappointed.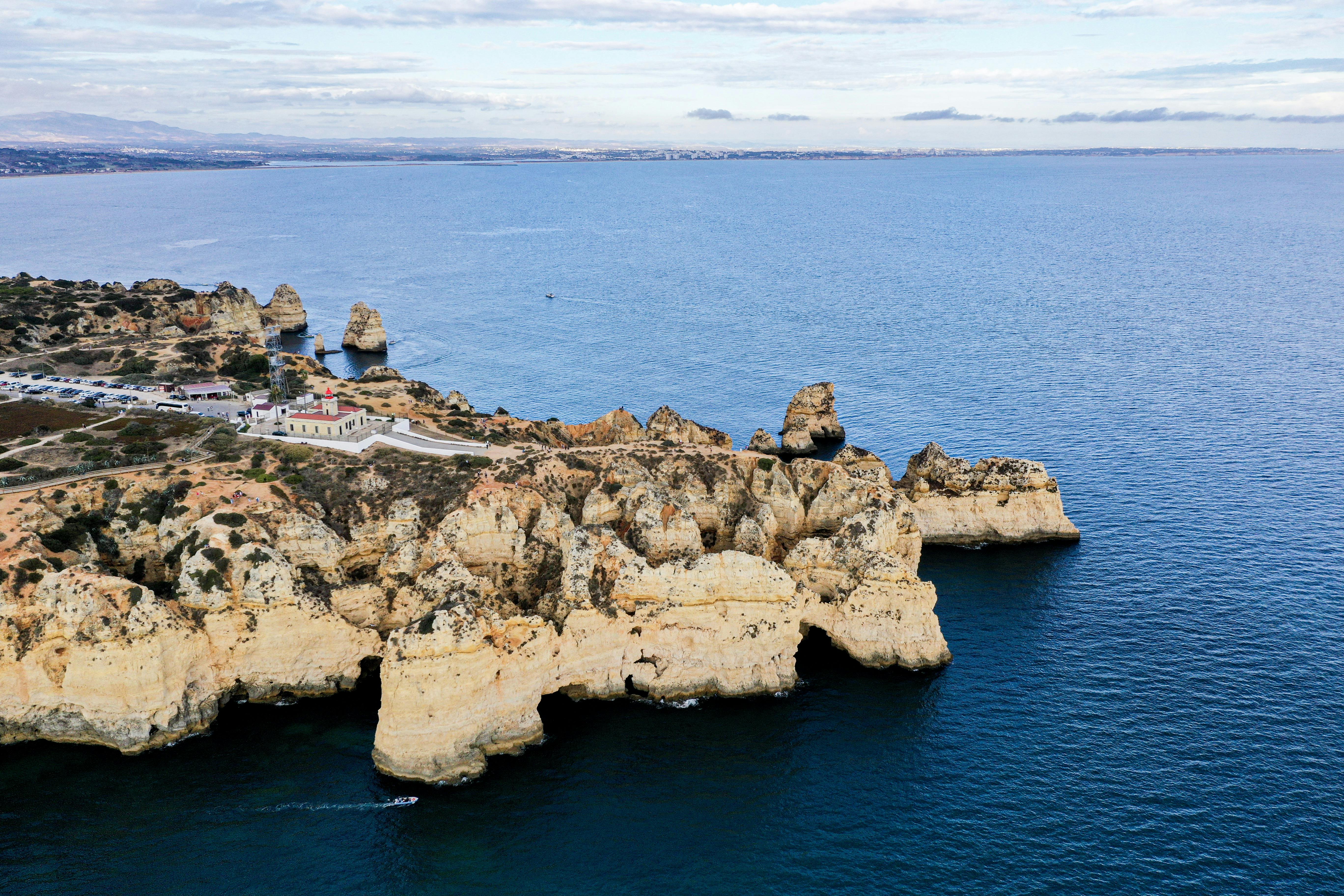 Thanks for reading!
We only had 3 days in Lagos but could have easily spent at least a week there! This means that as with everywhere we go, our list of what to do in Lagos, Portugal and best beaches in Lagos, Portugal does not encompass all that there is to do and see in Lagos. On top of the few beaches recommended above, a couple beaches that we wanted to but weren't able to check out because of our limited time were Praia da Batata and Praia de Sao Roque – Check them out for us if you have the time and let us know how they are!

We hope you enjoyed and learned and better yet, saved this blog post to reference on your trip to Lagos! There is again of course so much more to see and do than what is in this blog post but with the three days we had, we left Lagos feeling like we'd really taken full advantage of our time there after doing and seeing these 5 things. We hope you do too!

About the authors
Mac Candee is a full-time traveler and travel content creator with a focus on blog posts, YouTube videos, & scenic Instagram photos.

Mac is currently traveling across the world for an undetermined amount of time focusing on finding the best things to do and travel tips to help inspire you for your future travels.

Follow along @worldnomac on Instagram for more content!