More about Berkeley
Store Your Luggage in Berkeley
Although Berkeley is a mid-sized city, its reputation precedes itself: It's known far and wide for its progressive politics and celebrated history of social justice. Berkeley has the advantage of being a homegrown college town with quick, easy access to the urban oasis of San Francisco. Students, locals, and visitors don't have to leave the city, however, to enjoy cultural and culinary delights. If you wish to temporarily store your bags in Berkeley, Bounce is here to help.

Safety
Berkeley, California, takes its name from George Berkeley, an 18th century Irish Bishop and philosopher. Sandwiched between Emeryville and Oakland, Berkeley is famous for its numerous museums as well as the University of California, Berkeley. As of 2020, the "Athens of the West" has a population size of more than 120, 000 citizens. Some of Berkeley's most well-known sons and daughters are actor Ben Affleck, musician Peter Buck, dancer Rita Moreno, writer Joanna Macy, and actress Whoopi Goldberg. 

No matter who you are or what you're into, Berkeley has something for everyone. If you're planning on visiting, however, you should probably be aware of the city's crime stats. Berkeley holds a score of 3 out of 100 on the National Crime Index. Cities that score closer to 100 on the Index report much less criminal activity than cities closer to 1. Out of a population size of 121,643 Berkeleyans, 1 in 188 citizens report violent crimes each year. Conversely, 1 in 19 residents report property related crimes. Berkeley is ultimately a great place to visit, provided that you put safety first at all times. Secure your excess luggage with Bounce, and contact local authorities when it's appropriate to do so.

Frequently Asked Questions
"What's the best way to get around Berkeley?"

You'll need a car to comfortably travel around Berkeley. California, as a whole, is far too big and too densely populated to solely rely on public transportation. Factor in that Berkeley is one of the most popular cities in Alameda County, and you'll see why you need a set of wheels at your disposal. Renting might be your best option if you're staying for a long time. Otherwise, Uber and Lyft are your best bets. You can hail a cab as well, but finding an empty taxi in Berkeley is extremely difficult.
"Is public transportation in Berkeley safe?"

Yes, public transportation in Berkeley is perfectly safe. Thousands of citizens use the city's transit system every day. For the most part, you won't encounter any trouble if you continue to exercise your best judgment. Security guards and peace officers are also typically nearby during the daytime. 
"What's the best neighborhood to stay near Berkeley?"

One of Berkeley's best places to stay technically isn't a part of the city. Kensington is a census-designated area that's located in Berkeley Hills. This area is very calm, quiet, and welcoming to everyone. You'll also find no shortage of stores and shopping centers nearby.
"What are the best museums to visit in Berkeley?"

Magnes Collection of Jewish Art and Life is a great way to learn about Jewish customs and culture. The Essig Museum of Entomology will show you what a bug's life is really like. Conversely, Berkely's Museum of Paleontology is a must-see for dinosaur lovers. 
"What's the best time of year to visit Berkeley?"

There's never a dull moment in California - and there's rarely a time when the weather isn't at least humid. If you want to visit Berkeley, there really isn't a "wrong time" to do so. However, you'll find plenty of concerts, festivals, and family events if you visit during the summer or winter.
For Locals
Whether you're a student who's heading from the library to a date or a professional going from work to a show across the Bay, save time by skipping the trip home and drop off your things with a Bounce partner in Berkeley instead.

For Tourists
Are you touring the Berkeley campus or visiting friends in town? Don't fret over logistics for accessing and storing your bags or luggage. Simply find a Bounce partner in the area for short-term luggage storage in Berkeley for a minimal daily rate. Or choose one of Bounce's many San Francisco luggage storage options.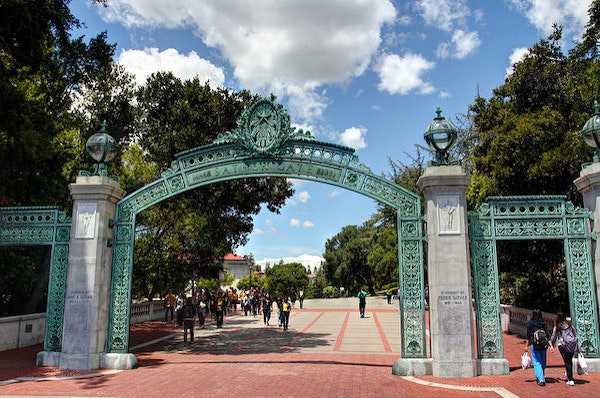 Luggage Storage in Berkeley
Bounce was created so that you can have the freedom to experience whichever city in which you live or to which you travel, without being inconvenienced by the burden of your bags. Storing your bags in Berkeley is simple, safe, and affordable with Bounce. Enjoy the wonders of Berkeley and the surrounding Bay Area with your hands and shoulders free.