More about San Francisco
Store Your Luggage Around San Francisco with Bounce
San Francisco is arguably the most charming city in the United States. With its hilly terrain, picturesque architecture, and prime setting on the Bay, it's hard not to fall in love with SF at first sight. Once you get a feel for the city and its inhabitants—including its famously liberal mindset and cultural diversity—you'll be hard-pressed not to like it even more. Whether you're a local always on the go or a visitor trying to maximize your time in the Golden City, you can count on Bounce for reliable bag and luggage storage in San Francisco.

Do you live and work in San Francisco but need to go from one place to another without being held back by the weight of your bags? Or, are you heading to San Francisco for work or leisure? Maybe you have an awkward time frame during which you need a place to store your things, or just want to discover neighborhoods and sights between flights. Whatever the case may be, you can rely on Bounce luggage storage in San Francisco as a daily solution for your bags.

Luggage Storage in San Francisco
Bounce proudly partners with local businesses for short-term luggage storage in San Francisco. Our mission is to offer people the freedom to experience all the city has to offer, without the burden of their bags. We've checked out San Francisco's most popular neighborhoods, as well as major hubs of transportation, so you can drop your bags off with a Bounce partner and roam the city with ease.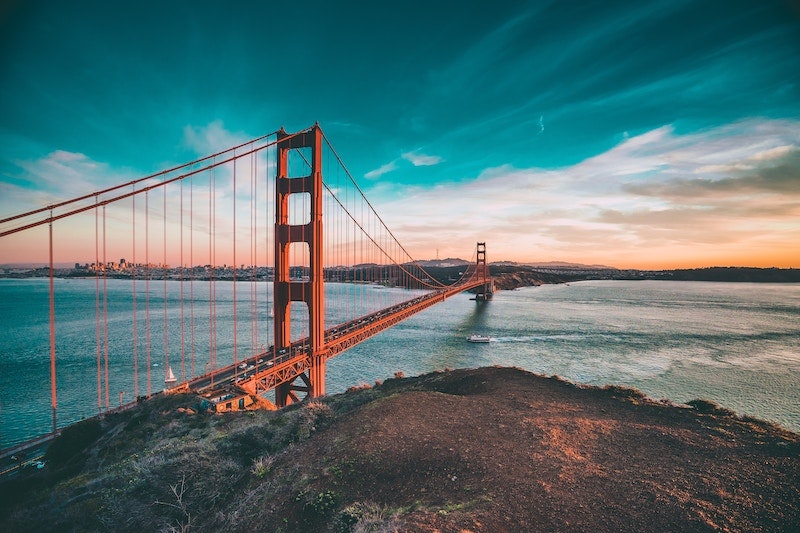 San Francisco City Guide
Top Things to Do
San Francisco is a quintessential American city with endless charisma and character. Disparate populations from all walks of life find their niche in the City by the Bay. Whether you want to hit up top San Francisco tourist attractions, spend your hard-earned dollars at highly rated restaurants and shops, or simply get a feel for the city by roaming the streets and feeling the breeze by the Bay, look no further than Bounce's handy guide to San Francisco.

Museums
As with most major cities in the U.S., San Francisco hasn't skimped on culture as far as museums go. Whether you're looking for standard exhibitions or more off-the-cuff and experimental options, San Francisco has it all:

San Francisco Museum of Modern Art: Located in Union Square, the SFMOMA was the West Coast's first museum dedicated to modern and contemporary art when it opened in 1935. It houses over 33,000 works of art, including an entire floor dedicated to photography. Bonus: SFMOMA grants free access to ground-floor galleries as well as free general admission to visitors under the age of 18. (Bag-check policy: You can check your coat and carry-on bags up to 9" x 14" x 22" in size at the SFMOMA. For a daily solution that offers more mobility and the ability to store larger items, look into Bounce partners offering luggage storage in Union Square San Francisco.)

Aquarium of the Bay: Conveniently located in Pier 39, the Aquarium of the Bay is a delight for families in particular. Marvel at marine life by walking through its 300 feet of underwater tunnels, then take selfies with sea lions on the docks. (Bag-check policy: Aquarium of the Bay doesn't offer coat- or bag-check services. There's no need to worry, though; simply book bag and luggage storage near Pier 39 with Bounce.)

Yerba Buena Center for the Arts: Situated in the SoMa district, the Yerba Buena Center for the Arts is a must-visit for anyone interested in cutting-edge visual art. It's internationally renowned for displaying the works of boundary-pushing artists and is also a bustling hub for community engagement. Bonus: YBCA offers free admission to visitors on the first Tuesday of the month as well as the third Thursday of the month (the latter from 4 to 8 p.m.). (Bag-check policy: YBCA offers a self-serve coat check and cubbies with lockers. Larger items can also be stored behind the desk. For a daily solution to store your things in the area, consider booking luggage storage in SoMa with Bounce.)
Shopping
No matter the customer or occasion, there are all kinds of opportunities for shopping in San Francisco. If you're looking for designer duds, unique items, or souvenirs, Bounce recommends the visiting the following options for shopping in San Francisco:

High-end clothing stores: Union Square is ground zero for shopping in San Francisco. If upscale department stores are your thing, head to Neiman Marcus or Barneys New York. More into the intimacy of luxury boutiques? Walk over to Maiden Lane, which is gated for most of the day for safe pedestrian strolls and prime (window) shopping. Plus: Westfield San Francisco Centre is a more budget-friendly option with hundreds of retailers from which to choose.

Vintage and thrift shops: The Mission District has the highest concentration of quality vintage and thrift shops in San Francisco. Be sure to check out Thrift Town for its endless inventory and Mission Thrift for fun finds.

Souvenirs: If you're the type of person who likes to take a piece of their travels home with them, or want to buy souvenirs for loved ones, look no further than the shops at Pier 39. Skip limited last-minute purchases at SFO in favor of Pier 39's Keychain Store, the Cable Car Store, and Only in San Francisco.
Dining
San Francisco offers a diverse array of dining options, running the gamut from ethnic comfort food to upmarket hotspots. Check out the following selections to truly appreciate and get a taste of the culinary fare unique to San Francisco:

Cioppino's: Located in Fisherman's Wharf, this restaurant is named after its signature dish that originated in San Francisco in the 1800s. Cioppino is an Italian-American seafood stew in a savory tomato broth served with sourdough toast. It's also on the menu at a number of restaurants across the city, including the legendary Tadich Grill in Downtown San Francisco.

Mission burritos: Born and bred in the Mission District, Mission burritos are characterized by their large size, extra rice, and variety of ingredients not typically found in standard burritos. Some people consider Mission burritos to be as integral to San Francisco's food culture as pizza is to that of Chicago. La Taqueria, El Farolito, and Taqueria La Cumbre are only a few top-rated options for this Mexican standout.

Humphry Slocombe: The ice-cream scene in San Francisco is second to none, and Humphry Slocombe—with outposts in both the Mission and the Ferry Building—is arguably the leader of the pack. With experimental flavors including Secret Breakfast (bourbon ice cream sprinkled with cornflakes), they give Ben & Jerry's a serious run for their money.
Safety 
California is home to several cities that are famous the world over - Beverly Hills, Long Beach, Los Angeles, and San Francisco, to name a few. However, San Francisco stands out from its sister cities thanks to its unique architecture, one of a kind landscape, and iconic landmarks. Even if you've never been to California, let alone San Francisco, you've probably seen the Golden Gate Bridge and Alcatraz Island in various pieces of American mass media.

Because of how unique San Francisco is, the "City by the Bay" receives tons of visitors every year. Exploring San Fran can be extremely fun if you put safety first and learn about the city's crime statistics. San Francisco ranks 2nd out of 100 on the National Crime Index - where 1 represents cities with high crime rates, and 100 represents cities with low crime rates. Out of a population of nearly 900,000 citizens, several crime databases suggest that 1 in every 140 citizens may experience violent crime throughout the year. Property-related crime is purportedly much more frequent, with 1 in every 18 citizens likely to have their property vandalized or stolen. Stay alert, use Bounce to store your luggage, and contact SFPD if you need help while you're visiting San Francisco.

Frequently Asked Questions
"What's the best way to get around San Francisco?"

San Francisco's rolling landscape makes walking, biking, and scootering the best ways to travel. No matter which part of the city you're in, tons of stores, shops, and restaurants will always be within walking distance. If you're planning on visiting places like the San Francisco Zoo, however, you'll definitely want to use the city's public transportation system. 
"Is public transportation in San Francisco safe?"

San Fran's transit system isn't just one of the safest in California, it's also one of the most versatile and refined. Buses, trains, trolleys, and cable cars will help you quickly get around the City by the Bay. Stay sharp and respect your fellow commuters, and you likely won't have any trouble using San Fran's transit system.
"What's the best neighborhood to stay in San Francisco?"

Outer Richmond is one of the best places to stay in San Fran - Specifically, the area near Clement St and Legion of Honor. The environment here is very calm, and this area purportedly experiences very little crime annually. 
"What are the best museums to visit in San Francisco?"

San Francisco is a cultural melting pot. The museums in the "Golden City" are proof of that claim. Places like the Asian Art Museum, the Contemporary Jewish Museum, The Museum of African Diaspora, the Exploratorium, and the Walt Disney Family Museum are must-sees. 
"What's the best time of year to visit San Francisco?"

If you want to explore San Fran when it's less crowded, try visiting in the spring or the fall. The city will be cheaper and quieter than usual. Conversely, visit San Fran during the summer if you want to experience the most lively version of the Golden City.