Store Your Luggage near the Embarcadero
About the Embarcadero
The Embarcadero runs along the northeast coast of San Francisco from Oracle Park (formerly known as AT&T Park), past the Ferry Building and Fisherman's Wharf until Pier 45. For 30 years, the Embarcadero Freeway allowed for greater car access to the Bay Bridge and divided the waterfront area from Downtown San Francisco (at the expense of visual aesthetics), but was torn down two years after the 1989 Loma Prieta earthquake. Ensuing redevelopment allowed for greater options for public transportation and a much more visually appealing thoroughfare.
Fun fact: In Spanish, Embarcadero translates to "the place to embark," whereas its root verb, embarcar, means simply "to embark."
Things to Do on the Embarcadero
Some of the city's greatest attractions and most scenic areas are adjacent to the Embarcadero, most of which can be explored on Bounce's neighborhood guide to San Francisco. In addition to the dozens of options we've outlined across the various San Francisco city pages, we recommend checking out the following below:
Hop aboard a ferry cruise to the infamous Alcatraz Island at Pier 33
Snap a photo with your significant other next to the Cupid's Span sculpture at Rincon Park
Share tapas and churros at Chef Michael Chiarello's restaurant, Coqueta, on Pier 5
Visit the Central Embarcadero Piers Historic District for a serene stroll along the Bay
Take refuge amongst sprawling green lawns, fountains, and ponds at Levi's Plaza
Indulge in holistic spa treatments at Hotel Vitale
Enjoy an elegant seafood meal at the aptly named Waterfront Restaurant on Pier 7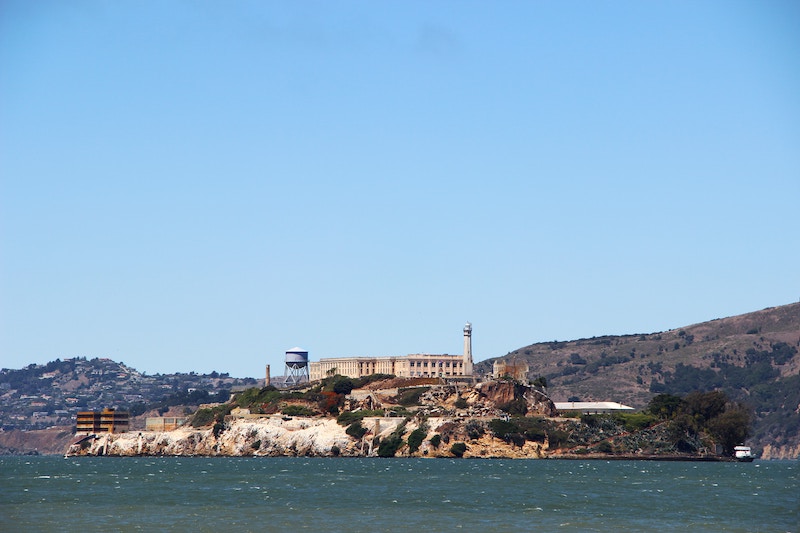 Transit Options on the Embarcadero
Muni F-Market and E-Embarcadero streetcars
Muni Metro (J-Church, K-Ingleside, L-Taraval, M-Ocean View, N-Judah, T-Third Street)
BART at Embarcadero
BART BikeLink
Market Street Subway
Amtrak Thruway Bus: 34 to Stockton, 99 to Emeryville
Luggage Storage near the Embarcadero
Given that so many prime destinations in San Francisco are situated along or near the Embarcadero, you're sure to find yourself somewhere along this scenic path. From the northern through southern ends of the roadway, Bounce has all your bases covered for Embarcadero luggage storage.
Choose from our select partners below for hassle-free bag and luggage storage near the Embarcadero:
BART Stations
The Bay Area Rapid Transit (BART) is a public transportation system that services San Francisco, Oakland, and the suburbs in neighboring Alameda, Contra Costa, and San Mateo counties. You can count on Bounce for bag and luggage storage near select BART stations.
Ferry Building
San Francisco's Ferry Building is a marketplace, office building, and terminal for for commuter ferries traveling across the San Francisco Bay. If you're traveling via ferry with bags in tow, you can count on Bounce for short-term luggage storage near the Ferry Building.
Fisherman's Wharf
Fisherman's Wharf is amongst the most visited areas in San Francisco and the western United States at large. A visit to San Francisco would be incomplete without a journey through the legendary Fisherman's Wharf, where you can rely on Bounce partners to securely store your things.
Pier 39
Pier 39 is the most visited attraction in San Francisco, offering an array of shopping, dining, and entertainment options in a family-friendly atmosphere on the Bay. No visit to San Francisco would be complete without a stroll through this tourist favorite, and Bounce is happy to partner with local businesses for bag and luggage storage near Pier 39.
Downtown San Francisco
Downtown San Francisco encompasses the city's Financial District, and depending on who you ask, several other neighboring areas. Not only limited to business professionals, Downtown SF offers an array of attractions for visitors and locals alike. You can count on Bounce for safe bag and luggage storage in Downtown San Francisco.
Oracle Park (AT&T Park)
Oracle Park (formerly known as AT&T Park) is home to the San Francisco Giants baseball team. If you're headed to a game or concert at Oracle Park with bags or luggage in tow, count on Bounce to book short-term storage in the area.
How It Works
Book Online
Find the location closest to you. We have locations all around the city.
Drop Off Items
Show your booking receipt and you're good to go. Secured and insured.
Enjoy the City
Go about your day without lugging around your things.
Pricing
Simple, affordable, no hidden fees
Locations all over the city
Discounts at our partners
Reviews
What people are saying about Bounce
This was so cool!!!! Great service, extremely easy to use, and totally affordable! I didn't know where I'd leave my luggage while we explored San Fran, so I easily Googled luggage storage and found this company. At first it was a little odd dropping my bag off at a chocolate store, but the lady at the register was able to immediately pull up my reservation without any problems and then she put a lock on my suitcase and gave me a card to get it back with. She pushed the bag to the back of their s
Read more
Bounce storage is so convenient. This location is inside the Chancellor Hotel at Union Square, San Francisco. Super convenient location, close to transit, attractions. Hotel staff was professional and very pleasant. Great experience with Bounce and I will definitely use again.
Convenient to the Met, which does not allow luggage at coat check. Very easy check in and check out process, with lovely people at the front!
Can't believe I haven't used this service until now. So easy & convenient. I 100% recommend.
Bounce is the best luggage storage service provider in the New York. I sent an email at midnight , and I got an email back in 10 mins. They are not only solve my issue but also provide solutions. You have to try Bounce !!
I used Bounce during a recent trip to NYC, and I was pleasantly surprised at the ease and convenience of the process. To be honest, at first, I was very apprehensive. The thought of leaving your stuff at a random store, in a place where you are not from and you don't know whether is safe or not, it doesn't matter if anyone gives it a seal of approval, its difficult to be completely comfortable with the idea. However, I was very glad to be proven wrong. The place I chose was a great, clean bodega
Read more
Fantastic experience with Bounce! Stored a bag at the Grand Central location and on my last day at the 9/11 Memorial location. Both locations had friendly, efficient staff that were helpful and made everything very easy. Such a great option if your hotel isn't ready or you don't want the hassle of a bag in the city. Great, safe option. Thanks Bounce!
Frequently Asked Questions
Is there a maximum item size?
How do I cancel my booking?
Can I store my items for a week or a month?
Where are my items stored?
Do you offer hourly storage?
Do you have a location near X?
Are large bags more expensive?