More about Oslo
Where can I store my luggage in Oslo?
Though it has been around since the mid-1000s AD, Oslo, capital of Norway, is one of Europe's most modern cities. Its vibrant energy makes the city practically crackle with excitement. All types of people love visiting this world capital, due to its stunning art and fashion scenes, its delicious foodie sector and its innovative business offerings.

For many people, a night on the town consists of dinner made from locally-sourced, fresh food, a stop off for a steaming cup of java and then on to an opera or theatrical production. For others, no trip to Oslo would be complete without checking out its live music offerings. Music aficionados come here to listen to rock concerts, to attend music festivals or to spend a quiet evening in a coffee house listening to folk music.

But despite the modernity that infuses Oslo, it's still a city where the natural world reigns supreme. People who visit here can enjoy both the tree-lined hills that provide a backdrop to Oslo, as well as the Oslofjord, a fixture that puts the city in the sights of the seafaring crowd.

The design of the city makes it friendly to those who'd rather explore the beauty of Oslo by bike or by foot, rather than by car. In fact, between the city's design and the efficiency of its public transit system, it's entirely possible to exist in Norway's capital without owning a vehicle at all.

These are just a few of the reasons why visitors to the city love to take advantage of Bounce's options for luggage storage in Oslo. We create partnerships with businesses around the world to provide our customers with the best storage solutions possible. Bag storage in Oslo might be located in a cozy coffee shop, the concierge's office in a hotel or at a dry cleaners' shop. Log onto our app to find a bag drop near where you're staying.

Luggage Storage Near Oslo Station

Luggage Storage Near Stortovet Station

Luggage Storage Near Nationaltheatret Station

Luggage Storage Near Sentrum

Luggage Storage Near Oslo Airport

Luggage Storage Near Gustav Vigeland Park

Luggage Storage Near Akershus Fortress
How much does luggage storage cost in Oslo?
Luggage storage in Oslo costs only $5.90 on the Bounce platform for each bag or piece of luggage. 

Where is the nearest bag storage in Oslo?
The Bounce platform offers dozens of bag and luggage storage locations throughout Oslo. With 24/7 customer support and up to $5,000 in insurance for every booking, luggage storage in Oslo as never been easier.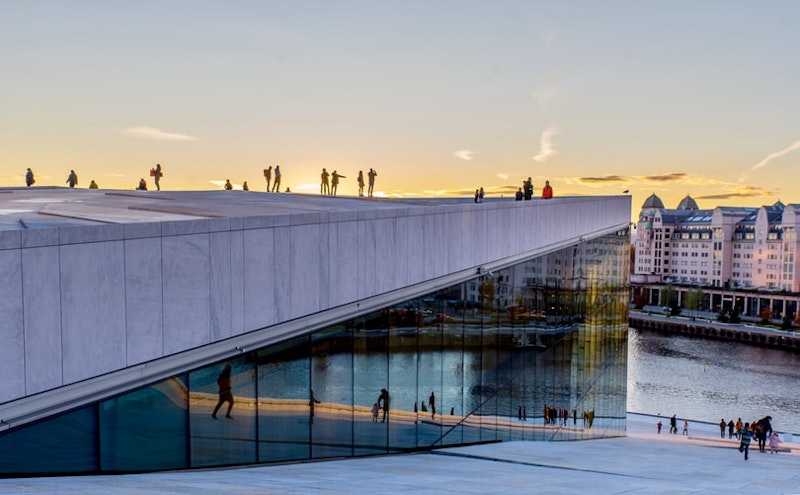 Luggage Storage Near Oslo Station
Getting to and fro in Oslo usually starts with a stop at the Oslo Central Station. It's both the city's primary railway station and the country's largest, with a total of 19 tracks that serve the Østfold Line, Hoved Line, Gjøvik Line, Gardermoen Line, and the Drammen Line. Travelers come to this station to catch trains that run locally and regionally, as well as to catch express trains.

But catching a train here isn't the only draw for this Oslo landmark. It consists of two buildings, each of which has a shopping center, where you will find restaurants, coffee shops, and shopping offerings. Inside the station, you'll also find a currency exchange as well as ATMs, restrooms and other comforts. The station's location at Jernbanetorget means that once you disembark from your train, you can easily find local tram and bus stops.

If you have an extended wait at the central station, then you may want to look into luggage storage in Oslo in or near the train station. A quick check of your Bounce app tells you where to find a place to stash your bags for a few hours or even a day.

Luggage Storage Near Stortovet Station
If a trip to Oslo wouldn't be the same for you without a ride or two on the city's tram system, then you'll want to get acquainted with Stortovet Station. It's one of the stops on the city's tramway system. Its location in the city center at Stortovet Square makes it easy to find, even for people new to the city. It serves three tram lines, the 11, the 17 and the 18.

Your options for luggage storage in Oslo near Stortovet Station are numerous. At Bounce, we make a concerted effort to create professional ties with businesses that are centrally located and easy to find, like those in and around Stortovet Station.

Luggage Storage Near Nationaltheatret Station
For those who live for a night at the theater, then any trip to Oslo must include a visit to the Oslo National Theatre. It is located conveniently located just adjacent to the Nationaltheatret Station, Oslo's second-busiest railway station. Just above this station is the Oslo Metro, which makes transferring from trains to trams or buses a relatively simple matter.

Also nearby are plenty of eateries serving some amazing food, pubs, the Viking Planet Museum, the Julehuset Christmas Shop, auction houses, art galleries and more. If you're looking for an excellent jumping-off point for an Oslo-based adventure, the Nationaltheatret Station might just be the place to start.

There's no need to bring your bags along as you explore this sector of Oslo. Instead, check out your options for luggage storage in Oslo in and around the Nationaltheatret Station.

Luggage Storage Near Sentrum
Sentrum is Oslo's city center. It's a district where high rises, like The Plaza or the Postgirobygget, reign supreme. Its location near Oslofjord also makes it one of the city's most important business and cultural stop-offs. Opera fans get their fill of some of the world's most beautiful and famous operas in this district: The Oslo Opera House has its home in the city center.

Aside from this, many of Oslo's most influential media companies call Sentrum home. These include magazine companies, TV stations and the like. Finally, those who want to pick up some souvenirs or who just want to spend an afternoon wandering around the fashion boutiques of Norway's capital will appreciate the mall in this area.

There are plenty of places where you'll find luggage storage in Oslo near Sentrum. This area of the city is busy. It's filled with just the types of businesses that we like to partner with in order to offer our customer's bag storage in Oslo and other world capitals, like Paris or Moscow.

Luggage Storage Near Oslo Airport
As a hub for airlines like Widerøe, Norwegian Air Shuttle, and Scandinavian Airlines, as well as a stopping point for world airlines, like Air France, British Airways, KLM, Lufthansa, Ryanair, and Swiss International Air Lines, the Oslo Airport serves almost 30 million passengers a year. This makes it the Nordic countries' second-busiest airport and an important transportation hub for the country of Norway. It's located in the Norwegian municipality of Ullensaker at Gardermoen.

Luggage storage in Oslo in and around the airport provides travelers (like you) with a much-needed respite from their bags. If you've just landed in Oslo and want to drop off your bags for a bit, log onto the Bounce app to find one of our partner businesses near the airport.

Luggage Storage Near Gustav Vigeland Park
When Norwegian sculptor Gustav Vigeland created more than 200 pieces of sculpture, he also wound up creating the world's biggest sculpture park. Known as the Gustav Vigeland Park, this site is home to what The Daily Mail described as the "weirdest statues" on the planet. While that may describe some of the statues, it doesn't do justice to the pure splendor of the park.

Filled with sculptures made from granite and bronze, as well as trees and plenty of lush grass and shade, it's a place where sculpture lovers, travelers to the city and even locals can come and relax. It's an outdoor museum, the likes of which few have ever experienced. It celebrates the human form in all its beauty and all of its quirks. It's one of the places in Oslo that you truly don't want to miss.

When you visit the Gustav Vigeland Park, you want to check your bags at the proverbial door. Our options for luggage storage in Oslo include locations around this famous Norwegian park. Just fire up the Bounce app to find them.

Luggage Storage Near Akershus Fortress
Since the late 1200s, one location has stood between Oslo and the dangers of the outside world, the Akershus Fortress, or otherwise known as the Akershus Castle. Norway's King Håkon V ordered the construction of the castle in 1299. Its strategic location and hearty defenses allowed the fortress to withstand a number of attacks throughout its history. Eventually, King Christian the IV converted the castle into a royal residence.

While no foreign enemy ever overtook the castle, it was eventually surrendered to the Nazis in 1940. This came as a result of the German attack on Norway and Denmark. Eventually, the castle was liberated in 1945. While it is still used today as military support, it is also possible to visit the Akershus Fortress each day. There is a museum on site, which allows visitors to get an in-depth look at the fortress's history.

Your options for luggage storage in Oslo include sites near the Akershus Fortress and Castle. A quick search of the Bounce app gives you an idea of the businesses in this area that can provide you with bag storage in Oslo near here.