More about Warsaw
Where can I store my luggage in Warsaw?
Once nicknamed the "Paris of the North," Poland's capital city Warsaw has survived the ravages of time and two World Wars. Historically, Warsaw played a big role in world history. It was the site of the Warsaw Ghetto and the Warsaw Uprising. Its Old Town and many of the most important buildings in the city were destroyed and then rebuilt. By the time World War II had ended, 85% of Warsaw was in ruins.

Despite having been beat up over the years, it is once again one of Europe's most beautiful cities. It's now once again a haven for culture and art, business and of course, tourists. Warsaw also holds the distinction of having a number of UNESCO World Heritage Sites. It's an infinitely livable city and is one of the most populous capitals in Europe.

Warsaw, with its deep history and great heart, deserves to have your undivided attention when you visit it. As such, you'll want to check out our options for luggage storage in Warsaw. At Bounce, we partner with local businesses throughout the world in order to provide travelers like you with a place to drop off your luggage for the day. Bag storage in Warsaw is easy to find: Just log onto our app and find a bag drop near you.

Luggage Storage Near Warsaw Central Station

Luggage Storage Near Old Town

Luggage Storage Near the Royal Castle

Luggage Storage Near Warsaw Chopin Airport

Luggage Storage Near Sigismund's Column

Luggage Storage Near Polish National Opera

Luggage Storage Near Palace of Culture and Science
How much does luggage storage cost in Warsaw?
Luggage storage in Warsaw costs only $5.90 on the Bounce platform for each bag or piece of luggage. 

Where is the nearest bag storage in Warsaw?
The Bounce platform offers dozens of bag and luggage storage locations throughout Warsaw. With 24/7 customer support and up to $5,000 in insurance for every booking, luggage storage in Warsaw as never been easier. 

Luggage Storage Near Grand Central Station
Architect Arseniusz Romanowicz designed Warsaw's main railway station; it was one of the Polish People's Republic's flagship projects in the late '70s. Nowadays, this train station sees traffic from places, like Berlin, Frankfurt on the Oder, Vienna, Breclav, Terespol and of course, Warsaw to name but a few. However, people don't just come here to catch trains. It's a full transportation hub. Once you disembark from your train, you'll find taxis, trams, and buses nearby.

New innovations to the original design make this important transportation stop easy to navigate. A stroll through its corridors provides travelers with not only train access but also to ATMs and the Marriott. Foodies can also find cups of the best international coffee, kebabs shops and fast food fare between train rides. Across the street from the station sits the Palace of Culture, a destination that provides travelers like you with all sorts of useful information.

Luggage storage in Warsaw is abundant in locations, like the Warsaw Central Station. Thanks to our area partners, you can find a place to stash your luggage in or near sites, like this station. Just take a gander at your Bounce app to learn more.

Luggage Storage Near Old Town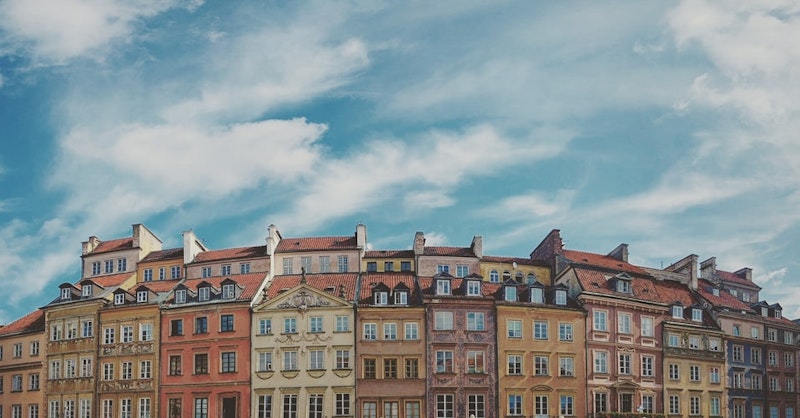 The history of Warsaw's Old Town reaches back in time to the 1300s. Initially, the city's Old Town grew up around the Dukes of Mazovia's castle. This eventually became the Royal Castle, the official residence of the Polish monarchs throughout the ages. Old Town was badly damaged by the German Luftwaffe in 1939. However, this part of Warsaw was eventually rebuilt after the war ended, using much of the original materials of the buildings in this area, which were salvaged during the renovation efforts.

Today, visitors take treks to Warsaw's Old Town when they want to visit destinations, like the Historical Museum of Warsaw, the Adam Mickiewicz Museum Of Literature, the Royal Castle or the Residential Palace. Afterward, a stop at U Fukiera for dinner is usually in order. This restaurant serves traditional Polish meals and is owned by chef Magdalena Gessler.

When you're going to be in Old Town for the day, be sure to check out your options for luggage storage in Warsaw in or near Old Town. You'll find Bounce partners in places, like coffee shops, hotels or dry cleaning businesses. They will provide you with bag storage in Warsaw for the day, so check them out before you start your adventures.

Luggage Storage Near the Royal Castle
The Royal Castle of Warsaw not only offered the country's monarchs a place to live, it played an important role in the city's defense - in a manner of speaking - during WWII. Due to its location near the Kierbedź bridge during the war, the castle was spared. Although Adolf Hitler original ordered the castle to be destroyed, those plans were put aside. Destroying the Royal Castle threatened the bridge. Thus, it remained standing, at least for a time. By the time that 1944 rolled around, the Germans had destroyed the castle and whatever contents were left inside it.

Fortunately, the renovation efforts that rebuilt Warsaw's Old Town were directed at its Royal Castle as well. It eventually opened back up to the public in 1984. Like many sites of this nature, the castle received a UNESCO World Heritage Site designation, making it a protected site.

If your wanderlust brings you to Warsaw's Royal Castle, do be sure to check out your options for luggage storage in Warsaw before you tour the castle. This is one tour you want to take unencumbered by your belongings.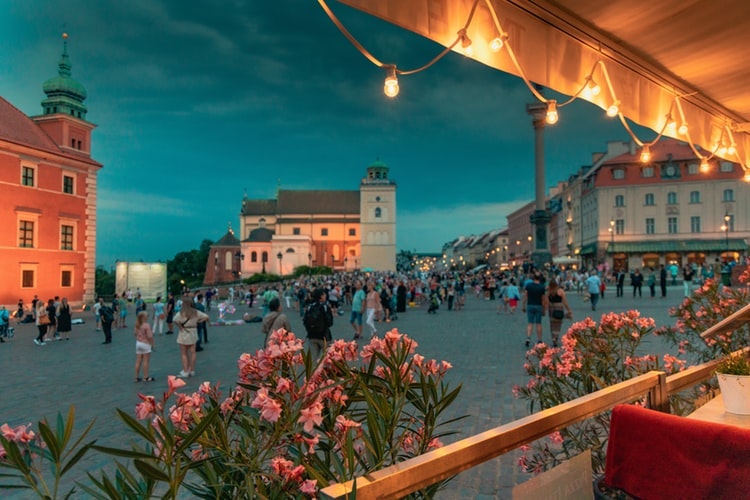 Luggage Storage Near Warsaw Chopin Airport
Warsaw Frederic Chopin Airport, or Warsaw Chopin Airport as it's more commonly called, is Poland's largest airport. During the war years, the Polish Resistance and the German Army battled on its grounds, which left it in shambles.

These days, it's an international airport that sees almost 18 million passengers a year. Travelers find many convenient services at the airport, including the underground railway station, which opened its doors to the public in 2012. On any given day, some 300 flights pass through the airport, not including the charter flights that fly through. Airlines such as Air Cairo, Air China, British Airways, KLM, LOT Polish Airlines, Lufthansa, Turkish Airlines and Wizz Air fly through this airport.

After a long international flight, it's likely that you won't want to lug your bags around while you're visiting Warsaw Chopin Airport. Fortunately, you won't have to. Bounce's options for luggage storage in Warsaw includes drop points in this area of the city.

Luggage Storage Near Sigismund's Column
Sigismund's Column is a Corinthian column that honors King Sigismund III Vasa: He moved changed Poland's capital from Krakow to Warsaw in the late 1500s. The column stands as a monument to him and his contributions to Poland.

Standing 22 meters high, it was constructed between the years of 1643 and 1644 on the command of the King's son, King Władysław IV Vasa. The Germans destroyed the column during the Warsaw Uprising in 1944. Once the war concluded, the statue of King Sigismund III Vasa was repaired. Restorers additionally replaced the column's original marble with granite and set up the new column several meters away from its original site.

This monument stands out in the open. As such, you'll want to find a place to stash your bags while you visit. Fortunately, your options for luggage storage in Warsaw via Bounce are many. Log onto your app to find a drop point near the monument.

Luggage Storage Near Polish National Opera
Like most important landmarks in Warsaw, the history of the Polish National Opera (the Teatr Wielki) is intertwined with the siege of Warsaw in 1939 and the subsequent fighting during World War II that followed. Damage from the war completely destroyed the building.

However, it didn't destroy the spirit of the opera in the city. While the Teatr Wielki underwent a period of reconstruction, which lasted from 1945 to 1965, the opera company performed its works on other stages. In 1965, the opera company got a new home at last. Since then, more than 50 years have passed, and the opera continues to play on in this great building.

Enjoying a night at the opera starts with you figuring out your options for bag storage in Warsaw near the opera house. Fortunately for you, luggage storage in Warsaw is easy when you turn to a Bounce partner for help.

Luggage Storage Near Polish Near Palace of Culture and Science
Visitors to Warsaw's Palace of Culture and Science easily recognize its facade. It's the city's tallest, and therefore, most recognizable building. No matter where you stand in Warsaw, you can see it (more or less). Like many of the city's buildings, this one boasts a fascinating past. Gifted to the people of Poland by Joseph Stalin, the building stood for socialist power and Polish pride. It opened to the public in 1955: It was the site of the Polish United Workers Party's conventions.

Nowadays, it is a monument celebrating culture, science, art, and technology. If you are not sure where to begin your tour, why not go up to the observation deck, which is located on the building's 30th floor. During the warmer months, you can go to the Palace of Culture and Science to attend concerts, to catch a film show or to see a live theatrical performance. In the colder months, ice skaters find their Zen at the free ice skating rink. It's stunningly beautiful when it's lit up at night, so make sure that you see it at least once the sun dips below the horizon.

Trekking through the Palace of Culture and Science takes time and plenty of energy. To make your tour of this building more comfortable, be sure to look into luggage storage in Warsaw near here. A quick look at the Bounce app will tell you where to find partners businesses near the Palace of Culture and Science.