More about Berlin
Where can I store my luggage in Berlin?
Germany's capital city was founded in the 13th century and was a center point for trade routes in the area. Since then, it has been the capital of not only Prussia but also the German Empire, Weimar Republic and the Third Reich. Additionally, a part of Berlin, East Berlin, was the capital of former East Germany.

Since the fall of the Berlin Wall and the reunification of East and West Germany, Berlin has once again taken its place as one of the world's most interesting capital cities. It's a hub for culture and media, as well as politics, high-tech firms and of course, tourism. Berlin also sees its fair share of film crews, film and music festivals and contemporary art, making it one of the most fascinating cities in the world

Start out your trip to this important European capital by finding the best options for luggage storage in Berlin. Bounce has partners all over the city. Check out our app to find out where you can store your bags in and around Germany's capital city.

Luggage Storage Near Alexanderplatz

Luggage Storage Near Berlin Central Station

Luggage Storage Near Friedrichstraße Station

Luggage Storage Near Checkpoint Charlie

Luggage Storage Near Berlin Tegal Airport

Luggage Storage Near Berlin Ostbahnhof

Luggage Storage Near Berlin Schoenefeld Airport
How much does luggage storage cost in Berlin?
Luggage storage in Berlin costs only $5.90 on the Bounce platform for each bag or piece of luggage. 

Where is the nearest bag storage in Berlin?
The Bounce platform offers dozens of bag and luggage storage locations throughout Berlin. With 24/7 customer support and up to $5,000 in insurance for every booking, luggage storage in Berline as never been easier. 

Luggage Storage Near Alexanderplatz
Alexanderplatz, or Alex, as it is more affectionately called, got its name from the Russian Tsar Alexander I, who visited here in 1805. During the early years of the 20th century, it played an important part in Berlin's nightlife.

Today, statues and other street art remind passersby that Alex once stood squarely in the heart of East Berlin and indeed, the former East German Republic. Alex is one of the most modern and certainly busiest hubs in Europe. Each day, it receives at least 360,000 people, which to put it into perspective, is the same number of people that passed through Times Square in New York City each day.

Alexanderplatz has a train station, which allows visitors to get to the shops, record stores, coffee shops and other attractions in the area. It's also home to one of Berlin's most famous landmarks, the Fernsehturm, or TV Tower. If you would like to photograph this and other famous landmarks in Berlin without having to worry about juggling your backpack and other pieces of luggage, then look for luggage storage near Alexanderplatz. Bounce Partners in the area will gladly stow your bags away so that you can more fully enjoy this and other important European landmarks.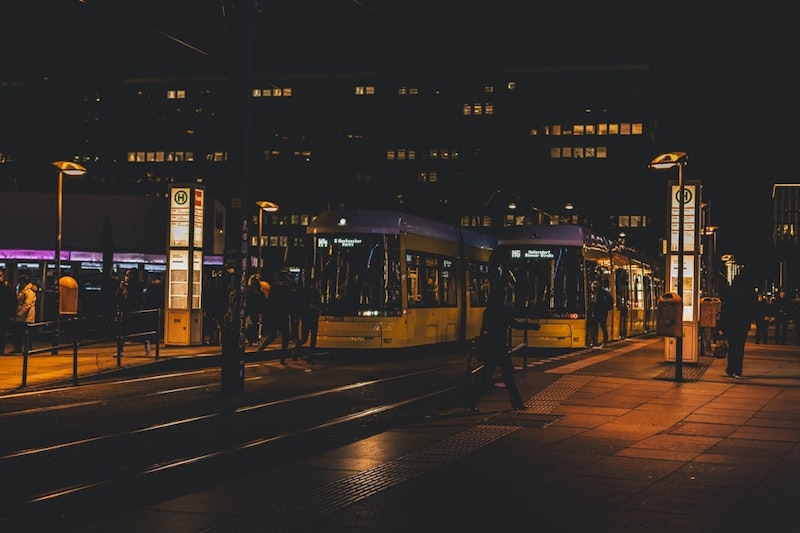 Luggage Storage Near Berlin Central Station
Berlin's Central Station is the city's main train terminal. Steel and glass walls are the face of this important transportation edifice. From looking at this stunning piece of architecture, it's difficult to imagine the bombed-out train station it was during and after World War II. Berlin Central Station consists of two main levels that service suburban traffic. In and around the train station, it's possible to see examples of modern art, like the Rolling Horse sculpture, created by Jurgen Goertz in 2007.

From the central station, visitors to the city can catch the S-Bahn. The Zoologischer Garten, as well as Alexanderplatz, stand just 10 minutes away from here. Additionally, people who need to make a connection to Berlin Schoenefeld Airport can do so from Berlin's Main Train Station.

If ever there was a place where finding bag storage in Germany's capital city would come in handy, it's at Berlin Central Station. This central hub allows you to connect to some of the most important landmarks in Germany's capital city. Just log onto the Bounce app to find a bounce partner near this station.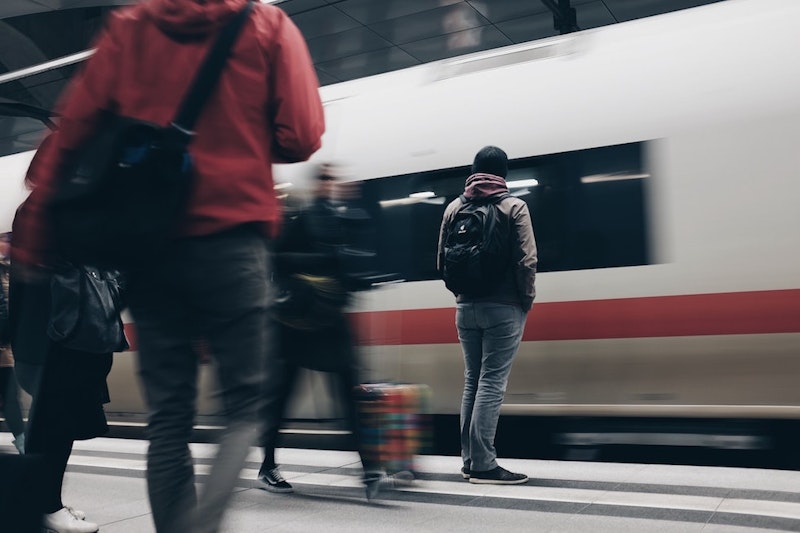 Luggage Storage Near Friedrichstraße Station
Named after Frederich III, who ruled the area from the late 1600s to the early 1700s, Berlin's Friedrichstraße Station counts among the city's most historically interesting and busiest hubs. By the time World War II rolled around, the area around the station had already became known for its music halls and theater, including the Wintergarden variety theater.

During the Cold War, Friedrichstraße, which is 3.3 kilometers long, literally had a line running through it. Nowadays, from Friedrichstraße Station, it's possible to reach the Berliner Ensemble, Admiralspalast and Unter den Linden, as well as other notable sites. Important historical landmarks like Brandenburg Gate and Germany's Parliament are within walking distance from here.

When you have a day of shopping and theatrical entertainment in mind, it's best to check out your Bounce app to see what options for bag storage in Berlin exist near Friedrichstraße Station. Bounce's partners are located in businesses, like cosmetic and jewelry stores, coffee shops, hotels, and restaurants, to name but a few.

Luggage Storage Near Checkpoint Charlie
Before the Berlin Wall fell, Checkpoint Charlie was the only place where Allied Forces, foreign tourists and Allied Diplomats we're allowed to cross into the Soviet sector of the city. A warning sign even stood at Checkpoint Charlie, telling visitors that they were leaving the American sector of Berlin. Checkpoint Charlie operated for almost 30 years. On October 22nd, 1961, it even became the site of a Cold War standoff between the Soviet Union and the United States.

Once the Berlin Wall fell, thousands of East Germans flooded through the gates at Checkpoint Charlie on their way to their new-found freedom. Its iconic guardhouse now stands as a museum, a reminder a city and a country divided. Not far from Checkpoint Charlie, city visitors can also see Pariser Platz, the German Parliament, known as the Reichstag and other important landmarks in the area.

If your love of modern history brings you to Checkpoint Charlie for the day, be sure to check out your options for bag storage in or near near this area of Berlin. There is always something going on at or near Checkpoint Charlie. As such, it's best to navigate this area unencumbered by your bags.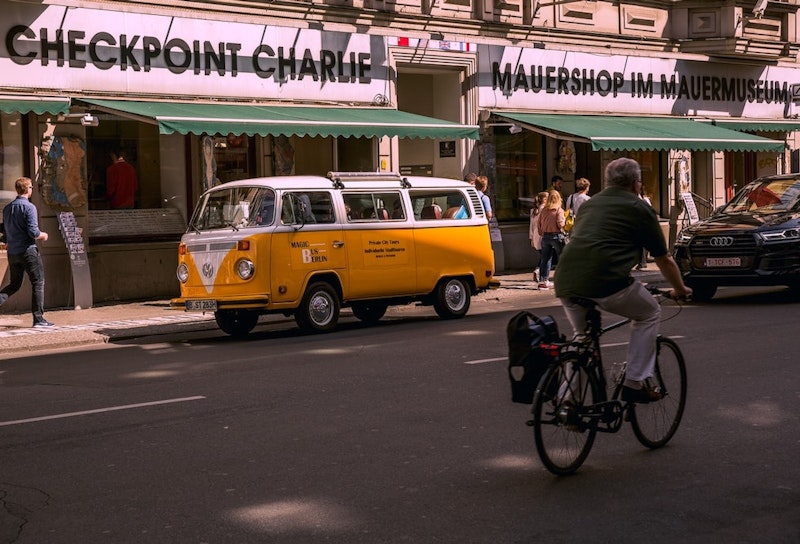 Luggage Storage Near Berlin Tegel Airport
Named after Otto Lilienthal, Berlin Tegel Airport serves at least 20 million people a year. It is located in Tegel, a borough of Reinickendorf, which is northwest of City Center in Germany's capital. Berlin Tegel Airport was once a part of the Jungfernheide Forest, a spot where the Prussian nobility went hunting. After the first world war broke out, it became important location for military training.

After WWI, the Treaty of Versailles prohibited Germany from having any armed aircraft. However, Berlin Tegel Airport once again became a training area for the military during World War II and was destroyed by the Allies during the air raids of the Second World War. During the years of the Cold War, Berlin Tegel Airport played an important role in events like the Berlin Airlift. Nowadays, major airlines, like Air France, British Airways, Iberia Express, Lufthansa, Swiss International Air Lines and United Airlines all fly into and out of this airport

Luggage storage in Berlin starts as soon as you land at Berlin Tegel Airport. Our area partners are happy to help you find a place to store your luggage so that you can explore the airport and the surrounding area. Check out the Bounce app to find a Bounce partner near here.

Luggage Storage Near Berlin Ostbahnhof
Travelers heading into Berlin find that the city's Ostbahnhof (East Train Station) counts among Berlin's main jumping off points. Each day, around 100,000 visitors come to the Ostbahnhof to catch trains and to access city streets nearby. With its easy access to the S-Bahn, as well as to the city's bus lines and a car park, it counts among Berlin's most important transportation hubs.

Once outside its gates, it's possible to access the East Side Gallery, the longest-remaining stretch of the Berlin Wall, as well as the Mercedes-Benz Arena and the Postbahnhof. Its location near Kreuzberg also lets city visitors catch a glimpse of one of Berlin's most historically interesting areas.

Luggage storage in Berlin near the Ostbahnhof allows you to drop off your bags while you go sightseeing in this notable area of Germany's capital city. To find a business where you can store your bags for the day, just log on to the Bounce app to find a place near this train station.

Luggage Storage Near Berlin Schoenefeld Airport
The Berlin Schoenefeld Airport is the country's secondary international airport. It's located in the state of Brandenburg, which lies 18 kilometers outside of Berlin. Historically, Berlin Schoenefeld Airport counted as the main civil airport of East Germany and was the only airport in East Berlin. Since the reunification of East and West Germany, this airport has seen more and more passengers pass through it each year. As many as 13 million passengers come through it annually.

Berlin Schoenefeld Airport serves airlines, like EasyJet, Egypt Air, Holiday Europe, Pegasus Airlines and Ryanair. From this airport, it's possible to catch trains to Alexanderplatz, Charlottenburg, Berlin Ostbahnhof and the Berlin Central Station.

If you're flying into this airport, then you'll want to look for options for bag storage in Berlin at or near Berlin Schoenefeld Airport. Log on to your Bounce app to reserve bag storage once you land.