More about Dusseldorf
Dusseldorf is Germany's only major city that still keeps the word "dorf" in its name. "Dorf" means "village" in German, and although Dusseldorf has long since joined the modern world, it still retains its friendly village charm. It's the capital of the German state North Rhine-Westphalia and is Germany's seventh biggest city.

The Rhine-Ruhr Metropolitan region converges here. The area is named after the Rhine River, which runs through Dusseldorf. Visitors can see the city by water by taking a Rhine River cruise. They can also take to foot to catch sights of the city's ancient streets, modern high-rise buildings and numerous cultural offerings, including plenty of pubs filled with glasses of German beer.

At Christmas time, Dusseldorf comes alive with seasonal festivities. It plays host to one of Germany's most popular Christmas markets. This nearly month-long festival attracts visitors from all over, who want to try samples of fresh hot chocolate and mulled wine and to see small craftsmen make their wares. At the Christmas market, it's not unusual for carolers to break out in song, and despite the nip in the air, it's a lively, welcoming place.

In general, Dusseldorf is a popular, well-regarded place to live in Germany. In 2012, the city was named the sixth most livable city in the world on Mercer's Quality of Living survey. With 22 colleges and universities, world-class businesses, museums and art galleries, world-class eateries and a major airport, it's easy to see why Dusseldorf earned this rank.

You won't want to miss any of the adventures that Dusseldorf has to offer. At Bounce, we see to it that you have the best options for luggage storage in Dusseldorf and other cities around the world, including Paris, Munich and Moscow. To find a place to stash your bags, just log onto your Bounce app.

Luggage Storage Near Dusseldorf HBF Station
Dusseldorf Hauptbahnhof, known as the Dusseldorf Main or Central Railway Station in English, is the city's primary train station in Dusseldorf. It has been in existence since just before the turn of the 20th century. The station was designed to replace three other train stations: the Cologne-Minden, the Bergisch-Maerkische and the Rheinish Stations. Replacing the three stations allowed the city to develop, and it allowed the railway lines that ran through those individual stations to all stop in the same place.

The main train station was originally constructed in the Baroque Revival style. The 1930s renovation expanded the station, which had grown too small. Its clocktower counts as one of the station's notable design features of that design.

If your travels will bring you to the Dusseldorf Hauptbahnhof, then be sure to check out your options for luggage storage in Dusseldorf once you have arrived. Bounce partners with numerous businesses in this German city. These businesses include popular destinations, like coffee shops, hotels and tourist sites. Log onto your Bounce app to learn more.

Luggage Storage Near Altstadt (Old Town)
When you're visiting Europe, a trip to a city's Old Town (Altstadt in German) gives you an up close look at ancient architecture and traditions like few tourist areas can. Dusseldorf's Old Town is no exception. During the day, a stroll through here nets sights of gabled roofs, cobblestone streets and hundreds of years of German history.

And people who have come to Germany to try some of the country's famous beer won't be disappointed. Here, you'll find what is affectionately called the world's longest bar. This is due in large part to the fact that over 300 bars, brewpubs and nightclubs crowd into the few streets that make up the city's Old Town.

Aldstadt is a place to go in Dusseldorf when you just want to hang out and people watch for a couple of hours. It's likely that you'll make new friends over a mug of ale. If you do go, be sure to drop off your luggage at one of Bounce's drop locations. Bag storage in Dusseldorf is way easy when you allow one of our partners to help you out. Find them on the Bounce app.

Luggage Storage Near Schloss Benrath
There is a reason that so many fairy tales are set in Germany. It seems like everywhere you go, you'll find at least one castle on the corner, waiting to be explored. Dusseldorf is no exception. Schloss Benrath is a palace from the Rococo period. It was the summer residence of Elector Palatine Charles Theodor and Elisabeth August of Sulzbach, his wife.

On its grounds, you'll find lovely gardens, statues and even a natural history museum. It lies just outside of Dusseldorf, so it's an excellent place to visit when you're planning on being in the city for a while. Or if you wind up going for just the day, be sure to check out your options for luggage storage in Dusseldorf. One of our partners would love to take your bags for the day so that you can enjoy everything that the castle has to offer.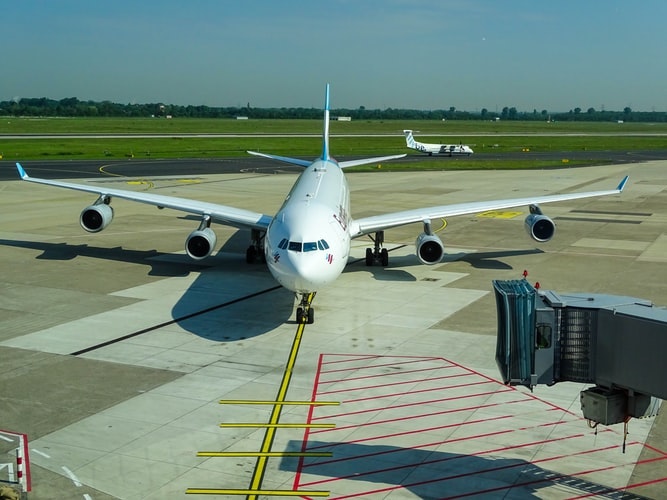 Luggage Storage Near Dusseldorf International Airport
The Dusseldorf Airport (Dusseldorf Flughafen in German) sees around 25 million passengers each year. It serves the Rhine-Ruhr area, the country's largest metropolitan area. It's also Germany's third largest airport: Only Frankfurt and Munich airports are bigger. Three passenger terminals support all of the commercial airline traffic that flies into Dusseldorf's International Airport. The airport employs more than 18,000 employees.

The Dusseldorf International Airport is jointly owned by the City of Dusseldorf and Airport Partners GmbH. Today, the airport serves airlines from around the world and is a hub for the airline Eurowings. Other airlines that fly into this airport include Air China, Air France, All Nippon Airways, Delta Air Lines, Holiday Europe, KLM, Lufthansa, Scandinavian Airlines and Turkish Airlines to name but a few.

Bag storage in Dusseldorf in and near the airport is a must if you want to drop off your bags during your layover. Check out what Bounce's partners in the area can do for you. Just sign on to your Bounce app to locate luggage storage near you.

Luggage Storage Near Klosterstrasse
Klosterstrasse is an excellent place for foodies to go when they're visiting Dusseldorf. Many of the city's most interesting eateries are on or near this street. Asian lovers can stop for a bite to eat at Restaurant Seoul. There's also a pizza place, called What's Pizza just a block down from Klosterstrasse. There are also sushi restaurants, noodle houses and more.

Or if you have a few hours to kill, you'll also find Bambi Filmstudio on Klosterstrasse. It shows popular movies and is just down the street from a large park. In general, Klosterstrasse is the kind of place to go when you want to wander around, eat excellent food or catch a movie.

Finding luggage storage in Dusseldorf is important if you're going to be taking a trek down Klosterstrasse. Bounce's Dusseldorf partners will gladly take your bags for the day for a small fee, allowing you to wander around the city without having to drag your luggage behind you.

Luggage Storage Near Burgplatz
Dusseldorf's Burgplatz is a treat for history buffs, river lovers and people watchers. It's probably the city's most famous central meeting place and counts among the finest examples of postwar city architecture. It sits right on the Rhine River, between the river and Dusseldorf's Old Town.

Its name comes from a castle complex that used to inhabit the area, but a series of disasters destroyed much of the castle. Eventually, what was left of the castle got torn down, except for the castle tower. Today, the tower serves as the site of the Maritime museum. Near here, you can reach the banks of the Rhine via an outdoor staircase. It's a popular meeting spot for lunch for the locals and tourists alike.

This city monument is worth savoring. If you're going to be near Burgplatz during your stay in Dusseldorf, why not check out your options for luggage storage in Dusseldorf near Burgplatz? A quick look at your Bounce app will show you where our partners in the area are.

Luggage Storage Near Filmmuseum
Film buffs won't want to miss a trip through the Filmmuseum Dusseldorf in Old Town. It's an interactive museum that tells the story of film from its beginnings until now. It houses a permanent exhibition, which gives museum visitors a look at old film equipment, like cameras and projectors, set models, movie props and costumes.

It also has one of the most interesting shadow puppetry collections anywhere in the world. This collection has figurines from the 13th to the 19th century, about 500 in total. There is also a collection of documents to accompany this exhibit, making it truly extraordinary sight to see.

Finally, the museum is meant to give visitors, both the casual film-goer and the serious film scholar, an exceptional look at the impact that film has had on western culture. The museum regularly hosts workshops and other educational programs for visiting university students, scholars and the general public.

A trip through the Filmmuseum is worth doing well and unencumbered by your bags. Fortunately, Bounce can help you out. Our partners near the museum have lots of options for luggage storage in Dusseldorf near the museum. Drop off your belongings before you wander through this film history wonder.