More about Cologne
Where can I store my luggage in Cologne?
As Germany's oldest city, Cologne has much to offer even the most experienced travelers. It's home to one of Europe's most impressive churches, numerous museums, the Rhine River and even a Christmas market.

Situated right on the Rhine River, this city retains its ancient roots, while still being surprisingly modern. The largest collection of pop art outside of the United States is in one of the city's museums. Its romantic Love Locks Bridge attests to the timelessness of romantic love. Cologne's zoo welcomes animal lovers, who can't get enough of exotic animals from around the world. As for the Rhine itself, it provides the perfect backdrop for romantic river tours, where some of the finest German wine and sights are served in equal portions.

Cologne additionally offers a great deal to clubbers, who love to spend a night at one of the city's many nightclubs. World-class eateries allow foodies to sample some of the best German beers, spirits and foods. And with one of the world's biggest arenas, it's a place where entertainment in all its forms is available year-round.

Like many other amazing world cities, like Paris or Moscow, Cologne deserves to be thoroughly explored and enjoyed. The best way to do this is to find bag storage in Cologne: This allows you to leave your bags behind while you take an adventure through the city. Bounce partners with many different types of businesses in the city, like coffee houses, stationery stores, modern business offices and hotels, to provide clients like you with the best options for luggage storage in Cologne.

Luggage Storage Near Cologne Train Station

Luggage Storage Near Cologne Cathedral

Luggage Storage Near Hansaring Station

Luggage Storage Near Botanical Garden

Luggage Storage Near Cologne Bonn Airport

Luggage Storage Near Heumarkt

Luggage Storage Near Lanxess Arena
How much does luggage storage cost in Cologne?
Luggage storage in Cologne costs only $5.90 on the Bounce platform for each bag or piece of luggage. 

Where is the nearest bag storage in Cologne?
The Bounce platform offers dozens of bag and luggage storage locations throughout Cologne. With 24/7 customer support and up to $5,000 in insurance for every booking, luggage storage in Cologne as never been easier.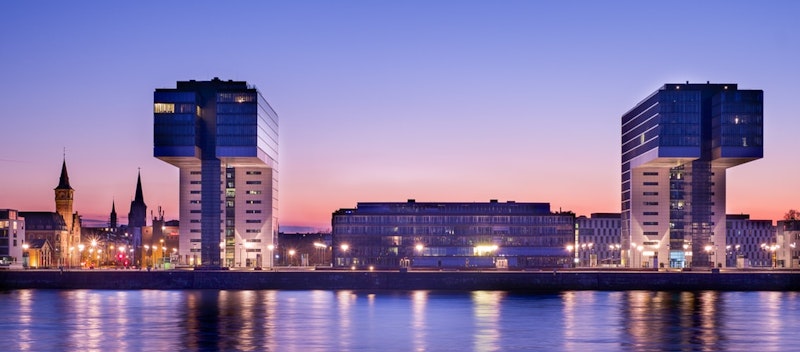 Luggage Storage Near Cologne Train Station
The Köln Hauptbahnhof, or the Cologne Main Train Station, provides connections for travelers going to and coming from many major cities in Germany and in Europe. More than 1300 trains carrying thousands of passengers travel through here each day. These trains connect one of Germany's most populous cities to other cities in Europe, like Paris, Brussels, London and Amsterdam, and many of the trains are high-speed trains, making travel by train fast and convenient.

Passengers disembarking from trains in Cologne at the main train station find that this destination offers an excellent jumping off point for many important destinations. The famous Cologne Cathedral lies just a stone's throw away from the railway station's front doors, as do other sites, like the Love Lock Bridge, river cruises along the Rhine and the Fragrance Museum.

Your adventure through Cologne starts once you find luggage storage in Cologne near the Köln Hauptbahnhof. Bounce's partners in the city are located in easy-to-find places, like local hotels, coffee shops or stationery stores. Check out our app to find bag storage in Cologne in this area.

Luggage Storage Near Cologne Cathedral
If you want to see a genuine antique when you're in Cologne, then you must take a trek to the Cologne Cathedral. It's unlikely that you'll have trouble finding it. It's right in the middle of the city, and its soaring peaks tower above the rooftops of other buildings in the city. It's Cologne's guiding light, literally and figuratively.

This UNESCO World Heritage Site has been around since the 1200s and is said to have the capacity to hold more than 20,000 people. Want to take a trip to the top? That's not a problem provided that you're willing to climb the church's 519 steps to get there. If you're not quite up to the task, there's still plenty to see. The church is filled with religious artifacts and relics, like the Shrine of the Three Holy Kings.

Locating luggage storage in Cologne is a must if you're planning on visiting the Cologne Cathedral. There is far too much to see (and too many steps to climb) to be weighed down by your bags.

Luggage Storage Near Hansaring Station
While you can get to most cool destinations in Cologne by taking a train to the main train station, it may be worth your while to check out Hansaring Station. It's just one kilometer northwest from the main train station. From this stop, you can get to many of the Cologne's parks, several of its churches and St. Mary's Hospital. And given its close proximity to the main train station and to the Cologne Cathedral, it's a nice place to start if you feel like taking a scenic walk through the city.

If you do plan on walking around Cologne or if your travels take you beyond the confines of Hansaring Station for the day, then check out our options for luggage storage in Cologne near this stop. A quick perusal of the Bounce app will tell you where to find bag drop points near this train station.

Luggage Storage Near Botanical Garden
If you've ever wondered what it'd be like to wander through a fairy tale, then Germany is the place to be. The influence of fairy tales seem to permeate the whole place, and nowhere is this more apparent than in places like the Flora and Botanical Garden in Cologne. Its sprawling grounds feature pristine fountains, manicured lawns and fragrant flowers.

Each year, this green sanctuary welcomes over a million visitors, who delight at the 11,000 species of plants on display. Some have said that some of the spots on the grounds almost feel like a mystical rainforest. The beauty of this Cologne destination attracts not only plant lovers, but others, as well. They gravitate toward the botanical garden for events, like conferences and weddings.

If you're going to be near the botanical garden in Cologne, be sure to find a spot to stash your luggage before you arrive. Bounce's partners have plenty of options for luggage storage in Cologne near here. Just log onto your app to find a dropoff point near the gardens.

Luggage Storage Near Cologne Bonn Airport
The Cologne Bonn Airport has played many important roles in German history since its inception in 1913. It has seen several world wars, the division and subsequent reunification of Germany and the rise of the European Union.

This airport serves a large geographical area in Germany, including the cities of Cologne and Bonn, which is the former capital of West Germany. The airport's full name in German "the Flughafen Köln/Bonn Konrad Adenauer" is a nod to the first post-war Chancellor of former West Germany, Konrad Adenauer. This airport, being one of the major ones in Germany, serves a number of airlines, including for Austrian Airlines, British Airways, easyJet, Holiday Europe, Lufthansa, Ryanair, and TUI fly Deutschland.

Finding luggage storage in Cologne in and around this airport is a breeze if you're a Bounce client. Check out your Bounce app to locate bag storage in Cologne near this destination.

Luggage Storage Near Heumarkt
Germany is famous for many things, including its Christmas markets, and if you're in Cologne during the Season of Joy, then you'll want to stop by the Heumarkt. This is the city's winter market. Visitors here find handcrafted items, antiques, traditional German recipes, an elves market and of course, toys!

Aside from shopping, people who come to the market enjoy the various activities that are scheduled during the season. These activities include Ferris wheel rides and ice-skating. At the Heumarkt, there are also mugs of mulled wine, German craft beer and delish German sausages. It's such an amazing place that no one would blame you for wanting to stay here all year through.

A trip to the Heumarkt deserves your full attention, something that could be difficult to give if you're dragging your bags with you down the fruit- and sweet-laden alleys. Therefore, finding luggage storage in Cologne before you head to the market is a must for most Christmas market visitors. Your Bounce app can tell you where you'll find luggage drop points near here.

Luggage Storage Near Lanxess Arena
With the Lanxess Arena, people living in and visiting Cologne don't suffer for a lack of entertainment. This large, multifunctional arena is the largest in all of Europe. The exterior is covered by an impressive 8,000 square meters of glass. Inside, up to 18,000 visitors can find seats to some of the hottest live entertainment events on the European continent. Stars such as Paul McCartney, Eric Clapton, Kylie Minogue and Sting have all played here.

The Lanxness Arena has also been home to the Ice Hockey World Championship in both 2001 and 2010. Other sporting events that have taken place here include Olympic preparation events with the US basketball team, the World Cup of Hockey and seasonal games of pretty much every sport.

If you're spending an evening at an event at this arena, do be sure to find out beforehand what options you have for luggage storage in Cologne. The arena can get quite crowded on event nights, making hauling your luggage around uncomfortable and inconvenient.