About Oakland Coliseum
The Oakland-Alameda County Coliseum is located east of the San Leandro Bay in Oakland, California. The stadium first opened in September 1966. Oakland Coliseum is unique in that it's the only stadium in the country that's home to both an NFL and MLB team: Both the Oakland Raiders football team and the Oakland Athletics ("A's") have their home turf at Oakland Coliseum.

Fun fact: Oakland Coliseum has the proud distinction of hosting the most concerts by the Grateful Dead (66) between 1979 and 1995.

Things to Do at Oakland Coliseum
Given its status as home base for both Raiders and Athletics games, Oakland Coliseum is busy year round. The Oakland Raiders play their home games at the stadium throughout the NFL season, which typically lasts from early September through late December. The Athletics play their home games at Oakland Coliseum throughout the MLB season, which typically lasts from early spring through the start of autumn. Oakland Coliseum also sporadically hosts other sporting events such as professional soccer games, as well as concerts.

Transit Options at Oakland Coliseum
BART to Oakland Coliseum Station: Dublin/​Pleasanton–​Daly City, Richmond–​Warm Springs/South Fremont, Warm Springs/South Fremont–​Daly City, and Coliseum–​Oakland International Airport lines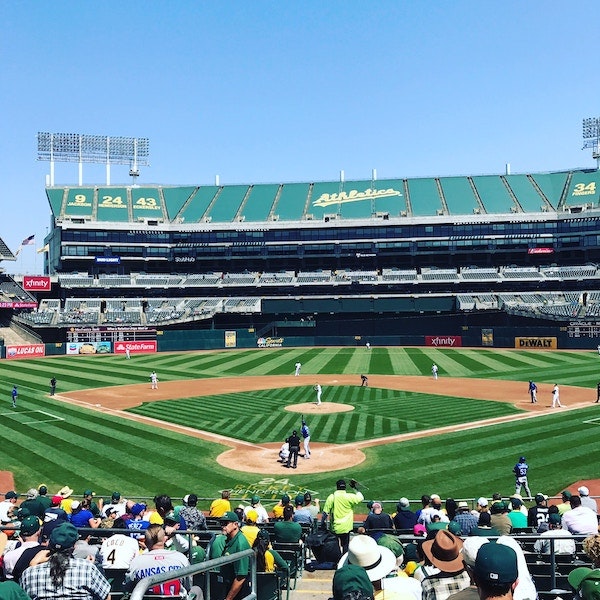 Luggage Storage near Oakland Coliseum
As per NFL regulations, Oaklands Raiders fans can only bring small clutch bags around the size of your hand. Otherwise, all personal belongings must fit inside your pockets or within a designated 12″ x 6″ x 12″ clear tote bag or a one-gallon freezer bag.

As per MLB regulations, Oakland A's game attendees are disallowed to bring bags larger than 16" x 16" x 8" past security gates. Bag check at the stadium is available at MLB games, but not NFL games.

If you're heading to a game from San Francisco via public transportation, we recommend storing your bags with a Bounce partner before making your way to Oakland Coliseum. The last thing you'll want is to have your game day ruined by not adhering to the stadium's bag policy and losing your cool or your things in the process. Furthermore, we doubt you'll want to wait in line for bag check at Oakland A's games, which is sure to be time-consuming. If you have bags or luggage with you on your way to the game, look no further than Bounce to safely store your things.