8 best hostels in Madrid
Published by:

Bounce
13 May, 2023
Cheerful, historical, and sophisticated, Madrid is one of the most famous European cities located in the heart of the Iberian Peninsula. The old town, with its maze of small streets, contrasts with the grand boulevards and imposing Neoclassical buildings created by celebrated architects. There are also cultural and historical treasures, spectacular shopping options, and museums throughout the city.

You'll likely be spending your days exploring this Spanish capital, but you'll need a place to rest at the end of the day. You have numerous options for accommodations, including Airbnb, vacation homes, and hotels, but there are many reasons why staying in a hostel in Madrid makes sense. While hostels did have a bad reputation decades ago, they're a lot more modern and fancier now than ever. They also offer free group activities and allow you to save money you can use to travel longer or see many more places.

With this guide to the best hostels in Madrid, you'll know which lodging option best suits your needs and budget and what makes them special. If you're lucky, you might stay in a Bounce partner hostel, giving you access to a safe luggage storage service in Madrid. If not, you can still use our service with Bounce storage lockers found in multiple locations in the city.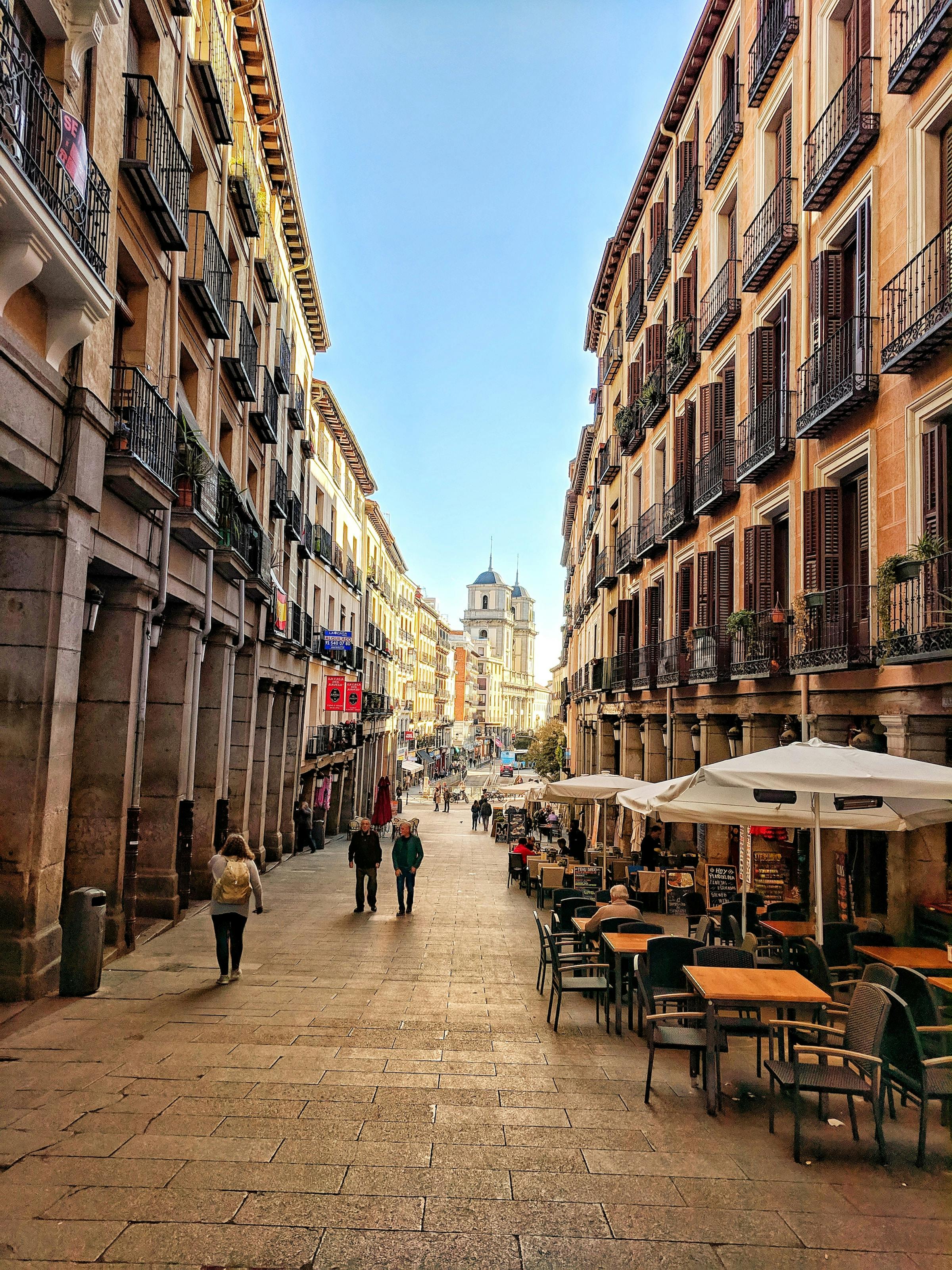 Ok Hostel Madrid
Set in the lively, bohemian Barrio La Latina neighborhood, Ok Madrid Hostel is a brand-new hostel in the heart of the capital's historic center. It's a few steps from major transportation and several tourist attractions, including the famous Museum Triangle, Plaza Mayor, and Puerta del Sol. It's housed in a historic building, featuring new design and décor to provide the best facilities and services in town.

Plenty of accommodation options are available for all types of travelers at Ok Hostel Madrid. There are mixed and female-only dorms and matrimonial rooms for couples. The bunk beds are custom-made to offer guests a comfortable sleep, each with electrical sockets, safes, drawers, and reading lights. A multilingual staff will also welcome you with a small and help you uncover some of the city's hidden gems.

What makes Ok Hostel unique
Ok Hostel prides itself on offering a relaxed hangout spot for travelers from around the world. They can get together in the spacious common area and be part of events like pub crawls, free walking tours, tapas tours, and social dinners.

Ok Hostel pricing
This award-winning hostel in Madrid is popular among groups, backpackers, and couples, so it books up fast. A bed in a dorm with four occupants costs €50.00 per night, whereas the standard rate for a private room for four people is about €260.00 a night.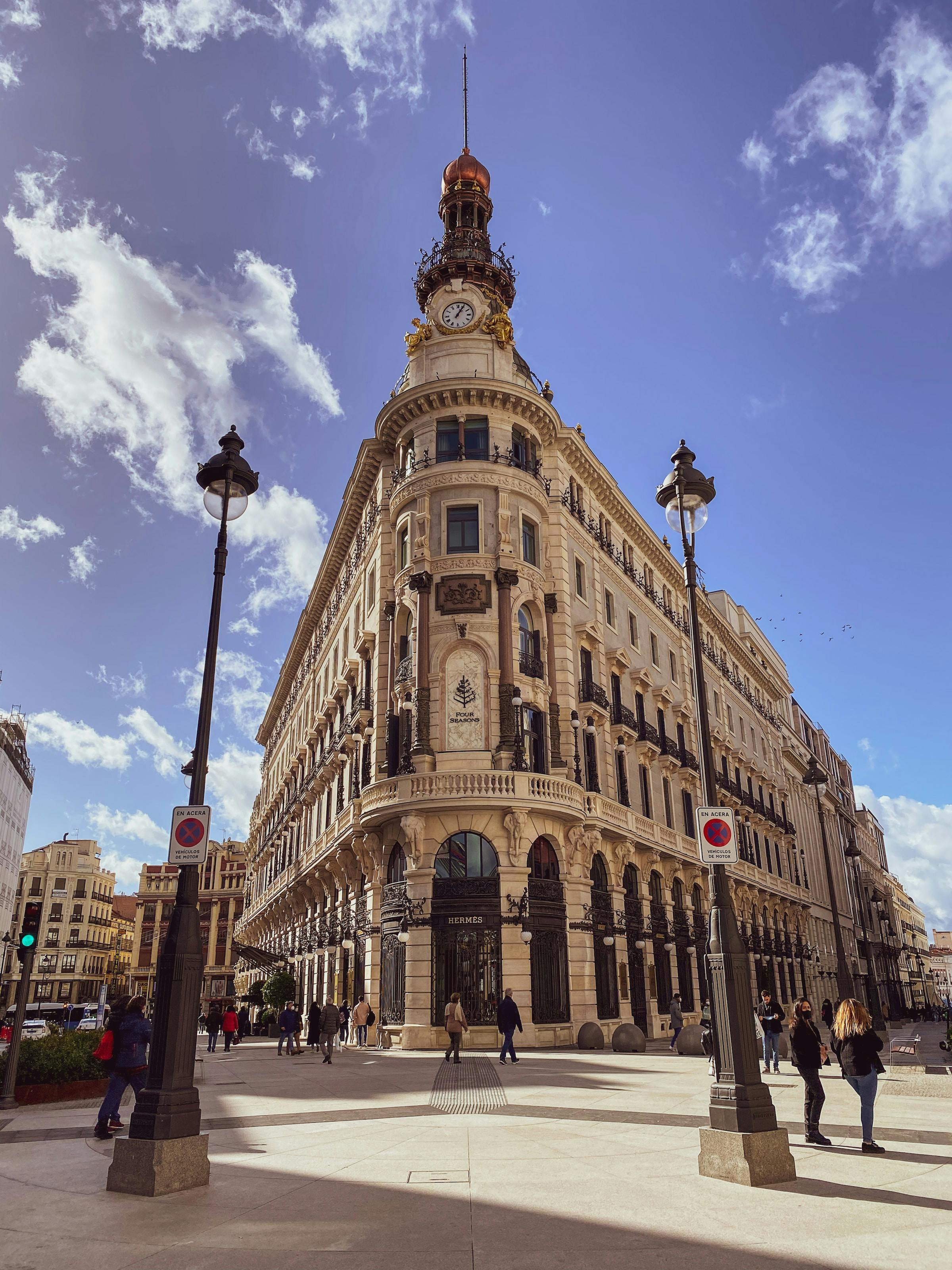 2060 The Newton Hostel
If you're looking for the best party hostel in Madrid, check out 2060 The Newton Hostel. It's in the Tirso de Molina square, one of the city's most picturesque locations. Staying in one of the rooms in this hostel gives you the best view of Madrid, perfect for sightseeing and picture-taking.

2060 The Newton Hostel has 200 beds separated into 27 rooms of different categories. This includes private double, twin, triple, quadruple, and family rooms with private bathrooms. Alternatively, you can book a bed in a mixed or female-only dormitory. Each dorm can have four, eight, or 12 guests, sharing amenities like the bathroom. Other communal facilities include the rooftop, kitchen, spa, and laundry.

What makes 2060 The Newton Hostel unique
Not so often can you find a cheap hostel that offers high-quality amenities and services like 2060 The Newton Hostel. On top of that, it's located in a busy and well-connected district with a fantastic view. Despite its luxury, it guarantees its guests the best price. Plus, it offers a free tour through the Madrid of the Austrians, where you'll walk around the bustling Puerta del Sol, the cathedral, Arenal Street, the Royal Palace, and other charming squares.

2060 The Newton Hostel pricing
2060 offers unbeatable hostel prices for holidaymakers, families, and business travelers. The standard rate for a bed in a mixed dorm shared among 12 people is approximately €40.00 a night. If you want a four-person family room with a private bathroom, you have that option too at a higher price.

The Hat Madrid
In the historical city center, you can find The Hat Madrid hostel. It doesn't go over a hundred meters away from the Plaza Mayor, between the streets of Gran Via and La Latina. It only requires a few minutes on foot to get to nearby famous tourist destinations, such as the Puerta del Sol, Plaza de Cibeles, and Prado Museum, among many others.

The Hat Madrid has private rooms and dormitories if you're staying with your friends or don't mind staying in the same room as other people. If you're uncomfortable with mixed shared spaces, you can choose a female-only option for female travelers.

What makes The Hat Madrid unique
This boutique hostel focuses on giving you the best experience in the city. This is why besides the convenient accommodation, guests can marvel at the breathtaking city view from the rooftop, especially during the sunset. It's also an excellent location to relax and mingle over a glass of wine or snacks, allowing you to enjoy the rooftop bar to the fullest with friends or fellow travelers.

The Hat Madrid pricing
Book a bed in a basic quadruple room for €42.00 or upgrade to a deluxe room for about €46.00. To save money, share a room with nine people for only €36.00.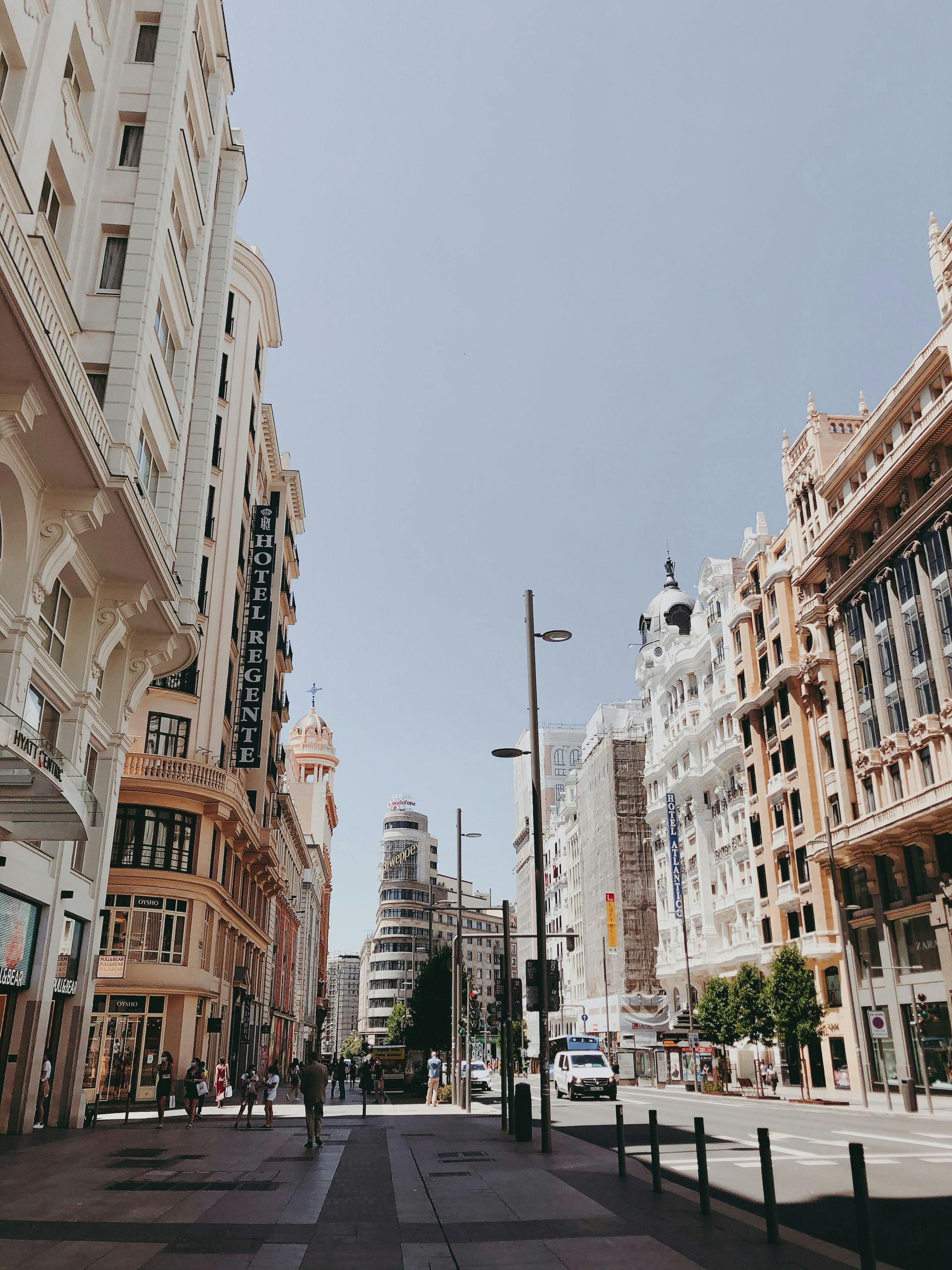 Cats Hostel Madrid Sol
The Cats Hostel Madrid Sol is a lively party hostel in the heart of Madrid, close to Sol, Huertas, and La Latina. It's near some of the busiest streets in the city, allowing you to enjoy the best nightlife experience, shopping, and dining.

Cats Hostel is one of the best Madrid hostels for groups accommodating up to 153 guests. It has bright private rooms and shared facilities for all types of travelers. You can choose to stay in the three-bed dorm, a small dorm for up to six people, or a large room for up to 14 people. There's also a female-only dorm that can fit up to 12 guests. All rooms have air conditioning, heating, Wi-Fi, and other essential amenities.

What makes Cats Hostel Madrid Sol unique
Cats Hostel Madrid Sol will show you Madrid's wild side with its 24-hour bar, where you can get Spanish sangria, Madrid beer, and other specialty shots. There's also The Cave, which serves as a chill-out zone in the mornings and a lively club at night. Besides these party venues, Cats Hostel Madrid Sol has other communal rooms, such as the multipurpose Red Room and its Arab-Andalusian-style patio. This makes this hostel one of the ideal places for socializing and enjoying Madrid's nightlife scene. Whether you're in Madrid to party, work, play, or see sights, this centrally located hostel in Madrid doesn't disappoint.

Cats Hostel Madrid Sol pricing
Expect the best accommodation at affordable prices at Cats Hostel in Madrid. Groups can save a lot by staying in mixed dorms for eight to nine people at about €33.00. If you're willing to spare more cash for privacy, a three-bed dorm with a bathroom costs about €215.00 per night.

Cats Chill Out Hostel Madrid Lavapiés
The Lavapiés neighborhood in Calle de la Cabeza is characterized by its bohemian aesthetic and vibrant culture. Therefore, while in Cats Chill Out Hostel Madrid Lavapiés, expect the area's relaxing and welcoming atmosphere to be reflected in the hostel.

In Cats Chill Out Hostel Madrid Lavapiés, you can book a private twin or double room if you travel alone or in pairs. However, if you're traveling in a group or prefer to share a room with others, you can reserve a bed in the dormitories. There are mixed dormitories with four to 10 guests and male-only or female-only dorms for six. All rooms have air conditioning or heating available for maximum comfort. You can also enjoy free breakfast and free WiFi.

What makes Cats Chill Out Hostel Madrid Lavapiés unique
Contrary to the lively atmosphere in the other Cats Hostel Madrid in Sol, this hostel is known for its relaxed and cozy vibe, hence the name Chill Out Hostel. Specifically, it aims to make guests feel at home. There's the Spanish corrala or interior patio, lounge, and rooftop for the communal spaces. It's the best hostel where guests can gather and socialize while having a relaxing time together.

Cats Chill Out Hostel Madrid Lavapiés pricing
If you're searching for cheap hostels in Madrid, you should add Cats Chill Out Hostel to your list. A night in a mixed dorm suitable for twelve people costs about €28.00, and €25.00 for a nine-bed dorm. On the other hand, a twin room with a private bathroom costs €94.00.

Mola! Hostel
Puerta del Sol is one of the capital's most famous squares and busiest areas. This is where the city's major streets meet, which is why it's called the center of Madrid and where kilometer zero is found. Four minutes away on foot from this attraction is the Plaza Jacinto Benavente, where the Mola! Hostel is located. This makes it an ideal place for tourists aiming to spend time exploring Madrid's lovely streets and buildings.

At Mola! Hostel, there's a total of 270 beds. You can book a bed in a room for four, six, eight, or ten guests. All rooms are guaranteed to be clean, comfortable, and spacious. However, despite the rooms' outstanding quality and the hostel's accessible location, it's easy to reserve a spot for a reasonable price.

What makes Mola! Hostel unique
Many tourists choose Mola! Hostel as their first pick for their Madrid accommodation because of its location near numerous points of interest, modern amenities, and exciting activities. It regularly organizes day trips, flamenco shows, free walking tours, Bernabeu tours, and more. And every night at 10 PM, the common area becomes alive with partygoers and travelers ready to have the best night to remember.

Mola! Hostel pricing
Mola! Hostel proves you don't need to pay a hefty price for the best experiences and a comfortable stay in Spain's capital. The rates for four-bed dorms start at €38.00 per night and €33.00 for female-only dorms. If you prefer a private room, the price for a four-bed dorm ensuite can start at €195.00.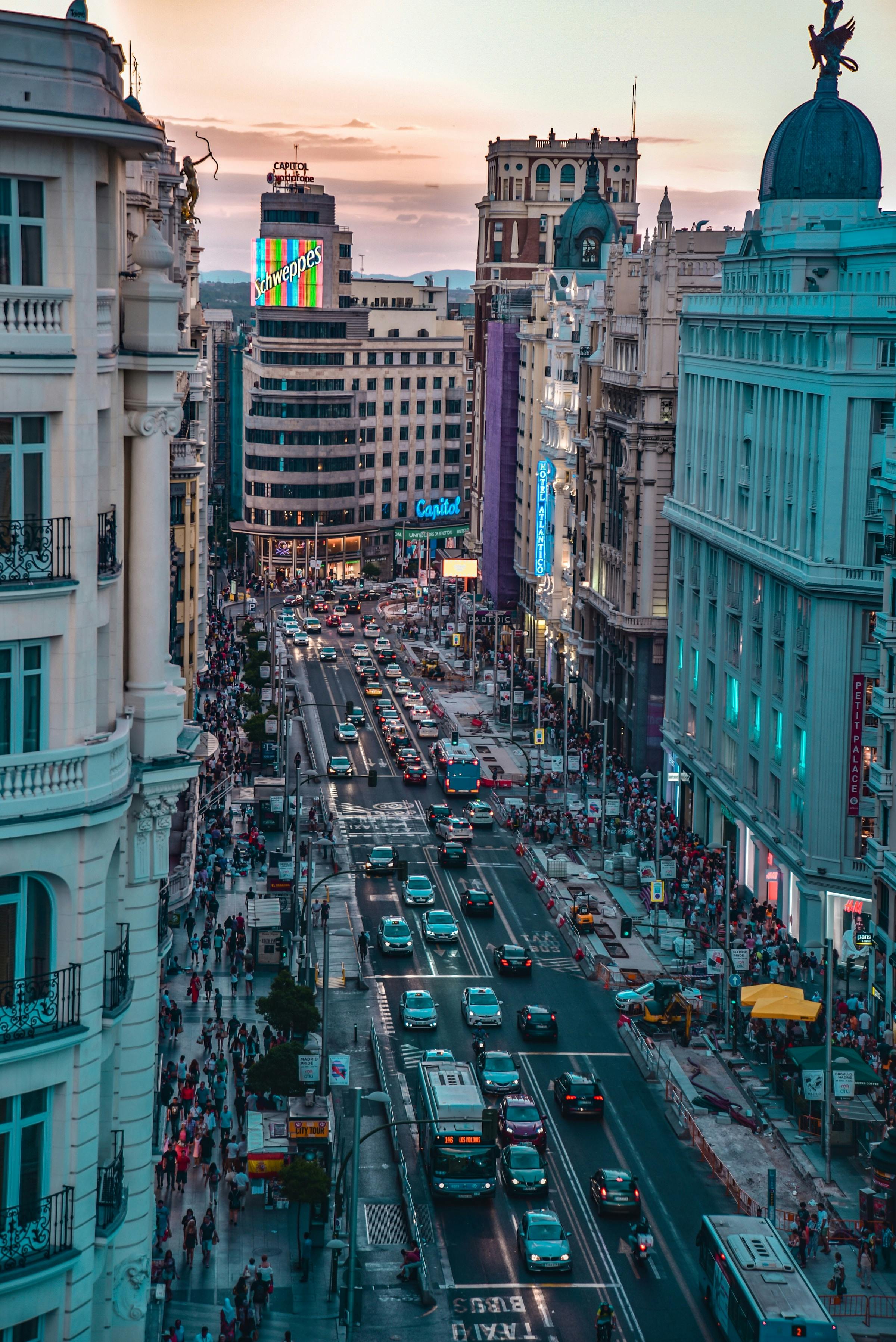 Sungate One
Sungate One is in Calle Del Carmen, located in the heart of Madrid. Since it's situated in a busy district, there are many shopping, dining, and entertainment destinations nearby that you can visit.

The hostel has fully furnished private and shared rooms for guests, suitable for families, solo travelers, backpackers, and groups. For private accommodation with an ensuite bathroom, there are double and twin rooms for two people. You can also book a bed in the dormitories, featuring mixed rooms with four and five beds and female-only dorms.

What makes Sungate One unique
Sungate One is dedicated to showing its guests the different ways to discover the city. Every afternoon, the staff organizes tours around Madrid to guide guests in sightseeing and exploring the city. At night, they will take you to different bars and clubs to enjoy Madrid's nightlife.

Sungate One pricing
Sungate One is praised for its amazing budget accommodations, and you can book for even lower prices if you're making a reservation for a large group with more than eight people. The price for one night in a six-bed dorm starts at €27.00 and €184.00 for a triple private dorm.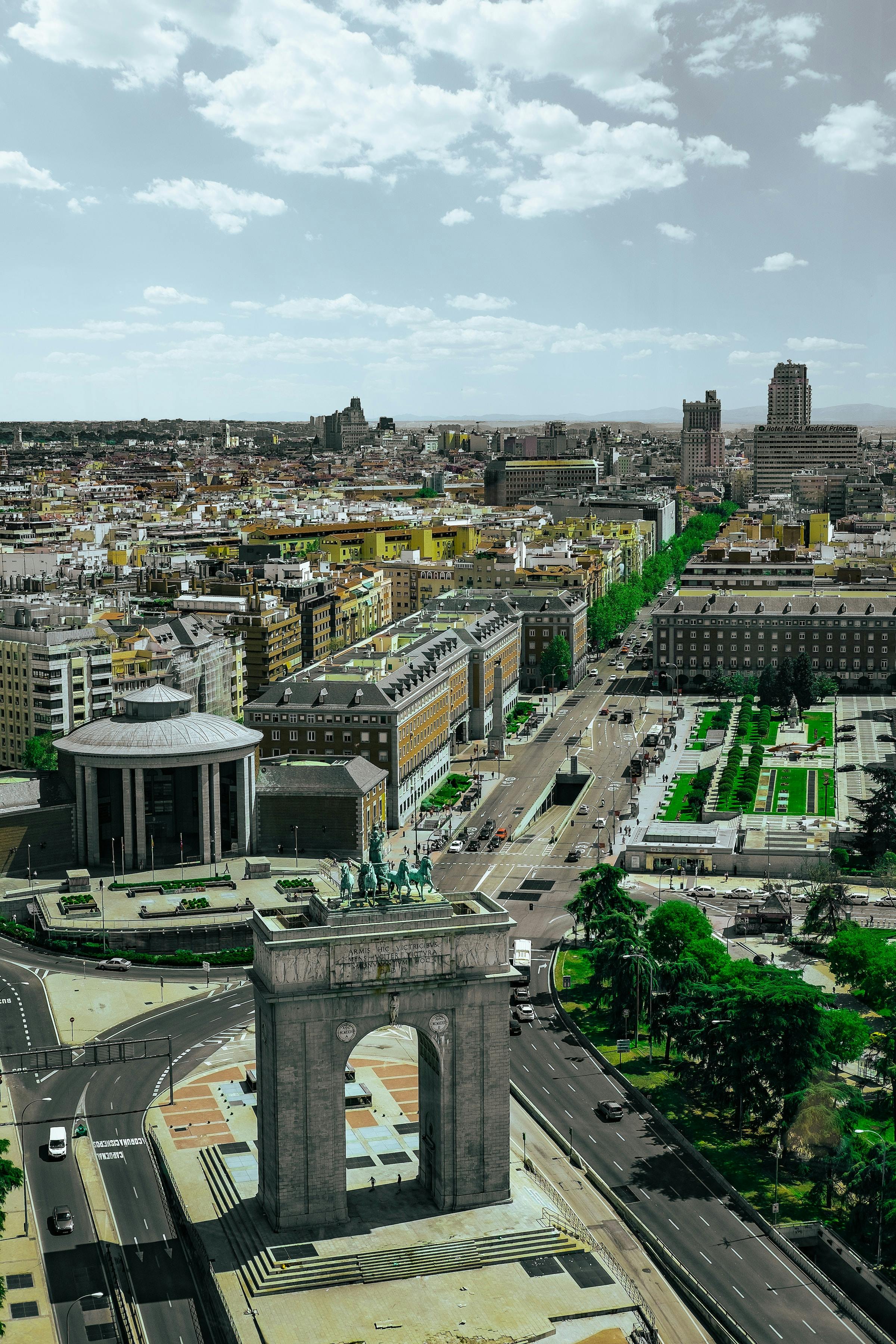 Bastardo Hostel
If you're looking for a cheap hostel in the city center, Bastardo will gladly welcome you. It's a meeting point between the Malasaña and Chueca neighborhoods for locals and visitors. It's every backpacker's dream destination, where you can rest, work, party, and share a good meal with other people.

No matter what type of lodging you have in mind, Bastardo Hostel provides. It boasts imaginatively designed rooms for all needs and tastes. Stay in one of the private rooms with a terrace, a family room for three or four, a twin room with a fully equipped bathroom, and shared rooms.

What makes Bastardo Hostel unique
This edgy hostel offers tons of possibilities for guests. Apart from meeting people from every corner of the globe, it allows you to attend cool events and experience authentic Madrilenian life through activities and cultural events.

Bastardo Hostel pricing
Get a ten percent discount for direct booking on the website. But if you can't avail of the discount, you'll still be able to save on its affordable rooms at €30.00 a night for a bunk bed and from €90.00 for a family room.

Top hostels in Madrid for an affordable adventure
The best Madrid hostels are the perfect place to stay in the capital of Spain when traveling on a budget. Whether you're heading off on your first adventure or a frequent traveler, you'll find many affordable hostels that offer classy experiences to guests if you know where to look. Most are centrally located, but there are also hidden spots tucked away in quiet neighborhoods outside the city center.

As you plan your trip to Madrid, don't forget to do additional research so you know what to expect. For more details, read our guides on the Best Time to Visit Madrid: The Ultimate Guide and 3 Days in Madrid: Everything You Should Know. You might learn something that will elevate your overall experience.