More about Los Angeles
Store Your Luggage Around Los Angeles with Bounce
Los Angeles is one of the most iconic cities in the world, namely on account of Hollywood and its bustling entertainment industry. It also doesn't hurt to offer near-perfect weather year round, access to both the city and the beach, and an easy-does-it, go-with-the-flow mentality. The City of Angels is a sprawling metropolis with an array of diverse and vibrant neighborhoods, sometimes requiring a great deal of travel time to get from one place to the next. Don't get stuck hauling your things around; if you're looking for bag storage in Los Angeles, be sure to book with Bounce.

Are you a yogi who frequents a studio with no mat storage? An eco-conscious citizen who bikes, rather than drives, around the city wobbling for balance from the weight of your bags? An inhabitant of the Valley who can't make it home to change from workwear to party clothes? Whatever the case may be, you can count on Bounce to conveniently store your things for a daily rate less than that of an organic cold-pressed juice.

Perhaps you're visiting LA from out of town. If you'll learn one thing about Los Angeles, it's that traffic is a pretty inevitable part of the LA grind. Make the most of your time during your visit by storing your luggage with Bounce. Save yourself from some frustrating commutes solely dedicated to dropping off and accessing your things.

LA Luggage Storage
Bounce has teamed up with businesses all around LA so that you can seamlessly store your things for hours or days at a time. Locals and visitors alike prize the convenience and ease of short-term bag and luggage storage in Los Angeles offered by Bounce. Simply search for a Bounce partner near your area of interest, drop off your things, and live your best LA life unburdened by extra weight.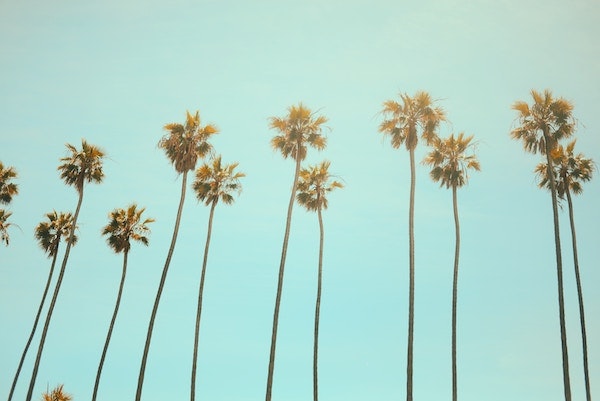 Los Angeles City Guide
Top Things to Do
Compared to some of our other favorite cities such as NYC and San Francisco, Los Angeles is extremely vast, which makes it a bit more difficult to experience everything that may be on your list. Regardless, it's certainly worth a try! If you're feeling overwhelmed by the expansive City of Angels, look no further than to Bounce's tried-and-true guide of the best things to see and do in LA.

Museums
Los Angeles doesn't focus solely on film and television to offer locals and visitors its share of cultural attractions. It also boasts some of the best museums in the country, including the following:

Los Angeles County Museum of Art: Located in the central LA neighborhood of Miracle Mile, LACMA is the largest art museum in the western United States. It's over a century old and houses an astounding 150,000 works of art. LACMA features permanent collections ranging from Greek and Roman art, Islamic art, photography, and film. The Urban Light installation in front of the museum's Wilshire Boulevard entrance is one of LACMA's most notable features. (Bag-check policy: LACMA offers storage for bags over the dimensions of 14.5" x 8" x 17".)

J. Paul Getty Museum: Situated in quaint, upscale Brentwood in West LA, Getty housed the world's greatest private collection of art before opening to the public in 1974. The permanent collection includes Western art dating from the Middle Ages to the present day. Notable highlights include masterpieces from the likes of Rubens, Rembrandt, Monet, Manet, and Cézanne. (Bag-check policy: The Getty allows visitors to check bags and luggage larger than 11" x 17" x 8".)

The Broad: Only a short walk away from Union Station LA, the Broad is a leading contemporary art museum that offers free admission to its permanent galleries. It houses works from household names including Warhol, Lichtenstein, and Koons. The Broad also boasts the largest collection in the world of portraits by photographer Cindy Sherman. Although it only opened in 2015, its first-year attendance was similar to LACMA's visitor numbers only a few years prior. (Bag-check policy: The Broad offers bag-check services, though strongly encourages storing them elsewhere. We recommend dropping your bags off with a Bounce partner nearby in Downtown LA.)
Shopping
Los Angeles offers some of the best shopping in the world, which isn't surprising given its high celebrity population. However, retail therapy isn't reserved only for the rich and famous. At any rate, look to the following for the ultimate shopping sites in LA:

Rodeo Drive: Rodeo Drive (and the surrounding streets in Beverly Hills) is one of the most iconic spots for shopping in Los Angeles. While most of us are relegated solely to window shopping in this high-priced, high-fashion area, it's definitely worth a stroll to get a glimpse of how the one-percent spend their riches. For more options nearby that'll be a bit friendlier on your wallet, check out Westfield Century City or the Beverly Center.

The Grove: Located in the Fairfax District, the Grove is one of LA's most popular shopping, dining, and entertainment hubs. The outdoor mall is always abuzz and offers a variety of places from which to shop, such as Nordstrom, Barnes and Noble, Barneys New York, and Sephora. It's also next to the famous Farmers Market, granting you prime access to a variety of locally sourced food and drinks.

Third Street Promenade: There's something for everyone at this lively hub near the water in Santa Monica. Whether you're shopping for clothes, souvenirs, or anything else you might fancy, you're bound to find something at a store or stall at this tourist hotspot. For a more standard mall experience, saunter over to Santa Monica Place nearby.
Dining
It's no surprise that a city as big as Los Angeles has incredible dining options—but where do you even begin? Of course, this list doesn't even scratch the surface, but as far as quintessential LA fare goes, you can't go wrong with hitting up these options:

Asian cuisine: LA offers some of the best restaurants in the country spanning all of Asian cuisine. Check out the respective authentic delicacies in Little Tokyo, Thai Town, and Koreatown. Other favorites outside of these ethnic enclaves include the various outposts of Night + Market for Thai and Nobu (in West Hollywood or up the coast in Malibu) for first-class sushi and Japanese food.

Venice eateries: Venice is one of the best LA neighborhoods for eats that are as trendy as they are delicious. We recommend eating lunch at Gjusta, grabbing at drink at Cafe Hinano, and indulging your sweet tooth at Salt & Straw.

In-N-Out: Sure, In-N-Out is all over the Southwest and Pacific, so it isn't particular solely to LA. However, if you're in town from out of state, you'll likely be lambasted if you don't stop by for a meal at this burger chain that garners a cult-like following. Take your pick from several locations across the city, including one on Sunset Boulevard in Hollywood and the South Sepulveda Boulevard outpost on your way to or from LAX.

Safety
Los Angeles, California, is one of America's major leaders in tourism, entertainment, and industry. The City of Angels houses the world-renowned neighborhood of Hollywood, as well as legendary sports teams like the Los Angeles Clippers, Rams, Kings, and, of course, the LA Lakers. As of this year, LA's population is almost 4 million strong - not including the millions of visitors that the city receives every year.

Such a sprawling city undoubtedly experiences its fair share of crime. However, the National Crime Index proposes that LA experiences far less crime than you might expect. On a scale of 1 to 100 - 1 representing cities with the most criminal activity, and vice versa for 100 - The City of Angels ranks at number 17. Out of about 3,990,456 citizens, 1 in 132 Angelenos might encounter violent crime throughout the year. Conversely, 1 in 39 Angelenos could have their property damaged or stolen by a criminal. Stay sharp, cooperate with LAPD officers, store your luggage with Bounce, and have a great time while visiting LA.

Frequently Asked Questions
"What's the best way to get around Los Angeles?"

It's nearly impossible to travel around any part of California without a car, let alone a city as busy as Los Angeles. Contrary to popular belief, taxi cabs do run through California - they just tend to get booked pretty fast. Your best bet is to rent a car if you want to visit LA via services like Enterprise and Carvana.
"Is public transportation in Los Angeles safe?"

In the daytime, Los Angeles' buses and trains are perfectly safe. However, everything changes at night - when there are fewer people around. Again, LA's low violent crime rate suggests that you aren't likely to encounter trouble. However, we recommend staying vigilant and avoiding the use of public transportation late at night.
"What's the best neighborhood to stay in Los Angeles?"

Pacific Palisades is Los Angeles's safest neighborhood - not only according to several crime databases but also according to weekly crime reports from the LAPD. This will come as no surprise to native Angelenos, as numerous celebrities and business tycoons live in this neighborhood.
"What are the best museums to visit in Los Angeles?"

The Broad is one of LA's most famous contemporary art museums and features impressive art from all around the world. While not a museum in the traditional sense, Amoeba Music is an independent record store that invites visitors to browse their massive music collection. The Griffith Observatory is also one of LA's most beloved, free tourist locales. 
"What's the best time of year to visit Los Angeles?"

There's always something going on in Los Angeles - 24/7, 365 days of the year. Numerous concerts, festivals, and special events take place every month, so there really isn't a wrong time to visit. LA is also perpetually packed with tons of other folks, hence why the City of Angels is also called the City of Traffic.