About Venice
Venice is located along the Pacific Ocean on the Westside of Los Angeles, adjacent to the neighborhoods of Santa Monica, Mar Vista, Culver City, Del Rey, and Marina Del Rey. Venice was founded in 1905 by Abbot Kinney, a tobacco tycoon who fashioned the area as a resort town inspired by Venice, Italy. LA's Venice is famous for its beach, boardwalk, and canals, as well as its countercultural roots and eclectic spirit.

Fun fact: Although Venice has been gentrified and is now one of LA's most in-demand neighborhoods, it was referred to as the Slum by the Sea in the 1950s on account of neglect.

Things to Do in Venice
Venice is a delightful LA neighborhood to catch some California sun and indulge in prime people watching. Be sure not to miss the following activities and attractions on a visit to Venice:

Head to Venice Beach and the promenade, where you can skate, surf, play volleyball and basketball, or simply relax on the sand

Check out bodybuilders competing at the famous Muscle Beach

Dance along to the drum circles at the end of Brooks Avenue on the weekends

Find serenity and peace along the tree-lined, tucked-away canals

Head inland to check out the shops and galleries lining Abbot Kinney Boulevard

Dine at Venice's most popular eateries, including Gjelina, Felix, and Cafe Gratitude, and hit the Farmers Market on Venice Boulevard on Fridays

Get your drink on at High Rooftop Bar at Hotel Erwin, Venice Beach Wines, or Venice Ale House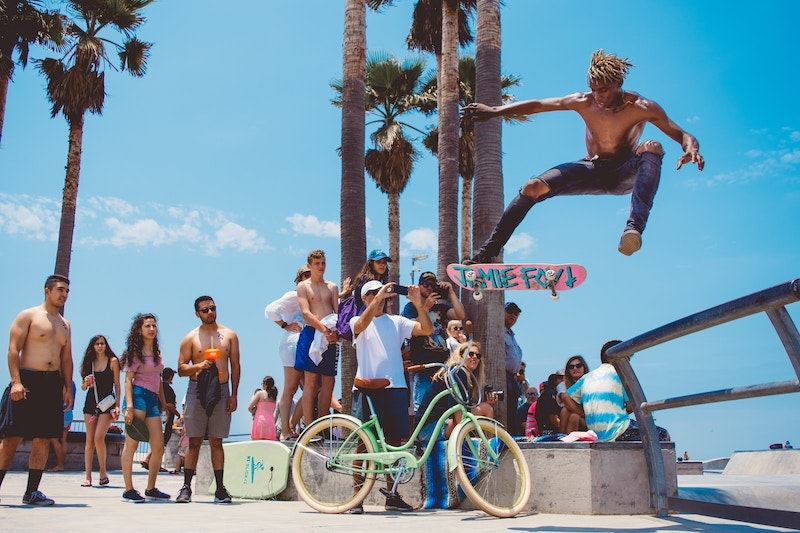 Transit Options in Venice
Luggage Storage in Venice
Venice is cool, hip, and trendy; tan lines from your backpack and schlepping your things around in the heat certainly isn't. Embody the freedom and easy, breezy vibes of Venice by traversing the area free from the extra weight of your things. Book daily bag and luggage storage with Bounce and follow our guide above to best enjoy this quintessential beachfront LA neighborhood.