Luggage Storage Stockholm
Instantly reserve the best locations in Stockholm to store your luggage for just $5.90/ day
$10,000 insurance included

Security seals provided for max safekeeping

Book instantly online, free to cancel
How it works
Search Locations

Select the most convenient location for your needs

Book online

Instantly reserve your space in a few clicks

Drop off items

Head to the store and show your reservation

Enjoy the city

Go about your day without lugging around your things
Stockholm Luggage Storage Guide 2021
Are you wondering, "Where can I store my luggage in Stockholm?" Perhaps you just arrived in Stockholm and need a place to store your bags before you check into your hotel or AirBnB -- or maybe you just checked out and don't want to drag your bags around with you for the rest of the day.

Perhaps, you're planning on shopping at Strandvägen, Old Haymarket, or Östermalms Saluhall and need a place to store your bags. Or, you're planning on sightseeing around Stockholm at Stockholm Palace, Alley of Mårten Trotzig, or Stockholm City Hall and don't want to be burdened by your baggage.

If you wish to catch a game at Ericsson Globe or visit local museums like Stockholm Palace you may find that luggage is not allowed in these venues.

Don't worry, there are plenty of options for luggage storage in Stockholm!


Luggage storage nearby most Stockholm hotspots
Bounce is one of the largest luggage storage networks in Stockholm and the world.

Featured in The Boston Globe, Techcrunch and Forbes, Bounce is present in more than 100 cities. We partner with local hotels and shops to open up space for you to drop off your bags in essentially any major neighborhood.

Our team vets each location and provides all the security measures including insurance, security seals, and well-trained staff.

Bounce is the #1-rated bag storage network with thousands of 5-star reviews. Many of our shops are open for luggage storage 24/7 but this varies by location… we strategically open new spots so you can find the closest location to temporarily store your bags. Our prices in Stockholm start at just $5.90/day.

Book through our website or mobile app (required) so that we can cover you with insurance, space availability, and our 24/7 customer support. We love to travel as much as you so we make it as easy as possible! There are no size limits for suitcases or backpacks stored with Bounce. For less than a cup of coffee per bag, you can enjoy your entire day without dragging your bags with you!

Here are some ideas for making the most of your time in Stockholm now that you are free from your baggage. Some notable places to relax before a flight are Rågdalen, Einar Forseths park, and Tuvanparken. You can also go for a hike around Kastellholmen, Kålgårdsön, and Björnholmen. And if you're looking for a night on the town, check out Absolut Ice Bar, SkyView, and Stampen.


Why is Bounce the best luggage storage provider in Stockholm?
✅Various locations throughout Stockholm
✅$10,000 Bounce Guarantee on each booking to protect your belongings
✅Vetted store locations to ensure trust and safety
✅2 minute booking process online or via mobile app, then just walk in and check your bags in
✅Thousands of 5 star reviews, hundreds of thousands of bags stored
How do I store luggage in Stockholm with Bounce?
You can store your luggage very quickly and easily. Simply select a location here. Find the shop that meets your preferences in terms of location & hours. Once you've chosen a location, you can book in under 2 minutes. We'll ask for payment details upfront, but you can cancel your reservation if you end up not needing it.

Space does fill up so booking before you go there is required, but you can show up right away. With your booking confirmation in hand, we'll give you the exact details and directions to the shop. Once there, all you have to do is show your booking confirmation and we'll tag and check in your bags.

You're now free to enjoy Stockholm without your things!


More about Stockholm
Where can I store my luggage in Stockholm?
It's likely that adventure and art lovers will love every minute they spend in Stockholm. It's a city that embraces art and travel like few other cities can. The city boasts more than 90 metro stations, each of which is filled with tons of stunning artwork. In fact, there is so much artwork in Stockholm's stations that the walls of these spaces are considered the world's longest art gallery.

Beyond that, visitors to the city will find that Sweden's capital city has much to offer once they step off the trains. It's one of Scandinavia's big cultural hubs and is the most populated city in the Nordic countries. Students come here to study at world-class universities, like the Stockholm School of Economics or the KTH Royal Institute of Technology. It's also the host for the yearly Nobel Prize ceremonies. Aside from this, it's a bustling cultural destination and a place for foodies, live performance fans and businesspeople.

If your travels bring you to Stockholm, then you'll want to check out Bounce's options for luggage storage in Stockholm. The businesses we partner with are located in easy-to-find and easy-to-reach locations around the city. For more information, consult the Bounce app. You'll find all you'll need to know about bag storage in Stockholm via Bounce.

Luggage Storage Near Stockholms Centralstation

Luggage Storage Near Rådhuset T-bana Train Station

Luggage Storage Near T-Odenplan Station

Luggage Storage Near Stockholm Arlanda Airport

Luggage Storage Near Cityterminalen

Luggage Storage Near Army Museum

Luggage Storage Near National Museum
How much does luggage storage cost in Stockholm?
Luggage storage in Stockholm costs only $5.90 on the Bounce platform for each bag or piece of luggage. 

Where is the nearest bag storage in Stockholm?
The Bounce platform offers dozens of bag and luggage storage locations throughout Stockholm. With 24/7 customer support and up to $10,000 BounceShield™ Protection for every booking, luggage storage in Stockholm as never been easier. 

Luggage Storage Near Stockholms Centralstation
Stockholms Centralstation is about as efficient as you'd expect from a country that values simplicity and equality. As such, when architect Adolf W Edelsvard designed the station, he kept its aesthetic in line with the design of the Malmo and Gothenburg Stations, two other railway stations he'd designed. It's lovely but not overly flashy. Its construction began in the mid-1800s. In its heyday, it accommodated over 200,000 passengers. Nowadays, commuter trains don't use Stockholm C, as it is sometimes also called. Instead, they go to the Stockholm City Station.

That being said, there are portions of the station that fit a different purpose and aesthetic. Under its roof, there is a special room for Sweden's Royal Family. This space allows them to access the train network without needing to use the main traffic areas of the station. Additionally, many of the train stations in Stockholm are known for their public art offerings, and this station is no different.

If your travels take you to Stockholm C, then check out our options for luggage storage in Stockholm near this station. Our Bounce partners are available all year round for people like you who require bag storage in Stockholm.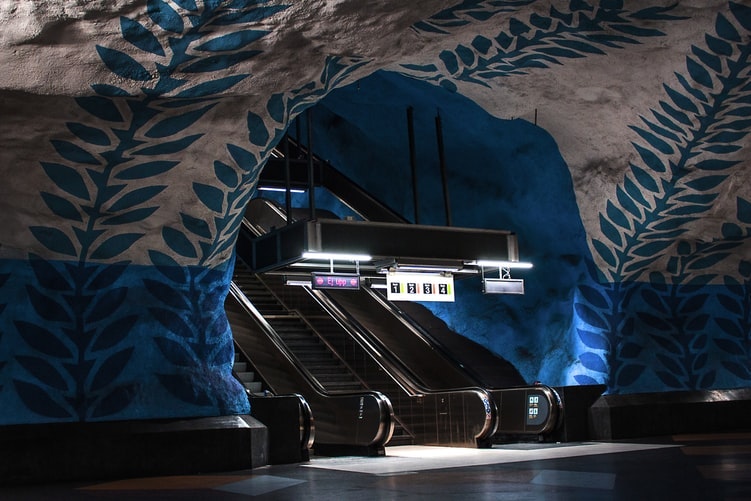 Luggage Storage Near Rådhuset T-bana Train Station
Taking a train from Rådhuset T-bana Train Station feels a bit otherworldly due to its architecture. Its design works with the area's organic features, which have been augmented with some rust-colored pigment to make the inside of this underground station feel a bit like a lava formation. It's such a stunning sight and in some respects, such a juxtaposition to the Rådhuset, the city's courthouse, that bypassing this underground station would be unthinkable for true architecture buffs, geology enthusiasts and world adventurers.

Naturally, people who have business at the courthouse use this station. However, there is so much more to the area near Rådhuset T-bana Train Station. Stockholm's Old Town is just about a mile away from this station as is the Vasa Museum, a must-see visit for maritime buffs. (This museum features the Vasa ship, which sank in the 1600s and was eventually salvaged and brought to this museum.) Finally, foodies will love the nearby food tours. These culinary adventures allow you to get a taste of the best of Stockholm's food scene.

Luggage storage in Stockholm is available near the Rådhuset T-bana Train Station. Before you head out to the Vasa Museum or before you embark on one of the city's food tours, check out the Bounce app to find one of our partners in the vicinity. We partner with businesses, like coffeehouses, dry cleaners and hotels or hostels, to provide luggage drop points throughout the city.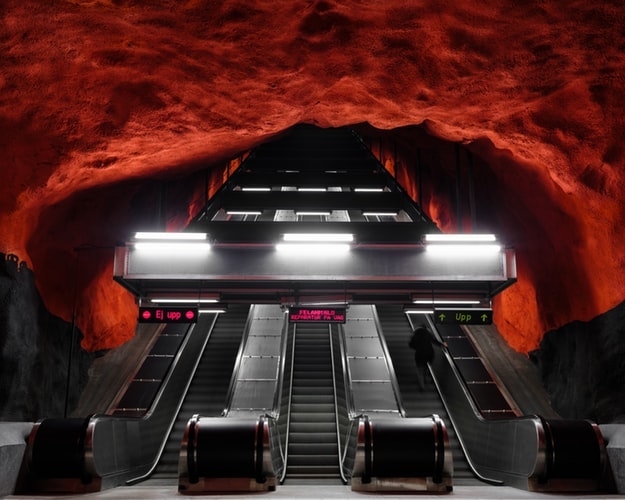 Luggage Storage Near T-Odenplan Station
Like most of the city's transit areas, the T-Odenplan Station is filled with vibrant visuals. In this case, the station's aesthetic comes from a visual representation of artist David Svensson's son's heartbeat. The rhythm of the heartbeat is brought to life in a series of fluorescent lights that cover the ceiling.

Naturally, it's a functioning metro station that's located near some of Stockholm's most interesting sites. The Kungstradgarden Park, with its stunning floral arrangements, ice skating rink and numerous street food offerings, allows locals and visitors alike to enjoy the beauty of the Great Outdoors. In the wintertime, this park is exceptionally beautiful: Fairy lights and lampposts dot the landscape, bringing light and warmth to the snow-covered earth.

There are also museums nearby, like the Museum of Mediterranean and Near Eastern Antiquitie, the Royal Armory and the Nationalmuseum. Live performance lovers will also want to check out the Stockholm Concert Hall or the Royal Dramatic Theater when they disembark from their train at the T-Odenplan Station. Of course, these sights are better enjoyed when your hands aren't full. That's why we've partnered with many businesses near the T-Odenplan Station to provide many options for luggage storage in Stockholm to people who are sightseeing near this station.

Luggage Storage Near Stockholm Arlanda Airport
Stockholm has two airports, with Stockholm Arlanda Airport being the larger of the two. It serves nearly 30 million passengers each year, with just over 21 million of those passengers coming from international ports of call. The airport served as a base for planes doing practice flights, starting in 1959. By 1962, it officially opened for business. Traffic at the airport steadily increased throughout the 1960s and 1970s.

A number of airlines fly through this airport each year, including Air China, Air Europa, Air France, British Airways, Lufthansa and Scandinavian Airlines. If it's luggage storage in Stockholm in or near the airport that you need, then be sure to check out Bounce's options for bag storage in Stockholm near the airport. We have many business partners in the area who can provide a luggage drop point for visitors.

Luggage Storage Near Cityterminalen
Like most major world cities, Stockholm offers travelers bus travel options in addition to train and plane travel offerings. Cityterminalen is Stockholm's central bus station. Located in the Norrmalm district near the Stockholm World Trade Center, this station offers bus travelers bus connections to most major cities. Inside, there are places to eat, stores to shop in and of course, places to catch your bus.

Outside its walls, you'll find cool places to visit, including the ICEBAR Stockholm, the planet's first bar made entirely of ice, which is worth a visit even if you don't drink. Jazz lovers will want to make a stop off at the Fasching Jazz Club, located only about four minutes away from the terminal. There are also places to stop off for a massage or spa treatment, as well as spots where you'll find delicious food and drink offerings.

Those traveling to the Cityterminalen will want to consult their Bounce apps to see the options for luggage storage in Stockholm near the central bus terminal.

Luggage Storage Near Army Museum
Military and history buffs won't want to miss the Swedish Army Museum, which is located in Stockholm's Östermalm District. It gives museum visitors a look at the country's military history, including information about the country's policy of neutrality. The history of this museum stretches back to the late 1800s, though the site that it sits on wasn't always a museum. In the 17th century, the grounds on which this museum sits provided a spot for artillery. This explains why its original name was the Artillery Museum.

A tour of the museum gives visitors a look at the daily lives of Sweden's soldiers and their families during peacetime and war from the 1500s until today. The museum holds many military-themed artifacts, including weapons, uniforms and other items. One must-see attraction is the mini-exhibition highlighting Raoul Wallenberg, a man who saved thousands from the Nazis.

Luggage storage in Stockholm is available for people who are visiting the Army Museum. Our Bounce partners in the area are happy to stow your bags for you while you tour this and other important sites in the city. Just check out the Bounce app to learn more about bag storage options in Stockholm near this and other important city sites.

Luggage Storage Near National Museum
Where else would you expect to find exhibits about Norse gods, open lectures conducted in English and even some public domain images available for download? If you answered the National Museum of Sweden, you'd be right. This cultural hub houses some of the world's most important art and artifacts, allowing museum visitors to catch a glimpse of Swedish and Nordic culture in a more in-depth way.

The museum has both permanent and temporary collections, giving art lovers a reason to return again and again to this arts and culture hub. For those who can't quite swing multiple visits to the museum, there is a well-stocked gift shop, where museum-goers can pick up trinkets to take home with them after they leave Sweden.

Luggage storage in Stockholm is available near the National Museum. Check out our area offerings. There's a good chance that the coffee shop or hotel you're at offers bag storage near here.

Luggage Storage Stockholm
Frequently asked questions
How much does luggage storage cost in Stockholm?

The price for luggage storage in Stockholm is just $5.90/bag for the entire day.

Where are there luggage storage locations in Stockholm?

There are multiple locations all around Stockholm which can be booked through the Bounce platform including near Stockholm Palace, Alley of Mårten Trotzig, Stockholm City Hall and many other areas.

Is it safe to store your bags in Stockholm?

Yes. Every bag is tagged with a security seal and comes with the $10,000 Bounce Guarantee. Every location is required to uphold tight security precautions. You may be asked to show ID and you will be required to use a credit card to book through Bounce in advance. With hundreds of thousands of bags stored, you can count on Bounce to handle your baggage in Stockholm.

Are there storage lockers in Stockholm?

Yes. There are storage lockers and many other luggage drop off points in Stockholm. Bounce has multiple locations throughout Stockholm where you can conveniently store your luggage with full security and the $10,000 Bounce Gurantee.

Where are the best places to stay and eat while in Stockholm?

The most popular restaurants to visit are Aifur, Meatballs for the People, and Urban Deli. Additionally, the highest ranked hotels within Stockholm are Downtown Camper by Scandic, The Red Boat, and Kungsträdgården.

Where are the best parks and nature attractions in Stockholm?

Stockholm offers several scenic parks including Rågdalen, Einar Forseths park, and Tuvanparken.

Where can I find tourist information and guideposts in Stockholm?

You can find local tourist information at The Royal Guard, Fjällgatan vid Sista styverns trappor, and Stockholm Tourist Center.

What are the best museums and historical attractions in Stockholm?

If you're looking for a good museum in Stockholm, we recommend Stockholm Palace, Vasa Museum, and Skansen Open Air Museum. If you prefer to be outside, you can give yourself a walking tour and see some of Stockholm's most popular historical attractions including Woodland Cemetery or Drottningholm Palace and monuments like The Iron Boy Statue, Evert Taube 1890-1976, or Gustav III. Lastly, you can enjoy the local ruin of Black Friars' Monastery of Stockholm.