13 Unmissable Things To Do In Bath At Night
Published by:

Bounce
7 April, 2022
If you have chosen to visit Bath, you have probably planned to sample the amazing street food while you are visiting and also to check out some museums. There are so many places to stay in the city and you will love that there are fun things to do during the day and at night. While Bath might not seem like a place that has its own nightlife, you will find that Bath is actually a great place to head for evening adventures.

Before you head out to explore everything Bath has to offer for nightlife, you need to make sure that your luggage is safe and secure. Placing your luggage in a Bounce storage facility in Bath is important to give you peace of mind when you are having fun on your trip. Whether you have come into the area via the Bath Spa Railway Station, or by other means, having your luggage secured is important.

If you are ready to find out more about the unmissable things to do at night in Bath, you need to keep reading.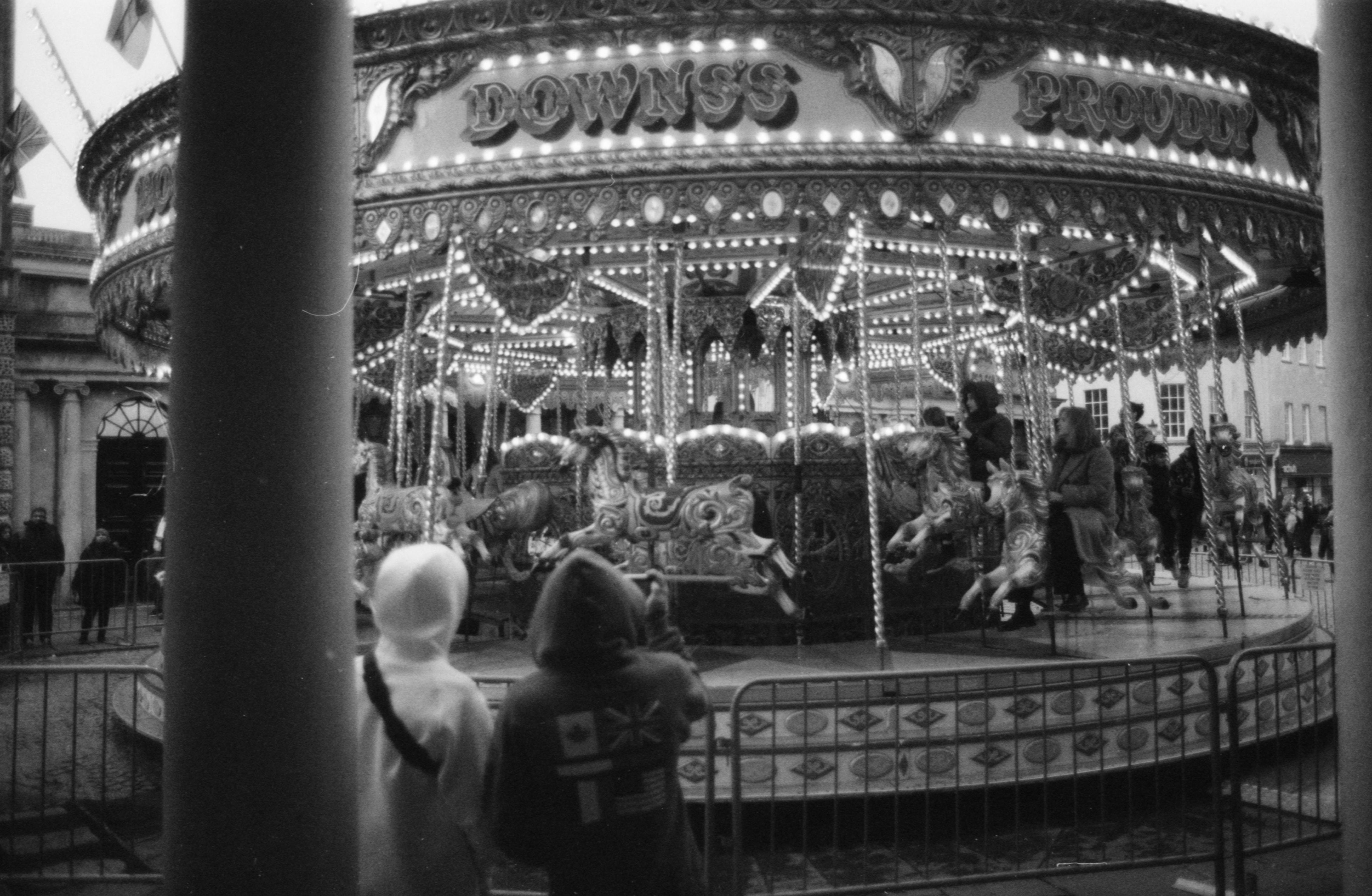 Unmissable Things to Do in Bath
There are so many exciting things to do in Bath and you will love that most of them can be enjoyed at night just as easily as they can during the day.

The Roman Baths
This is one of the best things to see when you visit Bath and this historic location is even better at night by torchlight. There is something special about seeing the Roman Baths at any time of day but in the evening they are spectacular. During the summer, the Roman Baths are open until 10 at night, which is a great excuse to give them a visit in the dark. Definitely add this to your nighttime itinerary in Bath - you won't regret it.

The only downside to the Roman Baths is that you're not allowed to swim here due to the quality of the water. Luckily, there are other hot springs options for a dunk.

Thermae Bath Spa
Another Roman site in the city with hot springs, the Thermae Bath Spa is ideal for an evening of relaxation. It's where you can actually submerge yourself in mineral-rich waters. Invest in the Twilight Package and you can sit on the rooftop and watch the sunset or take a dip in the rooftop pool. The Minerva Spa is a memorable experience at any time of day but the evening is a really special time to visit this location.

Head to the Thermae Bath Spa for a romantic way to cap off the day. But, if you're traveling with friends, this is still a worthwhile option when you visit Bath.

Bath Komedia
Bath Komedia, a comedy club, is a great place to unwind, have a cocktail, and cut loose with friends and family. You can enjoy all kinds of themed events here, like their pirate parties and the live music is really good as well. This is one of the best assembly rooms in the city and you are guaranteed an unforgettable evening.

This is not just a simple bar, and you will have a ton of fun, even if your trip doesn't coincide with one of their many themed events. Just the comedy is certainly enough.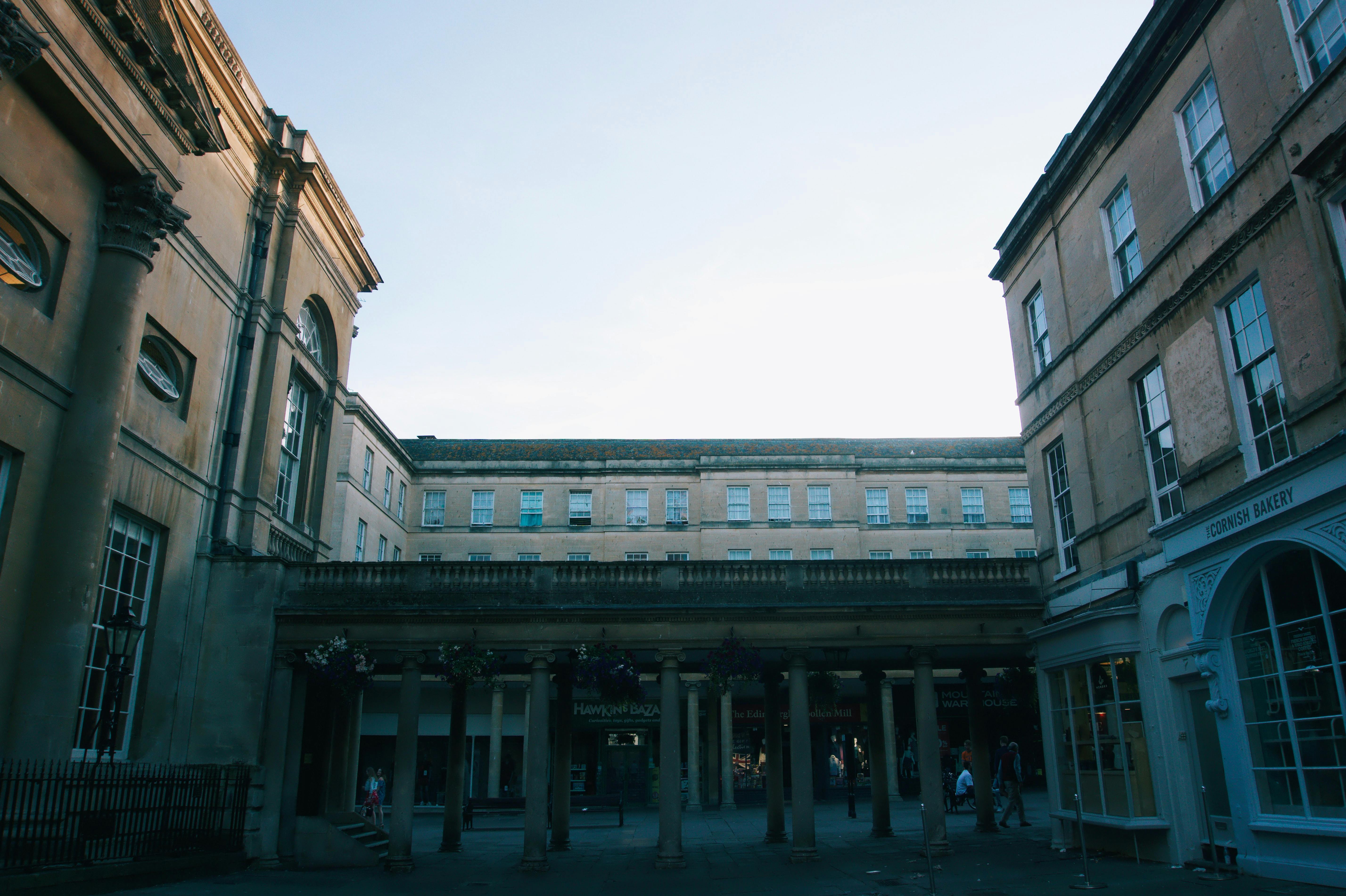 Century Casino
This is one of the more entertaining nightlife options in the city centre and you will have a lot of fun here playing table games and more. The cocktail bar is well-stocked and the balcony lets you enjoy views of the city day or night. Century Casino is located near the Royal Crescent, so why not combine the two before heading back to your hotel?

Whether you gamble or not, the atmosphere at the casino is intoxicating with spinning wheels, bright lights, and victory chants. You can head here on your own or in large groups for an unforgettable night in Bath.

Royal Crescent
Royal Crescent, right in the heart of the city, is a charming row of terraced houses in a semi-circle designed by John Wood. Many tourists visit this site during the day, but some would argue that it looks even better lit up at night.

As an added benefit, a lot of the other nightlife in the city centre is right by this spot so you can make this part of your downtown adventures at night with ease. The middle of the city is an experience at night and this is one of the best places to head in the early evening before you head on to other activities.

Visit Pulteney Bridge
Pulteney Bridge will make you think of London Bridge is Falling Down from the nursery rhyme, and is perfect as a nighttime activity for families. This beautiful spot allows you to walk along the bridge and frequent the shops that line it. Pulteney Bridge is a great place to take pictures and to see what the heart of Bath is all about. There are so many beautiful follies, like Sham Castle, and places to see in the city that exist because Georgian people really loved the fanciful. This is one of the most memorable and charming things in the city to see and you need to keep this bridge on your Bath at night itinerary.

Bath Aqua Glass
If you have ever wanted to try your hand at glass blowing, you need to head to Aqua Glass on Walcot Street. This location is down the artisan street in town and you will be able to see glass blowing demonstrations here as well. You can reserve a spot to try your hand at this kind of art and the evening is a great time for this.

The custom items that you make when you attend these classes will serve as memorabilia for your trip. Blowing glass is not something that you can do in many places, and you will find that this is one of the best things that you can spend time doing in the evening in Bath.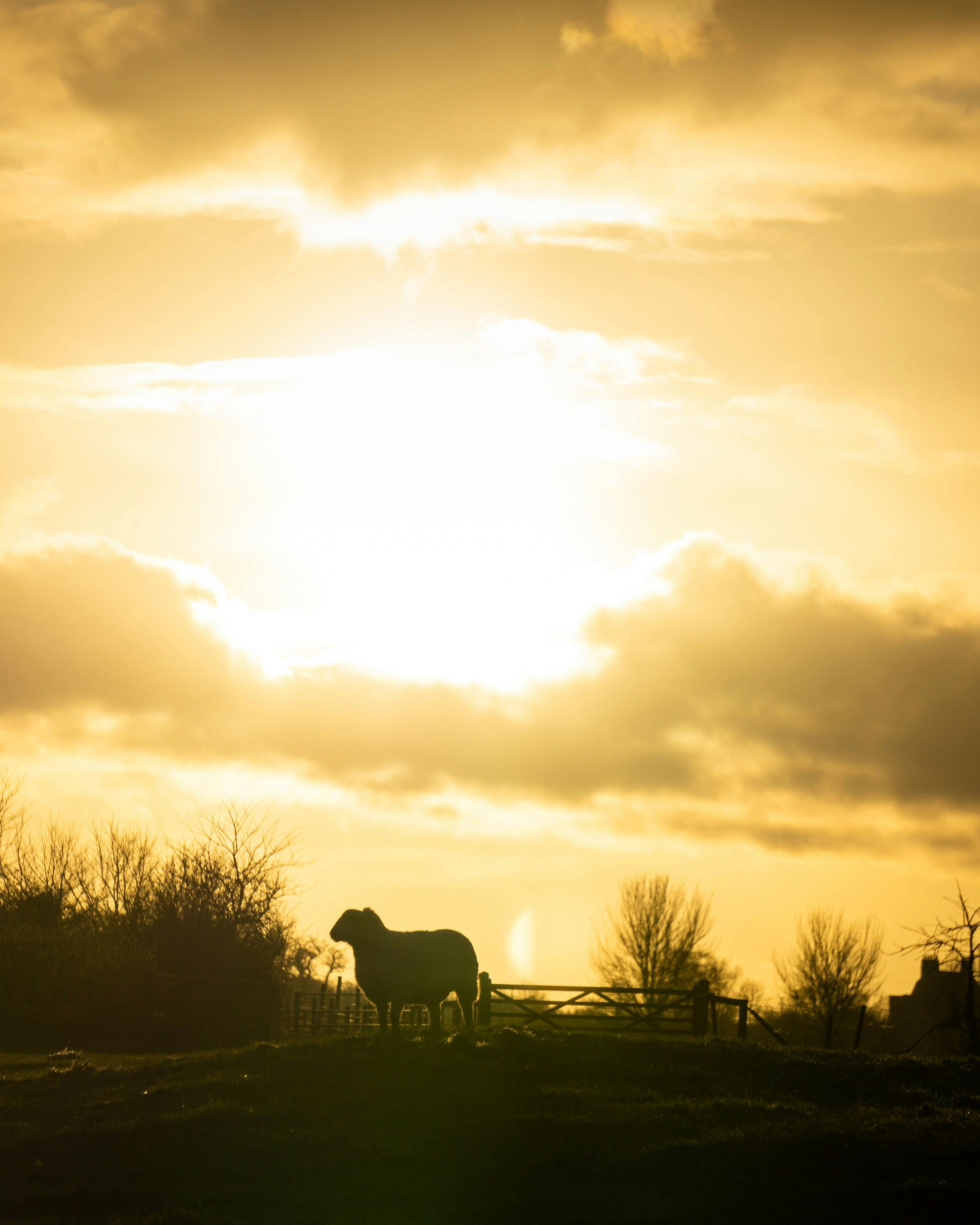 The River Avon
There are so many things to love about Bath, but the River Avon is one of the most famous landmarks in the city. Wander in the quiet of the evening and you will have access to lots of nice walking spaces near the river.

While this river is beautiful in the daytime, you will get a lot out of your time visiting it at night, too. It's one of the most historical things to see in Bath and you should make time for it even if you are not going to see it other than at night. The lights of the city reflect in the water and many of the other tourists will have long since returned to their hotels.

Bath Abbey
Bath Abbey is another can't miss attraction in the Bath City Centre. This lovely example of a Benedictine Monastery is complete with stained glass and flying buttresses. The abbey grounds are beautiful at night as well as during the day and you will get to see so much of what church life in England was like during the monastery period.

The Bath Abbey itself closes by 6 pm, so try to make this an early evening activity. The working church is stunningly lit up at night, though if you want to head here a bit later. You just won't be able to go inside.

Royal Victoria Park
The huge size of Royal Victoria Park makes for a pleasant time no matter when you visit. There are more than 50 acres to wander here and you will enjoy the neatly manicured paths and the beautiful shrubbery and flowers. Even if it's dark out, you will find that you can enjoy the atmosphere here and the space is a welcome relief after the hustle and bustle of town.

Royal Victoria Park is one of the nicest park spaces in the city and visiting this spot at any time of day is special. It's one of the most popular parks around, and one visit here will quickly show you why that's the case.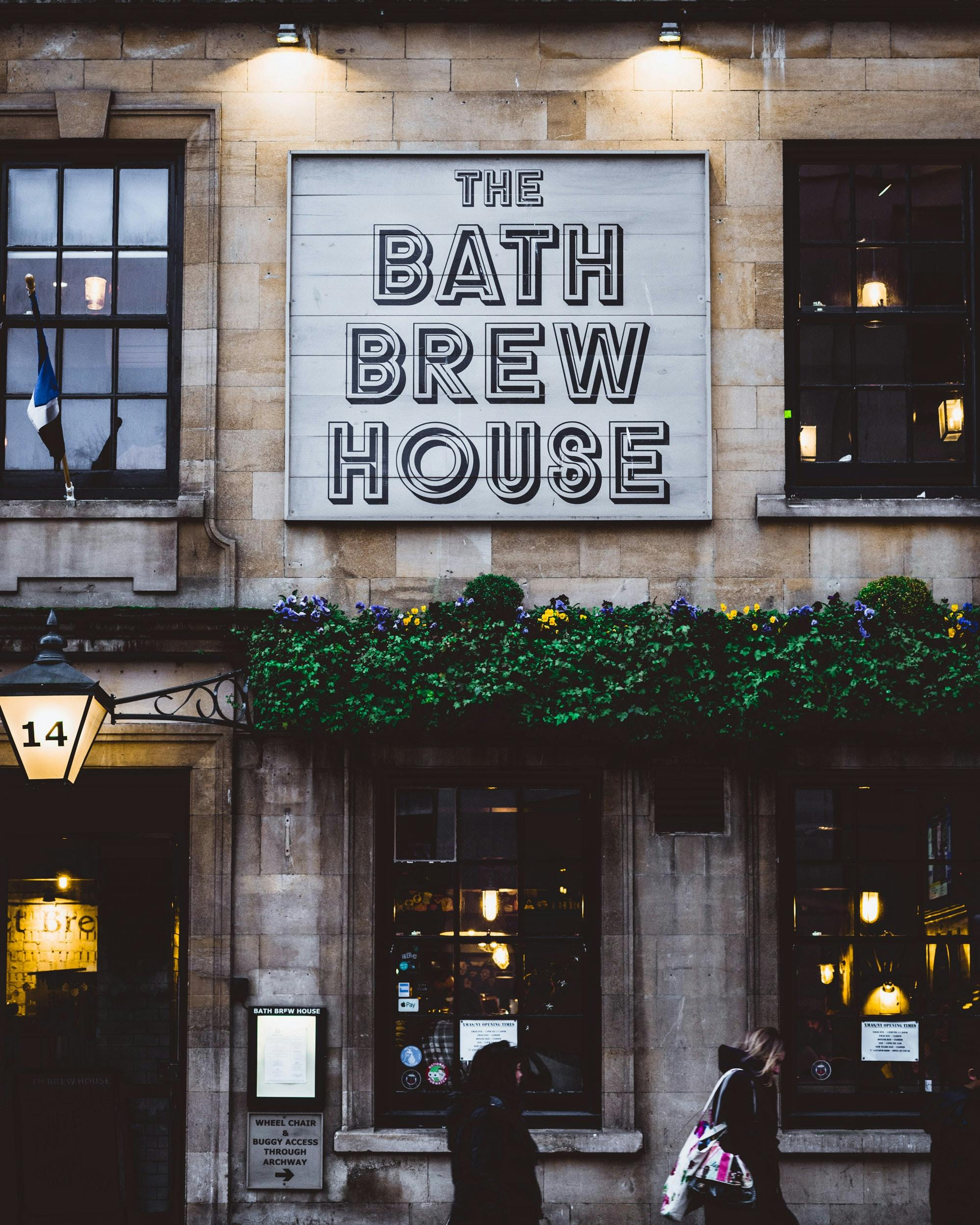 Visit a Bar or Pub
As atmospheric in their own way as the Roman Baths, the pub and bar scenes in the city centre is an experience to seek out when you visit Bath. Getting a pint or a cocktail in one of the many places in town that serve alcohol is a perfect way to start or end your evening. You can easily mingle with locals here and you can hop from place to place with ease when you head to the middle of town to enjoy some libations and good food. There's nothing like a traditional English pub!

Head to George Street
For excellent dining options and some after-dinner drinks, head to George Street and pick a place. There are lots of restaurants here and you can bar hop afterward if you are not ready to end your night. The downtown area is the ideal location for an impromptu night put because it has such a variety of establishments. After dinner, go on a relaxing walk to Royal Crescent or other nearby areas. If your timing works out, this are is also where the Bath Christmas Market is held annually from November to the end of December.

Quiz Nights
There are various quiz nights and walking tours that take place around the city each night. You can readily join in the fun with these activities and you will have so much fun learning about the city at the same time. You can join a team or form your own, and quiz nights at various pubs and restaurants are a quintessential English rite of passage. Who knows, you might even make some new friends while you're at it. Bath Brew House, The Kings Arms, and The Cork are just some of the pubs that offer these quizzes.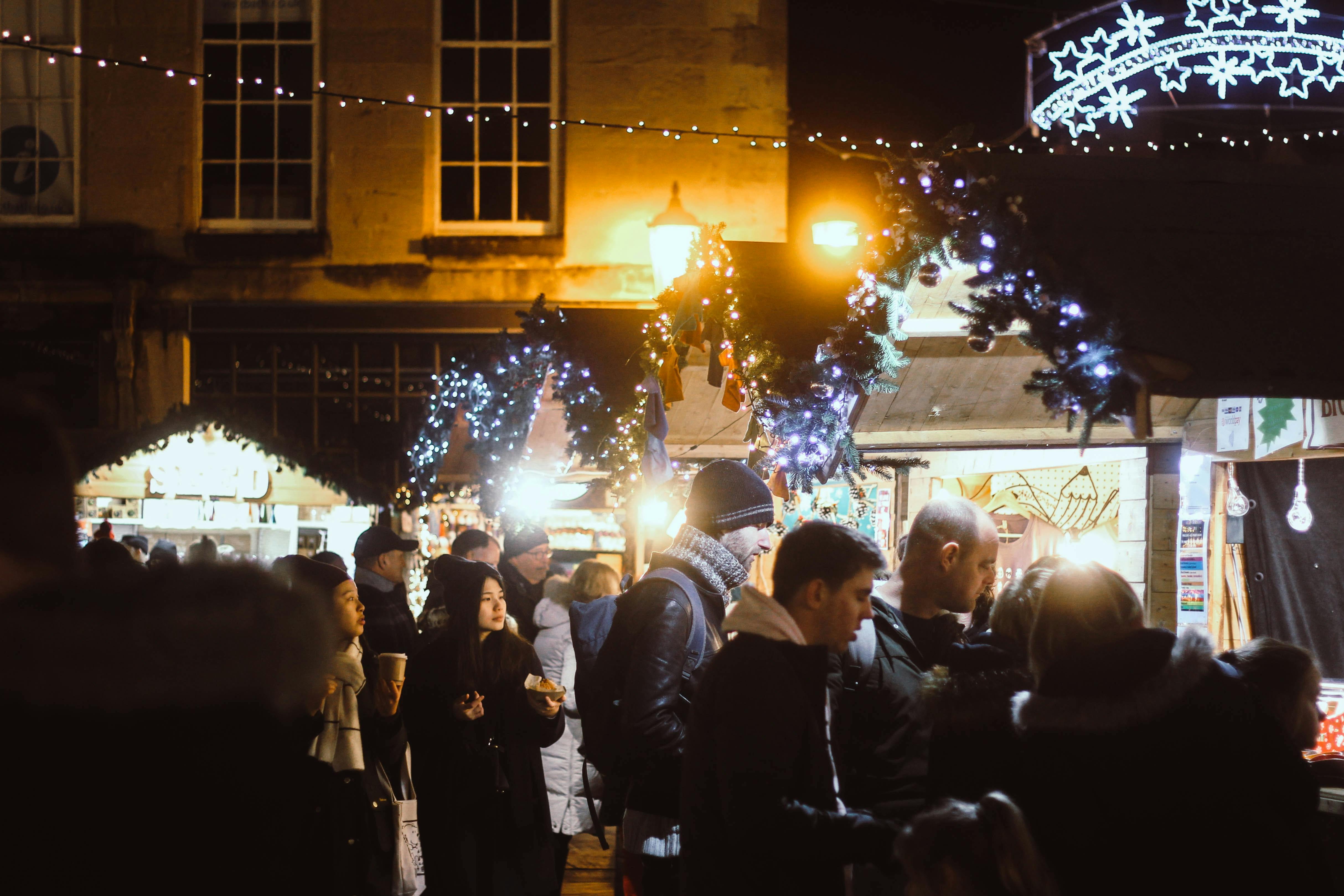 Conclusion
Bath is one of the best places to spend time in the UK, and if you're going to be heading to this city, you'll want to enjoy the nightlife during your stay. You will find that most of the best hotels in the city are convenient for nighttime activities and the many historic locations around the city are breathtaking by torchlight or lit up conventionally.

This is a lovely place to visit and there are so many things that can be enjoyed during the daytime as well as in the evening. Visit at both times of day to compare and you'll see that the photos look very different depending on the light. There is no wrong way to visit bath and you will have a great time no matter how you plan your trip. Some of the must-visit places in Bath include the Roman Baths, Royal Victoria Garden, and Royal Crescent. Start with these and you won't go far wrong.

Always make sure to put your luggage into secure storage before you head out to have fun at night in Bath so you can let loose worry-free!