Where To Stay In Colmar: The Ultimate Neighborhood Guide
Published by:

Bounce
26 May, 2022
France is a top traveling destination, and with places like Strasbourg, Paris, Brest, Le Havre and Colmar, it is easy to see why. Colmar is a small provincial town located in the Alsace region, famous for the Alsace Wine Route. It is considered one of the most beautiful cities in France, with flower-lined canals, delicious food whether street food or in restaurants, a gorgeous medieval area, cobblestone lanes, historic sights, mansions and half timbered buildings waiting to be explored. It is especially magical during the Christmas holidays.

Colmar is perfect for a romantic getaway, it is believed to have inspired Belle's hometown in Beauty and the Beast. The fountain in the middle of Colmar City Centre looks just like the one in the movie. The town is pretty small and finding accommodation will not be difficult. Here we discover which neighborhood is the best to stay in while in Colmar, and hotels that will match any budget and preference.

Just arriving in this exceptional European region? When you are ready to explore the neighborhoods, don't forget to store your belongings at a safe luggage locker in Colmar. Then, decide on a neighborhood that has what you'd like to see – but be sure to visit the entire area to not miss a thing!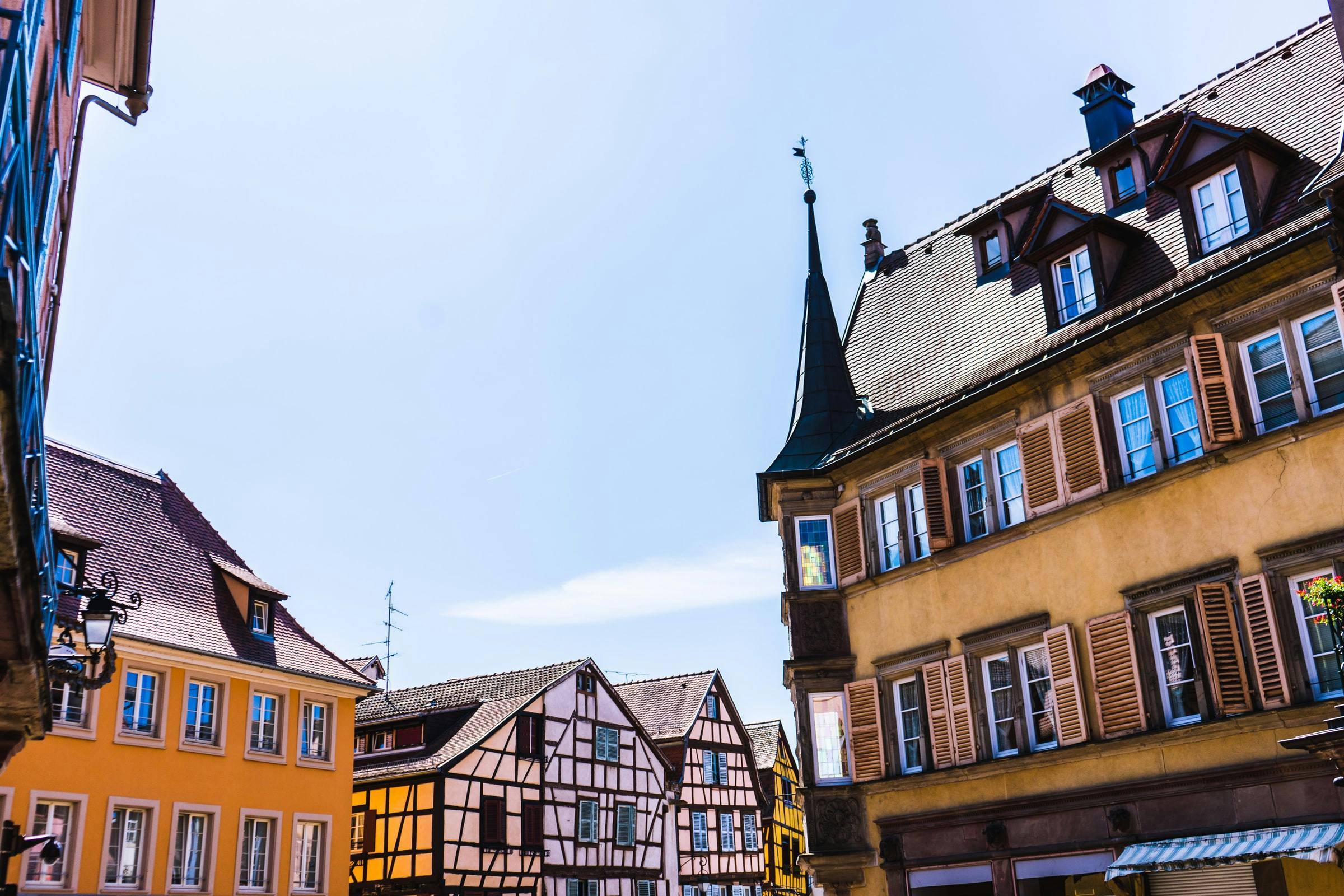 Where to stay in Vieux Colmar
Vieux Colmar is the medieval area of the town and it is best for families, couples or solo travelers, arts, history and architecture lovers, and everyone who wants to be in the thick of things. Made of a maze of cobblestone lanes, you can find cute cafes and shops on every corner. Because of the cobblestone streets, parking here is limited and navigation may be challenging for strollers and people with mobility difficulties.

Attractions near Colmar Old Town are many (including free things to do) and they are all within walking distance. See La Maison des Têtes, 16th-century wooden Maison Pfister, Saint Martin Church, Unterlinden Museum, and many more. Here you will find the Bartholdi museum, one of the most visited museums in Colmar and dedicated to Frédéric Auguste Bartholdi, the sculptor who designed the Statue of Liberty. One of the highlights of Old Town is La Petite Venise or Little Venice, often packed with boats taking tourists on a scenic cruise along the flower-lined canal ways.

Central Colmar is especially excellent to stay in during the Foire aux Vins wine festival which takes place every summer, or the Christmas markets during holiday time. Keep in mind that July and August are the busiest months and it may be hard to find the right hotel for you. To avoid crowds and the scorching heat, it is best to travel in late spring or early autumn.

This neighborhood offers a good selection of hotels that come with a higher price because of the location.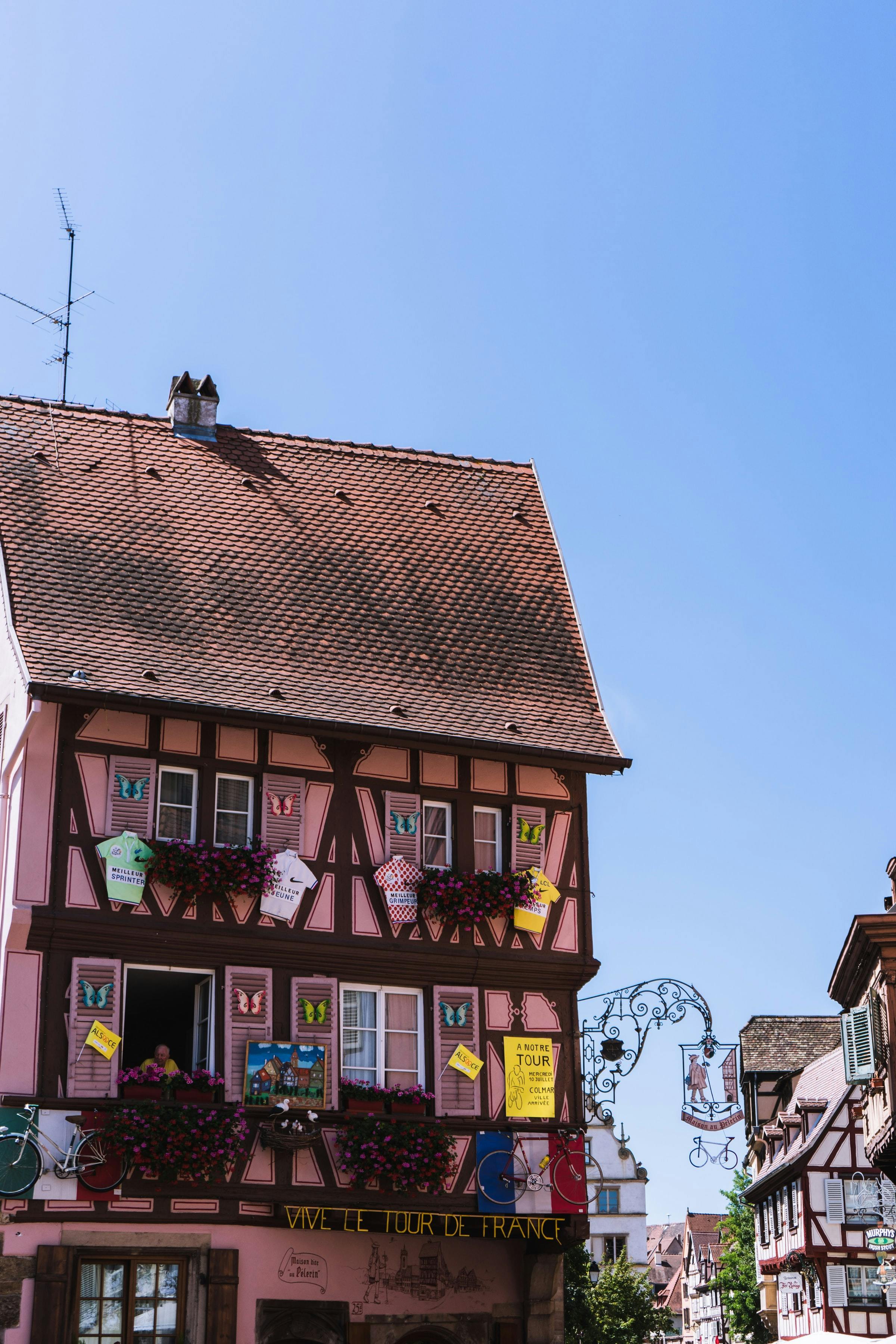 Hotel Le Colombier Suites - top pick
This is one of the most famous hotels in Colmar. The 4-star, stylish and luxury hotel is located in the Little Venice district. It features soundproofed guest rooms and suites overlooking the town streets or the garden. The air-conditioned rooms and suites are equipped with a minibar and a flat-screen TV along with a kettle and a coffee machine.

The hotel offers free WiFi access everywhere, a bar and a beautiful garden where you can enjoy your morning coffee. However, breakfast is served across the road. The Unterlinden Museum is just half a mile away from Hotel Le Colombier and within a few minutes from the Musée d'Histoire Naturelle of Colmar.

La Maison Des Têtes - luxury hotel
If you want your stay in Colmar to be one of the best experiences in your life, check out the La Maison Des Têtes hotel. Built in the 17th century, the building adds to the charm of the only 5-star hotel in Colmar. Located in the historic Alsatian town of Colmar, the hotel features spacious and bright rooms, equipped with AC units, a TV, a private bathroom and free WiFi. You can savor traditional cuisine in the Michelin-starred gastronomic restaurant, enjoy a cocktail on the shaded patio or simply chill in the lounge.

Hotel Restaurant Le Maréchal - Les Collectionneurs - luxury hotel
If you are looking to splurge, this 4-star hotel will do just fine. Located one mile away from Colmar Train Station, and Colmar Christmas Market in the La Petite Venice district, Hotel Le Marechal is one of the best places to stay in Colmar. It was built in the 16th century, on the city's original fortified walls.

Le Marechal features spacious and stylish guest rooms decorated with antique furniture overlooking the canal. There is free WiFi access throughout the hotel. Guests can savor delicious traditional cuisine served in the on site restaurant A l'Echevin or the outdoor terrace in the summertime.

PAUL & PIA - budget hotel
This is one of the best budget hotels in the real heart of Colmar. Located within a few minutes' walk from Colmar Train Station, the Old Town and Colmar Christmas Market - Place des Dominicains, the 3-star hotel offers rooms with a satellite flat-screen TV, free WiFi access, on site bar and a 24-hour reception desk. Everything you need for a pleasant stay in Colmar on a budget.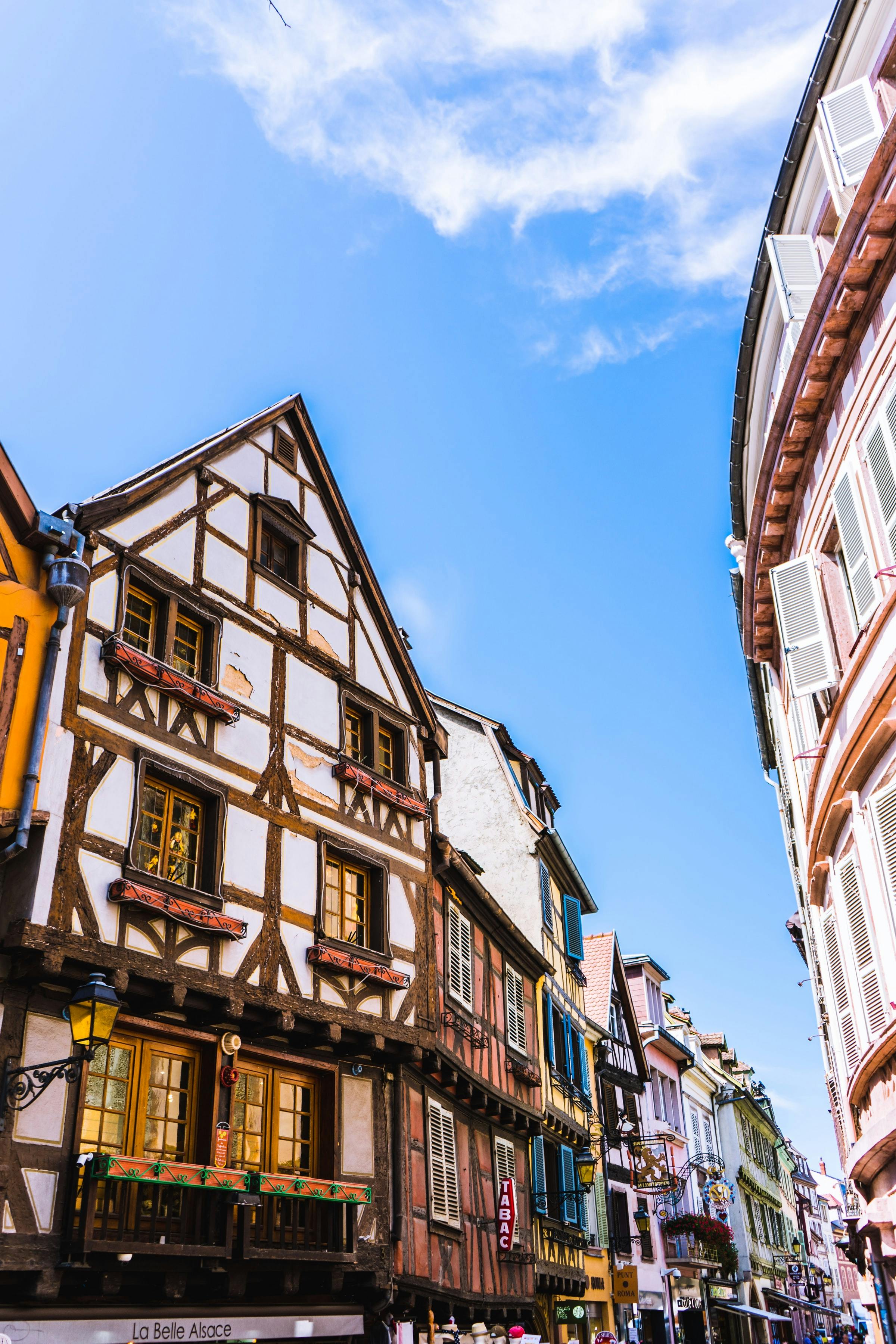 Where to stay near Colmar Train Station
The area near Colmar train station has plenty of hotels, from luxury and mid-range to budget and furnished apartments. It is the perfect neighborhood to stay in if you are traveling the Alsace region by train. You are not in the real heart of the town, but you are within a short walking distance. Here are some of the most popular hotels near Colmar train station.

Villa Elyane - luxury hotel
Built in 1920, Villa Elyane offers modern decoration style rooms equipped with a seating area, coffee machine and a private terrace. This 3-star hotel makes you feel at home. You can rent a bike for free and enjoy the spa bath after a long day. There is a smoking room with a library and a lounge with a billiard table. Buffet breakfast is served every morning too. But, be prepared to pay up to $300 a night for a suite in peak season, with breakfast included.

Colmar Hotel - budget hotel
Located near the House of Heads and Saint Martin Collegiate Church, Colmar Hotel features clean and cozy rooms equipped with a flat screen TV, a kettle and a private bathroom. The 3-star hotel offers free WiFi, a 24-hour reception desk, a bar and free private parking in front of the hotel. Its location is ideal for everyone who doesn't mind being a bit further away from Colmar centre and wants to save some money. In Colmar Hotel, the price per night with breakfast included is half the price compared to other luxury hotels in the area.

Grand Hôtel Bristol - mid-range hotel
Located across from the historical TGV train station is the Grand Hôtel Bristol, a 4-star hotel with 91 rooms spread across 4 floors, so all rooms are accessible by lift. The hotel offers a fitness and spa center with a sauna, hammam (Turkish bath) and massage treatments, which is an excellent treat after a long day out exploring the Alsace region. You can enjoy a continental or buffet breakfast and traditional Alsace cuisine with regional wines in the on-site French-style restaurant L'Auberge Brasserie.

Where to stay in Quartier Saint-Leon
If you are wondering where to stay in Colmar on a budget, try the Saint-Leon neighborhood. It is a bit further away from the touristy areas, which means you will have some peace and quiet. Named after Saint-Leon church, this area is just north of the Old Colmar Town and while every major landmark and attraction is within walking distance, you are paying a lot less than staying in the town centre. In addition, if you are traveling by car, it will be much easier to find available parking in Saint-Leon rather than in the crowded Colmar centre.

Here you will also find one of the largest fountains in the Alsace region with a capacity of 21,000 gallons of water. Once, this fountain near Saint Leon church was the only source of water for the entire community. The fountain itself is octagonal and has a statue of Saint Leon standing in the middle.

In Saint Leon, there is a wide selection of hotels. Here are some of the best hotels in the area.

Hotel Beauséjour - nice ambiance
If you want to feel the comfort of a home, this family-run hotel is an excellent choice. The 3-star hotel is within a 10 minute walk from the historic Colmar centre, far enough to have some quiet time in and around the hotel. The charming rooms attract guests with exquisite furniture.

There is a beautiful summer garden where you enjoy your morning coffee or a late night cocktail. In addition, the candlelit dining room is ideal for romantic dinners.

Le Chill & Chic - great location
This chic place is located half a mile from House of the Heads, Colmar Theater and not far from the Dominican Church. It is a furnished apartment with 2 bedrooms and one private bathroom and all the amenities and cute details to make your stay a luxury one. The balcony with garden views is an excellent place to entertain guests and enjoy meals with the family.

Points of interest near the apartment are St. Martin Collegiate Church, Colmar Expo and Unterlinden Museum. Prices start from $150 per night, but the apartment can accommodate up to 6 people.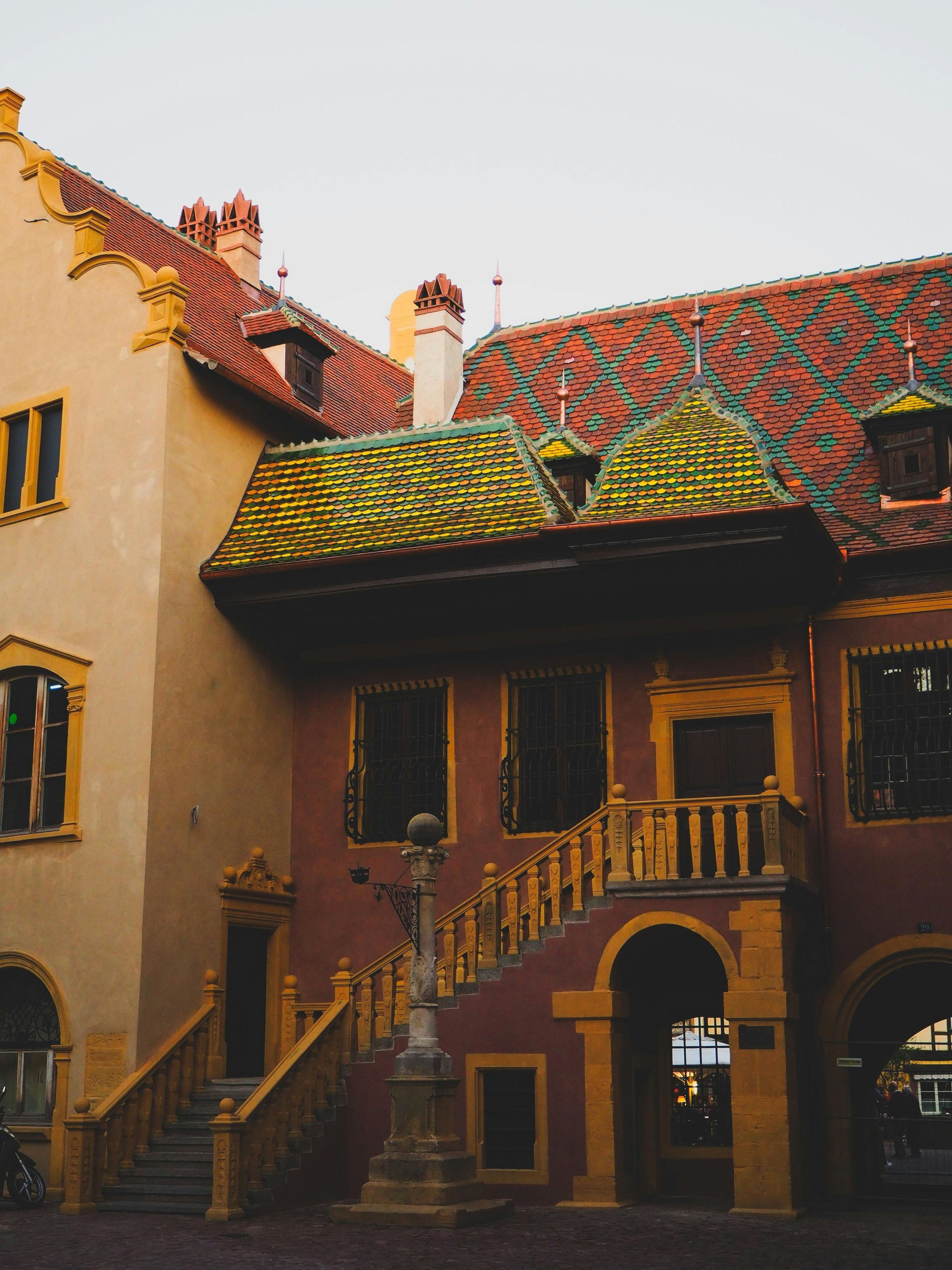 Where to stay in Krutenau or Little Venice district
Little Venice is one of the most popular areas to stay in Colmar, with lots to see during the day and much to do at night too. It starts behind the Koïfhus, stretches across the fishmonger's district, and ends at the bridges Turenne and Saint-Pierre. This is truly the gem of Colmar, packed with charming streets, floral displays and half timbered houses that will make you feel like you are in a fairytale. If you are up for a boat ride along the canal ways, you can hop on one here.

Colmar covered market is also here, as are the square of Place des Six Montagnes Noires with the Roesselmann fountain designed by sculptor Bartholdi, St. John's Knights House (Maison des Chevaliers de Saint-Jean) and lovely bridges and scenery to admire.

Being centrally located, accommodation is a bit on the expensive side, but there is a wide selection to suit any budget and preference.

Novotel Suites Colmar Centre - modern hotel
Located near the city centre, close to Saint Martin Collegiate Church, the 4-star Novotel Suites Colmar Centre is one of the best hotels in the area. Here you can enjoy a glass of your favorite cocktail at the convenient on site bar. In addition, the hotel offers free parking, a lounge and fitness room with a spa, hammam and free WiFi.

The rooms are one of the best family spaces in the area, equipped with all the necessary amenities including a microwave and a minibar. All have a seating section and some rooms even have a private terrace. Attractions close by are Little Venice, Colmar Covered Market and The Dominican Church.

Hotel Turenne - contemporary pick
The 3-star hotel has a great location, right at the entrance to the historic centre. It offers clean, modern and spacious air-conditioned rooms with free WiFi access, TV, and a private bathroom. Buffet breakfast is served every morning, but there are plenty of restaurants in the area if you wish to eat somewhere else.

Best hotels on the Outskirts
Hotel l'Europe - bright and roomy
Hotel l'Europe is a 4-star hotel located in the Horbourg-Wihr area, 2.4 miles from Colmar city centre. It takes 15 minutes to drive from Colmar train station to the hotel. The rooms are comfortable and spacious equipped with AC units, free WiFi and TV.

The on site restaurant "Le Comptoir d'Henri" serves traditional French cuisine and you can enjoy a glass of regional wine in the bar.

Hôtel Roi Soleil Prestige - unique stay
Located on the outskirts of the city, near the resin replica of the Statue of Liberty and Colmar airport, Hôtel Roi Soleil Prestige offers rooms with Fresco painting, TV, free WiFi and a Nespresso coffee machine. There is a continental and buffet breakfast every morning, and at night you can chill at the jazz-themed lounge bar with your favorite drink and person.

Ideally Located Hotels in Colmar
Although small, hotels in Colmar are plenty and range from $100 up to $500 per night. Are you looking at the best luxury hotels or hoping for a quaint and original boutique hotel? Colmar won't disappoint. Some neighborhoods are busier than others, but the entire town is easy to get around on foot so you can reach your destination within minutes.

Since most landmarks are concentrated in the city centre, the hotels there will be more expensive. The further you travel from the historic centre and Le Petite Venice, the less you will pay for your accommodation. Even if you booked your hotel in Horbourg or Champs de Mars, getting to town is very easy and fast.