15 Things To Do In New York With Kids
Published by:

Bounce
1 February, 2022
New York City is known for the Statue of Liberty, the hip nightlife, fashion, food, and countless adult fun things to do, but what if you are traveling with children? Are there things to do in NYC with kids? Well, of course!

While it doesn't have Disneyland, there are a plethora of exciting family-friendly things to do in the Big Apple. You would be surprised! Starting from the Grand Central Terminal and New York Transit Museum to a free Staten Island Ferry and ice skating in Bryant Park, this amazing city has all the fun in the world you and your kids can have.

Whether you are visiting for the day or getting in that last day of fun, here are some of the most amazing things to do in NYC with kids.

Visit the Empire State Building
The one building that everyone immediately identifies with New York City, is the Empire State building. It was the tallest building in the world for 40 years, and one with the best view of New York City.

Going up to the new observatory area may cost a little more, almost double the price, but you will forget what you paid when you see the spectacular view of the city that never sleeps. The 86th floor is the outside observatory that wraps around the entire Empire State Building, where your kids can run around and enjoy the fresh air. Before setting out on this excursion, drop the kids' backpacks with our secure luggage storage in NYC. The kids will be less likely to get antsy if they don't have a heavy bag to carry.

And tell them the view from the 102nd floor is even better than the 86th. You can actually see six states and it is enclosed so it is always warm and comfortable.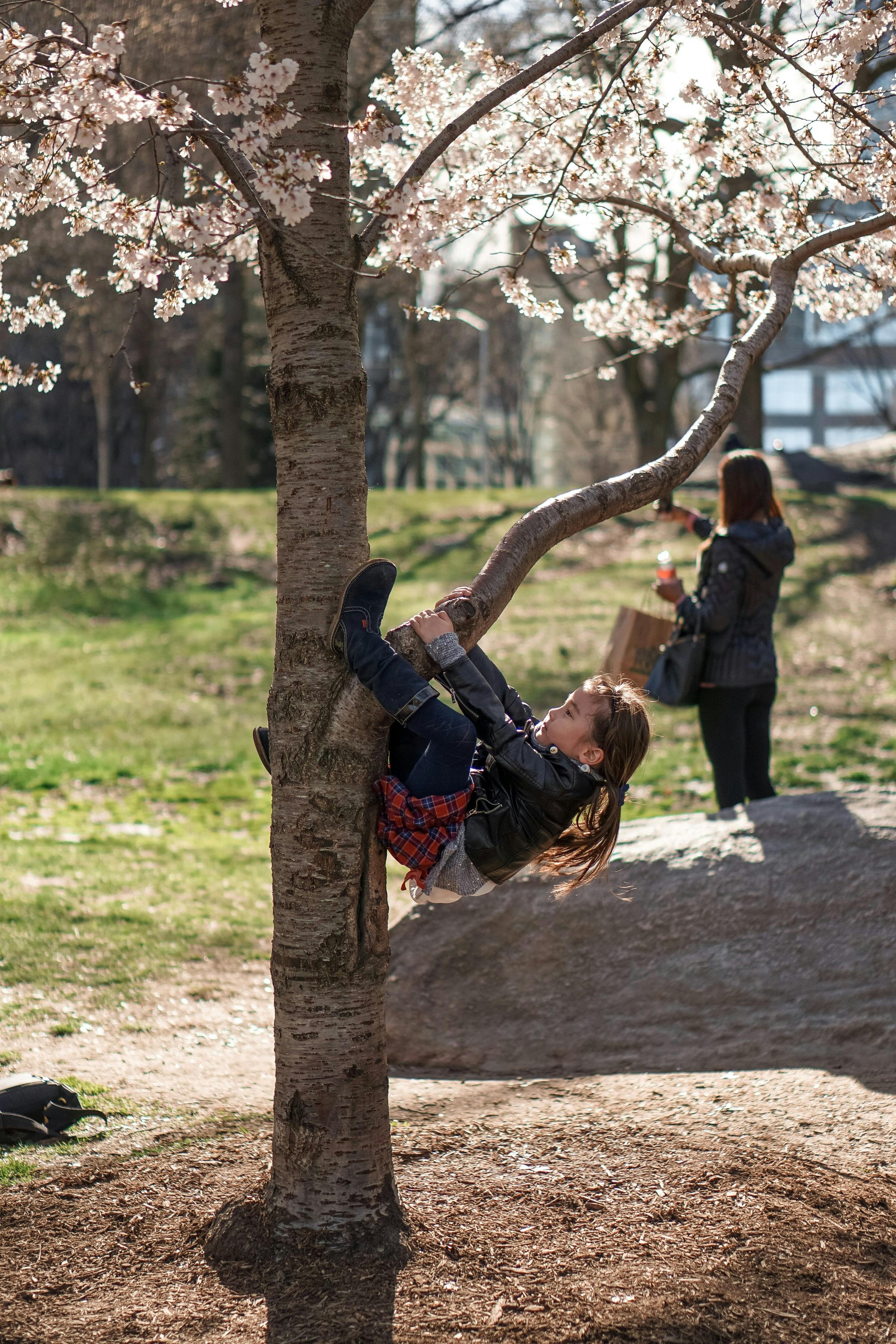 Central Park
There are so many things to do in NYC with kids and most can be found in Central Park. This is the most visited urban park in New York City and has every right to be. From simply walking around and enjoying the tranquil oasis in the heart of the city, to ice skating and riding the carousel, you will need a few days in Central Park to explore it all, especially with kids.

Check out the Marionette Theatre in the Swedish Cottage that runs throughout summer and school terms. Or visit the Central Park Zoo for a fun day with animals. If you and your kids love swimming, Lasker Pool is a great way to cool down in the New York City summer heat, and it's free.

Take your pick with the 21 playgrounds throughout Central Park or take your kids to the Belvedere Castle's Henry Luce Nature Observatory where they get to learn about the flora and fauna of Central Park.

During the summer months, children can enjoy storytime at the Han Christian Anderson statue or rent a boat for a relaxing row around Central Park lake. At the Visitor Center, you can borrow a Discovery Kit (kid-friendly binoculars, hand lens, field guide) and explore all of Central Park, and make a record of it in their Discovery Journal.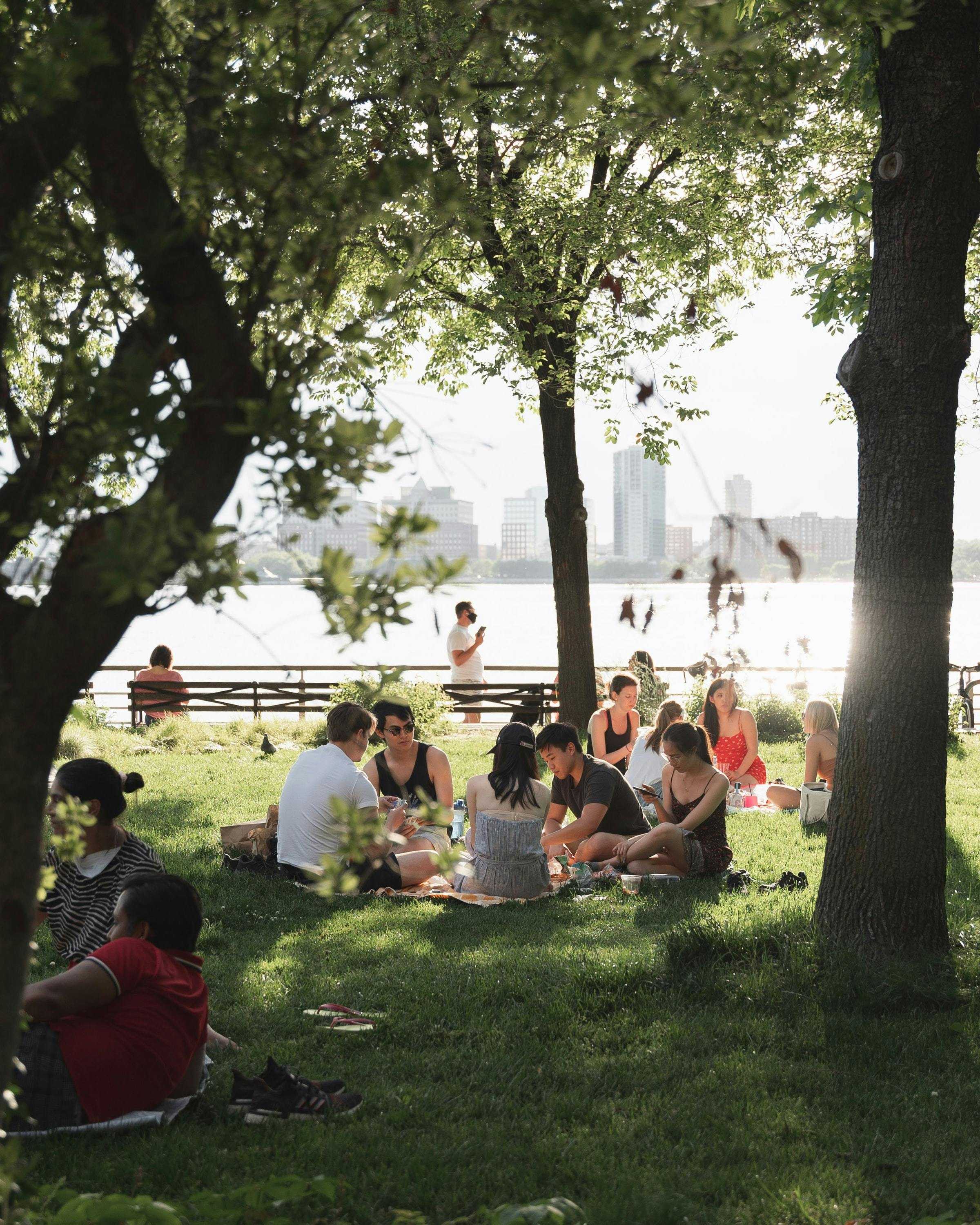 Free Staten Island Ferry
When taking the twenty-five-minute ferry ride from Manhattan to Staten Island you will get some great views of the Manhattan skyline but undoubtedly the best of the Statue of Liberty. Not only do you get a free ride to Staten Island, but you are also getting a free tour of the New York Harbor.

Running from Lower Manhattan to the north point of Staten Island you will pass by some of the most iconic sights in New York City. Ellis Island, Brooklyn Bridge, Liberty Island, Governors Island, and the fantastic Manhattan skyline can all be seen as you sail through the New York harbor.

The Staten Island Ferry runs 24 hours a day, 7 days a week so you can enjoy a ride during the day and marvel at Lady Liberty all lit up at night.

American Museum of Natural History
Take a trip to the upper west side of Manhattan. The American Museum of Natural History is not a children's museum per se, but it is great fun! From giant whales and dinosaur fossils, meteorites, and gems from space, to some really cool shows about space, it's the perfect day for the whole family.

New York with kids is not as bad if there are more places like this museum. Your kids will love exploring this incredibly informative and entertaining museum. Even better, they will find some exciting interactive exhibits as well.

The American Natural History Museum offers great programs for teens, higher education, and children and family. And if you want to see what really happens in a night at the museum, there are sleepovers available.

If you and your kids enjoy museum hopping, your itinerary will get more exciting if you include the Sugar Hill Children's Museum, DiMenna Children's History Museum, New York Historical Society, Liberty Museum, New York Hall of Science and the National Museum of Mathematics.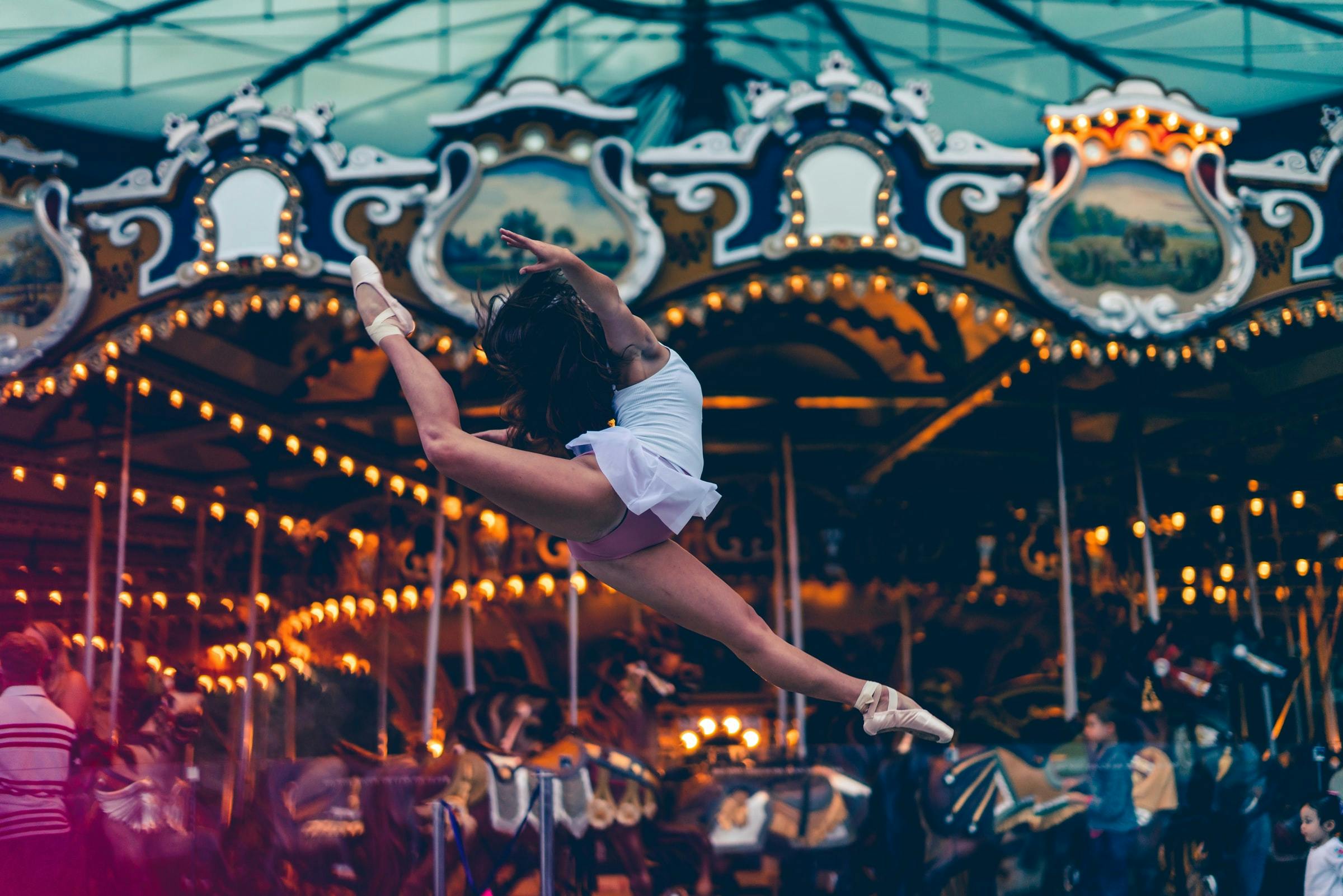 New Victory Theater
New Victory Theater is a non-profit theater in New York, perfect for kids. Every show produced is age group-specific, so you will know which one to take your toddler or teenager to. You get to enjoy Broadway-quality shows without the Broadway price tag too.

From tales from all around the world and newly imagined family-friendly shows to classic stories we all know and love, you will find all that and more. Whether it's an interactive show or full enrollment, they provide courses for children of all ages.

What parents will like is not only the reasonable prices for tickets but they also provide free lockers, booster seats, space for strollers, and autism-friendly performances. And where do you find this amazing theater? Where else but in the heart of New York, Times Square!

SpyScape
If you think you have a superhero on your hands why not let them test their powers at Spyscape. With intriguing puzzles to decode, lasers nets to wind their way through, and cool gadgets to play with, make it one of the top-rated places to have fun with the kids in New York City.

SpyScape opened in Midtown Manhattan in 2018, and this fun spy experience has had kids playing James Bond ever since. Suggest to the kids that tomorrow you continue exploring and discovering the mysteries of the city by choosing one of the best hikes in New York to try.


Brooklyn Bridge Park
Stretched along New York City's East River you will find Brooklyn Bridge Park, a family-friendly park with several children's playgrounds with different themes. At Pier 6 there is the largest sandbox in the city, a Slide Mountain, Swing city, and the Water Lab.

Throughout the summer there are free basketball camps for all ages, a roller rink, and kayaking. There is a variety of picnic areas in Brooklyn Bridge Park and heading down at Pier 3, you get to listen to Summer Reading Storytime with a view of the Brooklyn Bridge.

New York Aquarium
The New York Aquarium is a great way to spend the day learning about the ocean's inhabitants and having fun with the kids at the same time. Located in Coney Island your kids will be "ooohing" with delight at the sea lion show or having a great time in the 4D theater. There is even a chance to watch a penguin feeding. Regardless of what you end up doing, visiting the New York Aquarium is one of the best things to do in NYC with kids.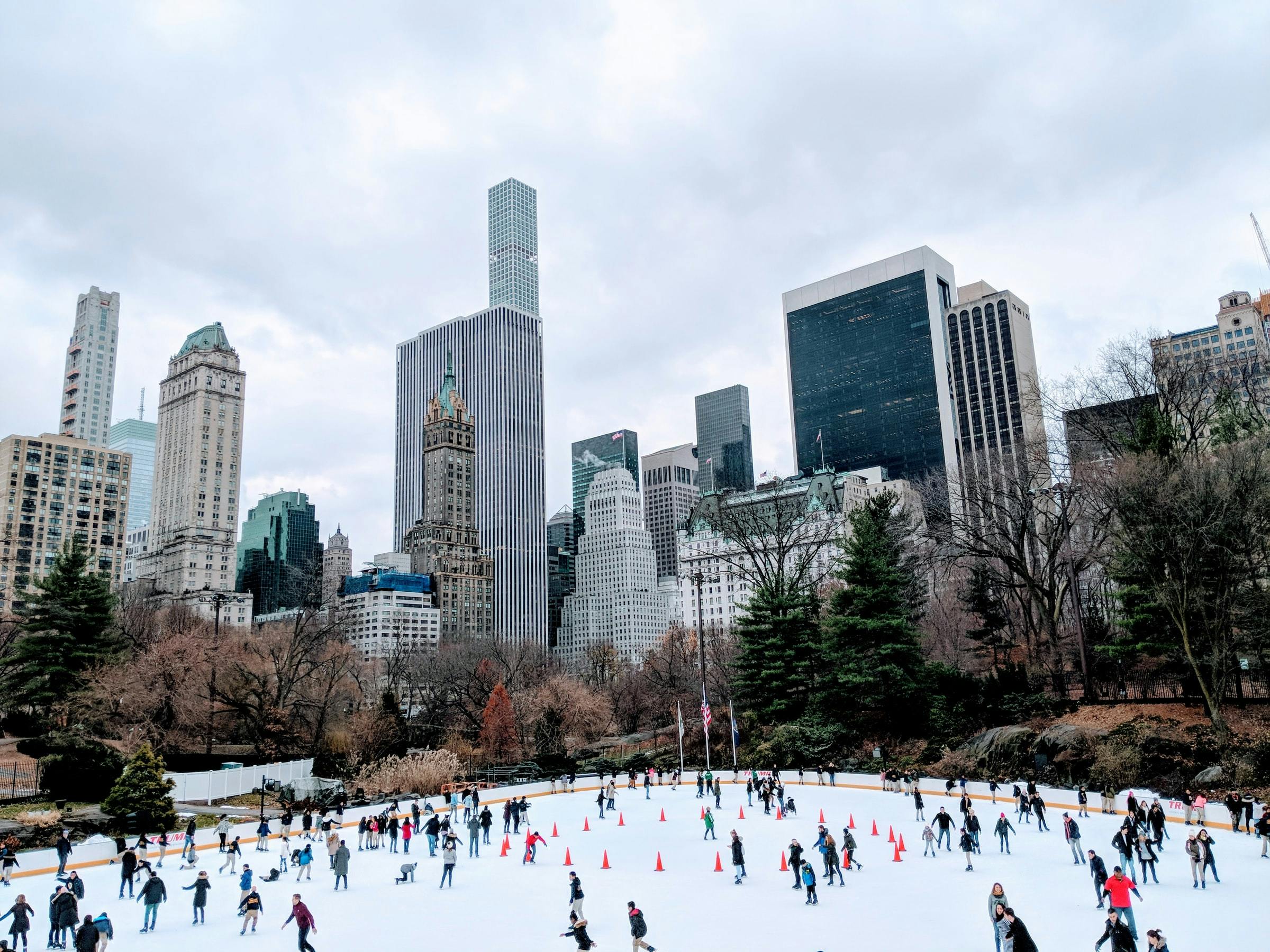 Snug Harbor Cultural Central
Getting to this cultural center is as fun as the center itself. Step on the Staten Island Ferry and enjoy the free ride with the kids. Once there, let the kids immerse themselves in some really fun activities like sing-a-longs, dancing, and super fun craft projects.

There is even a shrubbery maze for them to explore, just like in the novel "The Secret Garden". In the winter you don't want to miss the Lantern Festival, where the sky dances with the lights of hundreds of lanterns.

Metropolitan Museum
You might think of the Metropolitan Museum as a place for the rich and fancy but it is also a fantastic place where kids and their families can spend some great time. While the museum is not classified as a children's museum, the MetKids program is full of activities for children of all ages, with scavenger hunts, concerts, and so much more.

You and your kids can sit down and create some art, or they can go on an adventure with the Met educators who use the entire museum as a classroom. The kids learn about art and history in one of the most interesting and fun environments possible. Once you are done exploring the museum, step outside and enjoy the rest of Central Park.

One World Observatory
Located in One World Trade Center (the tallest building in America) is the One World Observatory. The observatory gives an over-the-top view of New York City that will take your breath away. Even getting to the top is part of the fun.

It starts with a ride in one of the fastest elevators in the world and some spectacular HD shows. And when you get to step out onto the Sky Portal, it is like your kids are running in the air above the streets. When you get down, it is a short walk to the 9/11 Memorial and Museum, the former site of the World Trade Center twin towers and a national historic landmark.

Bronx Zoo
New York with kids is fun when there are large zoos to visit! What do you get when you have the fourth largest zoo in America and put it in an urban setting? An animal haven for kids to enjoy!

All the amazing things you will get to see include some incredible exhibits and adventure programs like zip-lining. Wild Encounters where your kids can handle some furry creature, and maybe pet a cheetah are not to be missed. On Wednesdays the general admission is free.

Bronx zoo is a great way to spend a few hours in New York with your kids.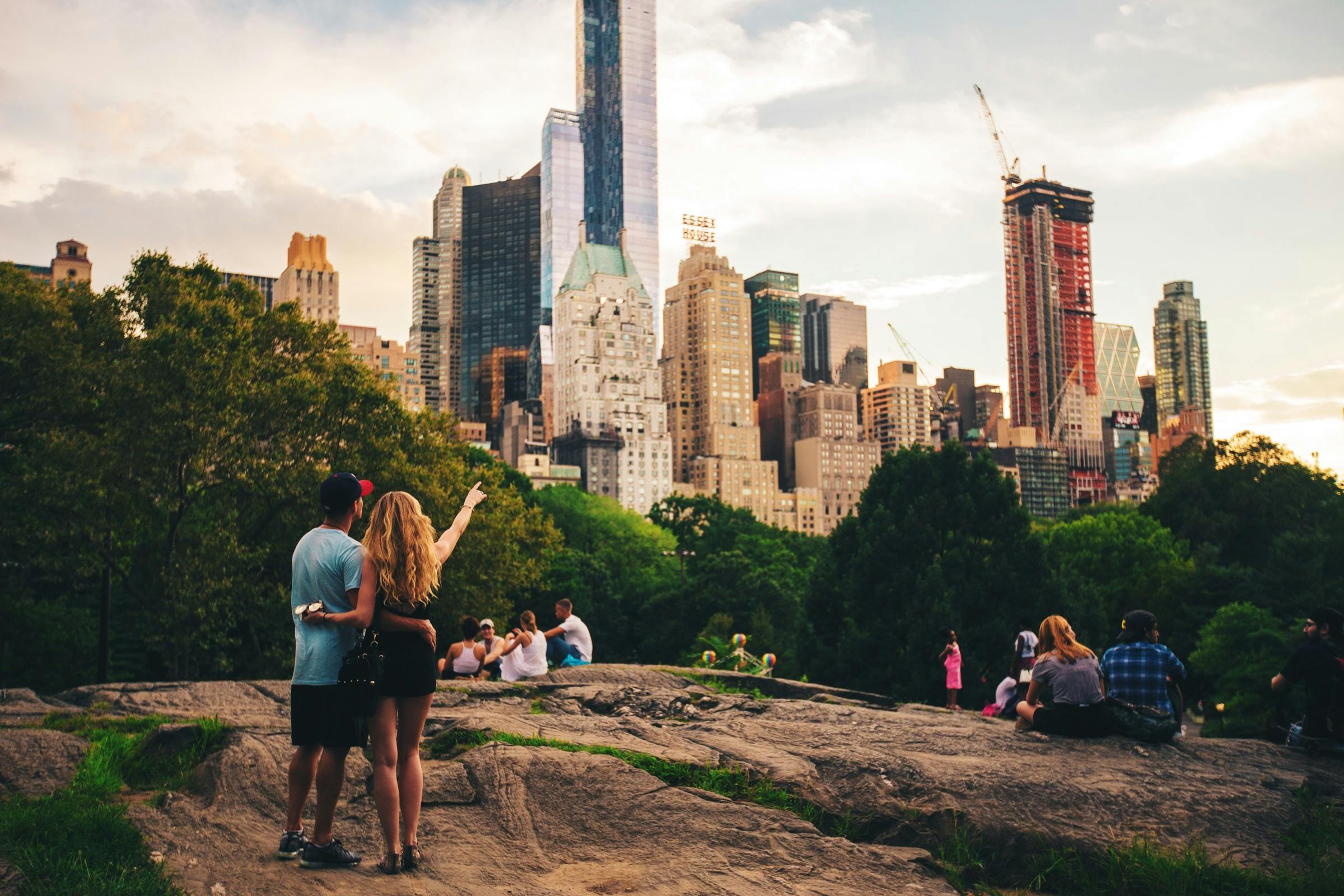 Rockefeller Center
Located in Midtown Manhattan is one of New York's most iconic attractions, the Rockefeller Center. If you are visiting this part of New York in the wintertime, you will not want to miss out on taking the kids to see the lights on the famous Christmas tree. While you are there rent some skates and hit the ice skating rink.

Time Out Market New York
Eating in New York City should be just as fun as seeing the cool sites, and that is what the Time Out Market New York is about. With a huge variety of food, you can find something for even the pickiest kids to enjoy. Located beside the Brooklyn Bridge (on the Brooklyn side) is where you will find this bustling hub of food.

You will not only find a great selection like pizza, bagels, ice cream, and pasta but also delicious healthy, and international choices. And don't worry parents, there is a spot for adult beverages too.

Luna Amusement Park
Is there a better way to spend some time with the kids than an amusement park? Formerly known as Coney Island, this famous landmark has been entertaining kids and the whole family for years. There are twenty-eight rides to choose from, all of the varying thrill factors, from the heart-stopping Cyclone rollercoaster to kiddie rides like the Tea Party.

If you are not into the rides there are plenty of other fun things to keep your kids (and you) amused. Live shows, music, all the carnival food you can think of, and of course, carnival games like Whack-A-Mole, ring toss, and a couple of arcades.

What are the best family activities in New York?
New York has some of the best family activities that are worth your time and money. Enjoy a little peace and quiet in the New York Botanical Garden or the famous Central Park, or see the original stuffed animals that inspired Winnie-the-Pooh in the New York Public Library. If you are into museums and cars check out some cool vintage subway cars and buses at the New York Transit Museum. Watch a free movie at sunset in Bryant Park or ride the SeaGlass Carousel in downtown Manhattan. Whatever you end up doing, New York will make sure you have great fun!

From Madison Square Park to the Upper West Side
There are so many amazing things you can do in New York with kids. And while most big cities have parks, zoos, and museums, New York has some of the best for the entire family.

Whatever you decide to do, make sure to also check the best free things to do in New York with kids for families traveling on a budget.