5 easy must-do weekend trips from Rome
Published by:

Bounce
23 March, 2023
The Italian capital of Rome has been at the center of European and world history for thousands of years. As a result, Rome is absolutely packed with ancient ruins of the Roman Empire along with stunning churches, sunny piazzas, and everything else you might hope to find in such a historic place. Walking through central Rome, it can feel like there's a UNESCO World Heritage site on every street corner and probably a delicious restaurant only steps away, too.

You could spend a lifetime in the Eternal City and never really get to the bottom of everything it has to offer. In fact, you would hardly be the first person to do so. But Rome, surrounded by its rolling hills, is also one of the central transportation hubs of the highly efficient and affordable Italian train network. And, thanks to its location in the geographical center of Italy, Rome also makes the ideal base for weekend getaways and day trips. In fact, day trips from Rome can show you some truly incredible locations and also help you get away from the tourist crowds that flock to the city at any time of year. Plus, a longer weekend trip gives you even more options when it comes to exploring what central Italy has to offer.

Step out of the shadow of the Colosseum and see more of the country on a weekend getaway from Rome. Whether you want to see a beautiful hilltop village, a gorgeous medieval town, a seaside resort town, or some beautiful natural scenery, it's all just a short journey away from this ancient city.

And don't forget to drop off your bags at a luggage storage in Rome before you go. Pack only what you need for a day trip or weekend trip and leave the rest behind, knowing it will be waiting for you safely when you return from your weekend getaway.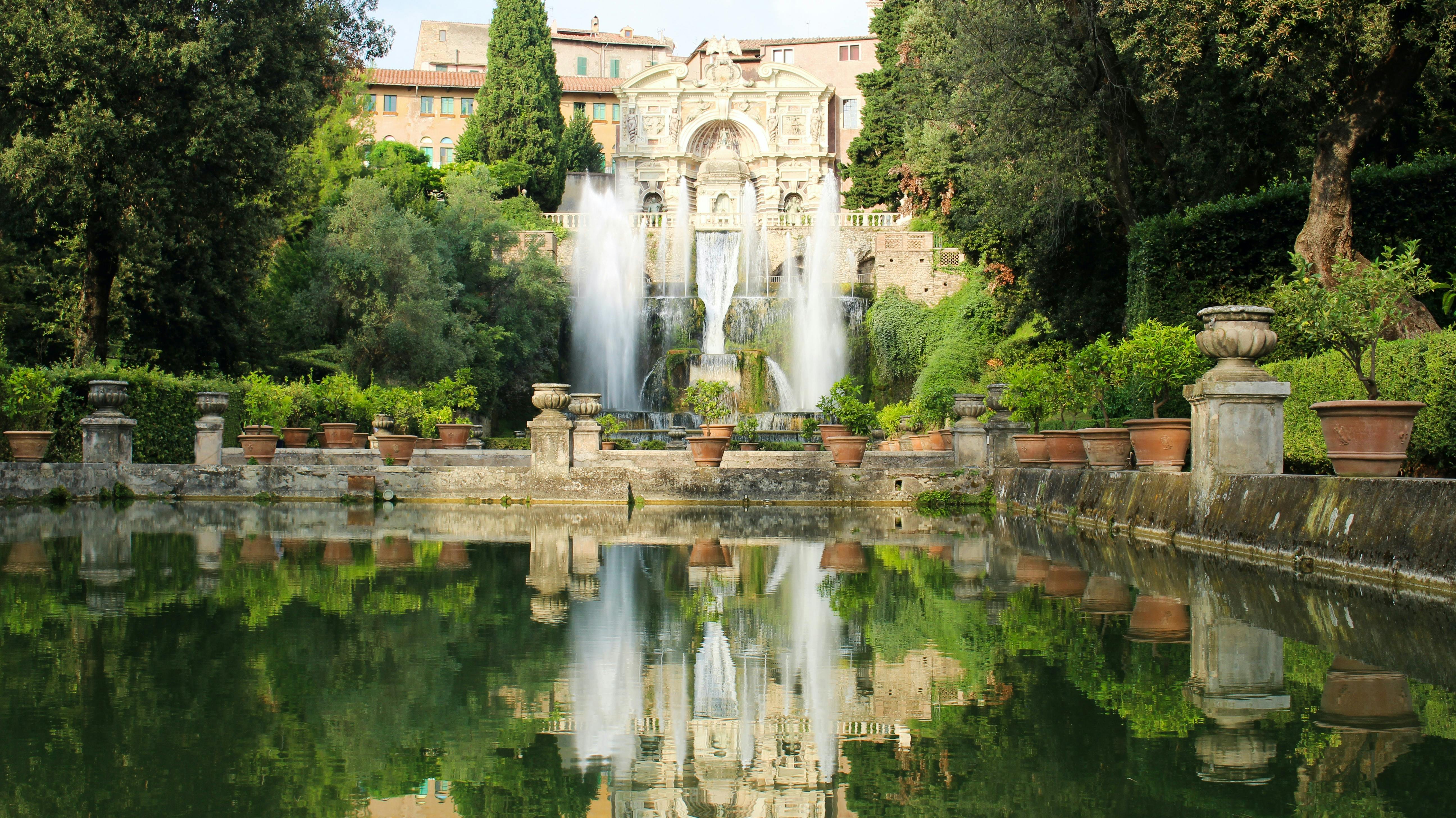 Tivoli
For all its impressive ancient architecture, Rome isn't the only ancient town in the Lazio region. Just a short journey from Rome itself, the charming town of Tivoli lets you step back in time and explore several different periods of Italian history, along with the picturesque villages of the surrounding countryside.

Distance from Rome:
Located just 40 km east of Italy's capital city, Tivoli can be reached from Rome by car in around 45 minutes. If you don't want to drive in Rome, that's understandable. Luckily, a regional train runs from Roma Termini to Tivoli train station in just over half an hour.

Our activity recommendations:
Villa d'Este: One of the main tourist destinations in Tivoli, Villa d'Este is a 16th-century palace that once belonged to a powerful cardinal. Check out the beautiful rooms to see the opulence of the Catholic Church during the height of its political power. And don't forget to visit the palace gardens, which are often regarded as some of the most beautiful in all of Italy.

Villa Adriana: If you travel to Tivoli on a weekend getaway from Rome, you'll be in good historical company. The most powerful man in the world used to also enjoy weekend getaways from the city to Tivoli, and the Roman emperor Hadrian built a colossal villa here in the second century A.D. Now, these ancient ruins are a fascinating place to explore and the highlight of many day trips from Rome as well as weekend trips to this small town.

Rocca Pia: This 15th-century castle is the perfect place to explore more about the medieval and Renaissance history of Tivoli. Remarkably well preserved, the castle tells the story of the famous conflict between Italian nobility, the Guelphs and the Ghibellines, and is a great place to visit to enjoy the long history of this region.

Best season to visit:
Thanks to its centuries-old status as one of the best day trips from Rome, Tivoli gets extremely crowded during the summer season. For that reason, it might be better to visit in the spring or fall when the weather is still usually quite pleasant, but the crowds are more manageable.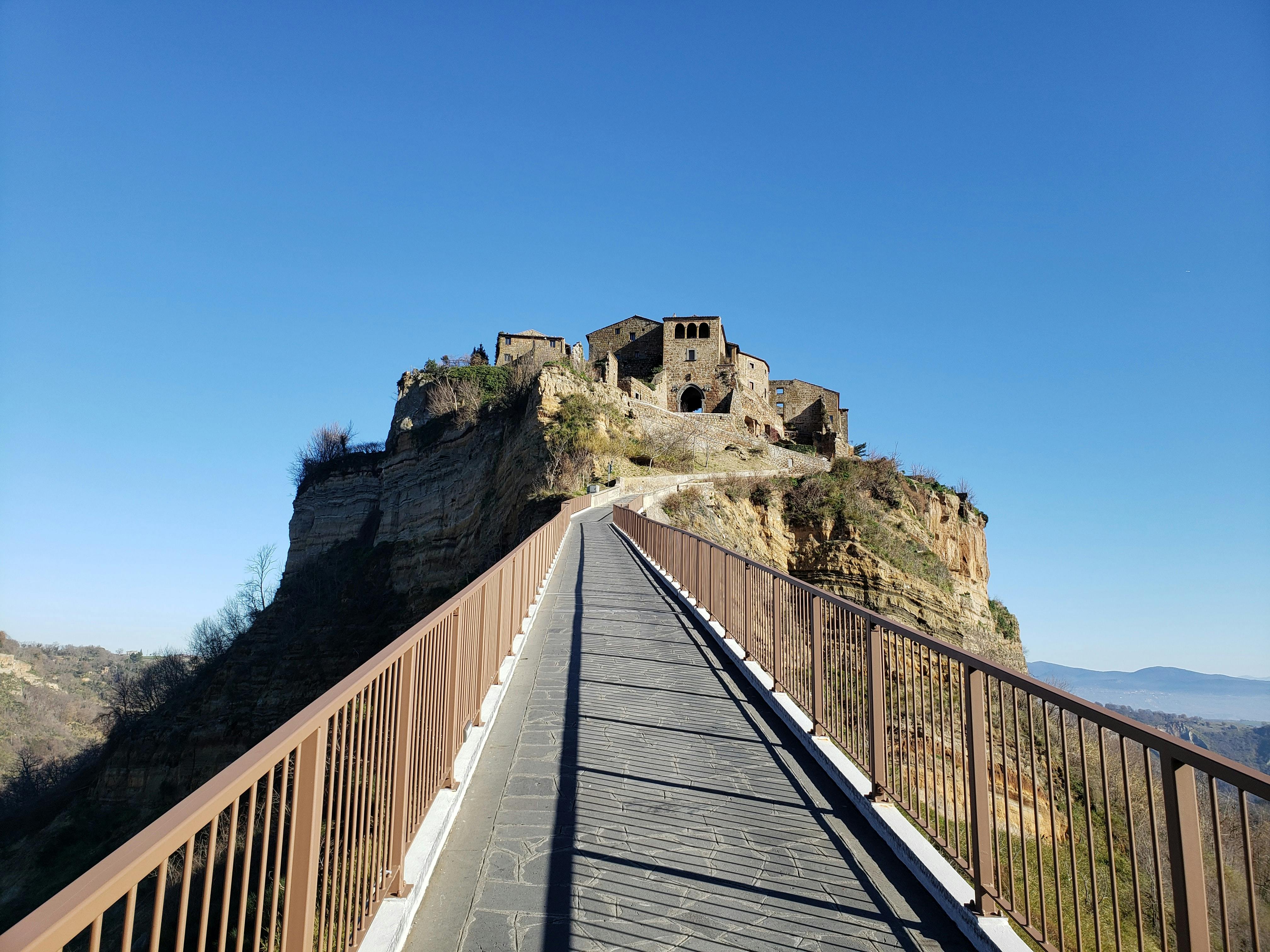 Viterbo
Located in northern Lazio, the old town of Viterbo was once the heart of the Catholic Church during the 13th century. Nowadays, this beautiful medieval town is a lovely place to explore not just for its rich history but also for its incredible food and a more laid-back experience of Italian life.

Distance from Rome:
Around 80 km north of Rome, Viterbo can be reached with a drive of around 1.5 hours. You can also reach it by train, which will take around the same amount of time.

Our activity recommendations:
Papal Palace: One of the top attractions in town, Viterbo's Papal Palace is located right next to the city's Cathedral and is a witness to the period when the papacy had to move from its ancient home in Rome due to political violence. Dating back to 1266, the palace was home to the popes for 24 years, and even after the papacy returned to the Vatican, it remained a getaway for a succession of powerful popes. Now it's a great place to learn more about this complex history.

Terme dei Papa: Another legacy of the presence of the popes in town is these magnificent thermal baths. The pools here are filled with rich mineral water and seem carved out of the rock itself, making this an extraordinarily beautiful place to relax. The on-site bar offers a range of beauty and health treatments, so it's the perfect place to pamper yourself and live like a medieval pope on a day trip.

Necropolises of Cerveteri and Tarquinia: Dating back to the seventh century BC, these ancient burial grounds prove that the Roman Empire didn't invent civilization in Italy. Any history buff will want to visit these atmospheric ruins and explore the Etruscan culture that had a stronghold in this area before it became absorbed by the growing Roman Empire to the south.

Best season to visit:
Viterbo is a year-round destination. Thanks to its proximity to Rome, it gets lots of tourism in the summer, with many urban residents heading here for a quick day trip. If you'd rather avoid that, consider visiting in spring or fall. However, even in winter, this is a great place for a weekend trip.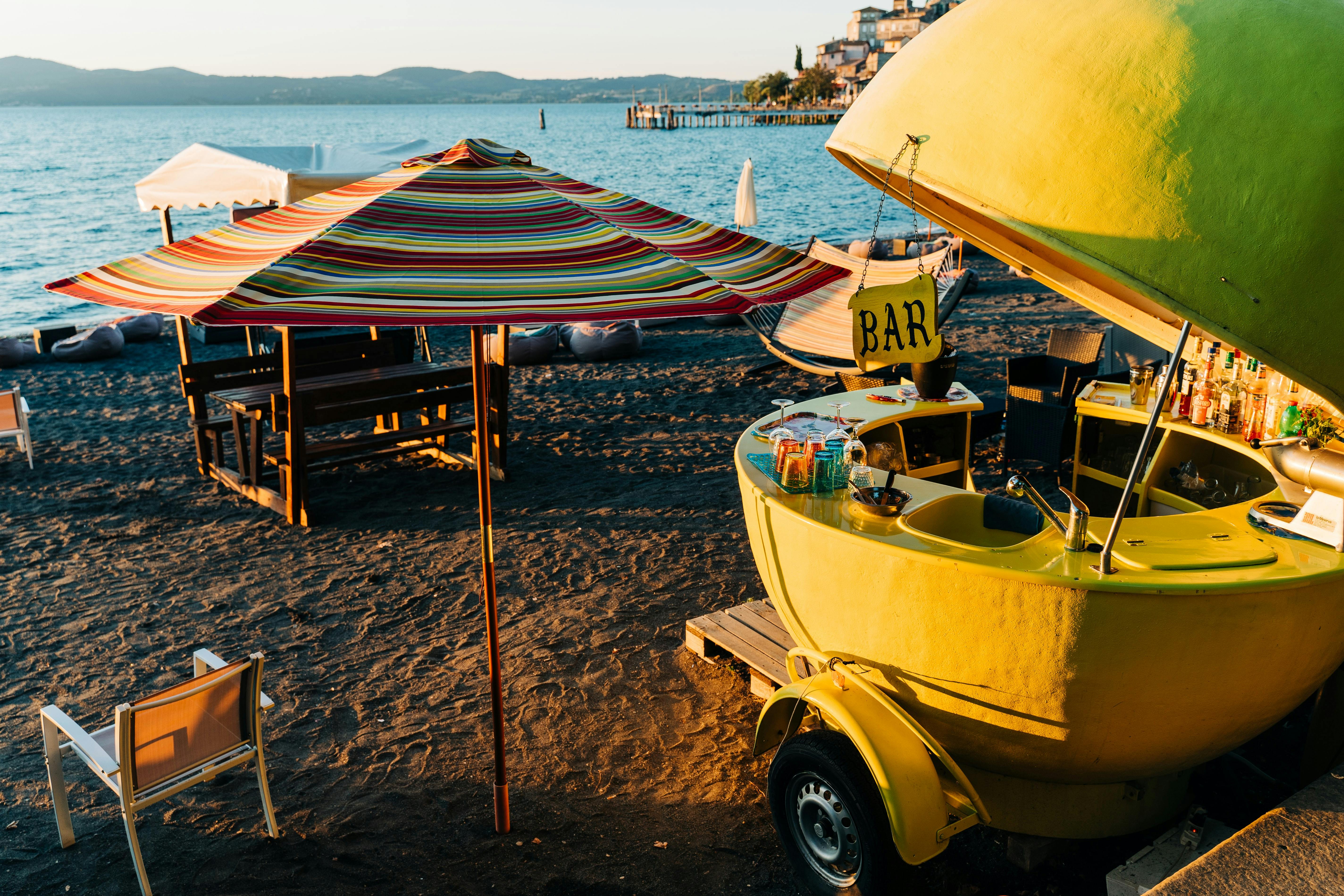 Bracciano
Known for its stunning medieval castle, Bracciano is a small town on the shores of a volcanic lake that offers the rich history you'd expect from this part of the world, but also a chance to experience the incredible scenery and more natural side of Italy.

Distance from Rome:
Bracciano lies around 45 km north of Rome. Expect the drive to take just an hour. You can also get there by public transport in about an hour and a half.

Our activity recommendations:
Centro Storico: Bracciano's historic center is a maze of narrow alleys and ancient buildings where there is always something new to discover. Part of the appeal here is just letting yourself wander and soak up the atmosphere. As well as some great restaurants and bars, you'll stumble across historic landmarks like the local cathedral and be treated to incredible views of Lake Bracciano from the viewpoint at the top of town.

Orsini-Odescalchi Castle: When this impressive Renaissance castle was first built in the 1470s, it may not have been with the express intention of hosting the wedding of Tom Cruise and Katie Holmes in 2006. Instead, the castle was built as a fortification to defend the lands of the local noble family from their enemies. However, this beautiful castle is an indisputably romantic destination.

Lake Bracciano: The crystalline waters of the lake are almost unbearably appealing during the hot summer months. Lake Bracciano offers plenty of beaches where you can lie out in the sun and work on your tan, and you can swim in the waters or go for a boat ride to enjoy the impressive scenery.

Best season to visit:
If you want to swim in the lake, the hot days of summer are your best bet. This town has enough historic interest, along with its great restaurants, to justify a visit at any time of year.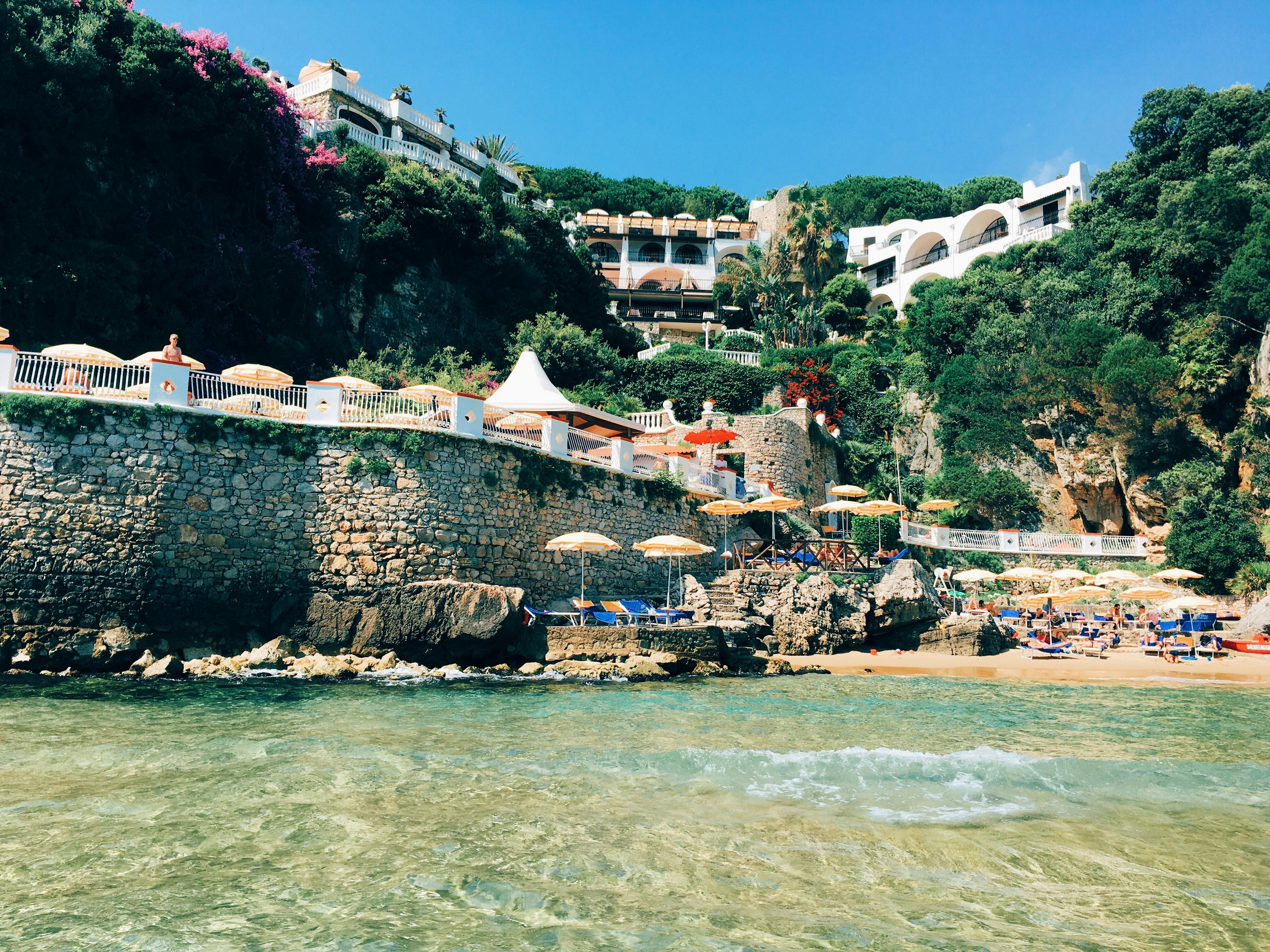 Formia-Gaeta
Although not particularly well-known to international visitors, the seaside resort towns of Formia and Gaeta are hugely popular with Italians who want to spend their summer holidays by the beach. Spending some time in these Mediterranean towns lets you feel like a local as you soak up the sun.

Distance from Rome:
170 km south of Rome, Gaeta can be reached with a drive of just over two hours. Alternatively, you can reach Formia via a high-speed train from Rome in just one hour or a slower regional train in an hour and a half.

Our activity recommendations:
Gaeta: Arguably the more charming of the two towns, Gaeta is an old fishing village with a beautiful medieval center packed full of historic churches. This was once a refuge for popes, and now the town makes a lovely place to wander for a while and soak up the atmosphere.

Santuario della Montagna Spaccata and Grotta del Turco: Located in Gaeta, this striking mountain can be easily reached by public transport and provides incredible views over the many beaches of the area and the glittering Tyrrhenian sea. Wrapped in local legends, this gorgeous place is a must-visit while you're in this underrated part of Italy.

Formia: Formia is quite young by Italian standards, having formed out of the joining of four separate villages back in the 19th century. However, the town is home to endless kilometers of sandy beaches, along with some historical places to explore, like one of the largest Roman cisterns remaining in the world and the house of famous Roman statesman Cicero. Above all, the town is a great place to relax and enjoy a traditional Italian seaside getaway.

Best season to visit:
Summer in Formia and Gaeta is extremely busy, and the price for accommodation goes stratospheric. The weather is still perfectly warm here in spring and fall, so these make great times to visit.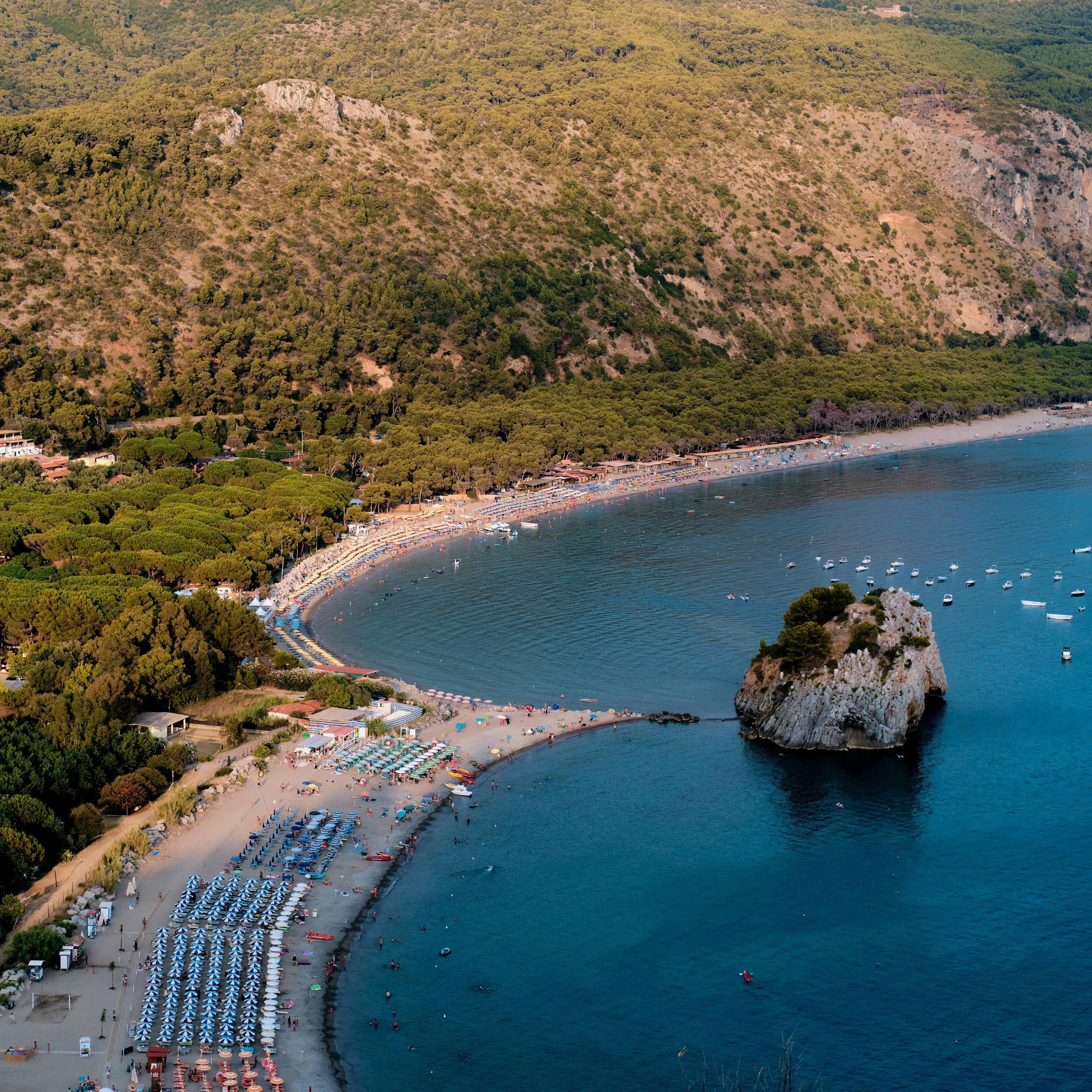 Cilento Coast
The Amalfi coast is one of the most famous and most beautiful regions of Italy and the world, and this legendary location is reachable on weekend getaways from Rome. But you don't want to do what everyone else does, do you? After all, the Cilento Coast, though far less well-known, is every bit as stunning as the famous Campanian location.

Distance from Rome:
Located south of Salerno, this underrated region takes just over three and a half hours to drive to from Rome, making it a little far for a day trip. However, it's just about the right distance for weekend trips from Rome, and the distance means it won't be as crowded as its beauty deserves.

Our activity recommendations:
Explore the towns: The Cilento Coast, like the more famous Amalfi, is home to a variety of small towns and quaint fishing villages that make fascinating places to explore. Check out the medieval village of Castellabate perched 300 m above the sea or the tiny town of Agropoli with its beautiful beaches. Wherever you go, you'll find incredible food, exceptional scenery, and a slower pace of life.

Hit the beach: This stretch of coastline is home to some spectacular beaches, including Cala Bianca, which was once recognized as the most beautiful beach in Italy. That's some tough competition. But wherever you go along this gorgeous coastline, you'll find a great mix of sandy beaches perfect for laying out on, combined with rocky coves ideal for swimming and snorkeling.

Best season to visit:
If you plan to take advantage of the beaches in this area, summer is the best time to visit. Because it's not as well-known as some other coastal locations, you can avoid the crowds and still enjoy this gorgeous region.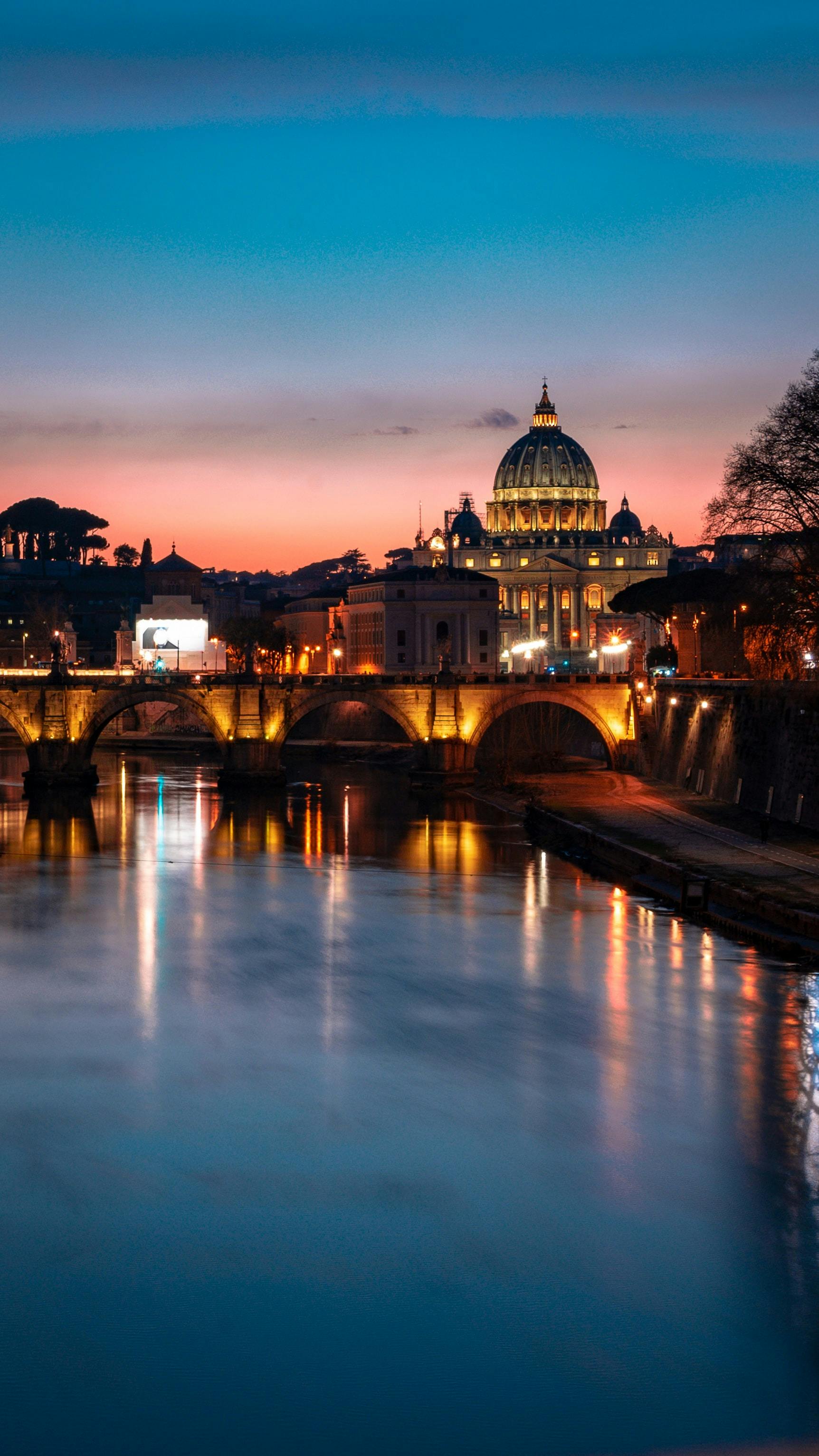 Conclusion
Rome is absolutely packed with things to do, and if you only have a short time in the city - for instance, three days in Rome - you should definitely focus on what the city itself has to offer. But if you have a little more time, it would be a shame not to explore some of these fantastic destinations. Whether you're looking for great day trips from Rome or truly excellent weekend getaways, you'll be spoiled for choice in this central region of Italy.