About Roma Termini
Termini is absolutely massive. Its 29 platforms receive trains from all over Europe, bringing in over 118 million passengers each year. That makes it Europe's second busiest train station, after Paris.

The first station at this location was opened by Pope Pius IX in 1863. This was back when Rome was still ruled by the Pope, meaning Termini station is actually older than the country of Italy. However, the modern station is far younger. Originally intended to be built by 1942, the Second World War disrupted construction so that Termini didn't officially open until 1950.

Termini takes its name from the ancient Roman Baths of Diocletian, called thermae in Latin, which still stand across the street from the station.

Trains run from Termini to Rome's international airport and to cities throughout Italy and beyond. As a result, the vast majority of Rome's visitors arrive in the city by way of Termini station. With all this traffic, the station has grown over the years and now incorporates the Metro station, a bus station, and an underground level full of shops to provide passenger needs.

Things to do near Roma Termini
Close to the ancient heart of the city and served by excellent public transit, Termini is a great gateway to Rome. Some of the city's most famous attractions are within walking distance, and all can be easily reached by Metro or by bus. You don't have to go far from the station to see some of what makes Rome so special. Check out these nearby attractions before you go further afield.

Dine at a 2,500 -year-old McDonald's. Okay, the fast food joint isn't that old. But a chunk of Roman wall in one of Termini's two McDonald's locations is. Admittedly, you probably didn't come to Rome to eat McDonald's. But this piece of ancient wall in the middle of a modern train station is a reminder of how close the past is here.

Explore artifacts of the ancient city at the National Roman Museum. Just across the street from the station, this museum is devoted to the Roman period. It houses some of the most impressive sculpture and artifacts from various locations around the city, and provides insight into the long story of this vanished civilization.

Visit an important structure in ancient Roman life at the Baths of Diocletian. Named after Emperor Diocletian, this gigantic leisure complex was completed in 306 A.D. The ruins are extensive and offer insight into what daily life was like for citizens of the Empire.

Experience rapture at the church of Santa Maria Vittoria. Just to the north of Termini station, this relatively small church is best known for its incredible sculpture of the Ecstasy of St. Teresa. Many art historians consider this sensual statue to be the masterpiece of famed sculptor Gian Lorenzo Bernini. As is often the case in Rome, you can visit this priceless work of art for free.

Ponder the mysteries of the universe at the Porta Alchemica, or Magic Door. A short walk from Termini, the door is all that remains of a palace that once belonged to a 17th-century nobleman. The legend states the nobleman had an interest in alchemy and invited the scientists and sorcerers of the time to his palace. One such alchemist succeeded in creating gold but vanished, leaving behind an unreadable recipe. The nobleman had the recipe carved into the door of his palace in the hope that someone someday would be able to translate it. The palace is gone, but the door still stands.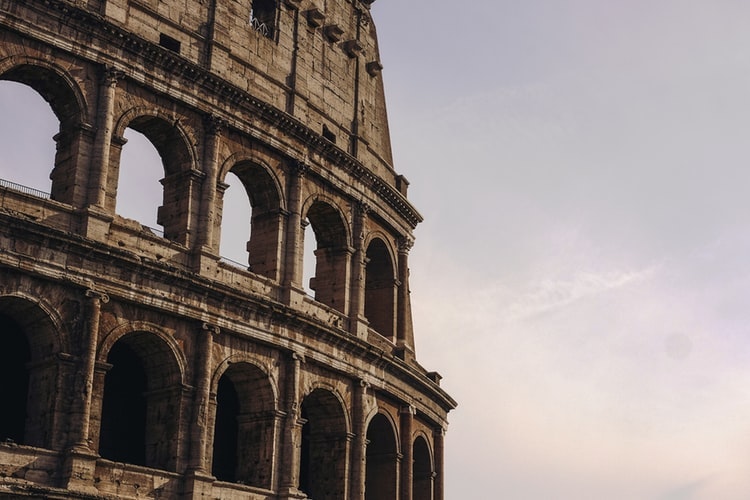 Transit options at Roma Termini
The high-speed Leonardo Express train leaves from a designated platform at Termini to carry passengers to Fiumicino International Airport.

Termini has an underground metro station that connects to both of the city's underground lines.

The large bus station in front of Termini is a hub both for city buses and for more long-distance coaches. Many of Rome's city bus lines stop here.
Luggage Storage at Termini Station
Termini Station is always busy. Navigating through the crowds with large bags in tow is nobody's idea of a good time. Plus, the area outside the station, particularly to the Southwest, isn't the best. For both safety and convenience, it's better to get rid of any unnecessary bags before traveling into the city.

Bounce can help you find safe and convenient luggage storage near Termini so you can get on with your trip. Store any size of bags as long as you like and explore the Italian capital freely.

Activities and attractions near Termini station
Colosseum: You can't go to Rome without visiting the Colosseum. If you don't mind a bit of a walk, you can reach this magnificent ruin on foot in about 25 minutes from Roma Termini. Alternatively, you can take the Metro to Colosseo station right in front of the amphitheater. The Colosseum is part of a larger complex of Roman ruins that were the heart of the sprawling empire, and you could easily spend at least a day – if not more – exploring this area.

The Spanish Steps: These are another of Rome's famous locations, and with good reason. Though heavily touristed, you can usually find a place to sit down on the steps and take a breather while you enjoy the view over the city. It's a fantastic place to people watch too, and as dusk falls and the street lights come on, it's an extremely atmospheric way to spend an evening.

Pantheon: See a miracle of Roman engineering at the Pantheon. This former temple to all the Roman gods has a domed concrete roof that has stood for more than 2000 years. Converted from a temple to a church, the Pantheon now serves as a shrine to some of Italy's most famous people, such as Renaissance artist Raphael and Queen Margherita, who gave her name to a pizza.