7 beaches near Toronto: Where to go for sun, sand, and surf
Published by:

Bounce
26 April, 2023
Toronto may not be the legal capital of Canada, but it's hard to deny that it is the cultural capital. The largest city in the country, Toronto is home to many of Canada's top cultural institutions, making it one of the most popular Canadian cities with visitors. The cosmopolitan urban life of this city means there's always something interesting going on here, and no matter what time of year you visit, you'll find plenty to do, including the iconic CN Tower, the Royal Ontario Museum, and St Lawrence Market.

But even the biggest city fan needs a break now and then, and Toronto is big and busy enough to wear anyone down eventually. Plus, summers in Ontario can be hot and humid, and there's no better way to escape the weather than to visit a beach. Although Toronto is hundreds of kilometers from the nearest ocean, its position on the shores of Lake Ontario means it actually has tons of beaches both in the city and in the surrounding area.

If you're looking for beaches near Toronto, you have plenty to choose from. Drop off your unneeded bags at a Toronto suitcase storage and check out some of these great beaches, both in the city and just outside. Whatever kind of beach you're looking for, chances are good you can find it here.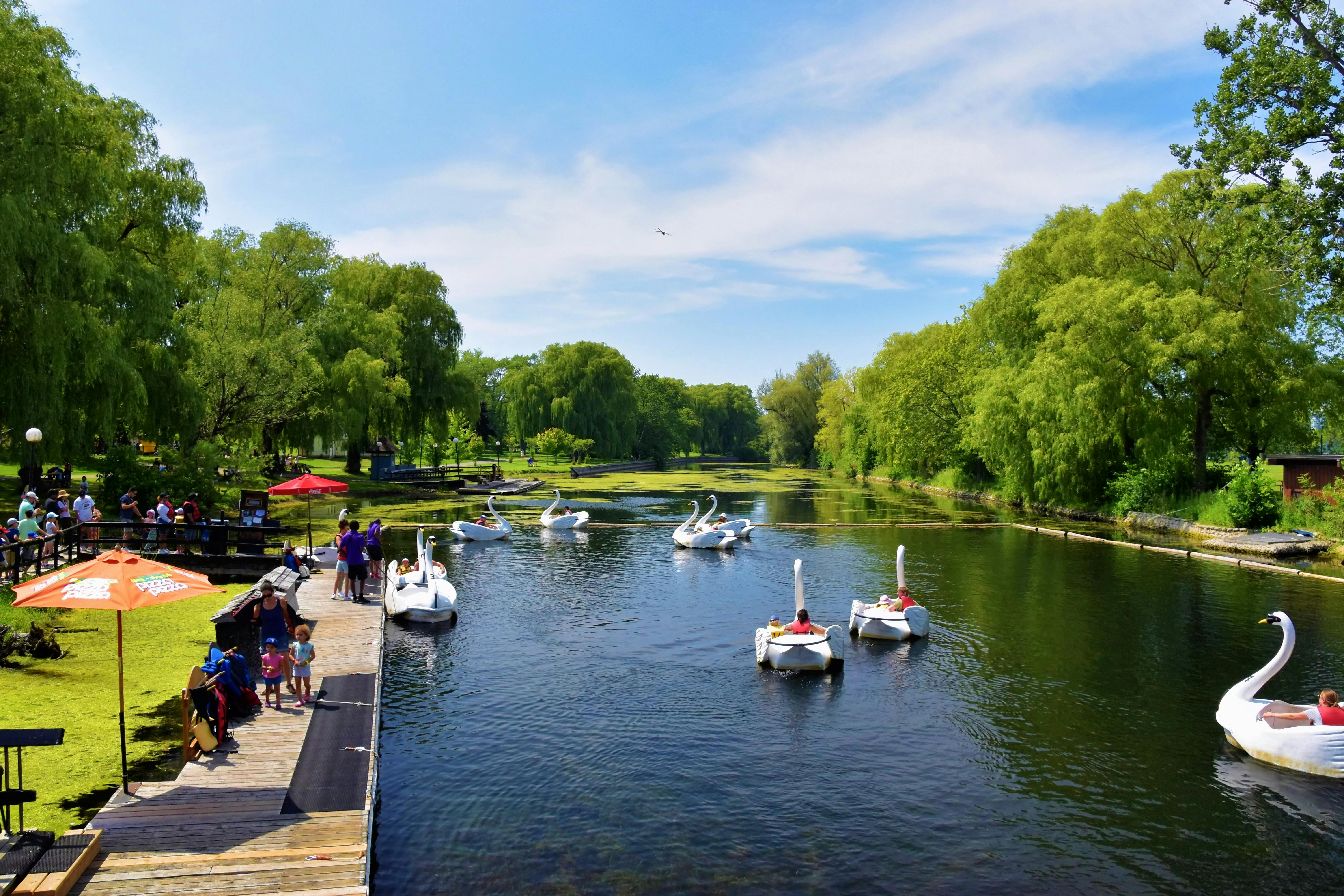 Centre Island Beach
If you really want the feel of getting away from it all without actually straying too far from the city, take a ferry to Centre Island and visit this beautiful beach. Centre Island Beach is one of four beaches on the Toronto Islands and is also one of the most lively, with some of the best amenities you'll find on any beach near the city.

Travel distance from Toronto
A boat is the only way to access Centre Island, which is a big part of what gives Centre Island Beach its remote feel. The ferry runs from Jack Layton Ferry Terminal in downtown Toronto and visits three different islands, and it only takes around 15 minutes to reach Centre Island.

Activity recommendations
Biking: Biking is a popular activity on all of the Toronto Islands, which are all connected by land. You can bring a bike on the ferry with you, including a city rental bike, or rent a bike once you reach the island to explore on two wheels. The hardpacked sand of the beach can support bikes, and there are plenty of designated bike paths to use as you travel around this area.

Swimming: Centre Island Beach is protected by a rocky breakwater that ensures calm and relatively warm water for swimming. The water quality is regularly monitored by the city, and there are changing rooms and lockers near the pier to make swimming easier. For a less crowded swimming experience, you can also visit nearby Ward's Island Beach, a Blue Flag beach known for being one of the best beaches for swimming in the area.

Centre Island gets extremely busy in the summer thanks to its proximity to downtown Toronto. For that reason, if you're not a fan of crowds, you might want to consider visiting in the spring or fall. The water temperatures will be colder, and some of the restaurants and other businesses may close for the season, but you'll have more space to yourself at these times.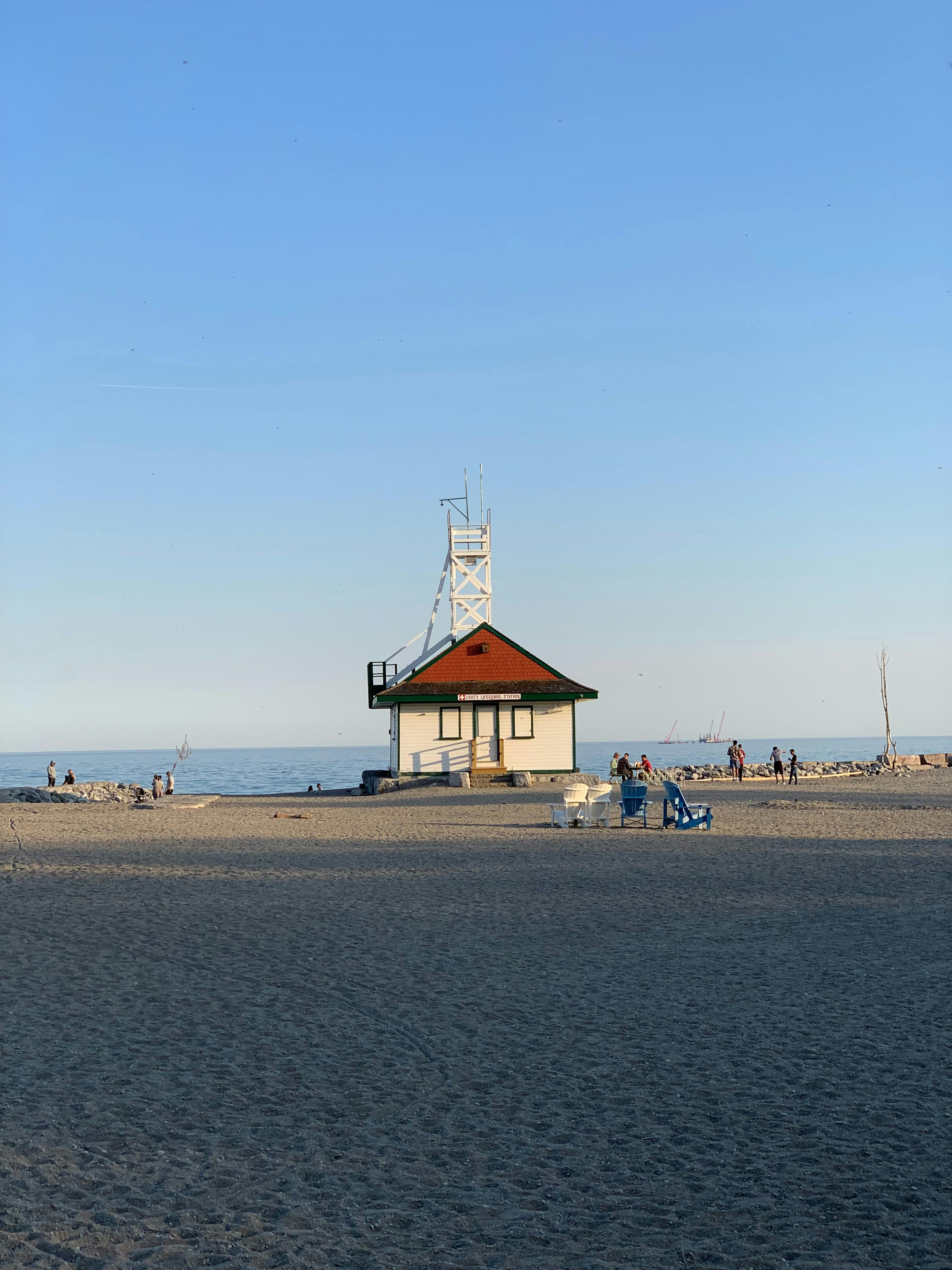 Hanlan's Point Beach
Another of the main beaches on the Toronto Islands, Hanlan's Point Beach offers some of the best sand anywhere near the city and a more laid-back vibe than you'll find at other Toronto beaches. The sandy shores of this stunning beach make it a fantastic place to hang out and enjoy the sunny days of a Toronto summer.

Travel distance from Toronto
Like other Toronto Island beaches, Hanlan's Point Beach requires a short ferry ride to reach, followed by a walk of around 10 to 15 minutes. It's almost jarring to discover this beautiful beach so close to the city.

Activity recommendations
Plane spotting: This isn't something every beach offers, but Hanlan's Point is close to Toronto Island Airport, so you can watch planes taking off and landing from the beach itself. This adds some visual interest to your beach day and is always a hit with kids.

Watch the sunset: This beach faces southwest, so it provides one of the best places in Toronto to watch the sunset. Bring a picnic with you and stretch out on the sand dunes to watch the sun slip beneath the horizon, lighting up the glittering waters of Lake Ontario on the way.

Woodbine Beach
With tons of fine sand and an urban location that's hard to beat, Woodbine Beach is understandably one of the most popular in the city. Attracting a younger crowd, this is a great place to hang out, enjoy activities, and still be close to everything that the city has to offer.

Travel distance from Toronto
Woodbine Beach lies to the east of downtown Toronto. You can get here with a drive of between 10 and 15 minutes, depending on traffic, or make use of public transport and take tram line 501 from Queen Street West to Neville Park, then walk 650 m to the beach from there.

Activity recommendations
Beach sports: If you're the type that likes to stay active, you're in luck. Woodbine Beach offers tons of beach volleyball courts as well as swimming and running on the sand or the boardwalk, so it's easy to stay active here. You can also rent kayaks and standup paddle boards to explore from the water and burn off some energy at this fun beach.

Woodbine Park: Located just behind the beach, this park offers playgrounds, picnic facilities, and a skate park, along with lots of walking trails to explore. It's also a great place to find local food trucks and even hosts the Toronto Food Truck Festival, making this one of the best Toronto beaches to visit if you want to enjoy great food at the same time.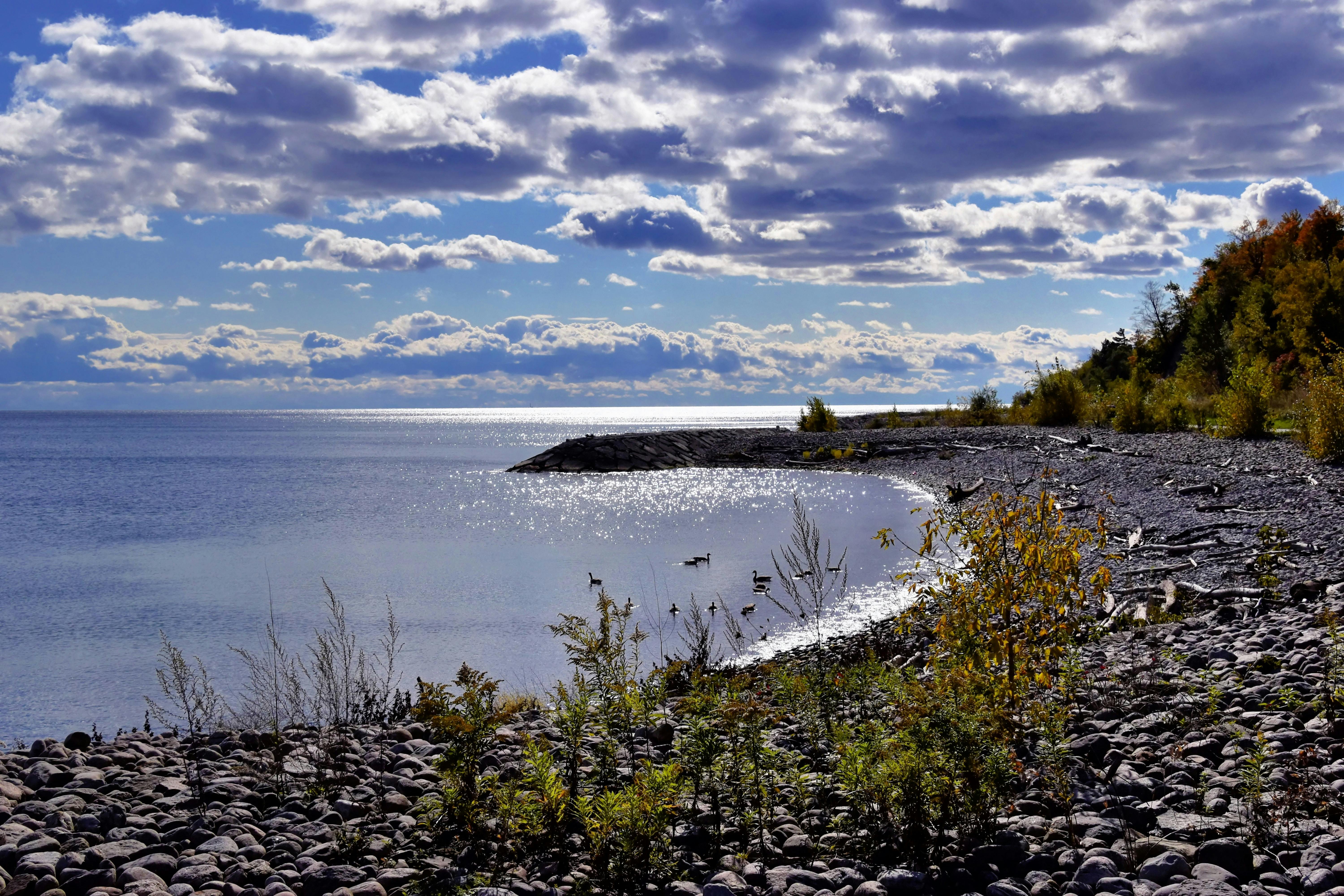 Rouge Beach
Located in one of Canada's newest national parks, Rouge Beach is a unique place that provides a great escape from the city without going too far. Thanks to the Rouge River that enters Lake Ontario at this point, the water is warmer than at other Toronto beaches, and though the beach is relatively small, it's rarely crowded. This is a great place to check out for any beach lover in the city.

Travel distance from Toronto
Rouge Beach is located a little further from the city than some of the other urban beaches on this list, which is part of why it sees fewer crowds. However, it's still easy to reach. You can drive here from central Toronto in around half an hour, or take the train from Toronto Union Station to Rouge Hill, then walk 2 km to the beach for a journey time of around one hour.

Activity recommendations
Swimming: Rouge Beach may be one of the best in the area for swimming. Partly this is due to the warmer water and partly due to the secluded surroundings that make this beach feel far more natural and unspoiled than other city beaches. Be aware, though, that there are no lifeguards on patrol here, so swimming is at your own risk.

Paddleboarding: The wetlands of Rouge Urban National Park are a great place to explore on self-propelled watercraft like standup paddle boards and kayaks. The marshy areas are home to some interesting wildlife, and the scenery is second to none. It's the perfect way to better explore the natural environment of Rouge Beach.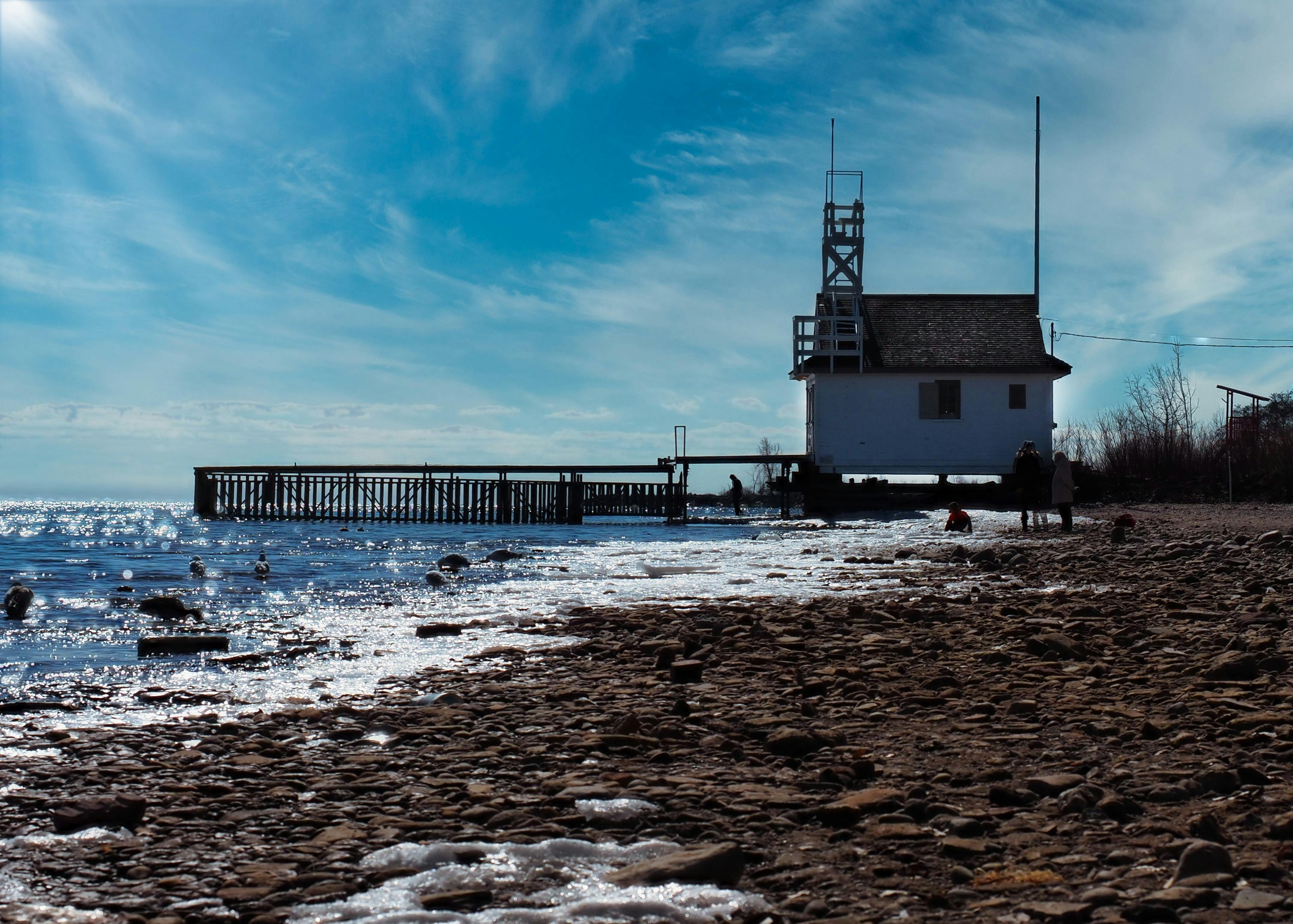 Cherry Beach
This small but beautiful beach is a little bit of a hidden gem close to the city. Easy to reach from downtown Toronto and close to some of the city's major attractions, it nevertheless provides a great place to take a break from urban life.

Travel distance from Toronto
Cherry Beach is only 5 km from downtown Toronto and is reachable by a drive of around 10 minutes. You can also take a bus to Villiers Street and walk from there.

Activity recommendations
Windsurfing: Cherry Beach is the home of the Toronto Windsurfing Club. One of the largest windsurfing clubs in North America, this is a great place to take lessons and try this exciting sport for yourself.

Axe Throwing: This unusual sport is growing in popularity around the world, and Cherry Beach has a facility where you can try it for yourself. Bring a few friends and learn how to hurl axes at a wooden target for a fun way to spend some time close to the beach.

Kew-Balmy Beach
Close to busy Woodbine Beach, Kew-Balmy Beach offers a far more laid-back environment than its neighbor. This beach is been a popular place to enjoy sun and water in Toronto for more than a century, and it's still a great place to relax and enjoy the beach vibes.

Travel distance from Toronto
It's around a 15-minute drive from the center of Toronto to Kew-Balmy Beach. You can also get here by taking tram line 501 to Neville Park.

Activity recommendations
Kew Gardens: This large urban park is right behind the beach and offers tons of things to do. There are plenty of hiking trails, an indoor ice rink, a playground, a bandshell, and a branch of the Toronto public library. There's also a tennis club if you fancy a game and lots of benches where you can just sit and enjoy the sunshine or bring a picnic. There's also an off-leash dog park where you can get your furry friends some exercise.

Hiking: The Promenade behind Kew-Balmy Beach is part of the Great Lakes Waterfront Trail. This trail stretches for miles along the shore of the lake, giving you great views over the city's beaches and its iconic skyline at the same time.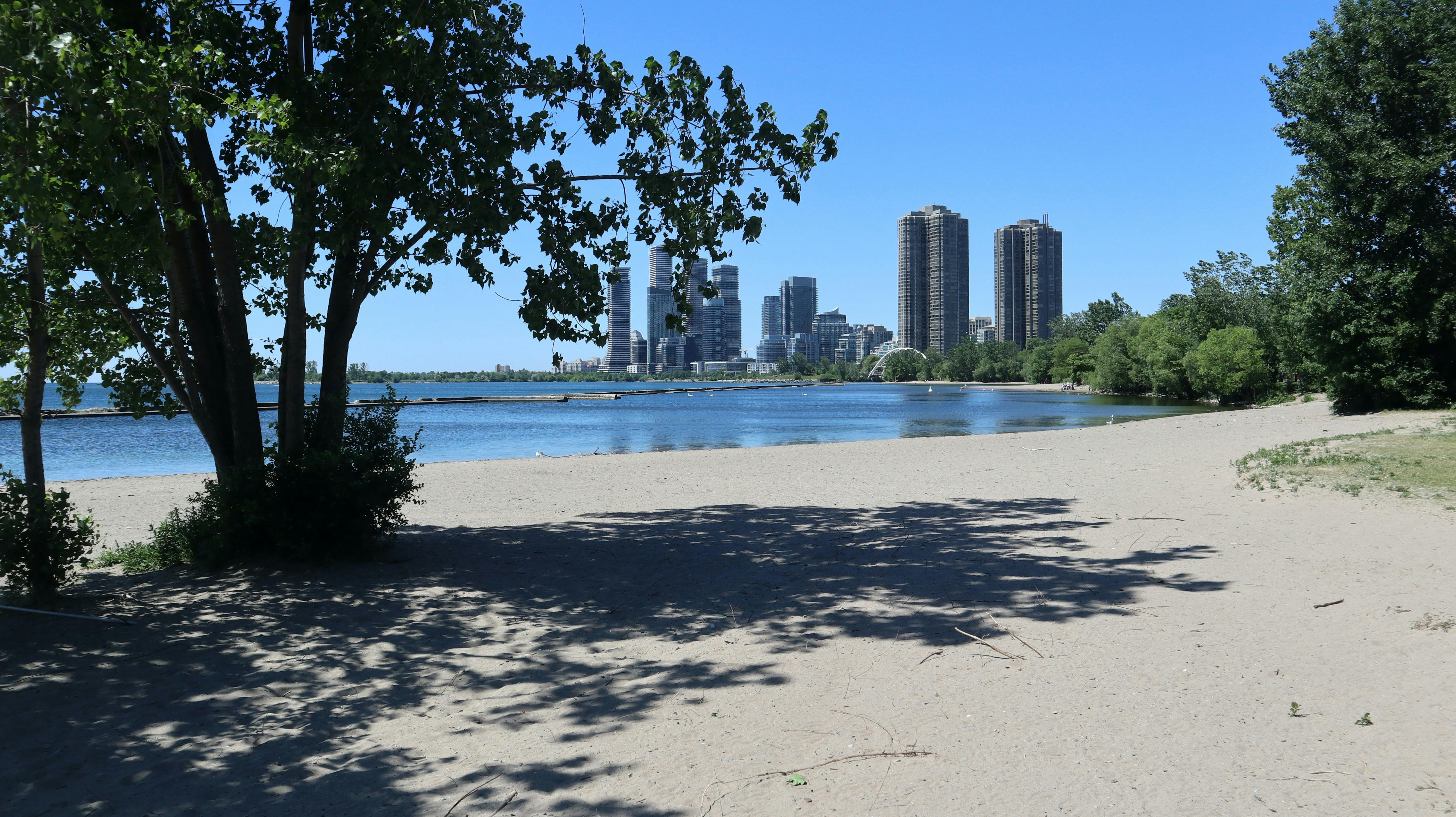 Sunnyside Beach
Actually a collection of four beaches, Sunnyside Beach offers a great place to get away from the frantic pace of the city and enjoy Toronto's natural environment.

Travel distance from Toronto
This beach is only a 12-minute drive from downtown Toronto. Tram line 304 to Wilson Park Road will also get you here long as you don't mind a walk of a kilometer or so from the station to the beach.

Activity recommendations
Gus Ryder Outdoor Pool: If the cool waters of Lake Ontario aren't for you, this outdoor pool offers a great alternative. With showers, changing rooms, and lifeguards on duty, it's a great place to swim close to the beach.

High Park: Located just behind Sunnyside Beach, this huge park is home to a zoo, an amphitheater, another outdoor pool, several playgrounds, and a beautiful botanical garden. You could easily spend the day here while visiting Sunnyside Beach.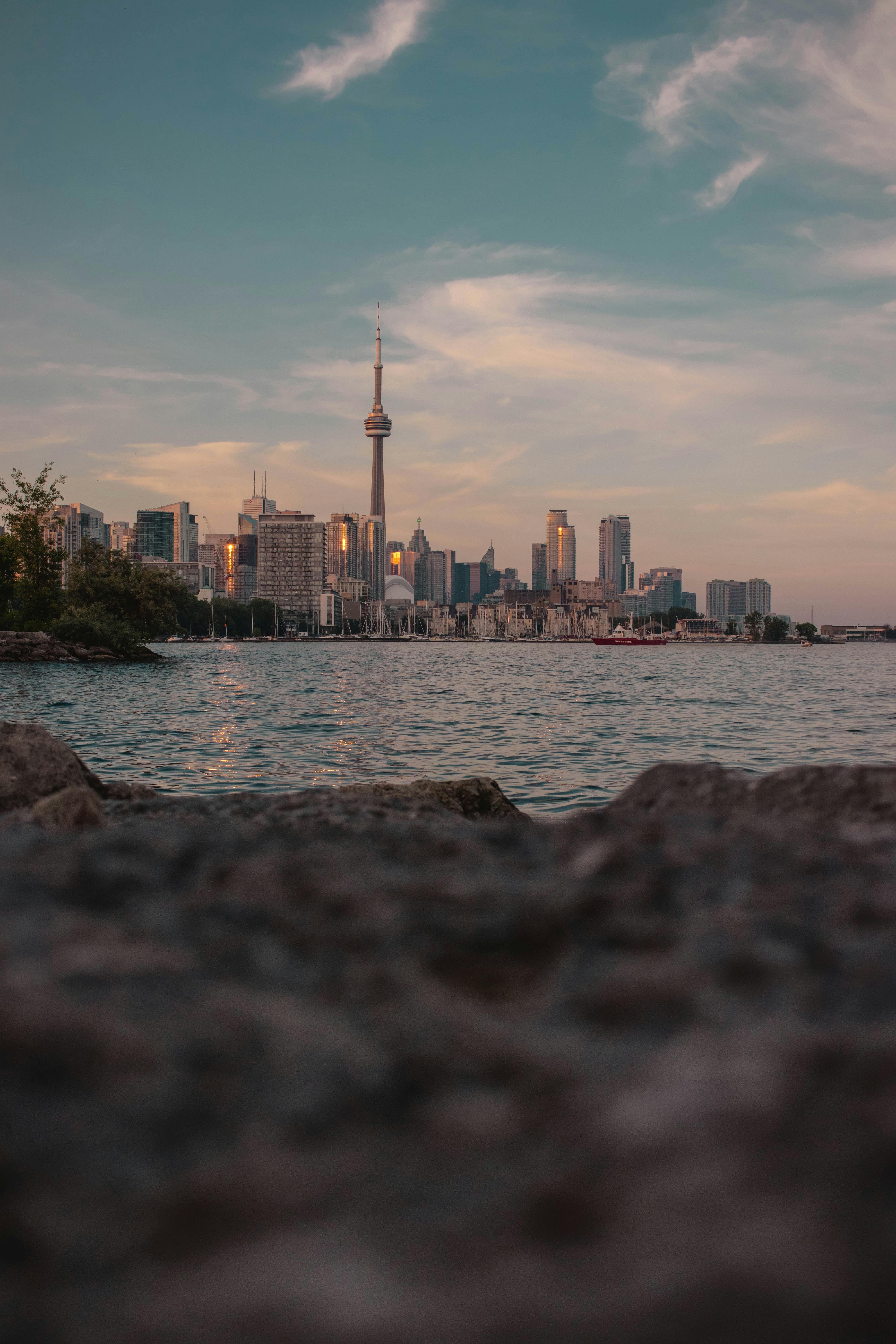 Conclusion
These are some of the best beaches in Toronto, but they are far from the only ones. Further from the city, you'll find great locations like Marie Curtis Beach Park close to Mississauga or Gibraltar Point Beach on the Toronto Islands. Plus, there are other urban beaches like Sugar Beach where you can go if you just want a taste of the beach life without leaving the city.

These local beaches are all free to visit, making them some fantastic activities for touring Toronto on a budget. And with so many excellent beaches in locations further from the city, it's not hard to make them the destination for great weekend trips from Toronto, too.