More about Budapest
Where can I store my luggage in Budapest?
With a prime location along the beautiful blue Danube, Budapest is unquestionably one of Europe's classiest capitals. Often called the "Paris of the East," the Hungarian capital instantly impresses tourists with its storied past and ornate architecture, most of which evokes Belle Époque elegance. But it's not just about pretty buildings and historic treasures in this stately city. Budapest is one of Europe's top university cities and remains a dominant force in the fields of gastronomy, fashion, and classical music. Plus, tourists rave about Budapest's legendary thermal baths, cute Christmas markets, and hot nightlife scene. Honestly, there's not whole a lot to dislike about visiting this world-class capital.

Good news: Bounce now offers convenient luggage storage in Budapest. Whether you're traveling here for business or pleasure, you'll find many bag storage in Budapest choices clearly listed on Bounce's website. Please consider downloading Bounce's handy app onto your phone for fantastic info on all our luggage storage in Budapest options.

Luggage Storage Near Keleti Station

Luggage Storage Near Buda Castle

Luggage Storage Near Fisherman's Bastion

Luggage Storage Near Budapest Airport

Luggage Storage Near Hungarian Parliament Building

Luggage Storage Near Heroes' Square

Luggage Storage Near Budapest-Déli Railway Station
How much does luggage storage cost in Budapest?
Luggage storage in Budapest costs only $5.90 on the Bounce platform for each bag or piece of luggage. 

Where is the nearest bag storage in Budapest?
The Bounce platform offers dozens of bag and luggage storage locations throughout Budapest. With 24/7 customer support and up to $5,000 in insurance for every booking, luggage storage in Budapest as never been easier. 

Luggage Storage Near Keleti Station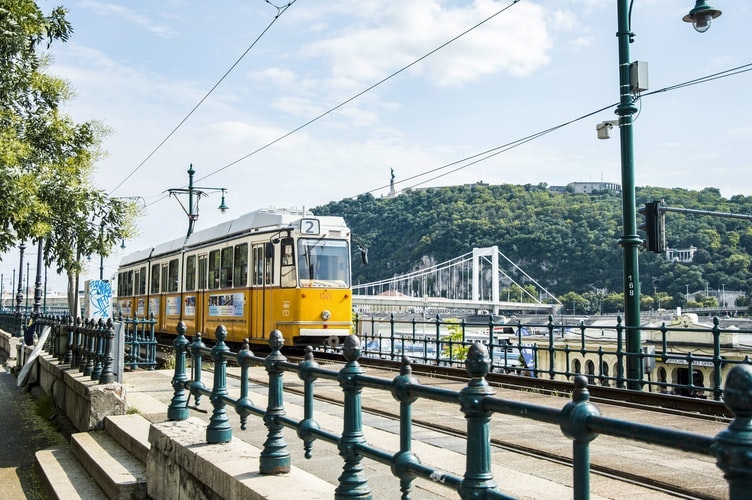 Located along the bustling Rákóczi út, Keleti Station is the most important train station in the Hungarian capital. When you go inside Keleti Station, you'll find 18 platforms for trains as well as metro and tram connections. In addition to transportation, Keleti Station has great historical value for the Hungarian people. Built in 1884, this station has many interesting architectural flourishes as well as fascinating statuary and mosaics worth checking out. It's a good idea to figure out where your Budapest hotel is in relation to Keleti for a smoother trip around the city. By the way, Keleti Station is a stone's throw from one of Budapest's best modern shopping centers: the Arena Mall.

Before visiting this significant transportation hub, you might want to check all of the luggage storage in Budapest destinations near Keleti. At Bounce, we strive to offer our customers the most convenient bag storage in Budapest options imaginable. We promise to take good care of your bags wherever you travel in this remarkable city.

Luggage Storage Near Buda Castle
Perched atop the Várhegy hill to the west of the Danube is the stunning Buda Castle. Although listed in the singular, Buda Castle actually refers to a complex of historical buildings that once served as the center of Hungarian politics. Architecture lovers will enjoy strolling past many of the wonderfully preserved buildings dating as far back as the Middle Ages. Visitors to the Buda Castle will also find two of Budapest's best museums on the Buda Castle grounds: the Hungarian National Gallery and the Budapest History Museum. Be sure to schedule at least half a day to do this UNESCO World Heritage Site justice.

It's really inconvenient to lug around bags on your hike through Buda Castle. Here's a smart solution: look into Bounce's luggage storage in Budapest when you're in the area! For just $5.90 per bag per day, our safety-screened facilities will take good care of your luggage as you tour this historic fortification.

Luggage Storage Near Fisherman's Bastion
Those interested in getting a bird's eye view of Budapest should look no further than the Fisherman's Bastion. Constructed in the 19th century, this castle-like fortress is best known for offering incredible views of the Hungarian capital. That doesn't mean, however, this bastion isn't a beauty in its own right. The combination of this bastion's fairy tale architecture and unparalleled panoramic vistas make it a particularly good draw for romantic couples. As an added bonus, Fisherman's Bastion isn't far from one of Budapest's most awe-inspiring houses of worship: Matthias Church.

When you're taking panoramic pics at Fisherman's Bastion, we guarantee you won't want any bags in your photo. That's why you should consider working with one of Bounce's many luggage storage in Budapest facilities. We now offer plenty of bag storage in Budapest all around this popular tourist draw, so there are no excuses for sloppy selfies!

Luggage Storage Near Budapest Airport
International tourists flying into Budapest had better prepare to touch down in Hungary's huge Budapest Ferenc Liszt Airport (IATA: BUD). Although BUD is an international airport, it mostly handles flights in and around Europe. Unsurprisingly, the Hungarian-based company Wizz Air now makes its home base in BUD, but there are a few other European carriers that use BUD as a major hub. In terms of traffic, about 14.5 million people pass through BUD every year. And, in case you were wondering, it's only about a 10-mile drive from BUD to get into central Budapest.

There are lockers available for rental at Budapest Airport, but the costs are roughly €38 for just one day. By contrast, you could place a bag in one of Bounce's luggage storage in Budapest facilities for $5.90 per day. As an added bonus, Bounce offers $5,000 in insurance to all of our customers for no additional fee.

Luggage Storage Near Hungarian Parliament Building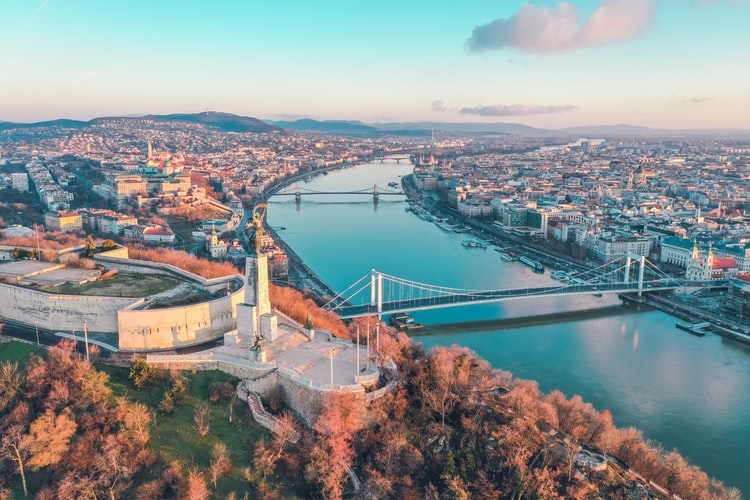 Sure, the Hungarian Parliament Building might not be as famous as England's Houses of Parliament…but it's getting there. Many European travel agencies are using this building's romantic allure in photos, videos, and ads to lure travelers on a Hungarian voyage. Honestly, it's not hard to see why people are going ga-ga over this neo-Gothic masterpiece. Completed in the early 1900s, the Hungarian Parliament has gorgeous Gothic flourishes and a fantastic position along the Danube River. The most popular way to see the Hungarian Parliament Building is on a boat trip along the Danube, but you could also take a guided tour inside the building. Just be sure to arrange your guided Parliament tour well in advance of your visit to Hungary.

Anyone taking a tour of the Hungarian Parliament Building should place all baggage in one of Bounce's Budapest luggage storage facilities before visiting. Obviously, since this is an official government building, there are strict bag policies for guests. Bounce now has loads of luggage storage in Budapest options all around this significant architectural achievement.

Luggage Storage Near Heroes' Square
For a look at Hungary's glorious past and dynamic present, take a stroll through the centrally located Heroes' Square. Here guests will find many monuments and statues celebrating heroes throughout Hungary's long history. In more recent times, Heroes' Square has become a rallying point for the Hungarian people, making it a prominent place in contemporary life. Heroes' Square also has one of Budapest's most important art galleries: the Museum of Fine Arts. Oh yeah, if you're looking for Budapest's famous Christmas markets, you should take a 10-minute drive southwest of Heroes' Square to Vorosmarty Square.

If you're thinking about spending some time in Heroes' Square, then you might want to research Bounce's list of luggage storage in Budapest. Better yet, download Bounce's mobile app onto your phone for detailed views of all our luggage storage locations.

Luggage Storage Near Budapest-Déli Railway Station
Located in the Buda section of the city, the Budapest-Déli Railway Station is a significant transportation hub that all tourists should learn about. Although not as big as Keleti Station, Déli has many important connections to buses, trams, and the Metro that can be helpful when getting around the city. Plus, the Déli station is a very close drive from some of Budapest's top tourist draws, including Buda Castle.

Folks who need to take the Budapest-Déli Railway during their stay should take a peek at Bounce's extensive luggage storage in Budapest category. Whether you're going out for a night of shopping or sightseeing, you're never all that far from one of our handy luggage storage facilities. We promise to take exceptional care of your luggage so you can fully enjoy all Budapest has to offer.