More about Prague
Where can I store my luggage in Prague?
A trip to Paris is so passé—Prague is where it's at today. OK, maybe that's a bit hyperbolic, but it's impossible to deny Prague's meteoric rise as a European travel destination. It's now estimated almost 9 million people journey to the Czech capital every year. So, what's attracting all the tourists to this old Bohemian city? For starters, Prague is pretty easy on the eyes. Situated on the alluring Vltava River, Prague has countless historic buildings and districts spared the destruction of WWII. Plus, as you'd expect from the birthplace of Dvorak and Smetana, this city is a pretty big deal in the world of music. And, of course, there's all that delicious Prague craft beer you've probably heard a bit about. Tourists looking for a good time in a historic European city can't pass on a visit to Prague.

Anyone who needs bag storage in Prague should know Bounce now offers many convenient drop-off locations throughout the city. Whether you're here touring the sites or on work-related duties, Bounce has plenty of luggage storage in Prague options to take advantage of. For more detailed information, look up Prague storage locations on our website or mobile app.

Luggage Storage Near Prague Castle

Luggage Storage Near Old Town Square

Luggage Storage Near Václav Havel Airport

Luggage Storage Near Charles Bridge

Luggage Storage Near Praha Hlavní Nádraží

Luggage Storage Near Vinohrady

Luggage Storage Near Franz Kafka Museum

Luggage Storage Near The Dancing House
How much does luggage storage cost in Prague?
Luggage storage in Prague costs only $5.90 on the Bounce platform for each bag or piece of luggage. 

Where is the nearest bag storage in Prague?
The Bounce platform offers dozens of bag and luggage storage locations throughout Prague. With 24/7 customer support and up to $5,000 in insurance for every booking, luggage storage in Prague as never been easier. 

Luggage Storage Near Prague Castle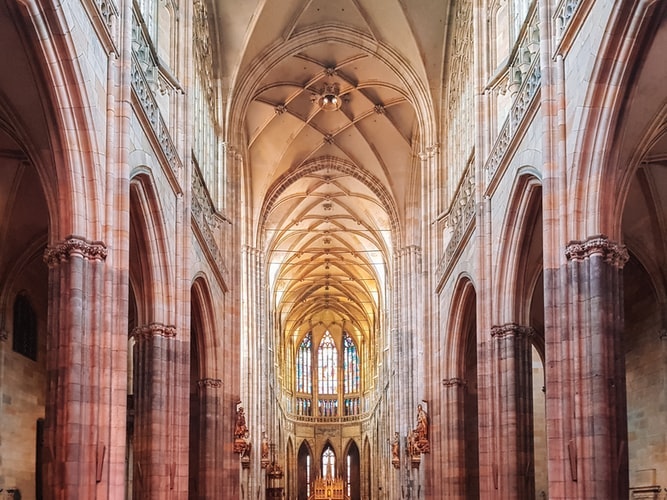 You don't have to look all that far to find Prague Castle towering over the Czech capital. Originally constructed in the 9th century, Prague Castle is one of the world's largest castles measuring over 700,000 square feet. Although Prague Castle is the official center of the Czech Republic's government, it's also welcome to tourists who book tickets. While you're in the castle complex, don't forget to visit the nearby St. Vitus Cathedral, which is famous for its gorgeous Gothic stained-glass windows and statuary.

When you're touring Prague Castle you don't want to be carrying a lot of bags around. Luckily for you, Bounce now offers fantastic luggage storage in Prague. Check out all of the luggage storage in Prague locations near this major tourist attraction on the Bounce mobile app.

Luggage Storage Near Old Town Square
If you're looking for the heart of Old Town Prague, then you'd better make your way to Old Town Square. For centuries, this gorgeous square has served as the center of Prague's long political and spiritual history. You can literally see the different historical ages in the differing architectural styles all around you. Within the Old Town Square, you'll find many significant attractions including the Church of Our Lady Before Týn, St. Nicholas' Church, and the huge astronomical clock. For those who'd like to explore even further, Prague's historic Jewish Quarter is only a five-minute walk away from the center of Old Town Square.

Looking for luggage storage near Old Town Square? Take a peek at all of Bounce's storage options in this city's Old Town district. For more detailed info on our luggage storage in Prague options, please download Bounce's app onto a mobile device.

Luggage Storage Near Václav Havel Airport
About a 25-minute drive west of Prague, Václav Havel Airport (IATA: PRG) is the closet international airport to the Czech capital. It's now estimated PRG handles about 18 million passengers per year, which makes it one of Central Europe's busiest airports. Since the airport's latest renovation in the mid-2000s, PRG now has two major runways and four terminals. As the Czech Republic's largest airport, PRG also serves as a hub or base for local airlines like Czech Airlines, WizzAir, and Smartwings. From PRG, guests could easily catch a bus to Prague's Hlavní nádraži station, rent a car, or take a taxi.

While there are storage options in PRG, we strongly encourage you to look through Bounce's updated luggage storage in Prague options. Bounce now works with many safety-certified hotels and businesses all around this famous city. No matter where you choose to drop off your belongings, you can feel secure working with Bounce's professional team.

Luggage Storage Near New Charles Bridge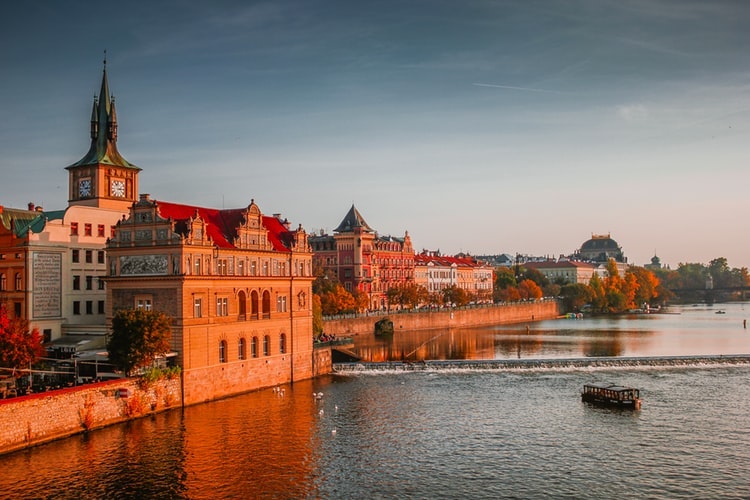 Dating back to the 15th century, Charles Bridge is arguably Prague's most photographed attraction. This roughly 1,700-foot stone bridge is extremely pedestrian-friendly and connects two of Prague's top draws: the Old Town and Prague Castle. Many tourists enjoy visiting the Charles Bridge to admire its statuary, watch a few street performers, and feel the mighty Vltava River flow underneath them. Whatever the reason, walking across Charles Bridge is a must while in Prague.

There's no need to worry about luggage storage in Prague. Bounce now offers plenty of professional storage facilities around hot tourist spots like Charles Bridge. For just $5.90 per bag per day, Bounce will keep your luggage safe during your Prague vacation.

Luggage Storage Near Praha Hlavní Nádraží
No matter where you're going in Prague, it's important to familiarize yourself with Praha hlavní nádraží train station. Often translated as Prague Main Station, this centrally located station serves as the city's major transportation hub with easy access to train platforms, metro lines, and buses. In addition to serving as Prague's largest and busiest station, Praha hlavní nádraží is one of the oldest stations in the city. Although Praha hlavní nádraží has all the amenities of the 21st century, you could still get a sense of this station's past by looking at various murals, statues, and architectural flourishes.

Since Praha hlavní nádraží is so centrally located, it's a convenient place for tourists to store their baggage. As you scroll through Bounce's luggage storage in Prague category you're bound to find loads of high-quality destinations around this main station. If you have any further questions about Bounce's luggage storage in Prague services, don't hesitate to contact a member of our customer care division.

Luggage Storage Near Vinohrady
Folks looking for the best nightlife in Prague can't do much better than Vinohrady. Named after the former grape vineyards that used to dot the region, Vinohrady is now better known for its abundance of trendy cafés, restaurants, and bars. Vinohrady is also well respected by locals for its green parks and peaceful squares, especially Riegrovy Sady. Other major sites in Vinohrady include the beautiful Church of the Most Sacred Heart of Our Lord and the ornate Prague National Theater.

Thinking about spending the night with friends in Vinohrady? Don't forget to look into Bounce's luggage storage in Prague beforehand. For just $5.90 per bag per day, all of our Vinohrady storage locations will protect your valuables while you're enjoying all Prague has to offer.

Luggage Storage Near the Franz Kafka Museum
Author Franz Kafka is arguably Prague's most famous literary artist. Although he died in obscurity, Kafka is now considered one of the titans of 20th-century literature for haunting works like The Trial and Metamorphosis. Those interested in exploring Kafka's life and fiction should definitely pay a visit to Prague's highly lauded Kafka Museum. In addition to seeing artifacts from Kafka's life, museum guests will get to experience multimedia exhibits aimed to evoke the surreal quality of Kafka's most famous works. Oh yeah, just in case you were wondering, this is the museum with the famed "Pissing Statue" in front of it.

Please don't worry about carrying bags through the Franz Kafka Museum. Bounce has loads of bag storage in Prague not far from this major attraction. For just $5.90 per bag per day, it's impossible to beat Bounce's competitive prices and top-notch service.

Luggage Storage Near the Dancing House
The Dancing House is one of Prague's most modern and most bizarre architectural achievements. Partly designed by Frank Gehry in the 1990s, this building is so named because it's supposed to resemble two dancers. To most people, however, this contorted building simply looks like it's about to fall over. Although The Dancing House is formally used by businessmen and women, it has become quite popular with tourists looking for a neat photo-op.

Before you take a selfie by the Dancing House, check out all of the bag storage in Prague locations listed on Bounce's website. You're bound to find many easy to reach storage locations in Prague's New Town, which isn't far from the Dancing House. Keep in mind Bounce now offers $5,000 in insurance to anyone who uses our luggage storage in Prague.