Luggage Storage Zurich
Instantly reserve the best locations in Zurich to store your luggage for just €5 per 24h/bag
$10,000 insurance included

Security seals provided for max safekeeping

Book instantly online, free to cancel
How it works
Search Locations

Select the most convenient location for your needs

Book online

Instantly reserve your space in a few clicks

Drop off items

Head to the store and show your reservation

Enjoy the city

Go about your day without lugging around your things
Zurich Luggage Storage Guide 2021
Are you wondering, "Where can I store my luggage in Zurich?" Perhaps you just arrived in Zurich and need a place to store your bags before you check into your hotel or AirBnB -- or maybe you just checked out and don't want to drag your bags around with you for the rest of the day.

Perhaps, you're planning on shopping at Old Town Zurich, Augustiner Street, or Parade Square and need a place to store your bags. Or, you're planning on sightseeing around Zurich at Entenweiher, St. Peter's Church, or Old Town Zurich and don't want to be burdened by your baggage.

If you wish to catch a game at Hallenstadion or visit local museums like Fraumünster Church you may find that luggage is not allowed in these venues.

Don't worry, there are plenty of options for luggage storage in Zurich!


Luggage storage nearby most Zurich hotspots
Bounce is one of the largest luggage storage networks in Zurich and the world.

Featured in The Boston Globe, Techcrunch and Forbes, Bounce is present in more than 100 cities. We partner with local hotels and shops to open up space for you to drop off your bags in essentially any major neighborhood.

Our team vets each location and provides all the security measures including insurance, security seals, and well-trained staff.

Bounce is the #1-rated bag storage network with thousands of 5-star reviews. Many of our shops are open for luggage storage 24/7 but this varies by location… we strategically open new spots so you can find the closest location to temporarily store your bags. Our prices in Zurich start at just €5 per 24h/bag.

Book through our website or mobile app (required) so that we can cover you with insurance, space availability, and our 24/7 customer support. We love to travel as much as you so we make it as easy as possible! There are no size limits for suitcases or backpacks stored with Bounce. For less than a cup of coffee per bag, you can enjoy your entire day without dragging your bags with you!

Here are some ideas for making the most of your time in Zurich now that you are free from your baggage. Some notable places to relax before a flight are Wildnispark Zürich Sihlwald, Beach, and Lindenhof Hill. You can also go for a hike around Schaffhausen Regional Nature Park, Argovia Jurapark, and Thal Nature Park. And if you're looking for a night on the town, check out Longstreet Bar, Jules Verne Panoramabar, and B21.


Why is Bounce the best luggage storage provider in Zurich?
✅Various locations throughout Zurich
✅$10,000 Bounce Guarantee on each booking to protect your belongings
✅Vetted store locations to ensure trust and safety
✅2 minute booking process online or via mobile app, then just walk in and check your bags in
✅Thousands of 5 star reviews, hundreds of thousands of bags stored
How do I store luggage in Zurich with Bounce?
You can store your luggage very quickly and easily. Simply select a location here. Find the shop that meets your preferences in terms of location & hours. Once you've chosen a location, you can book in under 2 minutes. We'll ask for payment details upfront, but you can cancel your reservation if you end up not needing it.

Space does fill up so booking before you go there is required, but you can show up right away. With your booking confirmation in hand, we'll give you the exact details and directions to the shop. Once there, all you have to do is show your booking confirmation and we'll tag and check in your bags.

You're now free to enjoy Zurich without your things!


More about Zurich
Where can I store my luggage in Zurich?
Although best known for its role in global finance, Zurich is far from a boring banking hub. Indeed, this populous northern city has some of the hottest shopping, dining, and nightlife in the Swiss Confederation. With a history dating back to Roman times, Zurich also has one of Switzerland's best-preserved Old Towns with some pretty phenomenal museums. Plus, Zurich offers winter sports enthusiasts insanely easy access to the awe-inducing Alps.

Before booking your trip to this banking mecca, take a peek at Bounce's impressive luggage storage services. Whether you're strolling through the Old Town or shopping on the Bahnhofstrasse, there's sure to be a Bounce-approved vendor nearby. Please take a few moments look through Bounce's luggage storage in Zurich online and on our mobile app.

Luggage Storage Near Zurich HB Main Station

Luggage Storage Near FIFA World Football Museum

Luggage Storage Near Old Town

Luggage Storage Near Zurich Airport

Luggage Storage Near Rathaus

Luggage Storage Near Wiedikon Station

Luggage Storage Near Zurich Opera House

Luggage Storage Near Bahnhofstrasse

Luggage Storage Near the Kunsthaus
How much does luggage storage cost in Zurich?
Luggage storage in Zurich costs only $5.90 on the Bounce platform for each bag or piece of luggage. 

Where is the nearest bag storage in Zurich?
The Bounce platform offers dozens of bag and luggage storage locations throughout Zurich. With 24/7 customer support and up to $10,000 BounceShield™ Protection for every booking, luggage storage in Zurich as never been easier.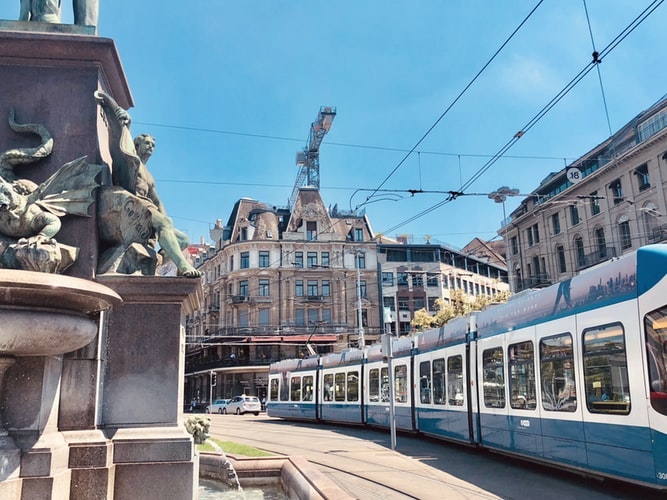 Luggage Storage Near Zurich HB Main Station
Zurich HB Main Station is a major transportation hub in Continental Europe. Inside this vast station, visitors will find plenty of domestic and international trains as well as local buses, trams, and a shuttle to-and-from Zurich Airport. In recent years, Zurich HB has also become a favorite place with shoppers thanks to its trendy ShopVille Mall. To make your trip to Zurich super smooth, we recommend looking into HB Main Station's location and services to better orient yourself.

Since HB Main Station is Zurich's center of transportation, Bounce has loads of luggage storage options to choose from. Simply look up luggage storage in Zurich on our website and you'll find many phenomenal spots around Main Station.

Luggage Storage Near FIFA World Football Museum
Measuring almost 40,000 square feet, the FIFA World Football Museum is a must-see attraction for sports fans visiting Zurich. Currently, museum curators estimate there are at least 1,000 FIFA-related artifacts throughout this three-story complex, including the highly coveted World Cup Trophy. This museum also contains a cinema and a fun play area where you could learn about football first-hand. When you're finished exploring this many exhibits chronicling FIFA's history, feel free to re-charge with a superstar meal in the museum's fantastic café.

For your convenience, Bounce has plenty of luggage storage locations around the FIFA World Football Museum. Simply pay our vendors $5.90 per bag per day, and we promise to take phenomenal care of your luggage. For extra peace of mind, we'll even throw in $10,000 BounceShield™ Protection.

Luggage Storage Near Old Town
As you walk alongside the Limmat River you'll find yourself in the heart of Zurich's Old Town district. Visitors usually enjoy spending a few hours admiring the medieval architecture and cobblestone streets in this tourist-friendly part of the city. History buffs shouldn't pass on a visit to the four historic churches in the area, especially the imposing Grossmünster (which supposedly owes its existence to the great Charlemagne). While it may appear all saintly during the day, Old Town Zurich can be downright devilish at night. Anyone who wants to go clubbing will find no shortage of bars in this fun district.

Chances are you'll pick up a few souvenirs in Zurich's Old Town. Please remember that all vendors listed on Bounce's luggage storage in Zurich accept shopping bags. So, there's no need to worry about carrying around heavy bags as you explore this historic area of the city.

Luggage Storage Near Zurich Airport
Just north of the city center, Flughafen Zurich (IATA: ZRH) is Switzerland's most important international airport. Even if Zurich isn't their final destination, the majority of international travelers flying into Switzerland first end up in one of ZRH's terminals. It's now estimated about 25 million people pass through ZRH each year, easily making it the most popular in Switzerland. Thankfully, anyone can now catch a bus to Zurich's HB Main Station from this airport. Without traffic, it shouldn't take longer than 10 minutes to drive from ZRH to the city's center.

As you'll see on Bounce's website, our company offers phenomenal luggage storage in Zurich, which means you don't have to rely on luggage storage in Zurich Airport. Wherever you need your baggage stored, you can bet Bounce will be there to help you out.

Luggage Storage Near Rathaus
The German word "Rathaus" translates to "Town Hall" in English. Luckily for you, Zurich's Rathaus is one of the most stunning in all of Europe with its lovely location along the Limmat. Be sure to get your phones ready for some spectacular selfies by this 17th-century masterpiece. For optimal viewing, consider taking a boat ride and/or walking across the Town Hall Bridge during your stay.

When you're taking a walk by City Hall, feel free to "take a load off" and drop your bags at a Bounce-approved facility. Take a few moments right now to browse through all of our luggage storage in Zurich options. You could also find bag storage in Zurich listed on our mobile luggage storage app.

Luggage Storage Near Wiedikon Station
While the Wiedikon Station is nowhere near as big as HB Main Station, it's a significant stop for those traveling on the local S-Bahn transportation system. You'll find Wiedikon Station on the left side of the Limmat in Zurich's western section. Inside, you'll find three different platforms where you can access many local trains, buses, and trams. Anyone traveling out or around Zurich might want to check this station's offerings for a better understanding of local transportation options.

Anyone traveling through Wiedikon Station should investigate Bounce's extensive luggage storage in Zurich. You'll soon see we have plenty of storage destinations all around Wiedikon and in the surrounding area. For more info, be sure to look up bag storage in Zurich on Bounce's mobile app.

Luggage Storage Near Zurich Opera House
Built in the 19th century, the Zurich Opera House is a sumptuously designed theatre offering visitors the absolute best in the fine arts. Visitors who delight in live opera, drama, and ballet must check out what's going on at the Zurich Opera House during their stay. By the way, the Zurich Opera House offers tours for those interested in the history of this building's construction.

Don't let your bags hold you back from seeing a phenomenal show. Bounce now plenty of luggage storage options all around the city's grandiose Opera House. For just $5.90 per bag per day, our safety-screened vendors will take great care of your valuables while you enjoy the performance.

Luggage Storage Near Bahnhofstrasse
Running from HB Main Station down to a statue of Ganymede, the Bahnhofstrasse is a pedestrian-friendly street that's home to Zurich's most exclusive shops. Here you'll find all of the highest of high-end stores including Gucci, Dior, Hugo Boss, and Louis Vuitton. People who walk along this sensational street will also see some of Zurich's most celebrated restaurants and pastry shops like the Confiserie Sprüngli. While you're in the area, be sure to linger for a few minutes in the central Paradeplatz—often listed as the most expensive square on earth.

While you're shopping on the Bahnhofstrasse, feel free to drop off a few bags at a Bounce storage location. Whether you have heavy shopping bags or too much luggage, our partner vendors will keep a close eye on your valuables as you enjoy your time in the city. Download Bounce's mobile app for more details on our luggage storage locations.

Luggage Storage Near the Kunsthaus
Art enthusiasts have probably already heard of Zurich's celebrated Museum of Art (aka the Kunsthaus). With thousands of priceless paintings, photos, and sculptures, the Kunsthaus certainly has one of Central Europe's most eclectic art collections. From masterworks of the medieval age to cutting-edge Contemporary pieces, this museum will give visitors a fantastic overview of the Western artistic tradition. A few famous artists who are well represented in the Kunsthaus include Henry Fuseli, Edvard Munch, Giovanni Segantini, and Vincent Van Gogh.

For an unencumbered experience at Zurich's Museum of Art, we recommend leaving your luggage at one of Bounce's nearby storage facilities. As you'll see on our mobile app, there are plenty of bag storage locations around this major tourist destination. For extra protection, Bounce offers $10,000 BounceShield™ Protection to all of our customers.

Frequently asked questions
How much does luggage storage cost in Zurich?

The price for luggage storage in Zurich is just €5/bag for the entire day.

Where are there luggage storage locations in Zurich?

There are multiple locations all around Zurich which can be booked through the Bounce platform including near Entenweiher, St. Peter's Church, Old Town Zurich and many other areas.

Is it safe to store your bags in Zurich?

Yes. Every bag is tagged with a security seal and comes with the $10,000 Bounce Guarantee. Every location is required to uphold tight security precautions. You may be asked to show ID and you will be required to use a credit card to book through Bounce in advance. With hundreds of thousands of bags stored, you can count on Bounce to handle your baggage in Zurich.

Are there storage lockers in Zurich?

Yes. There are storage lockers and many other luggage drop off points in Zurich. Bounce has multiple locations throughout Zurich where you can conveniently store your luggage with full security and the $10,000 Bounce Gurantee.

Where are the best places to stay and eat while in Zurich?

The most popular restaurants to visit are Zeughauskeller, Raclette Factory, and Hiltl. Additionally, the highest ranked hotels within Zurich are Hilton Garden Inn Zurich Limmattal, B&B Hotel Zürich East Wallisellen, and Kameha Grand Zürich.

Where are the best parks and nature attractions in Zurich?

Zurich offers several scenic parks including Wildnispark Zürich Sihlwald, Lindenhof Hill, and Chinese Garden.

Where can I find tourist information and guideposts in Zurich?

You can find local tourist information at Lake Cruises, Dolder Recreational Area, and Bassersdorf.

What are the best museums and historical attractions in Zurich?

If you're looking for a good museum in Zurich, we recommend Fraumünster Church, Swiss National Museum, and Lindt & Sprüngli Factory. If you prefer to be outside, you can give yourself a walking tour and see some of Zurich's most popular historical attractions including Fraumünster Church, Botanical Garden, or Münsterbrücke, Zürich and monuments like Zürileu, Forchdenkmal, or Bollenhof. Lastly, you can enjoy the local ruin of Ehem. Funk Leitstrahlanlage (Sender Knickebein K12), Wulp Castle, or Obere Burg.