Best Brunch In Adelaide: The Definitive Guide
Published by:

Bounce
Posted
When you are visiting Adelaide it is important to know where all the best places to eat are located, but it is even more important to know where to find the best places to get brunch in Adelaide! Why? Adelaide's brunch scene has really been taking off in the past few years. It has been greatly influenced by the American style of brunch, but there is no doubt the Aussies have style and flair all their own.

We know that you want the most delicious brunch possible, especially when you are hungry and ready to dine. We've put together a list of the 12 best brunch spots in the city. Drop your extra bags and excellent shopping finds with an Adelaide luggage storage service to enjoy fabulous Adelaide cuisine!

Pave
Locals and tourists have been hitting Pave for many years for a number of good reasons. They serve up fabulous coffee for those on the go. But for those who like to sit in a nice relaxed atmosphere, it is also the perfect spot. There is a bright and sunny outdoor courtyard, where your furry friends are welcome, and a play area for the kids.

And, of course, they have a fantastic brunch waiting for you every day of the week. Pave prides itself on having something for everyone no matter how big or small your appetite. If you need to really fuel up, go for the Pave Big Breakfast, or stay simple with a house toastie or warm croissant. There is a kid's menu too with Naughty Waffles with bacon, maple syrup, and ice cream, which will surely make them happy. After a fun time out with the children, stop here for brunch!

Brunch Hours: Monday 7:30 am - 12:30 pm, Tuesday to Sunday 7:30 am - 2:30 pm

Location: 138b The Parade, Norwood

Peter Rabbit
Peter Rabbit has a great courtyard surrounded by greenery, and a fireplace indoors that makes this cafe a wonderful and warm place to feed your belly and soul. The menu features some delicious vegan and vegetarian plates that even carnivores will enjoy. French Toast, Eggs Your Way, and Zesty Avo with black tomato and cashew cheese are all delicious food to try from the menu.

The drink menu is loaded with great choices from specialty coffee, smoothies, fresh juices, and brunch cocktails. Brunch and breakfast are served all day so you don't need to rush to get there in the morning. It does, however, get a little busy during their "Hoppy Hour" between 2 pm & 3 pm when the house wine and tap beers are on special.

Brunch Hours: Monday to Friday 7 am - 3 pm, Saturday & Sunday 8 am - 3 pm

Location: 234-244 Hindley Street, Adelaide

Karma and Crow
This is one of those brunch spots that changed everything about the brunch scene. Instead of a cozy cafe, they went with an airy open space in a converted warehouse. Not satisfied with just changing the atmosphere, the owners decided to turn brunch into more than comfort food but an experience in food and drink.

The menu changes from season to season, taking advantage of seasonal produce and products, and its creativity is truly mouthwatering. Fancy coffee, cold pressed juices, and the best local craft beers are just the start. The food is a myriad of flavors with lemon and ricotta pancakes with candied orange and coconut ice cream or honeycomb butter and strawberries, depending on the season. Blue swimmer crab and mac & cheese toasty with crispy pancetta are just a few more of the dishes that await your taste buds. This is a wonderful brunch spot after a morning of shopping in the fantastic stores of Adelaide.

Brunch Hours: Monday to Friday 7 am - 2:30 pm, Saturday & Sunday 8 am - 2:30 pm

Location: 249-251 Richmond Road, Richmond

Bloom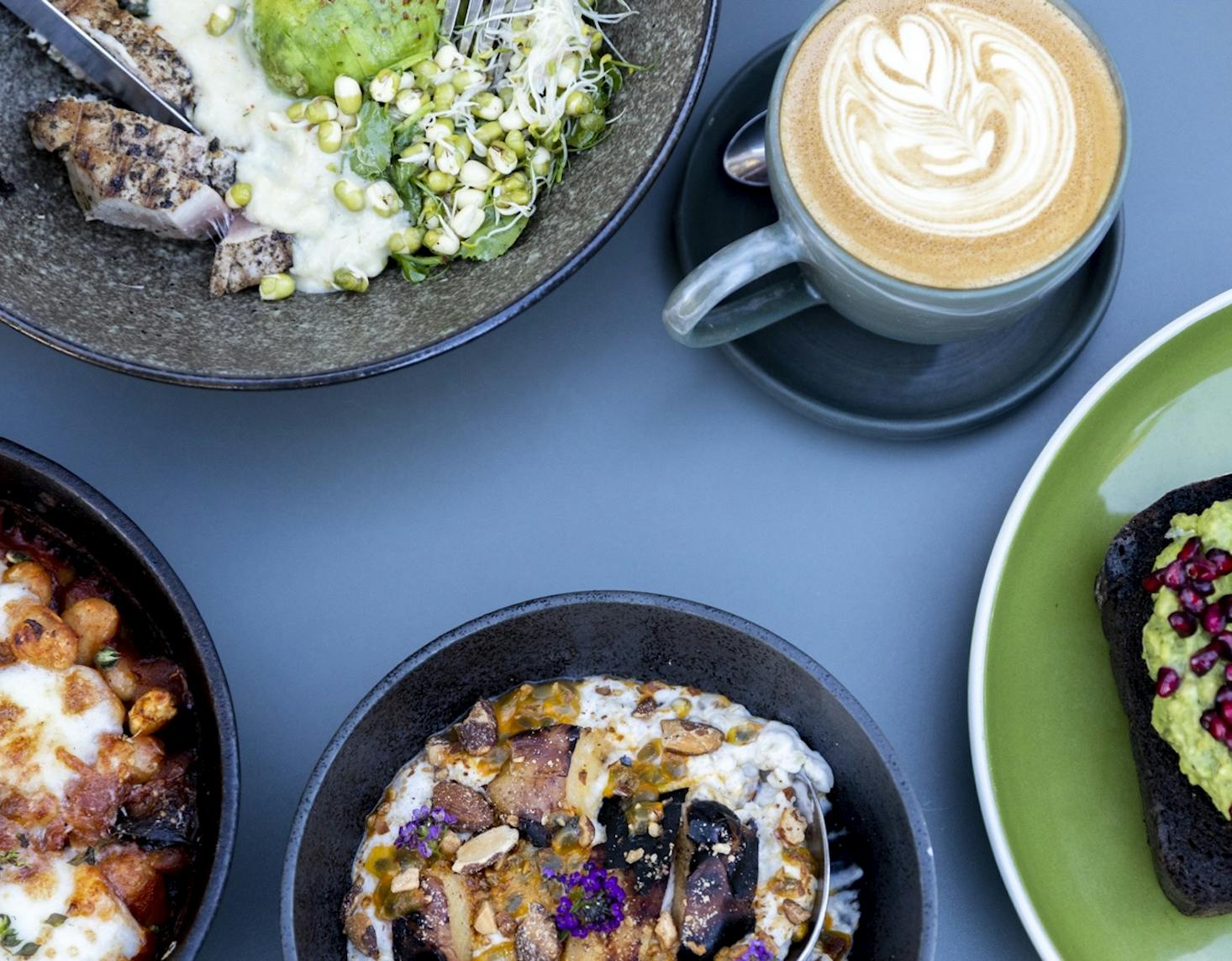 Bloom is one of those cool places where both food & decor are beautifully presented. The cafe specializes in smokey wood-fired flavors like their chargrilled beef flank with fermented leek sauce or wood-fired sourdough with poached eggs & bacon. And if you can't decide on one thing, go for the "Feed Me" shared menu and two hours of bottomless wine & SA beer.

The "Bloomin' Bottomless Breakfast" is served every Wednesday - Monday between 8am - 11am, making it a perfect option for early risers! But don't worry if you're looking to start your day off a little later, the Bloom Boozy Long Lunches are now available from 11am-2pm every day they're open. Enjoy a 4 course shared feast selected by Bloom's new Head Chef Samuel Smith plus 2 hours of unlimited SA beers and wines. The menu is vegan, veggie, and gluten-free friendly too, all set in a lively atmosphere.

Brunch Hours: Wednesday to Monday 8 am - 4 am

Location: 38 Winwood Street, Thebarton

Seven Grounds
With a name like Seven Grounds, you would expect great coffee, but this is a great brunch spot as well. Breakfast is offered all day and brunch starts at 11:30 am, and it doesn't matter what you order from the Asian-inspired menu, your hunger will be satisfied. Even classics like the eggs Benedict has a twist with ricotta and rocket.

Korean fried chicken, Philipino Sisig tacos, and tiger prawn rolls on a brioche bun with Japanese tartare highlight the brunch menu. Add one of their signature drinks like the mango strawberry iced tea or coconut coffee and you have the makings of a terrific meal. If you are looking for something different and reasonably priced, check out this cool little espresso cafe.

Brunch Hours: Monday to Friday 11:30 am - 3 pm, Saturday & Sunday 1:30 am - 2 pm

Location: Unit 1 28a Hawker Street, Brompton

Trouble and Strife
Finding a great brunch that is inexpensive in South Australia may seem like a dream. If so, then your dreams have come true at Trouble and Strife. You might think that just because it is inexpensive, the food quality will not stand up to others on this list, however, you'd be wrong!

Daily specials and a great selection on the breakfast, lunch, and dinner menu make up the fresh homemade meals. Enjoy the delicious and generous servings like the house-made baked beans with crusty bread and feta, or smashed avocado with peas, mint, and again, feta. And don't miss out on Pancake Tuesday when they serve up a specialty light and fluffy buttermilk pancake with seasonal fruits or sweets.

Brunch Hours: Monday to Saturday 8 am - 3 pm

Location: 123 Goodwood Road, Goodwood

Bond and Lane Canteen
When you find one of those hidden spots that the locals love, you just have to try it, and that is exactly what Bond and Lane is. Tucked away down a side street of Colonel Light Gardens is where you will find this gem of a brunch spot. Delicious burgers for both carnivores and vegetarians, chicken tostadas, or a big stack of buttermilk pancakes are perfect pick-me-ups after a big night.

A healthy or hardy breakfast of scrambled eggs and smoked salmon or a coconuts sago bowl are always good choices. And you can't miss out on their sweet treats. If you don't have enough room after your breakfast or brunch, get them to go.

Brunch Hours: Monday to Friday 7 am - 3 pm, Saturday & Sunday 8 am - 2 pm

Location: 1 Salisbury Crescent, Colonel Light Gardens

C.R.E.A.M.
Home to possibly the best coffee in Adelaide, C.R.E.A.M. has a real grasp on American-style brunch-they take the real brunch classics and raise them up to an out-of-this-world level. Choose from light and fluffy pancakes topped with fried chicken, maple butter AND maple syrup, or thick cut french toast with whipped mascarpone, fresh berries, and toffee dust. If either of those dishes or the coffee doesn't get you there, you may want to check your pulse.

And to entice the vegans, they have a big breakfast just for them with eggplant, tomatoes, a medley of mushrooms, and a beetroot pesto that is to die for. And to make things even better, the location is within walking distance of the beach. You can dine-in or grab your food to-go and enjoy brunch on the beach.

Brunch Hours: Monday to Friday 7 am - 2:30 pm, Saturday & Sunday 8 am - 3 pm

Location: 4/49 Jetty Road, Brighton

Long Lost Friend
This is a true café, and that is a very good thing. When you are here with your friends, or even by yourself, it has that warm feeling that this is the right place to be. The coffee choices are perfect, the menu is wonderful, the staff is friendly, and you can bring your four-legged best friend too.

Delicious savory dishes like eggs benny with salmon or bacon, or the vegetarian Power Brekky Bowl. If you are up for a real sweet treat try the LLF buttermilk pancakes with vanilla meringue, Persian fairy floss, seasonal fruit compote and maple syrup. If you can't take the time to stop and smell the roses (coffee) at the Long Lost Friend café, you may need to change your lifestyle.

Brunch Hours: Daily 8 am - 2 pm

Location: 523 Magill Road, Magill

Commissary
If you are looking for a great brunch in Adelaide with a unique view, hit the Commissary on Fullarton Road which overlooks the icon Victoria Park racecourse. The breakfast and brunch are absolutely fantastic, with an excellent selection of filling burgers like the breakfast burger, halloumi, and the super stuffed Mack Daddy.

For those with a sweet tooth try the apple pie or s'mores French toast, red velvet waffles, or take a chance on the Sweet Surprise. And the chefs did not forget about those looking for healthier or vegetarian choices. If you really can't decide what to eat, there is a section where you can build your own meal. The selection on the menu is going to make it hard to choose but whatever you decide, you will be a winner at this racetrack cafe.

Brunch Hours: Monday to Friday 7:30 am - 2 pm, Saturday & Sunday 8 am - 2 pm

Location: 160 Fullarton Road, Rose Park

Hey Jupiter
The French-themed café in Ebenezer Place became a brasserie with all the French foods you might crave for breakfast, lunch, or dinner. And when it comes to brunch they definitely do the French proud with Croque monsieurs, omelets with goat's curd, and French onion soup. And if you are feeling adventurous, go for the escargot or freshly shucked oysters, all great choices.

Hey Jupiter has been serving one of the best brunches in Adelaide for years. Besides the more French-themed food, they do one of the most delicious French toast plates in the city. While enjoying your weekend brunch, why not make it a little more cheeky with a Kir Royale au Champagne or Breakfast Martini.

Brunch Hours: Saturday & Sunday 11:30 am - 3:30 pm

Location: 11 Ebenezer Place, Adelaide

Marylands Hotel - Bar + Kitchen
Last but certainly not least on the list is the award-winning Marylands Hotel - Bar + Kitchen. Voted the Best Bistro Casual Dining Award in 2021, the hotel serves up one of the best brunches in Adelaide. The stunning view of the Cruickshank Reserve makes it a perfect brunch spot. They only serve brunch on Saturday so it is best to book ahead.

It is pretty much a classic brunch menu done to perfection. Brioche with fried egg and smoothie bowls with fresh fruit are just a few of the highlights. Add some bubbles and make it a champagne breakfast, and bring your dog too, treats and water are provided!

Brunch Hours: Saturday 9 am - 11:30 am

Location: 67 Phillis Street, Maylands

Delicious Brunch in Adelaide
Sleeping in after a late night out in Adelaide? We are sure that after reading this you are ready to get out there and try one of these great brunch spots, so what are you waiting for? Close your computer and get yourself some brunch in Adelaide, you know it is going to be outstanding!