Budapest Christmas Market: The Complete Guide
Published by:

Bounce
16 October, 2022
Budapest is naturally a beautiful city but during Christmas time it transforms into a magical place resembling a fairytale. Temperatures drop significantly in the wintertime but you can keep warm with a glass of mulled wine and festive spirit!

If you are planning a vacation to Budapest during the holiday season you should definitely make a point to check out some of the beautiful Christmas markets that pop up every year between mid November and Christmas Eve. Some say the city has the best Christmas markets in Europe! Concerts, tram rides and delicious eats are more reasons to make this city a holiday destination.

Just landing at Budapest Airport and excited to get started? Save yourself the hassle of dragging your suitcases around and leave them at Bounce luggage storage in Budapest. Then, enjoy the Christmas markets!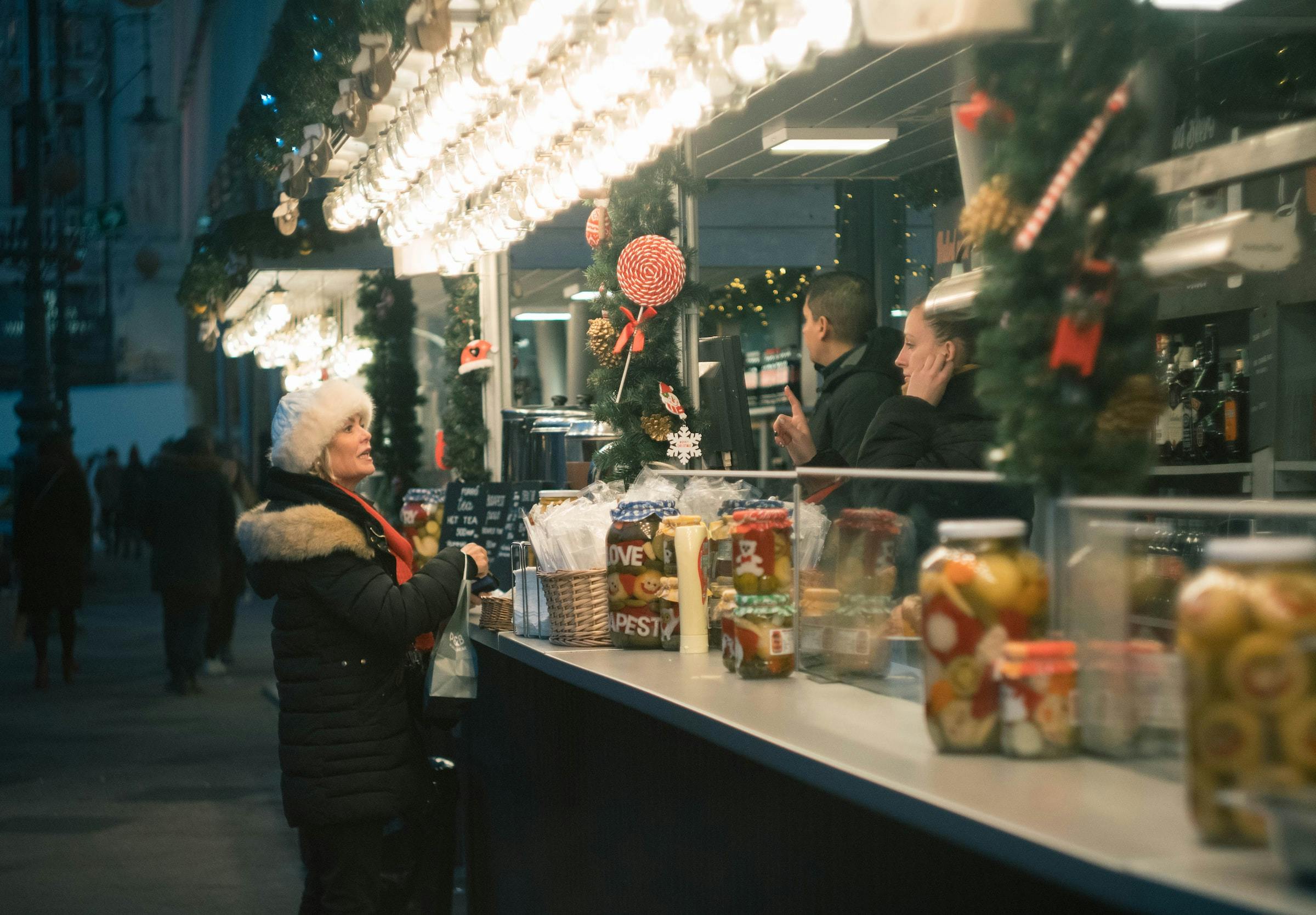 St Stephen's Basilica Christmas Market
St Stephen's Basilica is one of the most popular landmarks in the city and during Christmas time there is even more of a reason to visit when the Advent Feast is happening. The 19th-century structure looks absolutely magical when it is lit up with twinkling Christmas lights and festive shows put on by the projector every half hour.

Other than the cheerful atmosphere, this market brings spectacular shopping opportunities in its many traditional stalls where you will find clothing, toys and other charming artisanal knick knacks. Grab a pair of skates and glide around the skating rink found in the middle of the market!

What to do near St Stephen's Basilica Christmas Market
Looking for something to do before or after visiting the market? Well, at St Stephen's Square you will be right next to the incredible basilica so why not check it out? The interior is just as impressive as the exterior so take a look at the opening hours and see if you can go inside.

Vörösmarty Square
Vörösmarty Square located in the heart of the city is home to one of the longest-running, biggest and most important Christmas markets in Budapest. Over 100 stalls gather here every year selling delicious Hungarian specialties and handmade objects that make great Christmas gifts. It is also called the Budapest Christmas Fair and attracts people from around the world.

As one of the busiest squares in the city, you can expect to be joined by big crowds of other enthusiastic guests while you are at the market. It is also a great spot for kids, with regular family friendly activities and concerts on the big stage every day.

What to do near Vörösmarty Square
You should be able to find some fantastic Christmas gifts at this market but if you still have a couple of boxes to check off your list, you are in luck. The square is found right by the main shopping street in Budapest which is connected to the Great Market Hall, so you can keep shopping all day!

Óbudán Christmas Fair
The Óbudán Christmas Fair, also called the Advent Óbudán, is one of the favorite Budapest Christmas markets for locals because it is a bit smaller and more relaxed than some of the others. Consider coming here to Óbuda's central square if you want a break from the touristic atmosphere of the bigger places.

Although it is not very big, there are still lots of things to do here. Go ice skating around the small ice skating rink, sing along to live performances, or do some shopping in the craft market! There is also a massive Christmas tree and life-sized nativity scene set up on site. There are a few food stalls as well; take this opportunity to taste langos and other traditional dishes.

What to do near Óbudán Christmas Fair
Óbudán, which means Old Buda, is a place full of history and personality. There are some modern attractions in the area as well, like shops and even a casino! Check out the Tropicana Las Vegas Casino if you have extra time after the Óbuda Christmas Fair.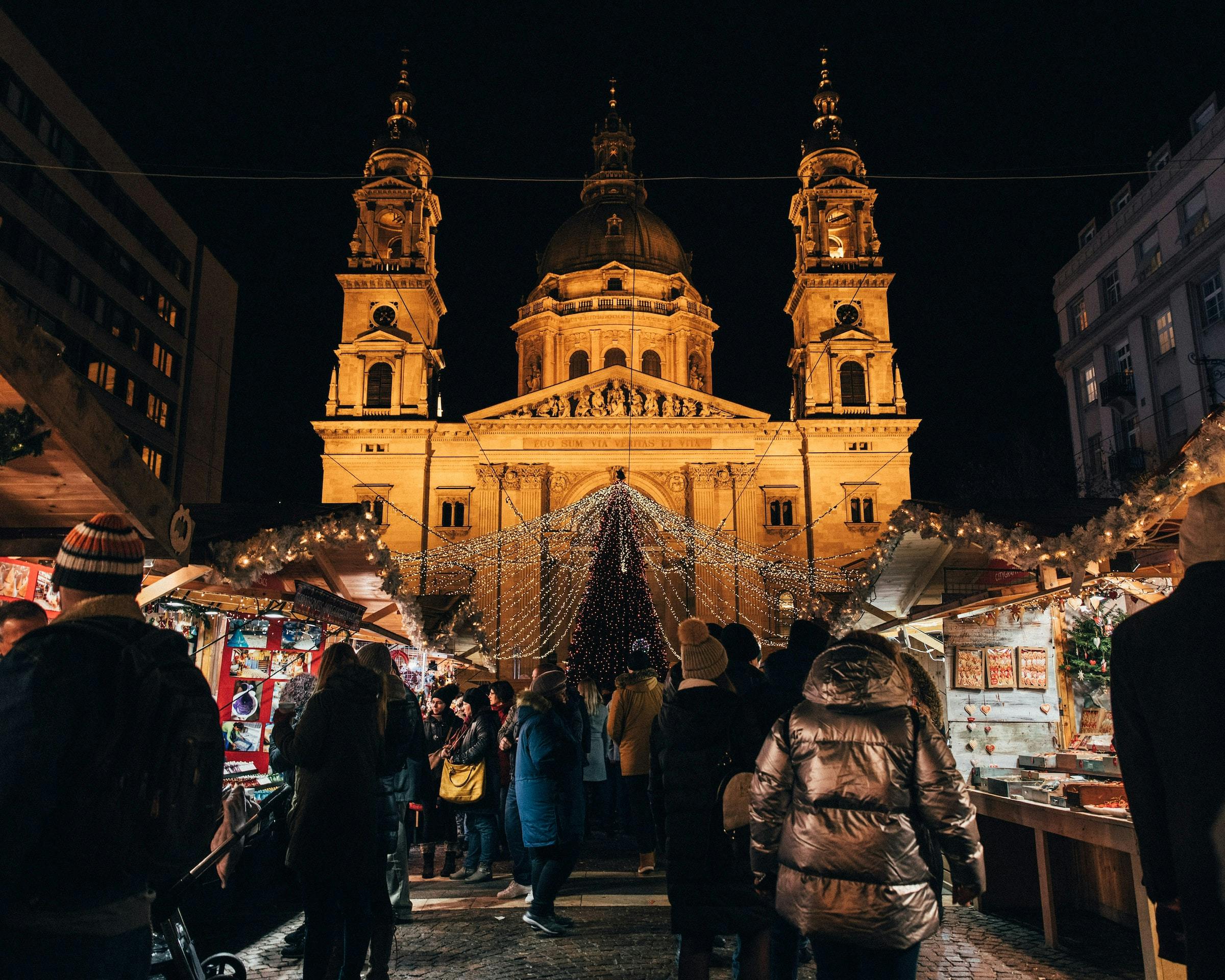 Castle Hill Christmas Market
When you visit Budapest you will definitely notice Castle Hill across the River Danube; the impressive fortress is pretty hard to miss! It is a beautiful structure at all times of the year but the castle takes on a truly magical atmosphere near Christmas day when festive lights and pretty Christmas trees are set up for the Buda Castle Christmas Market.

Still have some shopping left to do? This is one of the best Christmas markets Budapest has to offer when it comes to souvenirs and festive gifts. If you get hungry there will be lots of places to get roasted almonds, chimney cake and mulled wine.

What to do near Castle Hill Christmas Market
Castle district and the old fortress itself are one of the most notable landmarks in the city and there are lots of attractions to be found right there. Take a tour of the grounds and inside the castle or check out the spooky Labyrinth Museum.

Erzsébet Square
You will easily be able to spot Erzsébet Square if you look out for the huge Ferris wheel that towers over it. You should check out the area throughout the Budapest Advent season since it is a gathering spot for food trucks and outdoor bars. If you are a food lover it is definitely where you will want to be!

You won't find as much shopping here as in some of the other places in Budapest, although there will be some stalls set up as well. If you are missing a few gifts for loved ones chances are that you will be able to find them here.

What to do near Erzsébet Square
Trying to find something to do near Erzsébet Square? You can ride the Ferris wheel, of course! It is quite impressive standing at 65 meters high and is definitely the best place to capture panoramic views of the city lit up with color beneath you.

Finding the Best Christmas Market in the Hungarian Capital
European Christmas markets become more popular every year and a big city like this one is full of them. What better way to spend the winter holiday than participating in cultural events or strolling around some of the nicest Christmas markets in Europe?

Handmade toys, traditional Hungarian handicrafts and festive treats, like grilled paprika sausages and apple strudel, are just some of the things that you might find while exploring a Christmas market in Budapest. Most of them open in mid November or early December, but check their official websites to find out when you should be visiting Budapest.

Now you are ready to enjoy the Christmas Markets in Budapest. For more things to do in Budapest, check out these other guides.

Wine Tasting in Budapest: 10 Places You Have to Try

What to Eat in Budapest: 15 Treats You Should Not Miss