9 best hostels in Geneva
Published by:

Bounce
10 May, 2023
Are you planning a trip to Switzerland? Geneva is its second largest city and is proud to be considered one of the most beautiful cities in the world. It's situated in a gorgeous spot on the edge of the largest lake in Europe; Lake Geneva. Along with a stunning natural landscape, Geneva also has a rich history and plenty of architecturally impressive buildings.

Due to its surroundings, Geneva boasts a pleasant climate in every season with temperatures that barely go below freezing. It's a nice place to take a vacation at any time of year and, although some cities in Switzerland can be expensive, you can save money by staying in a hostel in Geneva instead of paying full price for a hotel or Airbnb.

Hostels usually have multiple guests staying in one room which can be very fun and it's also a great way to meet new people. When you need somewhere safe to store your bags in Geneva just find a nearby Bounce location. There are lots of luggage storage spots around the city including in some hostels, giving you somewhere secure to stow your things between check in and check out.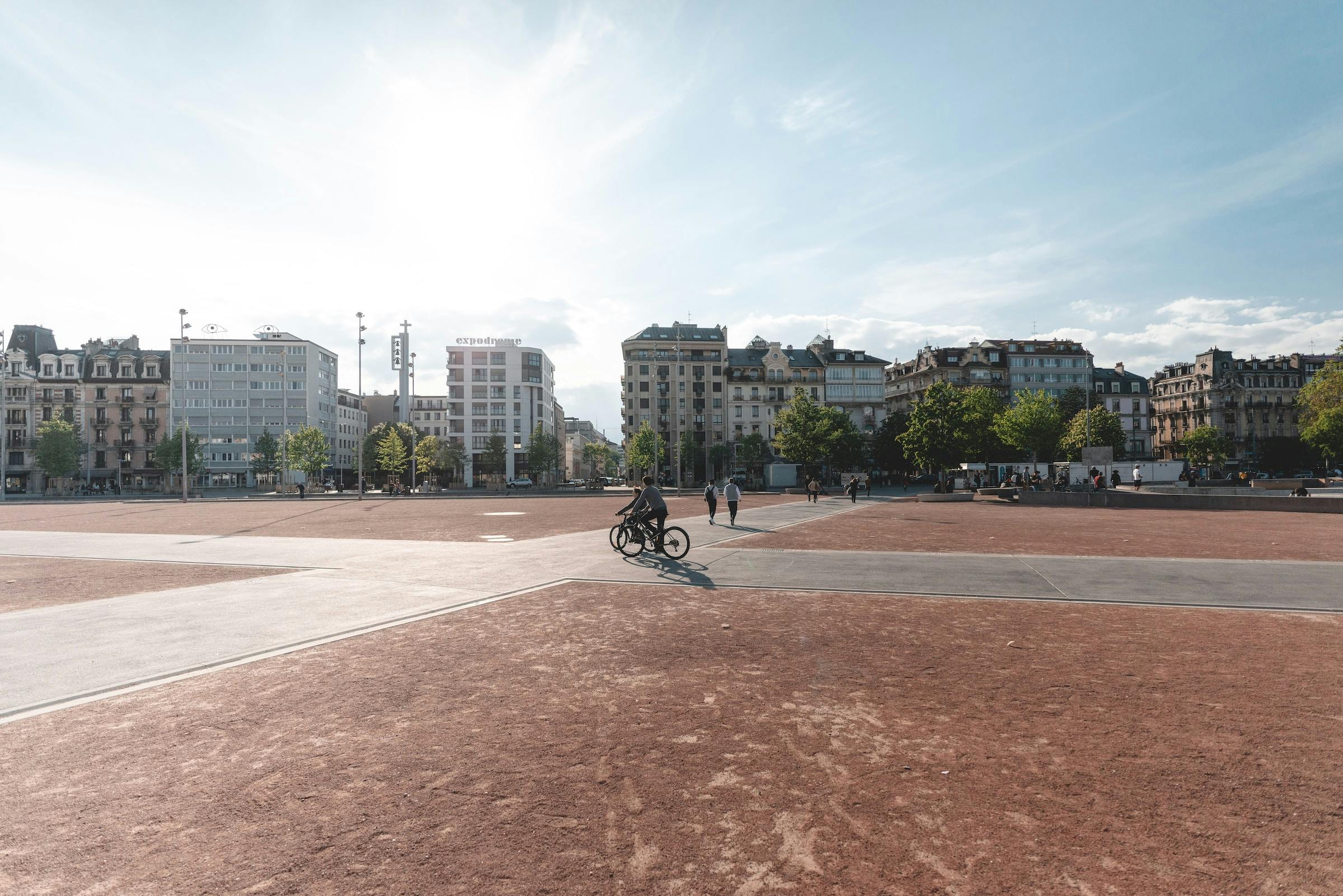 Geneva Hostel
Out of all the cheap hostels in Geneva, this is one of the best. It has mixed as well as both male-only and female-only dorm rooms of up to 12 people but you can also stay in a single room, double room, triple room, or quadruple private room perfect for couples or small groups who want their own space. You'll find it in a quiet location close to the lake and they offer laundry facilities, free wi-fi, and a few available private parking spots for an extra cost. All rooms have heating and access to a shared bathroom.

What makes Geneva Hostel unique
The Geneva Hostel offers a tasty free breakfast every morning which will save you money and time. They also have an on-site cafe and restaurant where you can get the rest of your meals.

Geneva Hostel pricing
The price to stay in a 6-person dormitory room is about CHF 79.00 per night. A private quadruple room with a shared bathroom starts at around CHF 164.00 per night.

Nyon Hostel
This hostel in Geneva is situated in the small town of Nyon, located between Geneva and Lausanne. It's a great location for those who want to have a quiet trip and avoid the business of the city centre, and it's also within close proximity to many outdoor activities and nature attractions. Nearby is the Roman Museum, the Castle of Nyon, the Zoo of la Garenne, and the Lake Geneva Museum.

They have dorm rooms for up to 6 guests as well as private rooms that can sleep one or two. Each bed in their dorm rooms has USB outlets and a lamp, and guests can enjoy free wi-fi throughout the establishment. You'll also have access to a kitchen as well as a washing machine and dryer.

What makes Nyon Hostel unique
Every morning you can wake up to a delicious self-serve breakfast for free, as well as cold drinks and coffee at any time of day. They also have a common room and chill-out room where you can socialize with fellow guests.

Nyon Hostel pricing
The average price for a bunk in a dorm room is CHF 37.00 per night, and a private suite with a balcony costs about CHF 180.00.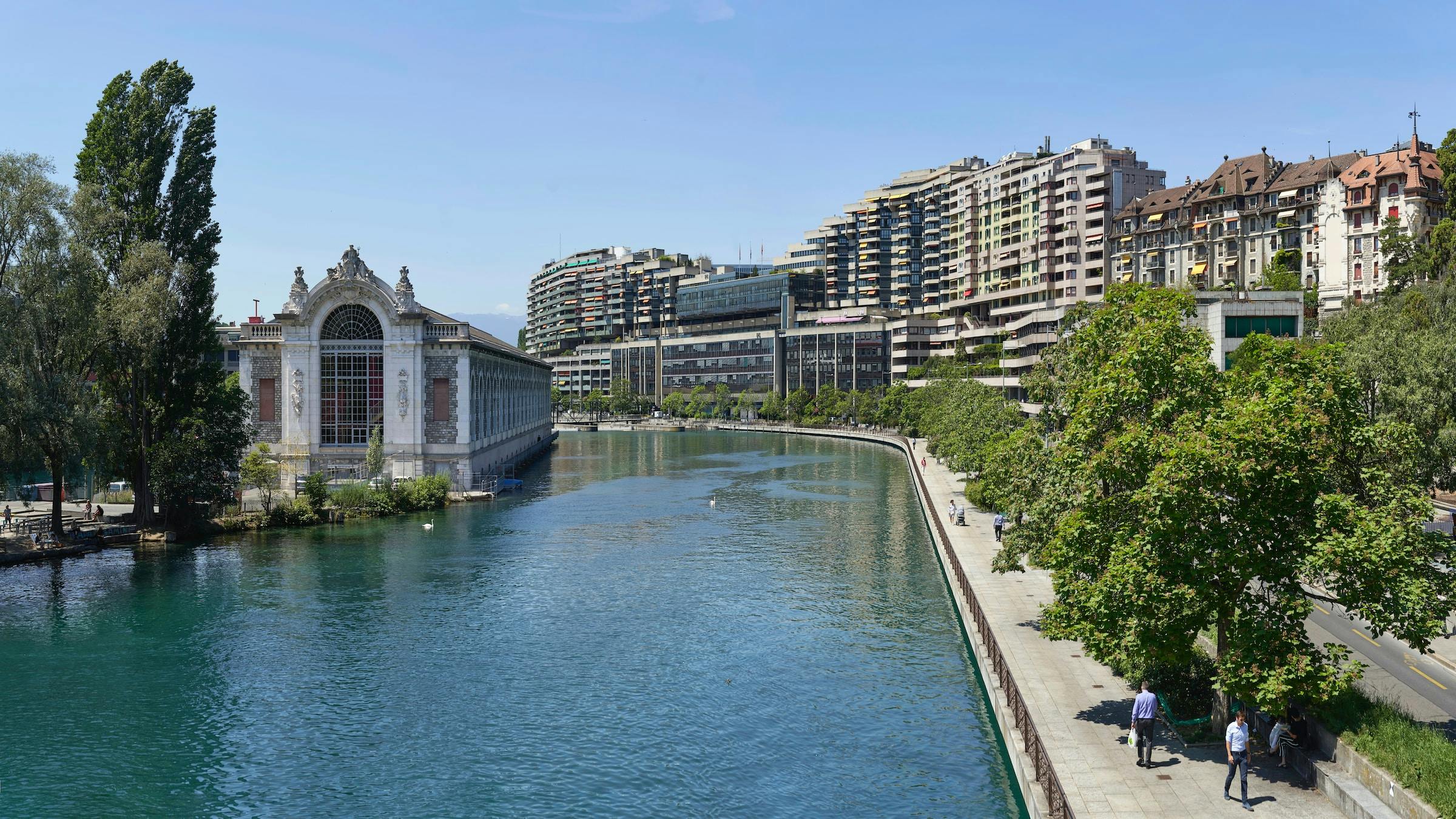 City Hostel Geneva
The City Hostel Geneva is often referred to as the best hostel in the city so you should definitely consider staying here. With no curfew and a fantastic location right beside the main train station, it's easy to see why. Their room choices include dormitories that sleep 2, 3 or 4, as well as private rooms. Included in the establishment are laundry facilities, a kitchen, storage lockers, and internet access for all guests.

What makes City Hostel Geneva unique
Customers of this hostel are given a free transport card which will be super helpful when it comes to getting around the city. It also has its own cafe where you can grab a snack or a good coffee.

City Hostel Geneva pricing
The cost for a spot in a 4-person shared dorm room is about CHF 40.00, and a private double room starts at CHF 99.00.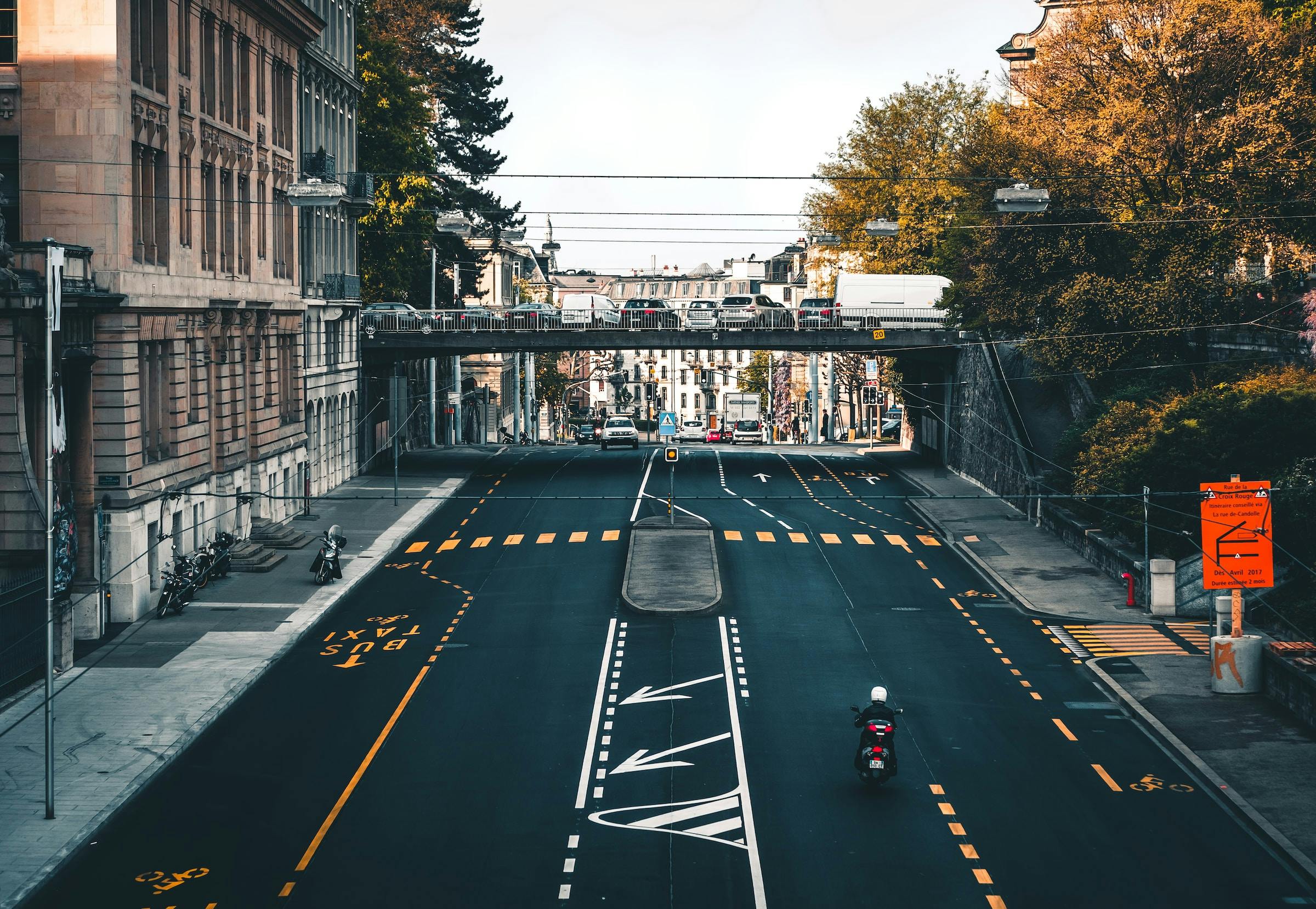 Hotel ibis Aeroport Geneva
This hostel is situated within walking distance of the Geneva airport which can be very convenient if you're only visiting for a short time or have an early flight to catch, although you won't be very close to the most popular attractions. That being said, the city center can still be reached easily enough once you get to a train station and you'll be close to some other interesting attractions like the International Red Cross Museum, the Automobile Museum, the Convention Center as well as the Red Crescent and Adriana Museum. Their guest rooms, which are either double or twin rooms, are air conditioned and have free wi-fi.

What makes Hotel ibis Aeroport Geneva unique
Anytime that you get hungry at this Geneva hostel you'll be able to grab a bite to eat from their snack bar and deli, or get a drink from their bar and lounge. They also have a great buffet breakfast available for an added fee.

Hotel ibis Aeroport Geneva pricing
The cost for a standard double room is approximately CHF 110.00, and if you want included breakfast it's about CHF 143.00.

Crowne Plaza Geneva
The Crowne Plaza is the perfect hostel for digital nomads who need to work and also want to do lots of sightseeing. They offer reliable and consistent access to the internet plus extra perks like a rooftop terrace and a common room. You'll be staying in a private room with your own bathroom and, depending on which one you choose, some even have a balcony. The building is situated in Meyrin just a short drive away from Trembley Park and Balexert, the Forum Meyrin Theatre, and the Vivarium de Meyrin.

What makes Crowne Plaza Geneva unique
Included in this hostel booking is a free public transport card which will definitely come in handy when you're heading out to explore the city. They also have a free shuttle bus to the airport and two restaurants plus a bar. They even have a sauna and a fitness center that guests can use.

Crowne Plaza Geneva pricing
This location has affordable accommodation at approximately CHF 163.00 for a standard double room, but if you really want to treat yourself you can book the king bed suite with a mountain view for CHF 1256.00.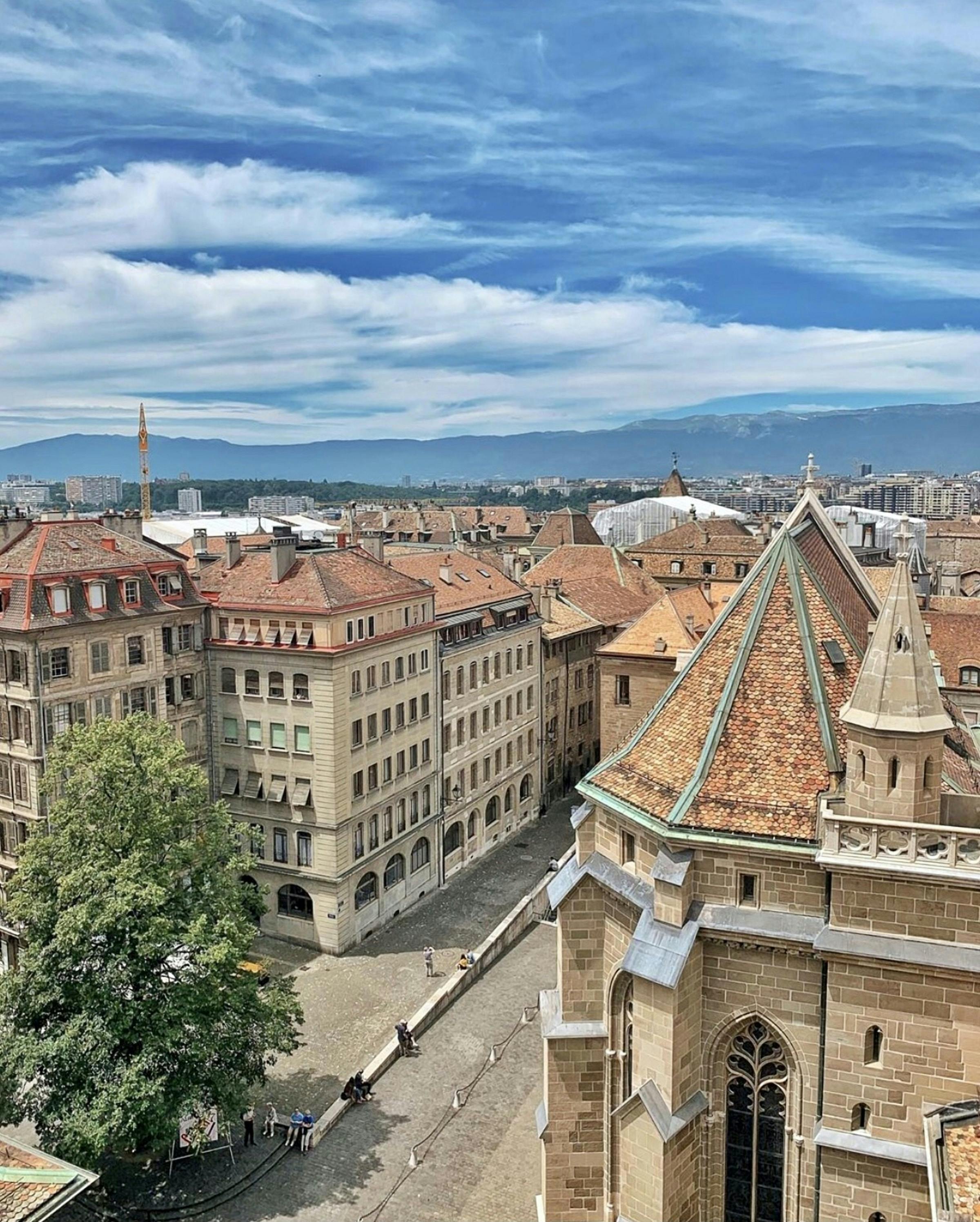 Edelweiss Manotel
The Edelweiss Manotel is located between the UN and Lake Geneva and is just a few steps away from Downtown Geneva giving you access to all of the popular landmarks. Only half a mile away there is a great shopping district, and with a bus stop right outside you can easily get between areas. The building resembles a cozy Swiss chalet, with rustic furniture and modern amenities. They have private spaces suitable for solo travelers as well as family rooms and connecting double rooms.

What makes Edelweiss Manotel unique
Thanks to their on-site restaurant you'll never go hungry here, especially with them serving tasty dishes like raclette and fondue. If you're traveling as a family and have included breakfast in your price, children under 12 are welcome to eat for free.

Edelweiss Manotel pricing
Are you ready to book the Edelweiss? Their least expensive accommodation is the standard room which costs upwards of CHF 280.00. To stay in two connecting double rooms, which is great for groups or two couples traveling together, it's CHF 746.00.

Auberge Communale de Carouge
This is the only place where you can stay in the heart of Carouge and you'll be able to walk from here to the village's main square, Place de Marche. There is also a tram stop right in front of the building making it easy to explore the rest of the city as well, plus direct access to Lake Geneva.

Located in a historic building with only 13 rooms, staying here will be calm, quiet, and relaxing. Every room has a theme meant to represent different forms of art, like the Room of Design, Sculpture Room, Fashion Room, or Theatre Room so you can stay here several times and have a different experience in each one.

What makes Auberge Communale de Carouge unique
Although you'll probably be out and about a lot during your trip you'll always have somewhere to relax here at the Auberge Communale de Carouge. They have a very nice restaurant, lounge and terrace where you can eat food or just take it easy. Also, breakfast is included.

Auberge Communale de Carouge pricing
This is a pretty affordable place to stay, although prices vary depending on the season that you're visiting. In general, the average price for a double room with a garden view is CHF 181.00.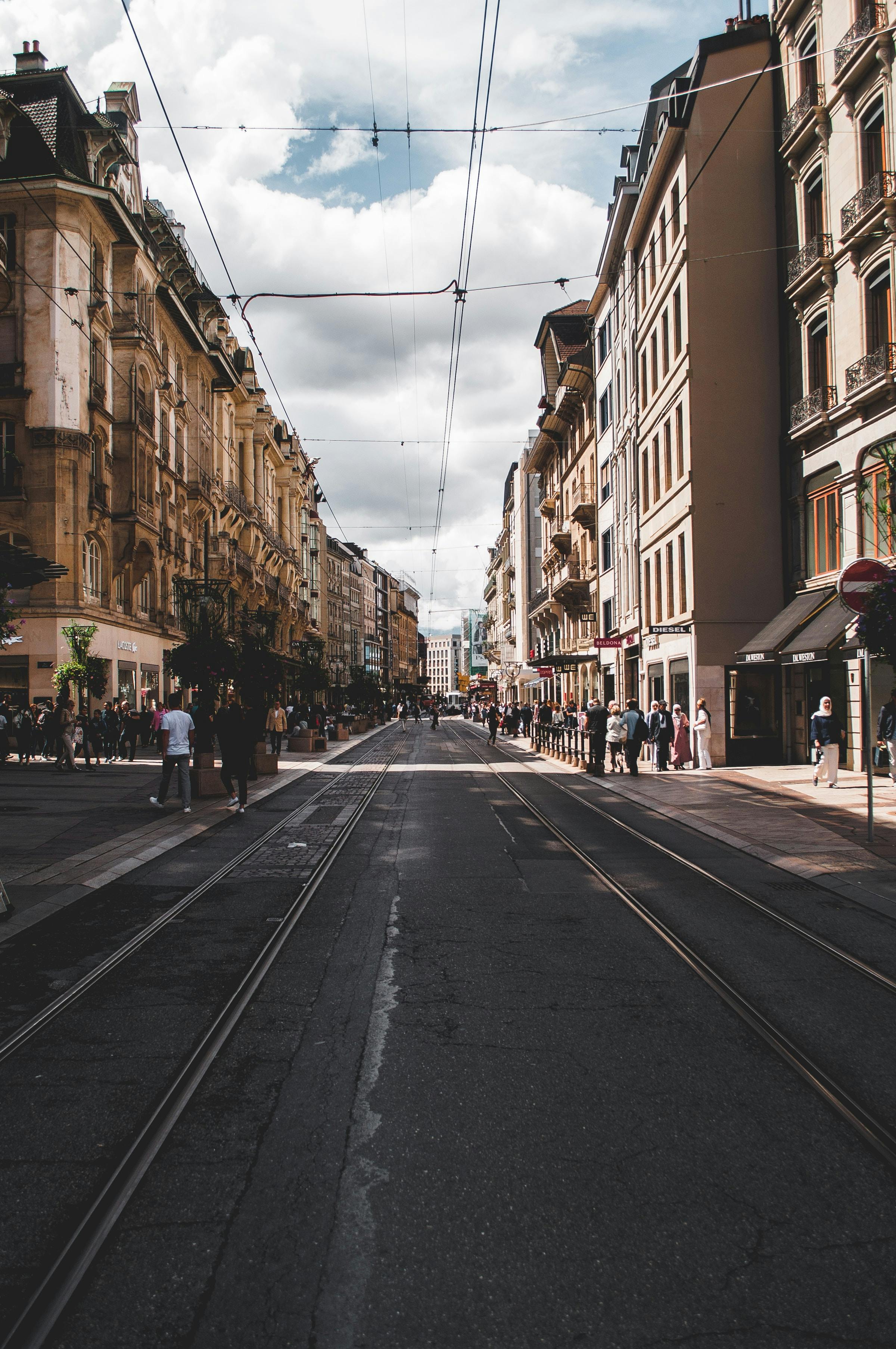 Hotel Rotary Geneva MGallery
This elegant hotel has a central location in the heart of the city right next to the beautiful Lake Geneva and offers nice accommodations and a comfortable place to stay. On site they have a bar, a restaurant, internet access, air conditioning, a car park, and they also serve breakfast. Their classic rooms, signature rooms and duplex rooms can each sleep up to 3 guests and come with a private bathroom.

What makes Hotel Rotary Geneva MGallery unique
By staying at this hotel you'll be given a free transport card that will make it easy to navigate the area and give you the freedom to explore it without limits. Guests can also take advantage of their sauna and fitness room, plus they have a lovely shaded terrace.

Hotel Rotary Geneva MGallery pricing
Staying here is a bit more expensive when compared to regular hostel prices but it's still quite affordable. The cost of a classic room is around CHF 263.00 per night, and the duplex room can be about CHF 333.00.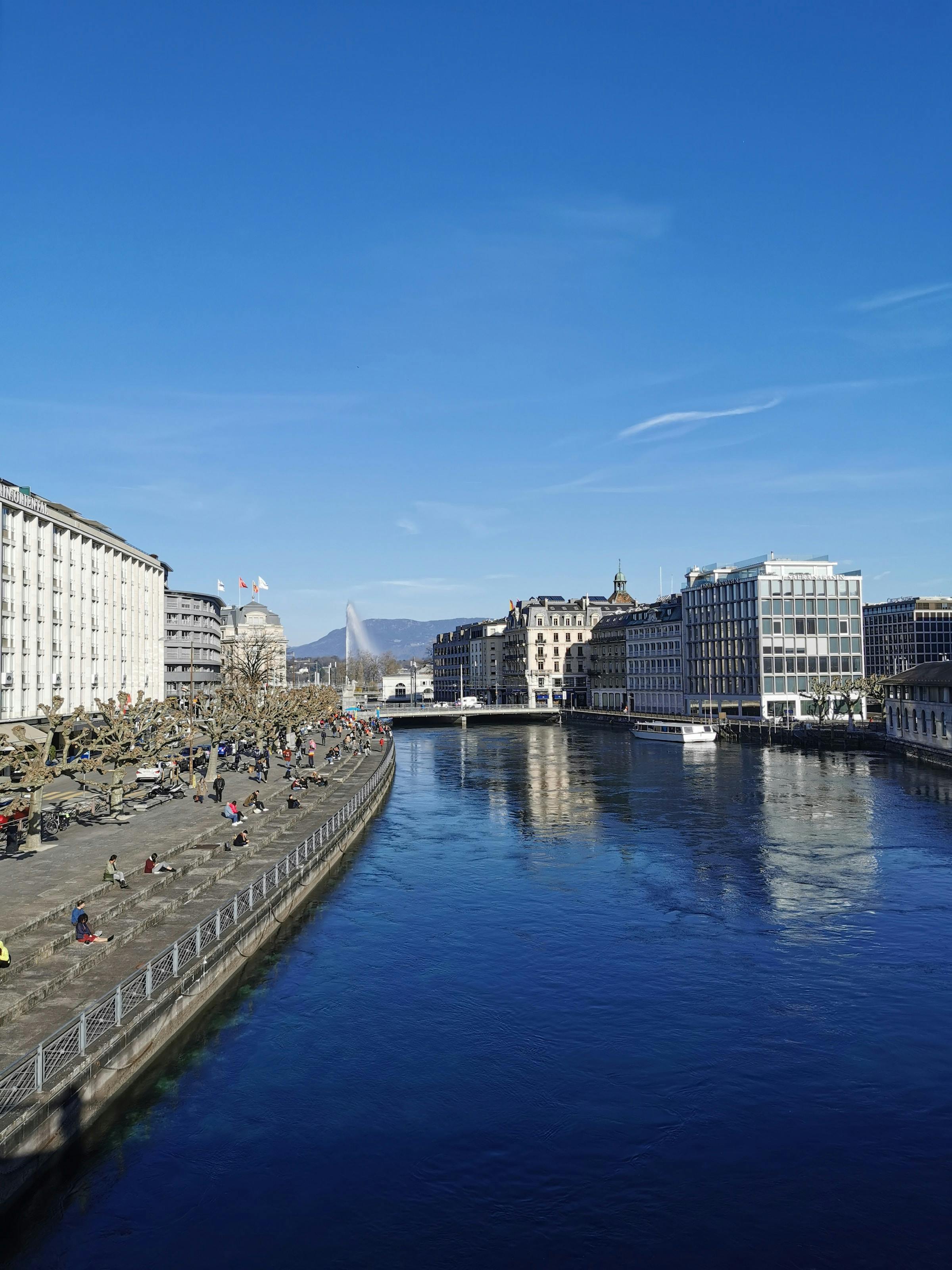 Primadom Aparthotel
This location has free wi-fi throughout the building, private bathrooms in some rooms and daily breakfast served in the dining area. All of their double, twin and studio rooms are clean and comfortable with a TV, room heating, and housekeeping. Staying here. you'll be close to the Old Town and many attractions like Plainpalais Square, the Cathedrale de St-Pierre, the Patek Philippe Watch Museum, and very close to the Flower Clock. You'll also be able to reach the Gare de Geneve-Secheron train station.

What makes Primadom Aparthotel unique
This affordable hotel has a great location near some unique historic hotspots, and the Primadom Aparthotel also offers a very good breakfast for a small additional cost.

Primadom Aparthotel pricing
The price for a room at Primadom Aparthotel is about CHF 100.00 for a single room with a shared bathroom and shower, and up to CHF 200.00 for the superior studio.

Staying in Geneva hostels
It isn't too hard to find a cheap hostel in Geneva and if you can save money on your sleeping accommodations you'll be able to afford to do more activities during your trip. Who knows, you might even make some new friends during your stay! All of the places listed above are great options, and once you check availability and book your stay then you're almost ready to vacation in Geneva.

We've got some more helpful guides for those who want to do some additional research before visiting the city. Click here to read up on Geneva on a budget and as well, the best day trips from Geneva.