5 beaches near Lisbon: Where to go for sun, sand, and surf
Published by:

Bounce
10 April, 2023
From beach bars to golden sand, there is nothing more special than Lisbon beaches. Most of these beaches are within easy walking distance of public transportation, and the best beaches are the perfect contrast to bustling places like Baixa Chiado and Bairro Alto. You don't have to head back to Lisbon Airport to find a sunny beach to enjoy. There are lots of really lovely beaches in the Lisbon area that can be reached in less than an hour. Sometimes just hanging out for a day in the sand and the sun can be the perfect break that you need to refresh yourself and make your trip even more memorable.

The Serra de Sintra coastline is known for golden and soft sands, as well as mild temperatures all year round. Be aware that blue flag status means that a beach is swimmable and is provided with extensive upkeep to maintain its quality. A green flag is hoisted at other beaches if it's safe to swim. Yellow flags mean that you should use caution when in the water, and a red flag means that no one should get in and go swimming since there are no lifeguards on duty and it could be dangerous.

Before you head to the Costa da Caparica coastline or Praia da Conceiçãoyou will probably want to put your bags into secure storage. What fun is beach volleyball or golden sand if you are dragging your bags with you everywhere? Bounce offers trustworthy luggage and beach bag storage in Lisbon, so you never have to carry too much.

Most of the beaches in this guide have lifeguards to safeguard swimmers, making this one of the safest cities to enjoy the beach. This can be a big relief for those traveling with kids or those who are not great swimmers but who want to play in the water. Now, let's get right to the best beaches in Lisbon and its surroundings: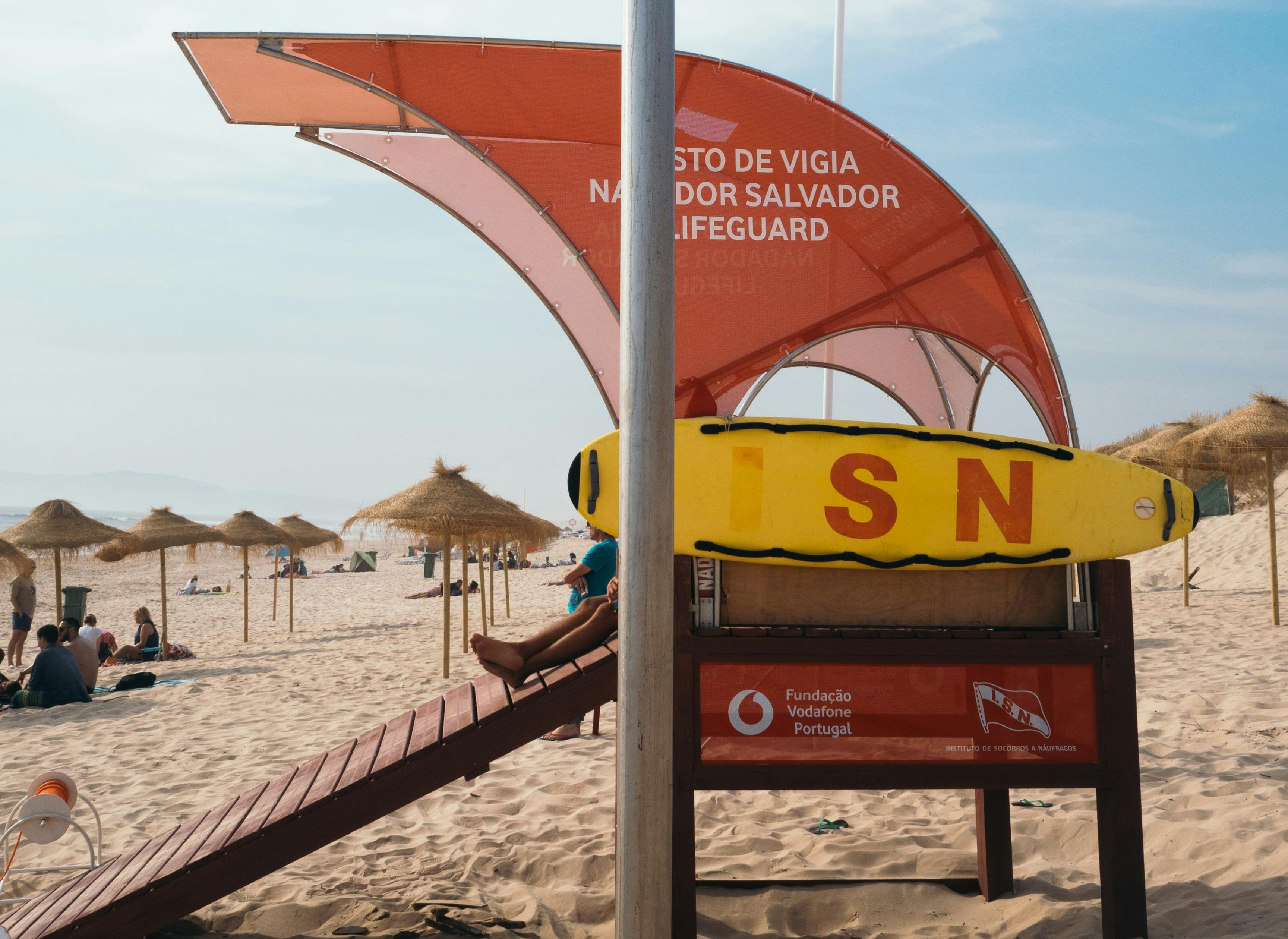 Costa da Caparica
This is one of the quieter seaside towns near Lisbon, and it is a local favorite among those who live in Lisbon. There are 10km of beach to enjoy here, which makes walking, sunbathing, and eating and shopping along the beach a real pleasure.

Costa da Caparica travel distance from Lisbon
Costa da Caparica is 25 minutes from central Lisbon by car or about an hour via public transportation. The journey is strictly by bus and involves three different changes, but if things line up, you can get from Lisbon to this lovely beach is about 55 minutes.

Our activity recommendations
Many people head here to take surfing lessons. The surf is just the right balance of rough and welcoming here to learn to get up on your board and coast back to the shore. The weather is so ideal that you will not get too hot or too cold while sunbathing either. Renting sun loungers is easy, and if you are staying at one of the resorts nearby, these loungers might be complementary.

This is also one of the best beaches in the world for sunbathing, and you might want to head to this beach just for this benefit. April to May and September to October are the best times to visit this beach area to avoid the crowds, but the water is at its warmest in the height of summer.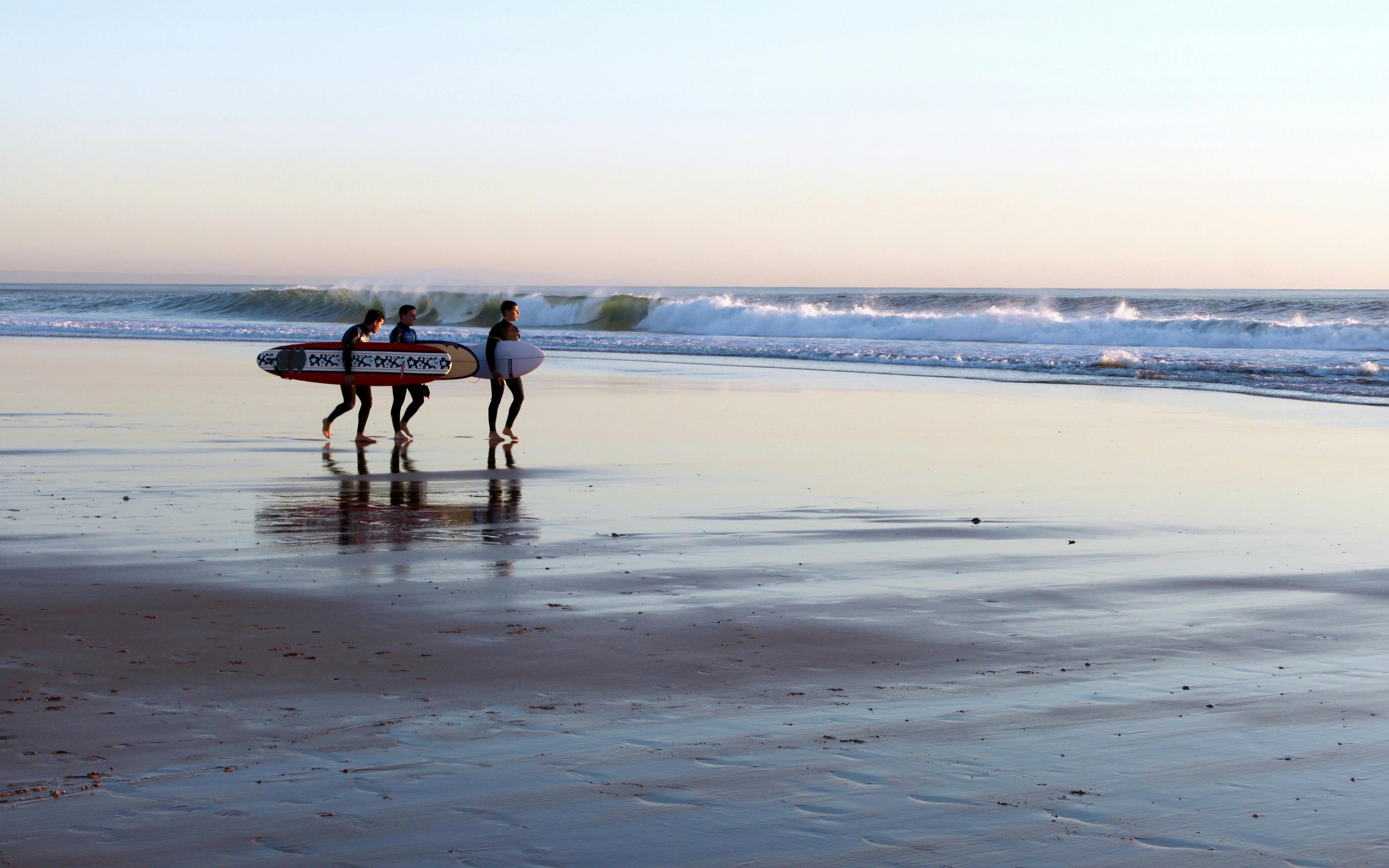 Praia de Carcavelos
Praia de Carcavelos is a lovely beach with beautiful white sand where you can sunbathe, eat out, and shop. There are tons of things to do along the beach here, and beach soccer, beach volleyball, and all kinds of outdoor games often crop up on the white sands. This is one of the most lovely beaches easily accessible from Lisbon for many reasons.

Praia de Carcavelos travel distance from Lisbon
This beach is about an hour if you take public transportation, but only about half an hour if you can drive.

Our activity recommendations
This lovely beach is a great place to play beach volleyball or to take a surf lesson. You can also sunbathe here and stay comfortable all day. Renting an umbrella and a chair can be possible on some stretches of the beach, or you can bring a towel and some sunglasses and be comfortable until the middle of the day.

Taking a sunset cruise is a great idea in this area, and some of these tours will even offer you a meal and drinks for the cost of your boat rental. There are also various nature preserves and zoos in the area of the beach where you can see turtles, peacocks, and other local species.

The summer months are the ideal time of the year to enjoy all that Praia da Carcavelos has to offer.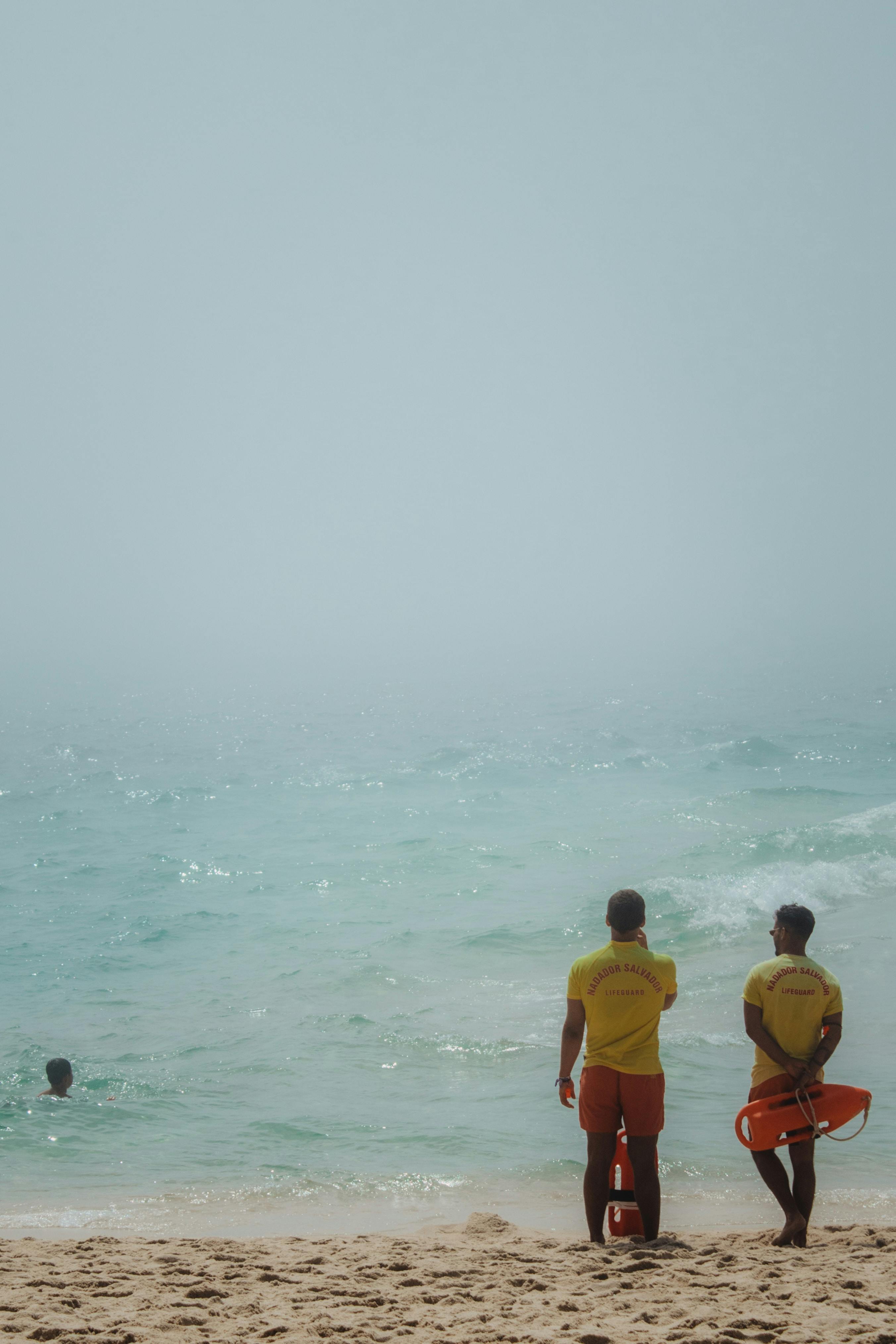 Praia da Figueirinha
This is a national beach and park, so it is always very clean and tidy. There are shallow areas to wade and play with small kids here, as well as deeper swimming areas. Beaches in Lisbon are rated by Blue Flag status, which tells you what the water quality is at the beach. When a blue flag flies over the beach, you can count on a very clean beach and a place that is ideal for swimming.

Praia da Figueirinha travel distance from Lisbon
This beach is an hour by car from Lisbon. It will take you about two hours to ride public transport to this beach.

Our activity recommendations
Taking a secret beach boat tour is a great way to spend your time here. You will be taken to all the best secret beach spots around the area, and food is often provided. These tours are usually quite affordable and offer you access to a different experience than if you just hit the sand as soon as you arrive.

There is nothing wrong with renting sun loungers and laying out in the sun, either. Sun worshippers will adore this beach and have a great time tanning and relaxing in the sun. There are lots of places to eat and drink near the beach as well, so if you are hungry, there are many nearby restaurants to enjoy.

Praia da Figueirinha is scenic during any season, but the summer season will often be much busier, and the beach could be more crowded during the peak of the summer months, so keep this in mind.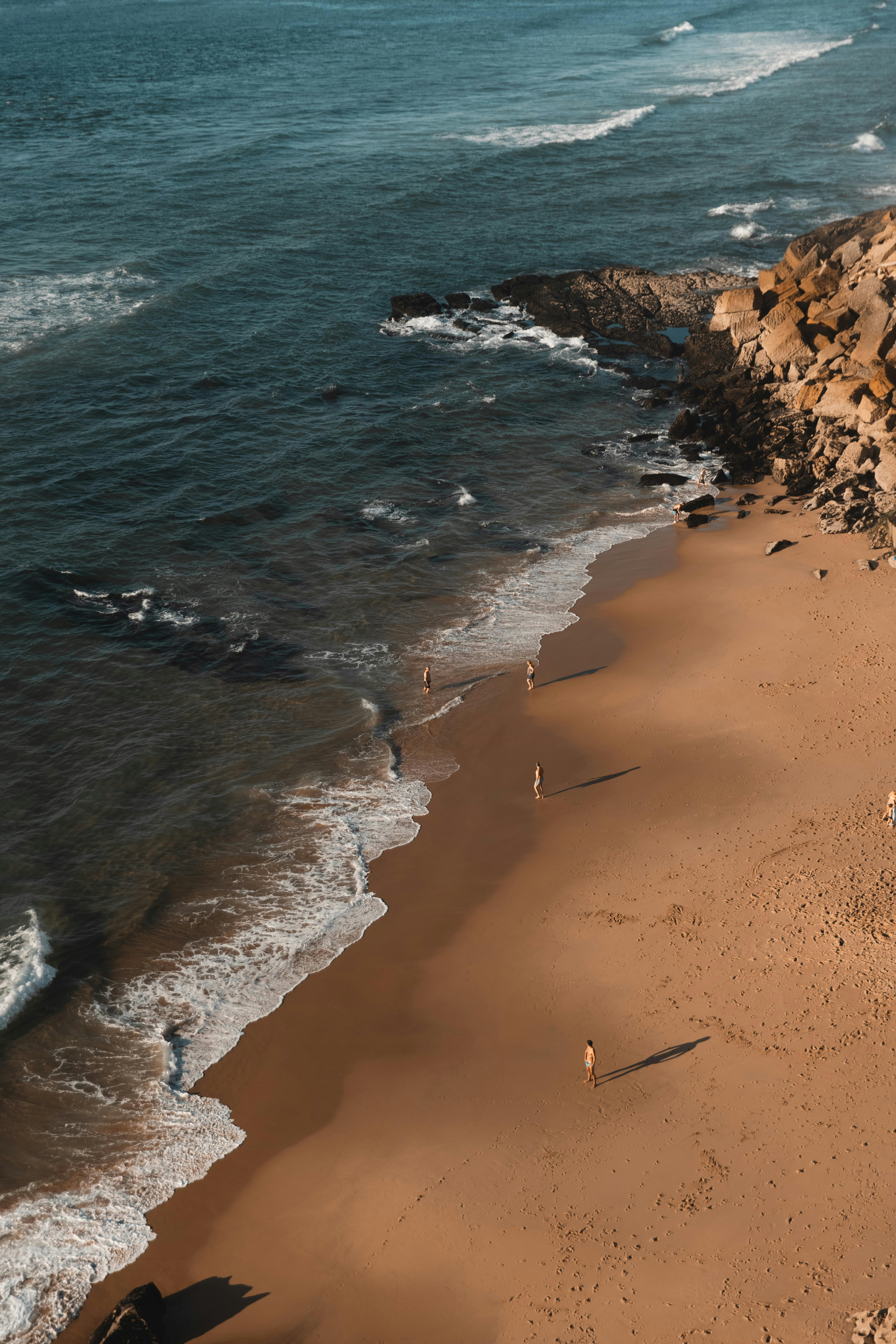 Praia de São Pedro
Praia de Sao Pedro is still considered part of Lisbon, so it's not hard to get here. This used to be one of the most popular beach locations along the Lisbon coast, but it has been replaced by some of the other popular beaches that offer a more resort-town vibe. This famous beach is still a great place for a beach day, and you will avoid some of the crowded conditions that you might have to deal with during peak times at other beaches in this guide.

Praia de São Pedro travel distance from Lisbon
This location is about half an hour's drive from Lisbon or about 45 minutes when you use public transport.

Our activity recommendations
The seafront promenade at this beach offers you access to street food vendors, little shops, and restaurants. You will also be able to simply hang out and sunbathe for your whole stay if you wish. This was once one of the most popular beach locations near Lisbon for sunbathing, and locals still know that few places are as well-suited for this activity along the Lisbon Coast.

This beach is also a great place for swimming if you love to spend time in the ocean. You can simply jump in and cool off, or you might want to paddle around a bit more. There is nothing treacherous about swimming at this beach, and you can have a great time here enjoying the surf and sand.

The summer months are the ideal time to head here as it can get a little chilly in the winter months compared to places on the blue flag destination list. However, the more popular beaches might be much busier, which means that you can often find lots of things to do besides sunbathe during the cooler part of the year. Heading to beautiful beaches in Lisbon is still fun, even if it's a bit cold for laying out in the sun.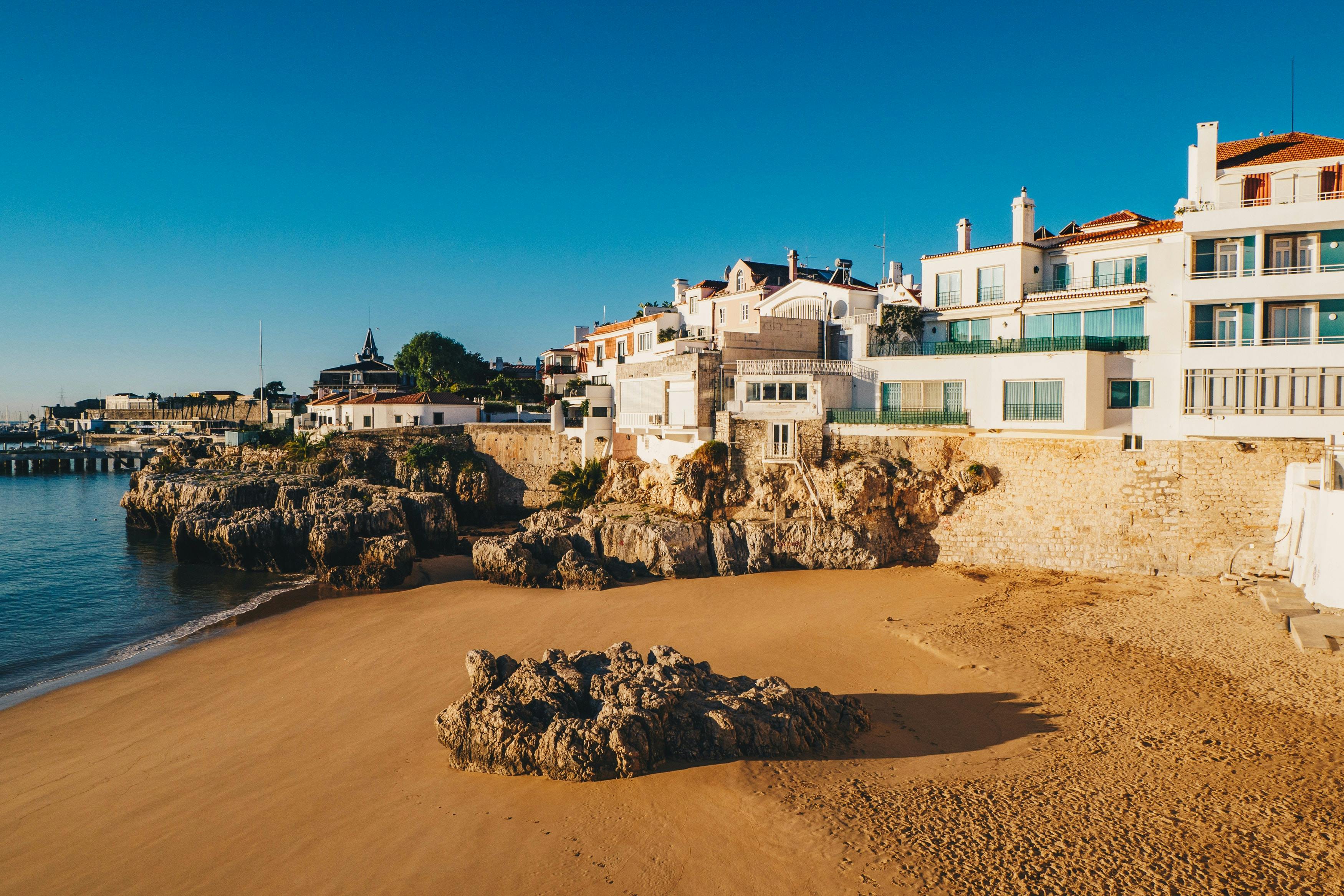 Praia da Conceição
This is one of the lovely golden sand beaches that are within reach of Lisbon. This is also the biggest beach in the Cascais region. You will find that this area is a popular beach, but it is big enough that it doesn't usually feel overly crowded. This beach is kept clean, and there are toilets, and a bar to enjoy that is located right by the sunbathing area.

The Serra de Sintra coastline is one of the best regions of the Lisbon area, and it is world-famous for offering you access to soft sand, the right amount of heat, and swimmable beaches.

Praia da Conceição travel distance from Lisbon
This beach will take you about 40 minutes to get to by car and about an hour on public transportation.

Our activity recommendations
Many people make sure to plan a sunset cruise from this beach area since the weather is often perfect for sailing in this region. You can usually book a boat that offers dinner and drinks with your sailing, making for a lovely evening adventure.

There are lots of charming and cozy hotels to enjoy near the beach, so staying overnight is never an issue if you want to extend your beach day into two or three beach days. There are also lots of lovely local eateries and authentic places to try local food clustered right by the beach.

Be aware that you will experience cold swimming conditions if you visit later in the year, but the beach will probably still be perfectly acceptable for sunbathing and enjoying things like beach volleyball, strolling in the sand, or sitting at a picnic table and reading a book.

Early spring and late autumn are the best times to head to Praia da Conceição if you don't mind cold water or aren't planning on swimming very much. It can be pretty hot here in the middle of the summer, and the water is sheltered somewhat by the shape of the coast here. Because it's sheltered and Lisbon generally has quite warm weather, you won't have to worry about colder weather impacting your time at this lovely beach, even if you are visiting outside of the summer season.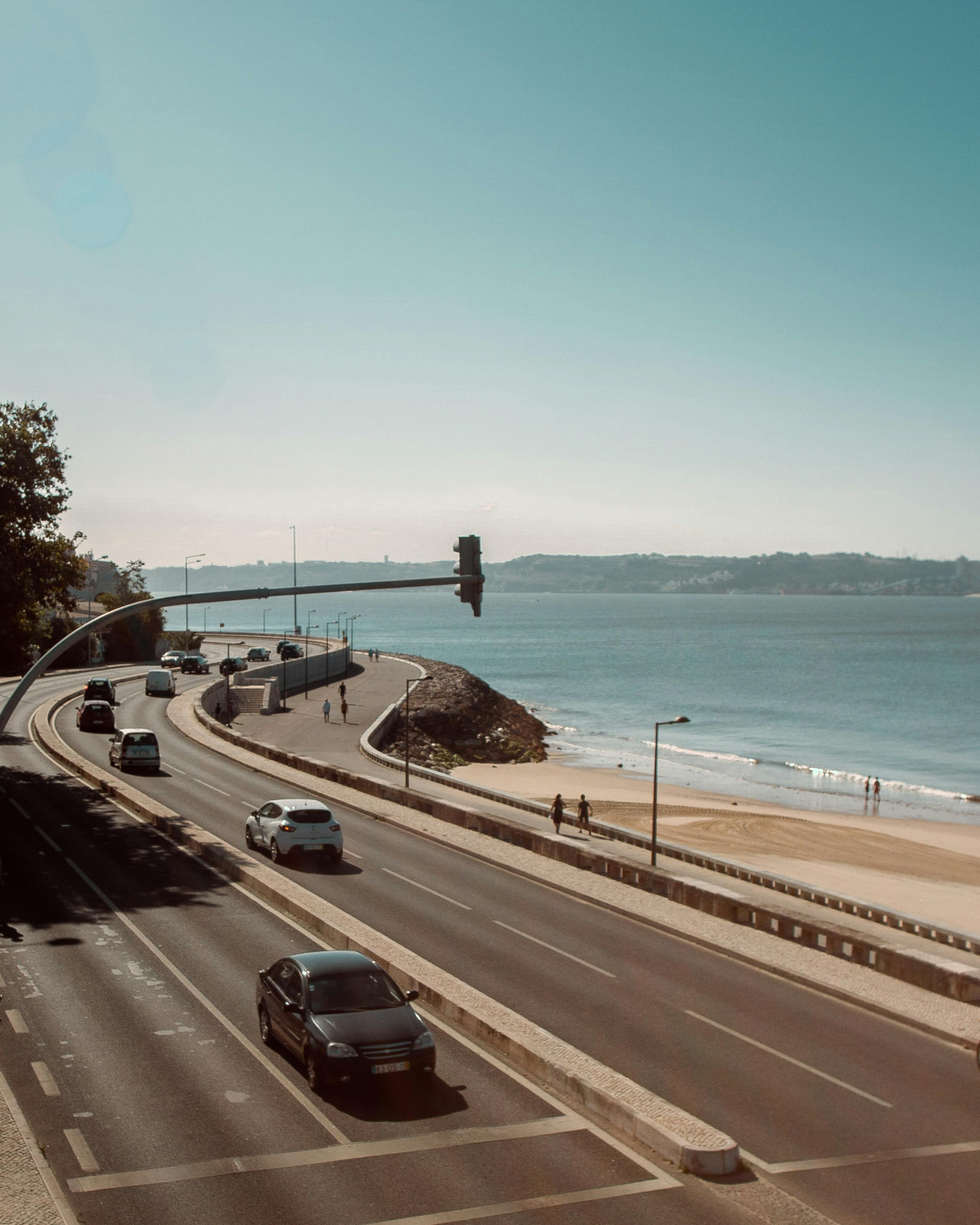 Conclusion
Planning a beach day when you are in the Lisbon area is really simple. You might not be within walking distance from a beach, but you can get to one of the beautiful beaches in this guide with a short drive or a short trip on public transportation. From wandering the seafront promenade along these beautiful beaches to shopping or sunbathing on the soft golden sands, there is nothing more lovely than a break from the city centre at a lovely Lisbon beach.

These beaches can also be part of the best weekend trips from Lisbon, especially if you have some extra time to enjoy this part of the world during your trip. If you're visiting Lisbon on a budget, the sun and the sand are available to you during your trip because, aside from chair and umbrella rentals and the public transport to get to the beach, these destinations are very affordable. There is nothing stopping you from enjoying Lisbon, even if you need to save a little money during your trip.