6 beaches near Los Angeles: Where to go for sun, sand, and surf
Published by:

Bounce
25 April, 2023
Thanks to the global popularity of Hollywood, just about everyone on earth feels they know a little bit about Los Angeles, even if they've never been there. The city is famous for its iconic Hollywood sign, the Walk of Fame, and its reliably sunny weather. But it's also famous for its beaches. Iconic destinations like Santa Monica Beach and Venice Beach are the gorgeous backdrops to dreams of California for millions of people from around the world.

Los Angeles has an incredible food scene and a lively urban culture that most cities on Earth might envy. But when you've had enough of the chaos of the city, there are few better ways to escape it by heading to the beach. And thanks to its coastal location, Los Angeles has tons of great beaches to offer. Whether you want to see and be seen on the legendary Santa Monica boardwalk or would rather get away from it all and explore somewhere a little more isolated, Los Angeles has a beach for you. And although the city's public transport system is often maligned, many of the best beaches in and around the city can be reached without a car.

Drop off your bags at a convenient suitcase storage in Los Angeles, and you'll be ready to enjoy the California beach vacation you've been craving. Bring only what you need and explore some of these fantastic beaches in and around Los Angeles, and you'll get to see a wilder side of this internationally famous city.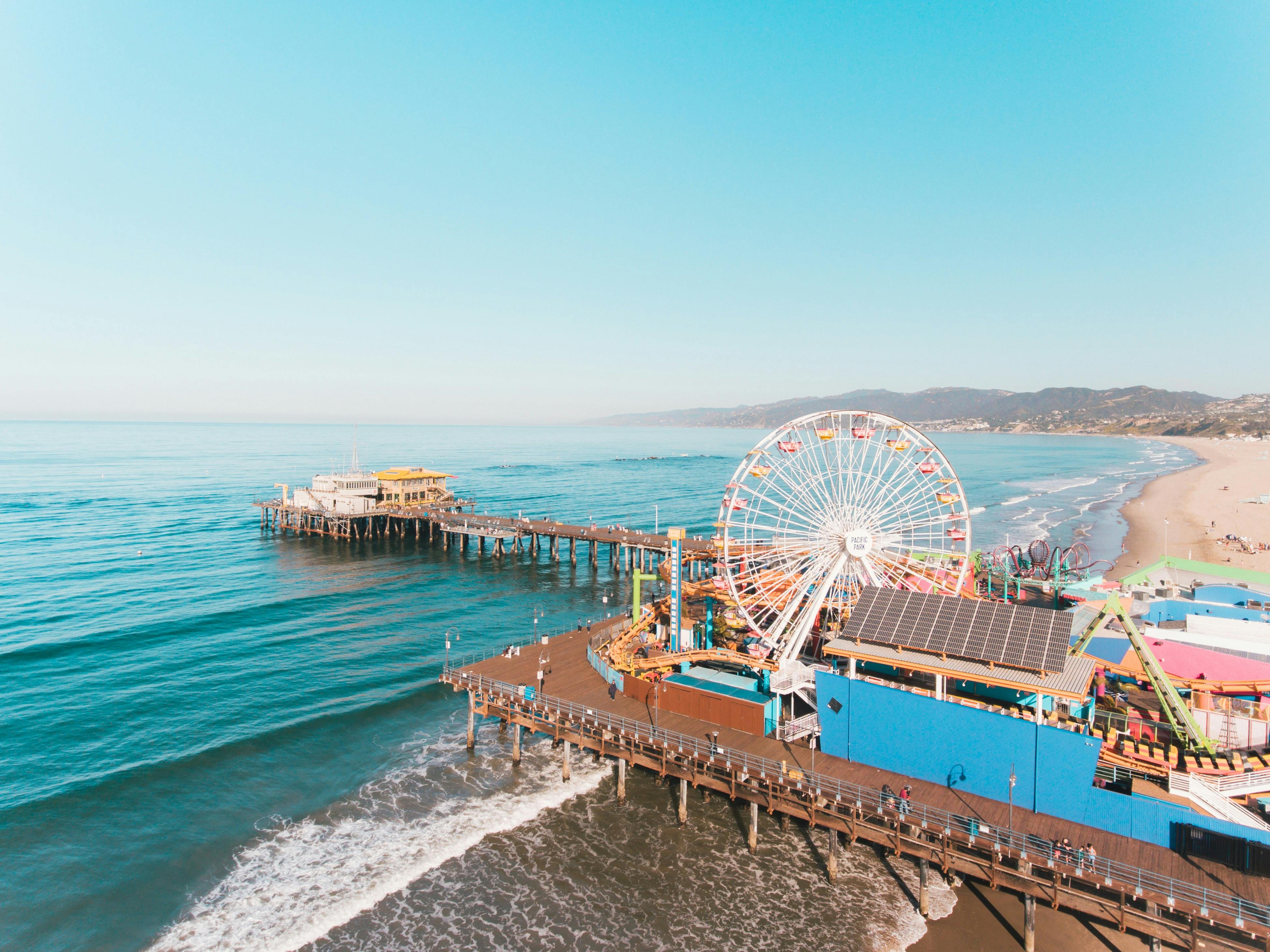 Santa Monica State Beach
Possibly the most famous of Los Angeles' beaches, Santa Monica Beach functions during the summer months like the outdoor living room of the city itself. The sandy beach here is absolutely packed with local Angelenos and visitors alike, which makes it a great place to hang out and people-watch. But this beautiful beach overlooking Santa Monica Bay is also packed with things to do, which is why it tops our list of the best beaches near Los Angeles.

Travel distance from Los Angeles
Santa Monica sits right on the edge of the city itself, so you won't have any trouble getting there. From downtown Los Angeles, it's only 16 miles to the beach, which means less than 20 minutes by car if there is no traffic (though this is Los Angeles, so there's always traffic). It's also possible to reach Santa Monica Beach by tram on the Metro E line, which will take about an hour. Bus Route 20 from downtown LA is another way to reach the beach that will take a little over an hour.

Activity recommendations
Santa Monica Pier: An absolute icon of the beach and the city itself, Santa Monica Pier is an unmissable experience while enjoying the beach in LA. This historic pier is home to an amusement park with rides and games, plus some fantastic restaurants, bars, shops, and everything else you need to enjoy a day or more on the beach. Yes, it's crowded in the busy season and at least a little bit cheesy. But this is too iconic an attraction to miss out on in Santa Monica.

Santa Monica State Beach: Obviously, the main attraction here is the three and a half miles of sandy beach. Patrolled by lifeguards, the beach is a great place to swim, though it can get some big waves that make it ideal for surfing. Stretch out in the sand, go for a swim, rent a bike or surfboard, or play a game of beach volleyball, and you'll soon see why Santa Monica State Beach is so popular with locals and tourists alike.

Annenburg Community Beach House: A staple of Santa Monica State Beach since it was built in the 1920s by Marion Davies, this beautiful house harkens back to the golden age of Hollywood. No longer a private home, this is now a beach house where you can enjoy playgrounds and a swimming pool along with art exhibitions and the occasional performance. It's a great way to get some culture while you enjoy this must-visit beach destination.

Winters in Los Angeles are notoriously mild, and there's a lot to be said for visiting Santa Monica in the cooler months. You'll have far fewer crowds to contend with, and the charming seaside town keeps its restaurants, bars, and shops open all year, so there's always something to explore. Since Santa Monica is so easy to reach from downtown LA, there's really no reason not to pay a visit, no matter what time of year you find yourself in LA.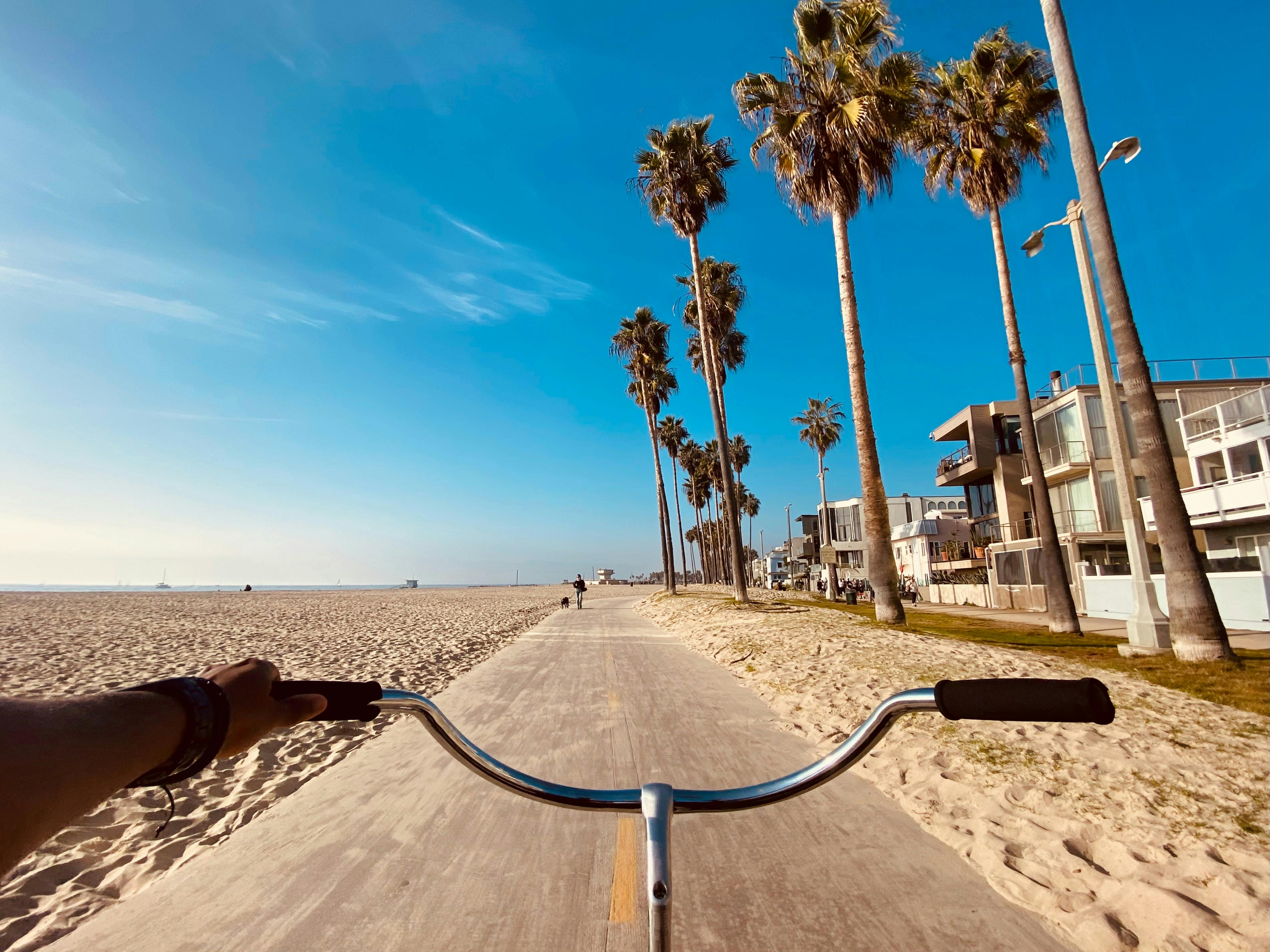 Venice Beach
Located right next to Santa Monica, Venice Beach is perhaps equally iconic. With golden sand, crashing waves, and reliable sunshine, Venice Beach provides everything you need for an enjoyable day at the water's edge. And because it's so easy to reach from the city, there's really no reason not to make the most of this spectacular destination.

Travel distance from Los Angeles
As with Santa Monica, Venice Beach is only around a 20-minute drive from downtown LA. You can also get there on public transit, taking the same tram line to reach Santa Monica and then catching a bus from there for a journey time of a little over an hour.

Activity recommendations
The Boardwalk: The boardwalk of Venice is one of the most iconic attractions in the area. Although this beachfront promenade can be a little grungy at times, it's still worth seeing while you're in the area. Home to some of the best shops, bars, and restaurants in Venice, this still remains a place to strut your stuff under the California sunshine and soak up the atmosphere of this beautiful town.

Venice Skate Park: More than just a regular skate park, this Venice institution has a serious claim to being the spiritual home of skateboarding. This is where surfers who had enough of the ocean developed the sport, so it's become something of a site of pilgrimage for skaters from around the world to this day. Whether you want to skate here or just want to soak up the atmosphere, it's a fascinating place to visit to get a glimpse into the LA counterculture.

Muscle Beach: If all the beautiful bodies of California have got you feeling a little inadequate, you can get your pump on at this well-known outdoor gym. With a variety of workout equipment on offer here, it's also a great place for people-watching, and there are often bodybuilding and fitness competitions here. Plus, if you're looking for other ways to stay active, you can always try your hand at surfing, skating, or playing beach volleyball here.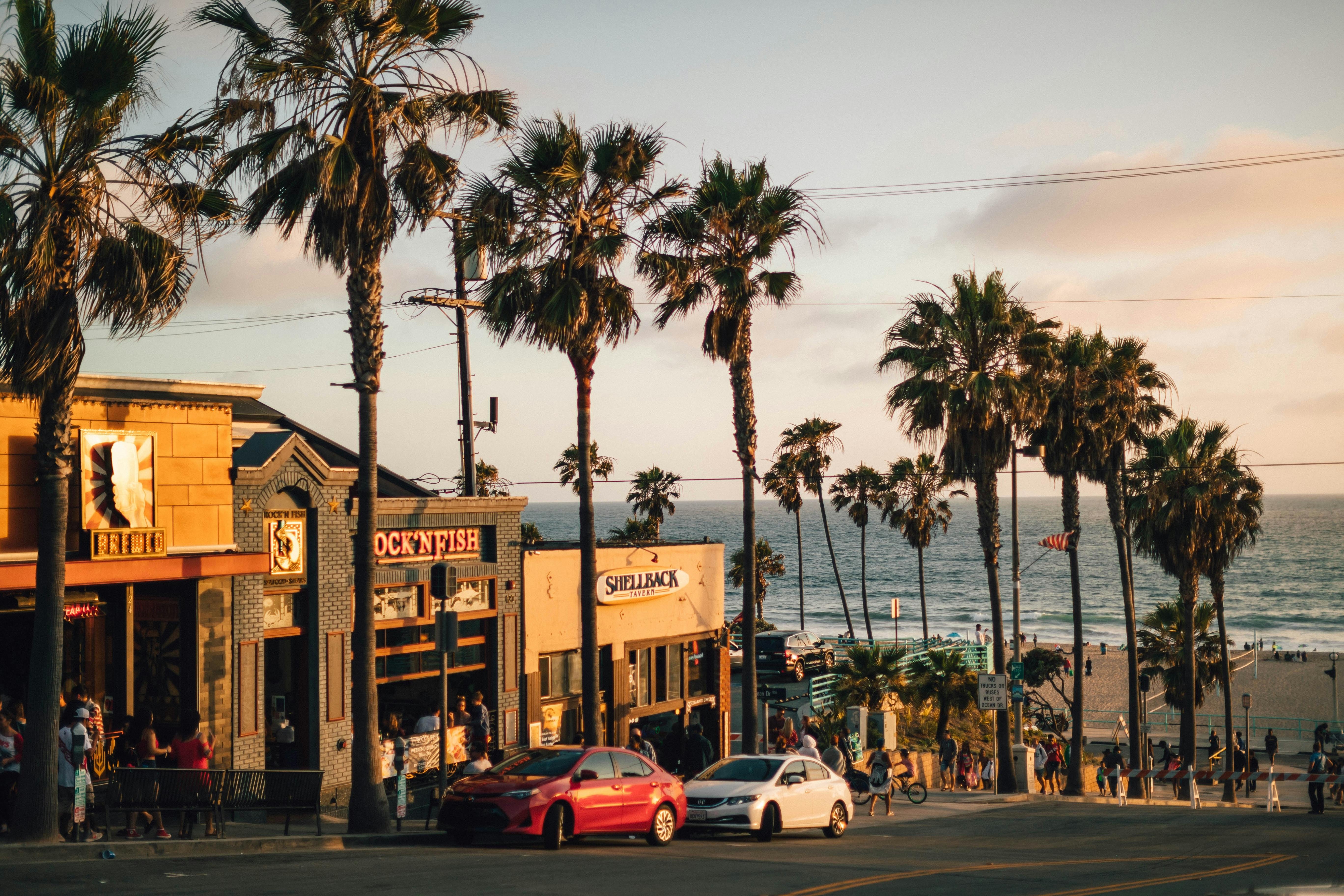 Manhattan Beach
Continuing with beaches that are easily reached from Los Angeles, Manhattan Beach is right on the edge of the city, a little south of Venice Beach. This two-mile stretch of sand is generally regarded as one of the best beaches on the Santa Monica Bay. Although it's less crowded than nearby Santa Monica, this isn't the place to come for solitude, especially in the summer. But it is a lively and beautiful beach where you can relax on the sand under the swaying palm trees or take part in some fantastic beach activities.

Travel distance from Los Angeles
From downtown LA, it's only around a 25-minute drive to reach Manhattan Beach. But if you don't want to have to fight for parking spots, you can also take public transport. Bus line 438A runs from downtown LA right to the beach and takes about 40 minutes to make the journey.

Activity recommendations
Sand Dune Park: For something a little more unusual, head a few blocks in from Manhattan Beach to find this neighborhood park named after the towering 100-foot sand dune it protects. Make a reservation beforehand, and you can access the dune, climb to the top before sliding and rolling down, then climb to the top to do it all over again. One of the more usual attractions in the area, it's a great way to enjoy the natural environment and take a break from the crowded beach.

Surfing: Los Angeles is blessed with lots of great locations for surfing, but Manhattan Beach may be one of the best. After all, this beach hosts the International Surf Festival every year. It may not be the best place for beginners, but if you have a few basic skills under your belt, you can rent equipment from a nearby surf shop and head out to catch the perfect wave.

Redondo Beach
Heading south along the coastline from Manhattan Beach, you'll find this more low-key coastal area. Redondo Beach is close enough to LA that it still gets lots of visitors, but this laid-back beach town offers a friendlier and more relaxed vibe than many nearby beaches, so it's a great place for a more chilled-out experience.

Travel distance from Los Angeles
At around 22 miles from downtown LA, Redondo Beach is easy to reach by car, requiring a drive of around 30 minutes.

Activity recommendations
Redondo Beach: Offering a mile and a half of golden sand and rolling turquoise waves, Redondo Beach is obviously the main attraction here. It's a great place to take a dip or stretch out on the sand, and there are beach volleyball courts and bike rentals to enjoy, as well as tide pools to explore. Popular with local families, this is one of the best beaches in Los Angeles to just relax and enjoy nature.

Hopkins Wilderness Park: If you really want to get away from it all, this 11-acre natural park offers hiking trails, playgrounds, and even overnight camping. While it may be located in the city, it feels a very long way away and is a great place to recharge your batteries.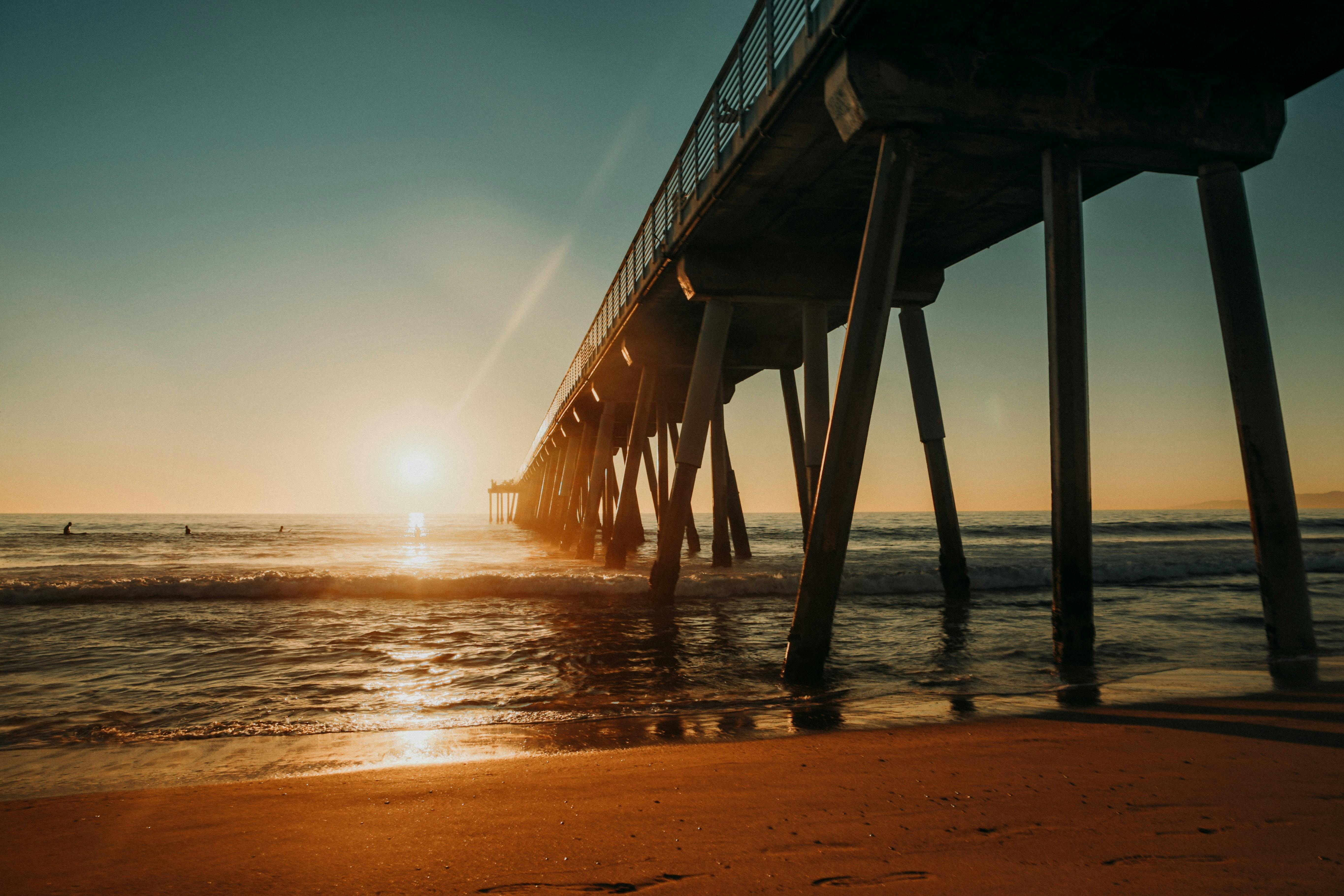 Hermosa Beach
Another popular beach close to central Los Angeles, Hermosa Beach is still usually popular but less so than busy destinations like Santa Monica and Manhattan Beach. With a good mix of a beautiful natural environment and helpful amenities, this is a great beach to consider.

Travel distance from Los Angeles
Located right next to Redondo Beach, Hermosa Beach takes around 30 minutes to reach by car. You can also get there on bus 438A in about 45 minutes.

Activity recommendations
Fishing: Like most of the beaches in the area, Hermosa Beach offers a long pier that stretches out into the water, but unlike many, the pier here doesn't have buildings on it. That makes it popular with local fishermen or anyone who wants to enjoy a nice walk with good views over the sea.

Pier Avenue: The main shopping artery of Hermosa Beach, this lively street is where you'll find all the best restaurants in town, along with quirky stores selling everything you need to enjoy your time at the beach.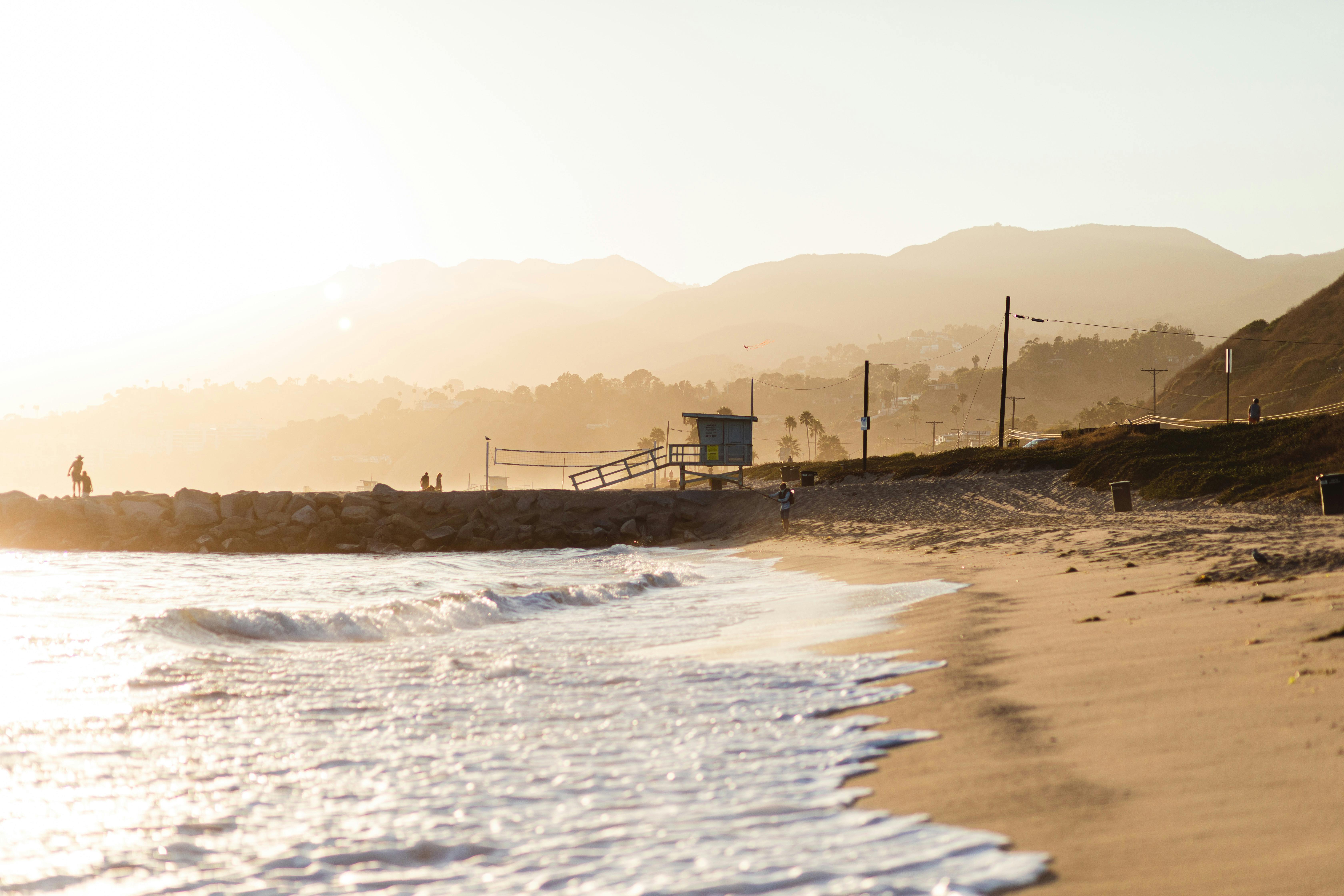 Malibu Lagoon State Beach
Along with all the fantastic urban beaches Los Angeles offers, you only need to take a short drive north on the Pacific Coast Highway to uncover more incredible beaches. Malibu Lagoon State Beach is one of the closest to the city and offers the perfect gateway to this wilder part of California.

Travel distance from Los Angeles
It's around a 30-minute drive from the heart of Los Angeles to Malibu Lagoon State Beach. It's also possible to get there by public transit, but that will take much longer - around a couple of hours.

Activity recommendations
Watersports: Given that it is also known as Malibu Surfrider Beach, it's no surprise to find that Malibu Lagoon State Beach is a great location for watersports. Surfing, snorkeling, and scuba diving are all popular activities here, and you'll find plenty of businesses in Malibu that will rent you the equipment you need to get out in the water.

Malibu Lagoon: This unique wetland area is a great place for nature lovers to explore. Traverse the hiking trails and boardwalks through the marshland and encounter local wildlife. It's a perfect way to get away from the crowds and enjoy the beauty of nature.

Conclusion
There are so many beaches in and around Los Angeles that any article like this can only hope to scratch the surface. Even in the city itself, you'll find tons of great beaches in Los Angeles, and driving the Pacific Coast Highway will expose you to even more of them. The beaches further from the city make great destinations for weekend trips from Los Angeles, while those inside the city are some of the best free things to do in town if you're doing LA on a budget. So what are you waiting for? Leave your heavy bags behind and discover some of the best beaches in Los Angeles.