Manchester Christmas Market: The Complete Guide
Published by:

Bounce
13 October, 2022
Manchester is a wonderful destination year-round, but it becomes more magical during Christmas. It transforms into a winter wonderland as indoor skating rinks become busier than ever, and visually appealing lanterns and impressive light installations brighten the trails and lush green trees at the parks. There are also Santa Specials, seasonal surprises, and family-friendly fun that will immerse everyone in the festive atmosphere.

But if there's something you don't want to miss out on during the holiday season, it's the Manchester Christmas markets. Manchester has some of the largest Christmas Markets in the UK, covering more areas of the city from November to December.

It's a feast for the senses, with multiple locations throughout Manchester city centre, attracting creative crafters and street food vendors. Not only will you find plenty of food and drink stalls to try local delicacies and delicious treats, but also buy fantastic Christmas gifts, like handcrafted bags, clothing, and jewelry.

Don't worry about your holiday shopping weighing you down. Let the Bounce luggage storage facility in Manchester take care of your belongings while you make the most of your Christmas adventure.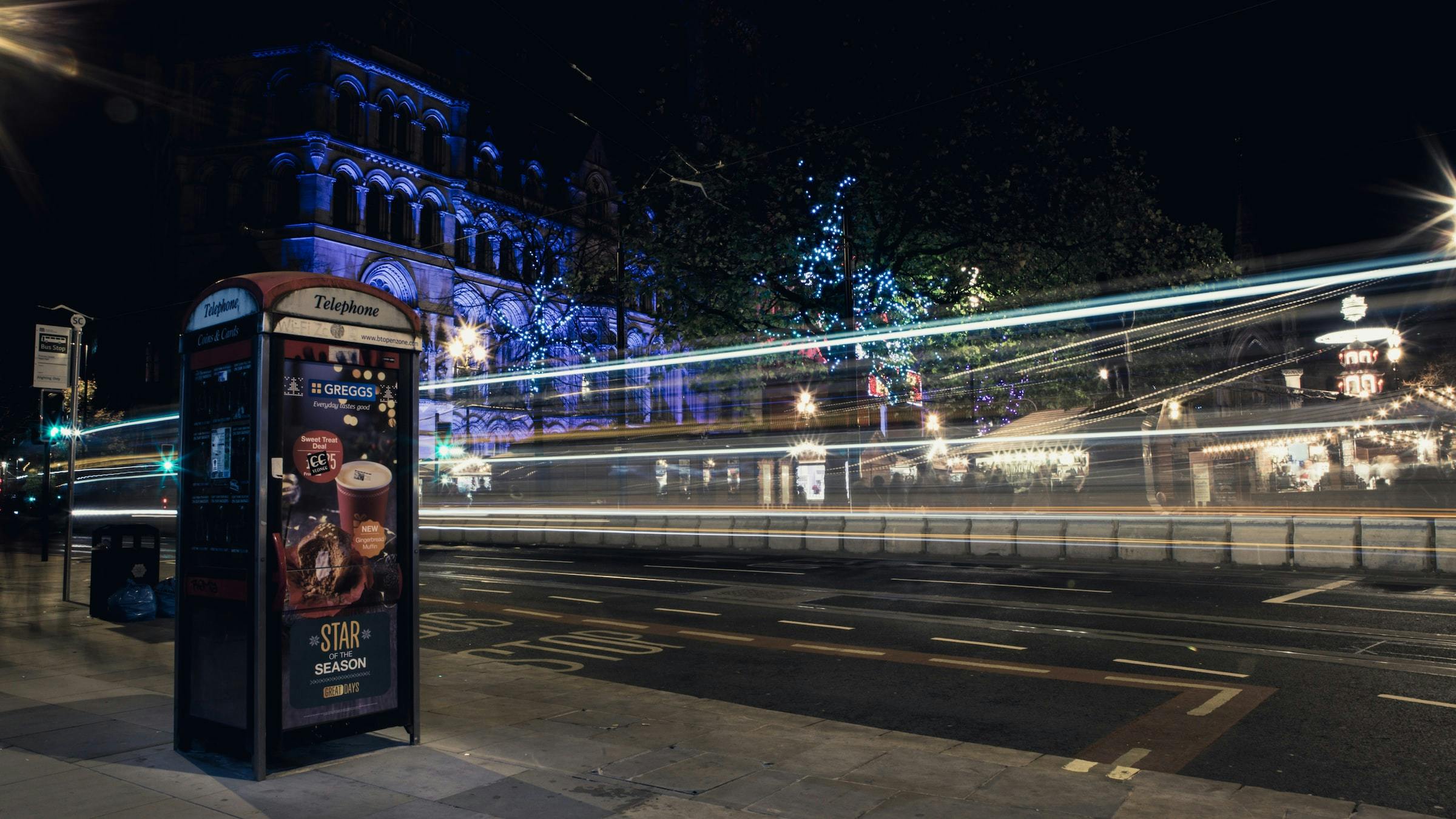 Cathedral Gardens Christmas Market
It's one of the most family-friendly Christmas markets in Manchester, offering a relaxed and welcoming atmosphere. It is home to the famous Skate Manchester, an outdoor skating rink at Cathedral Gardens in the heart of the city. It features a new ice path for visitors to skate around a giant Christmas tree.

Besides the ice rink, food lovers can find plenty of food and drink options, including local delicacies and delicious treats. There's also weekly entertainment like Giant Santa and kid's shows. It starts on November 12 and remains open until after the New Year in 2023.

What to do near Cathedral Gardens Christmas Market
You'll probably be busy ice skating, shopping, or exploring the food and drink stalls and other fun entertainment at Cathedral Gardens. But while in the area, check out Manchester Cathedral, featuring a gorgeous interior in the city's medieval quarter.

Albert Square Christmas Market
Albert Square is one of the primary locations for Manchester Christmas Markets. You can grab a beer and chill on the second floor of the iconic Windmill Bar for the best view or stroll through the rows of crafts and food stalls. You can sample German favorites like strudels and sausages, but international snacks and street food, like waffles and sandwiches, are also available. It is open daily from 10 AM to 9 PM.

What to do near Albert Square Christmas Market
Centrally located in Manchester, Albert Square offer plenty of nearby attractions to discover. It's right in front of Manchester Town Hall, a Grade I listed Victorian Gothic building in the city centre. It's also close to St Peter's Square and other smaller statues and buildings.

St Ann's Square Christmas Market
If you're in the city for the famous Manchester Christmas markets day, another colorful and interesting destination is St Ann's Square. You'll find plenty of fascinating stalls and vendors here selling everything from pastry and homemade chocolates to soaps, handmade leather watches, driftwood sculptures, and more.

One of its highlights is the Manke Markets. It's the oldest stall in St Ann's that offers an impressive selection of gluhwein, German beer, and a range of German delights.

What to do near St Ann's Square Christmas Market
You'll probably be busy at the market during the festive season. Still, it's a great opportunity to swing by the shops, restaurants, and bars. It's also tucked between St Ann's church and the Royal Exchange Theatre, which are also worth visiting.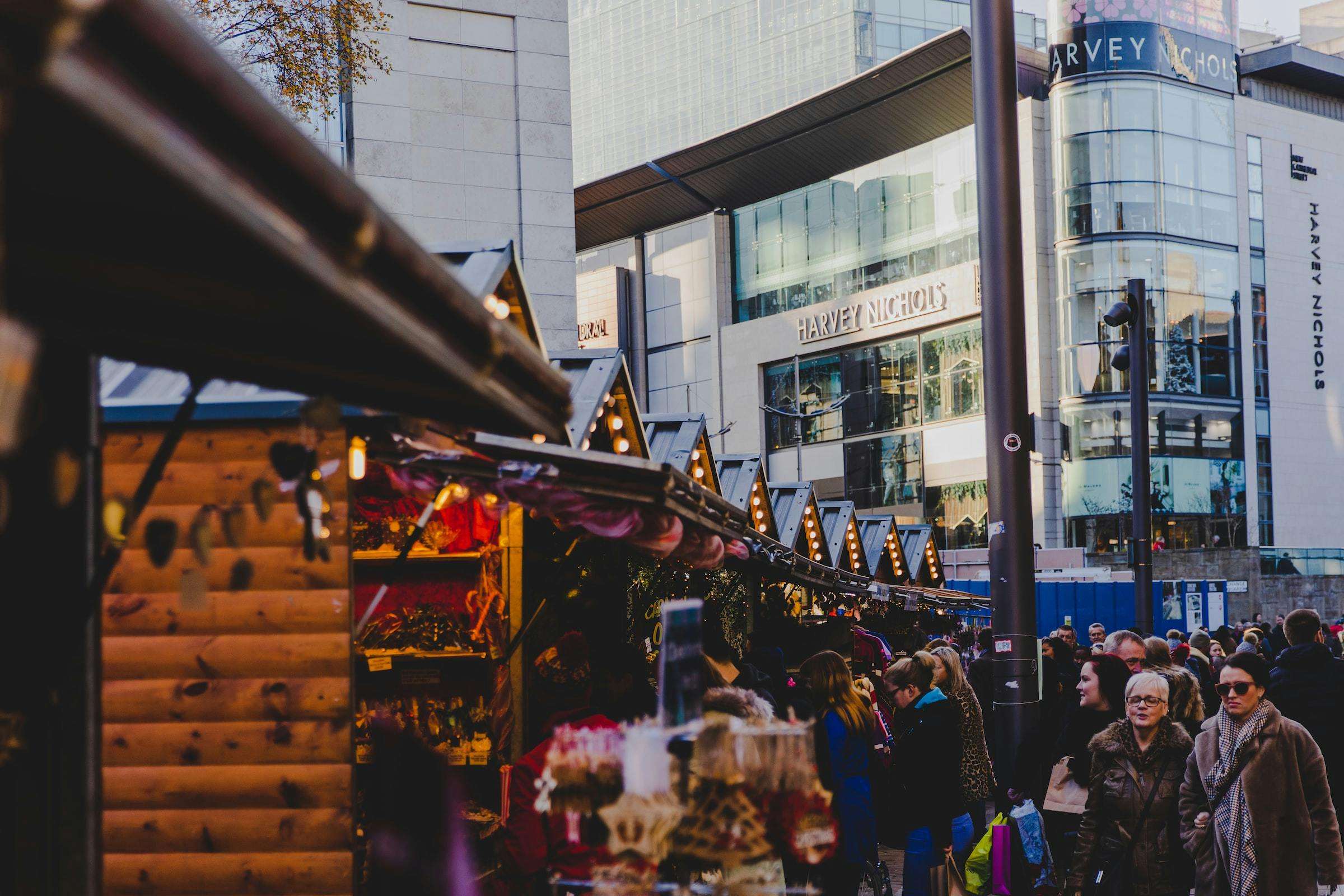 Market Street Christmas Market
As Manchester's main shopping area, Market Street is a must-visit Christmas destination for some retail therapy. It's home to numerous shops, from boutiques and artisan shops to high-end stores. Even the pedestrian street is lined with chalets selling gift items and unique products.

Apart from the stores and shops, expect to see buskers, street artists, and performers at Market Street Christmas Market. It opens from November 12 between 10 AM to 7:30 on November and 10 AM to 8 PM on December. All bars remain open until 9 PM.

What to do near Market Street Christmas Market
If you're done shopping, you can easily walk to the picturesque Piccadilly Gardens (Manchester Piccadilly Station is nearby for further ventures) in the central city. This extensive green space also hosts several events each year, including the Winter Gardens attraction.

King Street Christmas Market
The list of Manchester Christmas Markets 2022 won't be complete without mentioning the vibrant market at King Street. It's a food lover's paradise, especially if you're craving French and Italian delicacies. You can bike French saucisson and Italian cheeses and cured meats to accompany your favorite wines. There are also crepes, macaroons, and other local and international treats.

Fur parents will be glad to know that dogs are allowed in the market as long as they're on a leash. However, it tends to receive large crowds, so it might be better to just leave your furry friend at home. It is open daily from 10 AM to 7:30 PM in November and 10 AM to 8 PM in December.

What to do near King Street Christmas Market
King Street is strategically located at the center of CBD, a short distance from the Arndale shopping center, the elegant Spinningfields, and Selfridges. It's also a stone's throw away from St Ann's church and the historic Personage Gardens.

New Cathedral Street and Exchange Square Christmas Markets
About a minute's walk from each other are two incredible Manchester Christmas Markets you shouldn't miss. New Cathedral Street will welcome different sellers, shoemakers, and creative artisans. One of the main features is the Witch House, serving festive food and German sausages. The nearby Exchange Square, on the other hand, will impress visitors with its stretch of vendors selling jewelry, Christmas gifts, and more. You might even get a hold of souvenir Manchester Christmas markets mugs.

What to do near New Cathedral Street and Exchange Square Christmas Markets
Still looking for things to do to fill your days after exploring these markets? The Manchester Cathedral and the National Football Museum are only a short walk from the street and Exchange Square.

Experience the Festive Spirit in Manchester
Discover the colorful and lively Manchester Christmas Markets and celebrate the yuletide season with a bang. They are located across the city centre, near major train stations, business areas, and shopping districts. So they're easy to reach and close to other attractions and entertainment.

Now you are ready to enjoy the Christmas Markets in Manchester. For more things to do in Manchester, check out these other guides.

What to Eat in Manchester: 12 Treats You Should Not Miss