X beaches near Los Angeles: Where to go for sun, sand, and surf
Published by:

Bounce
28 April, 2023
As is the case with most Australian cities, Sydney is located on the coast and offers some incredible beaches both in the city itself and just outside. In fact, Sydney is home to some of the best beaches in Australia, if not the world, with legendary locations like Bondi Beach, ensuring that this New South Wales city is known around the world for its incredible beach life. Spending time on the beach is a fundamental part of Australian culture, so by enjoying the ocean, the sand, and the abundant sunshine on the best beaches near Sydney, you'll be enjoying the city the way the locals do.

The scenic beauty of Sydney Harbour and all the great things there are to do in the city make it a hard place to leave. Luckily, you don't have to in order to have a great day on the beach. It's easy to find a family-friendly beach or a hot spot to party at, no matter where you go.

To make your trip to Sydney's beaches easier, drop off your bags at a Sydney luggage storage with Bounce. Traveling light will make it much easier to get the best out of these incredible Australian beaches, and you won't get sand in your suitcases while they are safely looked after until you come to pick them up.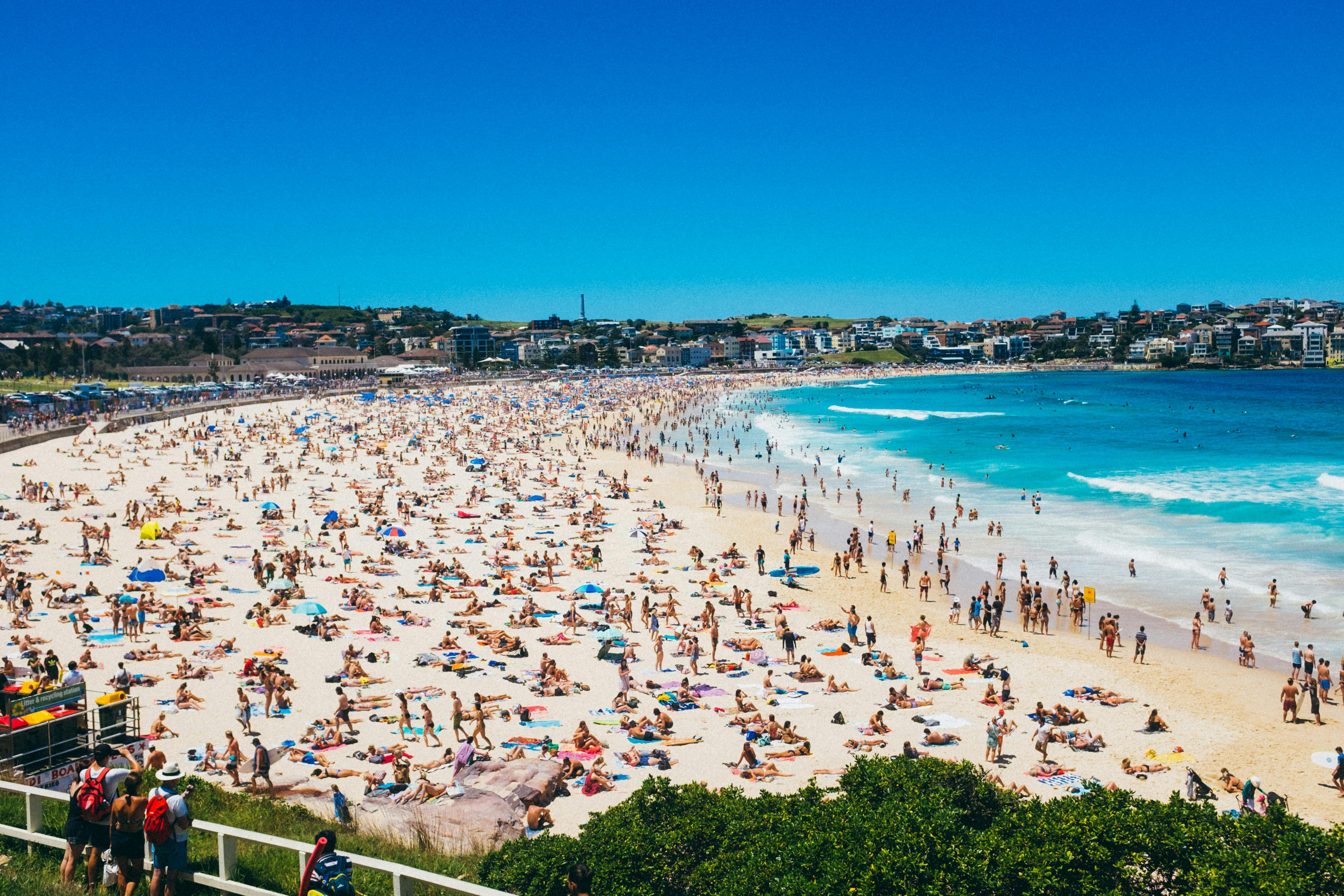 Bondi Beach
Let's get the most obvious one out of the way first. Bondi Beach is famous around the world and is one of the top tourist attractions in Sydney. Listed on the Australian National Heritage List, Bondi Beach is about as iconic as beaches get, so don't expect to have this beautiful crescent of golden sand all to yourself no matter when you visit. However, if you want a lively atmosphere and plenty of things to do, Bondi Beach is tough to beat.

Travel distance from Sydney
Bondi Beach sits on the edge of the city itself. From Sydney CBD and Sydney Harbour Bridge, you can reach the beach with a drive of about 15 minutes. You can also get here by taking public transport from Hyde Park to the beach itself in around 45 minutes.

Activity recommendations
Swimming: Most visitors to Bondi Beach come to enjoy the clear waters and cool off with a swim, and there are few better places to do it this close to the city than here. Bondi Beach does get some strong surf at times, so make sure to stay within your comfort zone. The Bondi Beach surf patrol is one of the oldest of its kind in Australia, and they keep a close watch on the beach to help anyone who gets into trouble, so it's a good place to take a dip if you're not especially confident in your swimming abilities.

Hiking: Bondi Beach is known for the Bondi to Bronte Beach Coastal Walk. This three km walking trail will take you along the cliffs beside the beach and give you incredible views out over the coast. If you're looking to stretch your legs and get some exercise or just enjoy views of many of the best beaches in the area, this is the place to do it.

Bondi Markets: Located just behind the beach, this lively open-air market is a great place to shop and soak up local color. You'll find everything for sale here, including clothing, jewelry, vintage records, furniture, and handicrafts. Plus, there's always a great selection of food on offer from local food trucks, and often street entertainers perform for the crowds.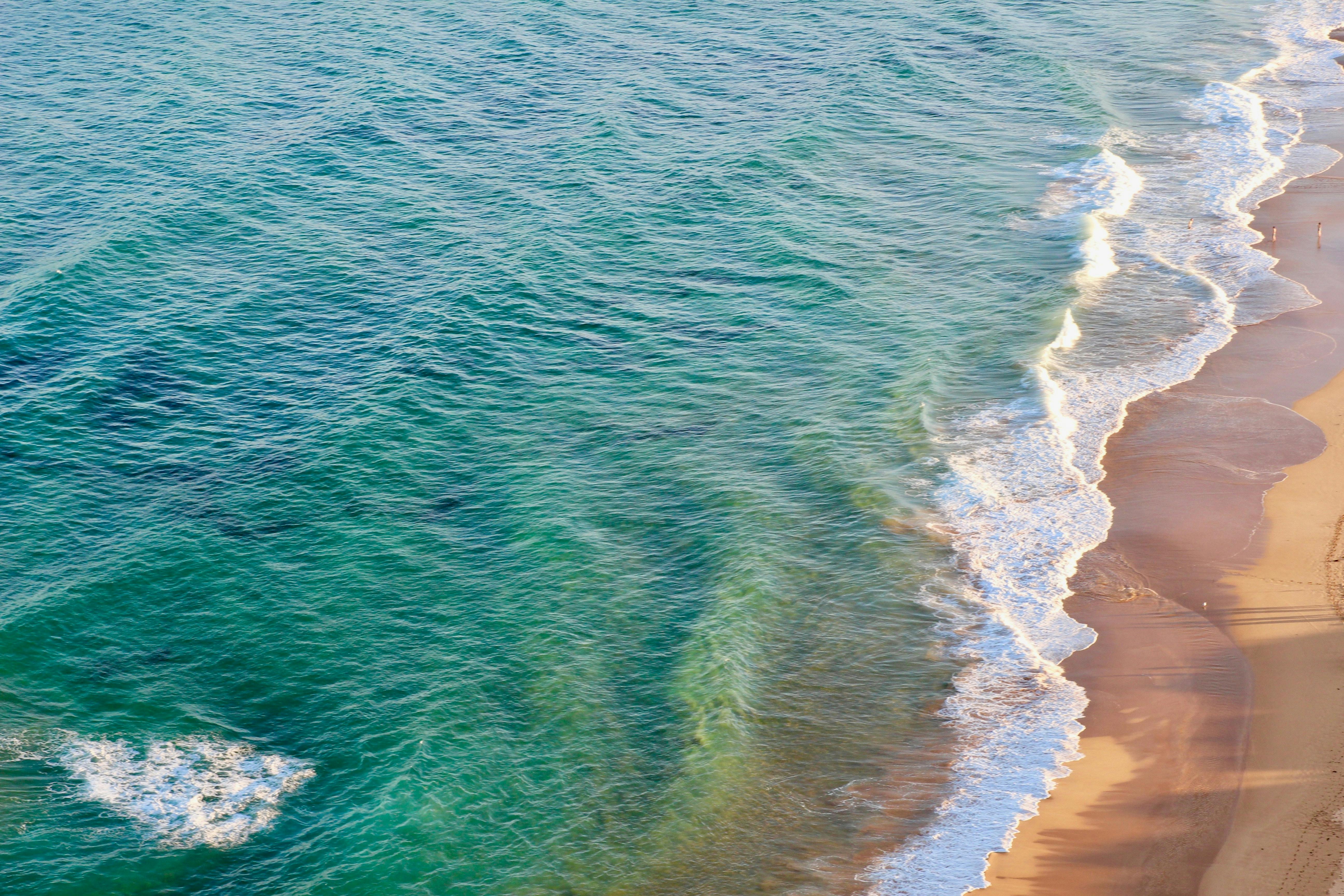 Palm Beach
Situated on a narrow peninsula outside of Sydney itself, Palm Beach really offers two beaches in one. The main beach faces the ocean and gets some strong winds which can result in big waves that are ideal for surfing but not so great for swimming. On the other side of the peninsula, however, the smaller inland beach has calmer waters ideal for taking a dip.

Travel distance from Sydney
At about 45 km from the city itself, driving to Palm Beach takes around an hour. It's also possible to get here via a series of buses, namely the 190X and the 199, which will take closer to an hour and a half.

Activity recommendations
Swimming: The beach on the western side of the peninsula faces Pittwater, a protected natural harbor that offers much calmer water than the oceanside beach. That makes it a great place for swimming for all skill levels and one of the best beaches in Sydney to take a dip even if you're not a strong swimmer. Plus, the beaches here have some of the best water quality of any Sydney beaches, making them perfect for a refreshing swim.

West Head Lookout: Located on the other side of Pittwater from Palm Beach, this beautiful location is ideal for scenic views. There are lots of hiking trails and even a campground in the area if you want to stay a little longer and explore the more natural side of New South Wales. The Lookout is also famous for its aboriginal rock art, which gives you a glimpse into the history and culture of Australian aborigines.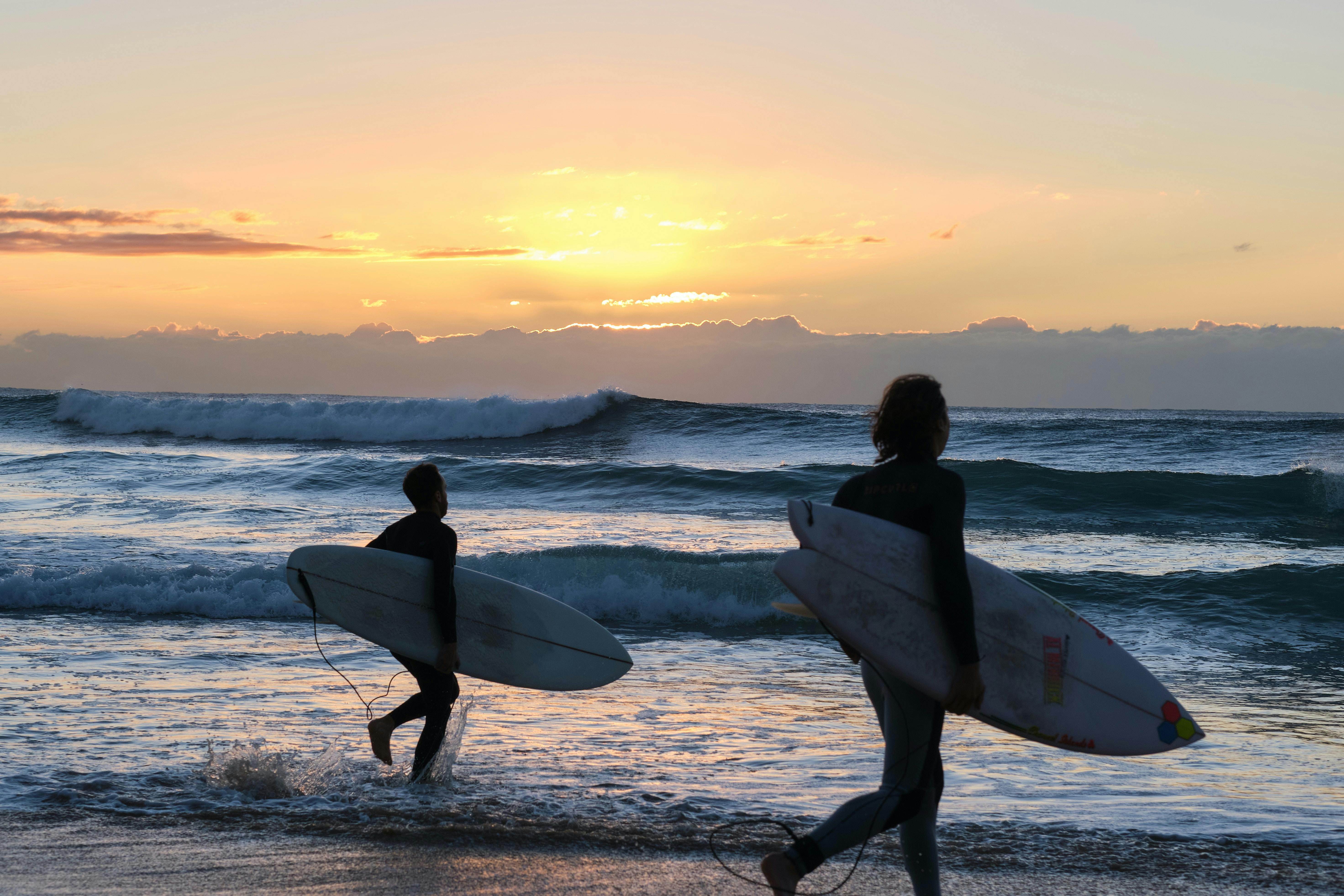 Manly Beach
Another of the most famous beaches in Sydney, Manly Beach provides great things to do for both thrill seekers and families looking to spend a relaxing day by the water. Easy to reach from the heart of Sydney, Manly Beach is a great place to explore Australian beach culture and have a lot of fun at the water's edge.

Travel distance from Sydney
Getting to Manly Beach is part of the attraction. The ferry ride from Circular Quay will give you incredible views of Sydney Harbour with its famous bridge and Opera House, and it only takes 20 minutes to reach the beach. Alternatively, you can drive here from the city in around 15 minutes.

Activity recommendations
Surfing: Part of Manly Beach faces the ocean and gets powerful waves that make it ideal for surfing. In fact, this is one of the most popular surf beaches in Sydney and is a wonderful place to work on your skills or try the sport for yourself. You'll find plenty of surf shops and surf schools in this area, so you can rent equipment or take a class to engage in this classic Australian pastime.

Sydney Harbour National Park: Close to Manly Beach, you'll find this small but beautiful National Park that offers some of the best views of the city of any of the beaches in Sydney. Explore the hiking trails, go for a bike ride, or bring a picnic to enjoy the tranquility and natural beauty of this treasure.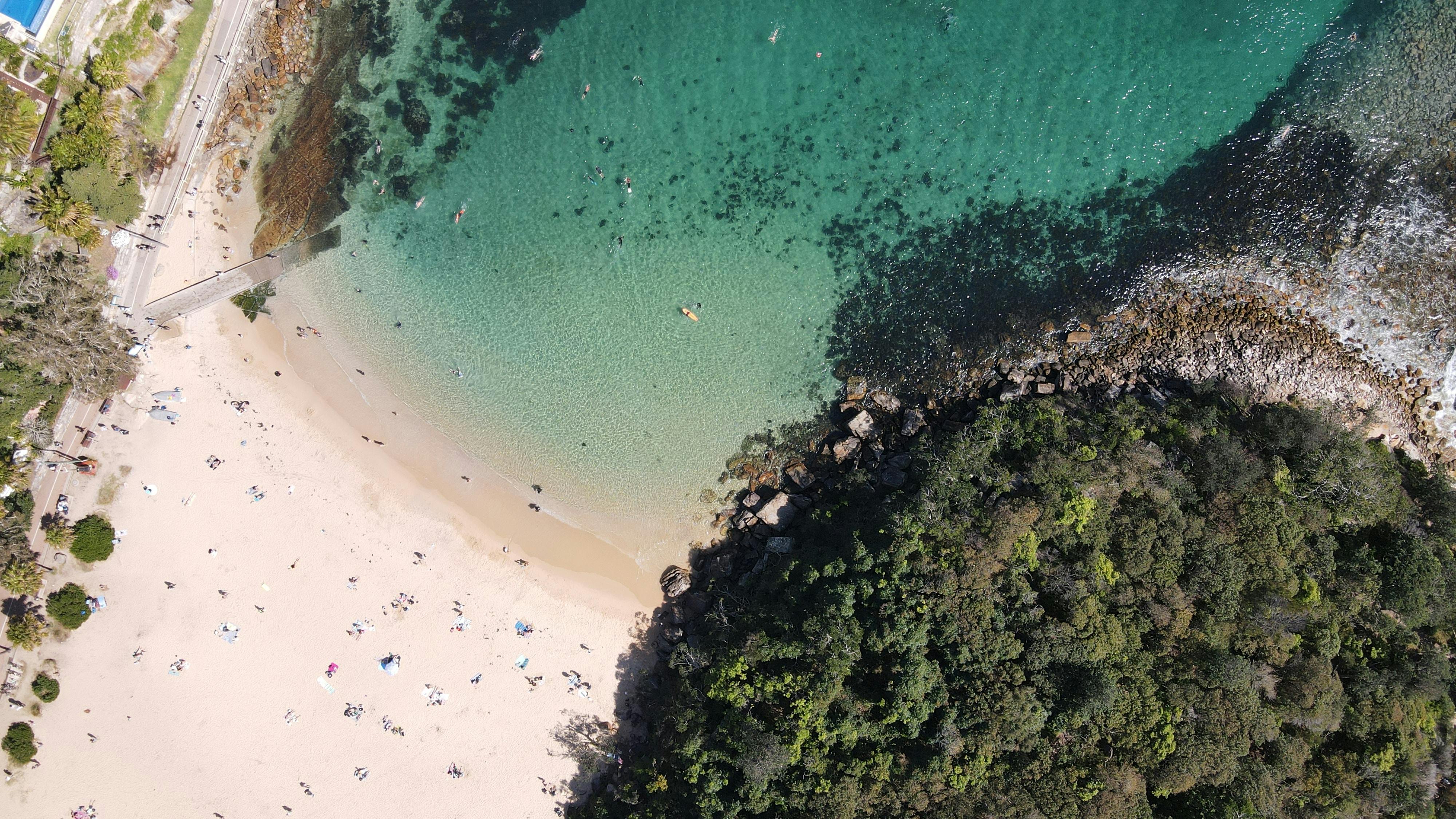 Shelly Beach
Located in the Northern Beaches region close to Sydney, Shelly Beach is close to Manly Beach, and you could easily visit both beaches in a single day or on an extended trip. This small beach provides a good alternative to its busy neighbor, so if you're looking to relax and enjoy the fantastic nature of the area, Shelly Beach is a wonderful place to do it.

Travel distance from Sydney
Shelly Beach occupies the same peninsula as Manly Beach, and the two are within walking distance of each other. Drive or take the ferry to this beautiful beach located only around 15 to 20 minutes from the heart of Sydney.

Activity recommendations
Cabbage Tree Bay: Shelly Beach is part of this 20-hectare marine reserve, and the crystal-clear and shallow water here makes this an exceptional location for swimming, snorkeling, and scuba diving. You'll find plenty of businesses in the area that will rent you equipment or take you on a tour to get you dive certified so you can explore the underwater world and encounter Australia's rich marine wildlife.

Beachcombing: Shelly Beach is not named after a person but instead gets its name from the seashells you can find strewn across the sand right through the year. This makes it a fascinating place for shell collecting and beachcombing, and kids especially will love the beautiful treasures they find on this stretch of sand.

Hiking: Picturesque Shelly Beach is the starting point for the Manly Scenic Walkway, a 20 km trail that takes you along this beach and Manly Beach to provide you with magnificent views of the coast.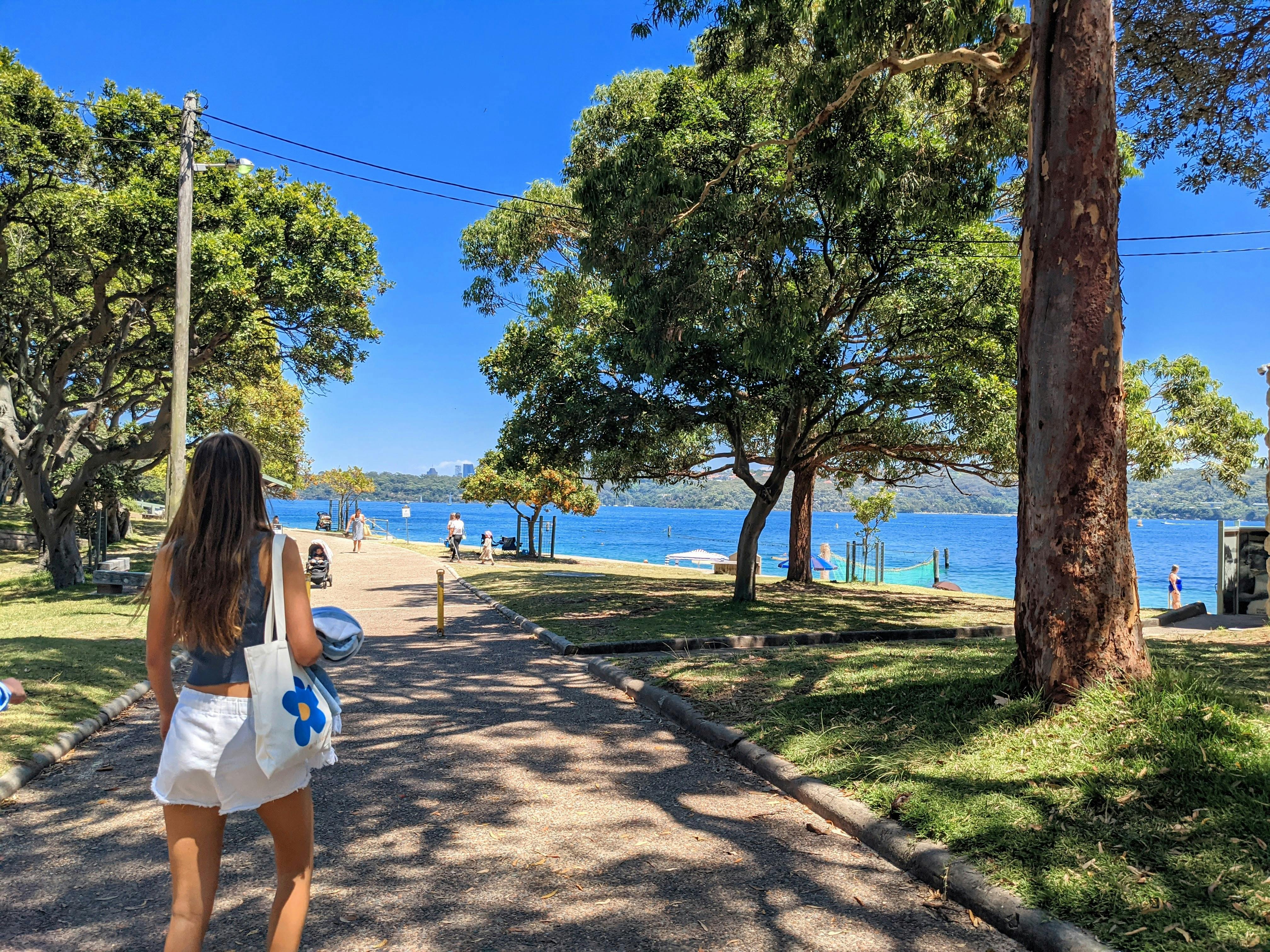 Shark Beach
This place may not have the most inviting name of the city beaches in this article, but don't let that put you off. This popular family-friendly beach is where Sydney parents come to let the kids burn off some energy and enjoy a laid-back atmosphere.

Travel distance from Sydney
Close to 10 km outside the city, Shark Beach is reachable with a drive of only 15 to 20 minutes. It's also possible to get here from the city center via public transit, which will take more like 25 minutes.

Activity recommendations
Nielsen Park: Located right behind Shark Beach, Nielsen Park is part of why this area appeals so much to families. Nielsen Park has some great hiking trails and coastal lookouts, along with an interesting heritage building in the form of Greycliffe House, built in 1851.

Swimming: To anyone but an Australian, saying you're going swimming on Shark Beach might sound like a bad idea. But in fact, this is one of the best Sydney beaches for swimming, with shallow, crystal-clear water and an enclosed swimming area so kids and adults alike can have a great time paddling in the water and cooling off from the sun.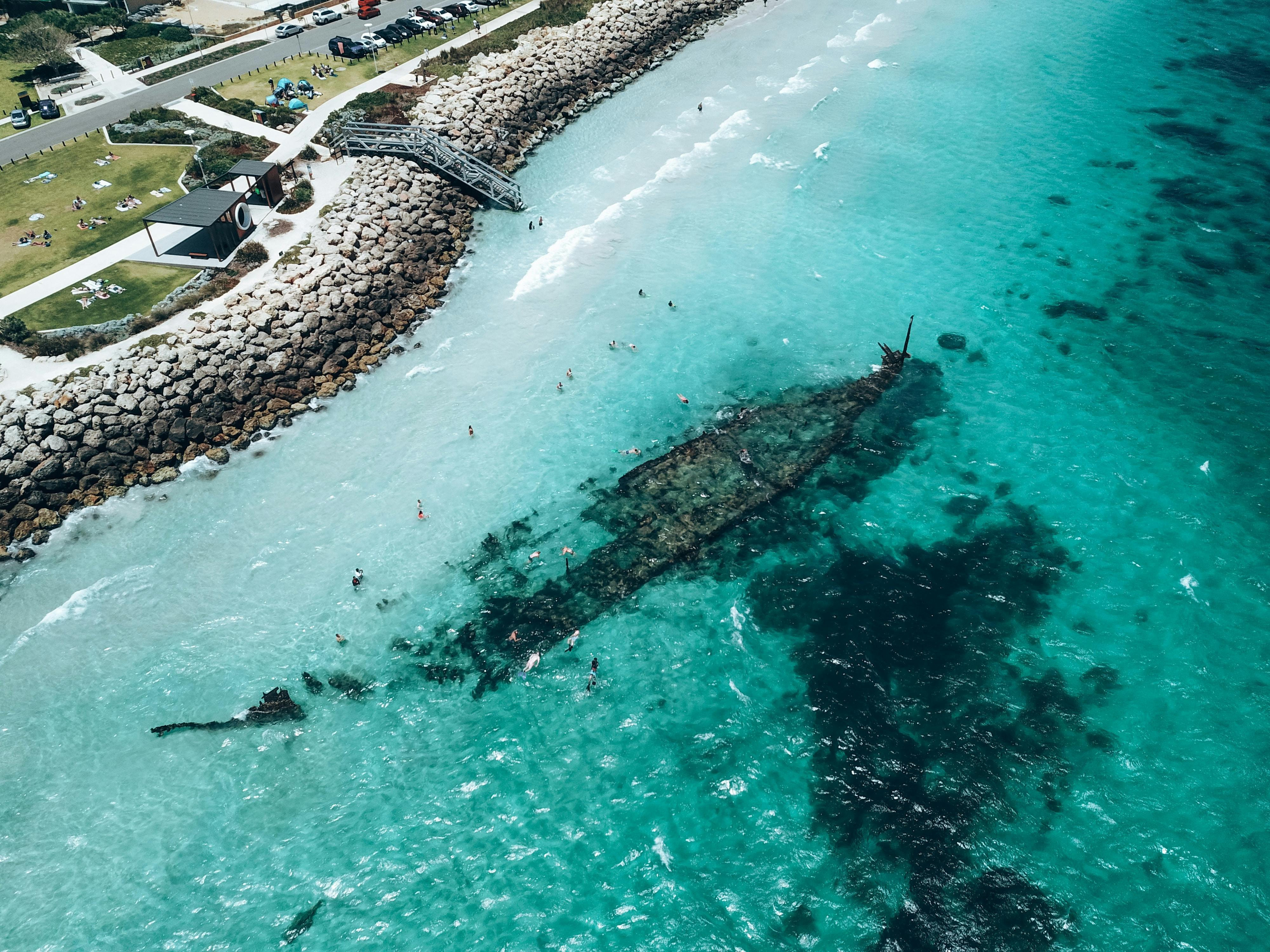 Coogee Beach
Located in the eastern suburbs of Sydney, Coogee Beach is a popular and well-developed beach that is often referred to as a smaller version of Bondi. Great for swimming, this beach is close to a built-up area where you'll find tons of bars, restaurants, and other fun things to do.

Travel distance from Sydney
About 10 km from Sydney CBD, Coogee Beach is only a 20-minute drive away. You can also get here by bus in around 35 minutes from the city center.

Activity recommendations
Hiking: The Bondi to Coogee walk is a popular hiking trail that stretches for 6 km between the two popular beaches, offering incredible ocean views along the way. If you're feeling energetic, you can walk to one beach from the other, and because both of these beaches are so well served by public transportation, you can easily get back to the city from either one.

Picnicking: Goldstein Reserve is a large park located just behind Coogee Beach that has picnic facilities and exceptional views. Bring some food with you and indulge in a great Australian tradition, the beach barbecue.

Swimming: Naturally, there are tons of great swimming destinations on the beaches of Sydney. However, with lifeguards on duty throughout the summer and the natural swimming area of Giles Baths at one end of the beach, Coogee is easily one of the best of them. Grab your swimsuit and take a dip in the refreshing waters off the coast of New South Wales.

Conclusion
There are so many great beaches in Sydney that it can be hard to choose just one. And along with these incredible city beaches, there are more wild and secluded beaches to be discovered in Royal National Park and in other areas outside the city that make great destinations for weekend trips from Sydney.

You can't visit Sydney without spending at least some time on the beach. Plus, these beaches provide some of the best things to do in Sydney on a budget. So drop off your bags at a convenient luggage storage location and get ready to enjoy famous Bondi Beach and the other beaches that make this city such a great destination for beach lovers.