More about Philadelphia
Store Your Luggage in Philadelphia
As a beacon of liberty in the annals of American history, Philadelphia is one of the most beloved cities in the U.S. Largely unrivaled when it comes to colonial legacy and historic architecture, Philadelphia is a charming urban sprawl for tourists and natives alike. Known colloquially as Philly, the city has done a wonderful job of marrying the old and new as far as cultural attractions and activities go. While wandering around the City of Brotherly Love, we invite you to temporarily store your bags with Bounce for a modest daily rate.

For Locals
Do you live and work in Philly? Are you seeking a storage solution so you won't be held down by your briefcase, gym bag, or backpack as you hop from one activity to the next? Simply book with Bounce for bag storage in Philadelphia.

For Tourists
Are you headed to Philadelphia for work or leisure? Maybe your Airbnb check-in isn't ready for a couple of hours, or perhaps you have some time before making your way to the airport and want to maximize your time exploring the city. No matter the case, you can avoid planning your day around your stuff by counting on Bounce for luggage storage in Philadelphia.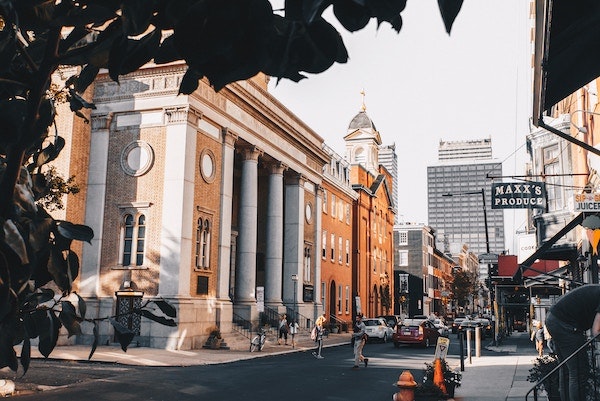 Luggage Storage in Philadelphia
We completely understand the inconveniences that physical baggage can cause in everyday life, which is why we created Bounce. We're proud to partner with local businesses around Philadelphia so you can drop off your things and traverse the city with ease. We can assure you that storing your bags in Philadelphia is a breeze with Bounce.

Safety
Philadelphia, Pennsylvania, is closely linked to age-old American history as well as contemporary American culture. Philadelphia played a crucial role during the American Revolution. This fact is reflected in the city's art and architecture. The Liberty Bell - an artifact from America's fledgling years - is housed in the "City of Brotherly Love." Philly is also the hometown of the Fresh Prince of Bel-Air, as well as Rocky Balboa - two icons of film and TV. 

It's common for major metropolitan areas to have higher than average crime rates. Philadelphia fits this trend, ranking 8th on the National Crime Index - 100 representing cities that report the least amount of crime annually, and 1 representing cities that record the most crime. On average, 1 out of every 110 Philadelphians reports violent crimes, while 1 out of every 32 citizens announces property related crimes annually. Your visit to Philadelphia can be a safe and fun experience, so long as you stay sharp and plan ahead. Secure your belongings with Bounce's luggage storage, and don't hesitate to contact the Philadelphia Police Department if you have probable cause.

Frequently Asked Questions
"What's the best way to get around Philadelphia?"

Philly is a very accomodating city for walking, biking, and electric scootering. Many of the city's major monuments, museums, and attractions are all very near one another. The PLASH bus can also help you travel around quickly and safely. You'll only have to rent a car or hail a taxi if you're planning on visiting the far ends of the city.
"Is public transportation in Philadelphia safe?"

Undoubtedly. However, you'll have to stay alert when you're waiting for buses or trains to arrive. Most American metropolitan areas have several unspoken rules in terms of public transit; don't stay glued to your phone during your entire trip. Be friendly to others, but give them space. Avoid traveling alone during the evening or at night. Really, common sense is all you need to stay safe while using Philly's public transit system.
"What's the best neighborhood to stay in Philadelphia?"

"What are the best museums to visit in Philadelphia?"

There is no shortage of iconic landmarks and unusual museums in Philadelphia. Fresh Prince fans have to sign up for a "Fresh Prince Tour," where they can visit the basketball court from the show. Boxing and film lovers can also travel to the Rocky Statue and re-enact Rocky Balboa's legendary run through the city.
"What's the best time of year to visit Philadelphia?"

The earlier in the year that you visit Philly, the better. The City of Brotherly Love has a spring scene that's second to none. Prices for everything from plane tickets to hotel rooms will also be much cheaper than they would be in the summer or fall.