Luggage Storage Rittenhouse Square
Instantly reserve the best locations near Rittenhouse Square to store your luggage for just $5.90/ day
$10,000 insurance included

Security seals provided for max safekeeping

Book instantly online, free to cancel
How it works
Search Locations

Select the most convenient location for your needs

Book online

Instantly reserve your space in a few clicks

Drop off items

Head to the store and show your reservation

Enjoy the city

Go about your day without lugging around your things
Rittenhouse Square Luggage Storage Guide 2021
Are you wondering, "Where can I store my luggage near Rittenhouse Square?" Perhaps you just arrived in Philadelphia and need a place to store your bags near Rittenhouse Square before you check into your hotel or AirBnB -- or maybe you just checked out and don't want to drag your bags around with you for the rest of the day.

Perhaps, you're planning on shopping at Reading Terminal Market, Two Liberty Place, or Betsy Ross House and need a place to store your bags. Or, you're planning on sightseeing in the Rittenhouse Square area at Liberty Bell Center, Independence Hall, or Rocky Steps and don't want to be burdened by your baggage.

If you wish to catch a game at Franklin Field or visit local museums like Liberty Bell Center you may find that luggage is not allowed in these venues.

Don't worry, there are plenty of options for luggage storage near Rittenhouse Square!


Luggage storage nearby Rittenhouse Square with Bounce
Bounce is one of the largest luggage storage networks in Philadelphia with multiple locations near Rittenhouse Square.

Featured in The Boston Globe, Techcrunch and Forbes, Bounce is present in more than 100 cities. We partner with local hotels and shops to open up space for you to drop off your bags in essentially any major neighborhood.

Our team vets each location and provides all the security measures including insurance, security seals, and well-trained staff.

Bounce is the #1-rated bag storage network with thousands of 5-star reviews. Many of our shops are open for luggage storage 24/7 but this varies by location… we strategically open new spots so you can find the closest location to temporarily store your bags. Our prices in the Rittenhouse Square area start at just $5.90/day.

Book through our or mobile app (required) so that we can cover you with insurance, space availability, and our 24/7 customer support. We love to travel as much as you so we make it as easy as possible! There are no size limits for suitcases or backpacks stored with Bounce. For less than a cup of coffee per bag, you can enjoy your entire day without dragging your bags with you!

Here are some ideas for making the most of your time in the Rittenhouse Square area now that you are free from your baggage. Some notable places to relax before a flight are Ridley Creek State Park, Liberty Bell Center, and LOVE Park. You can also go for a hike around John Heinz National Wildlife Refuge, Ridley Creek State Park, and Centennial Arboretum. And if you're looking for a night on the town, check out Howl at the Moon, Monk's Cafe, and Bob and Barbara's.


Why is Bounce the best luggage storage provider in the Rittenhouse Square area?
✅Multiple locations near Rittenhouse Square
✅$10,000 Bounce Guarantee on each booking to protect your belongings
✅Vetted store locations to ensure trust and safety
✅2 minute booking process online or via mobile app, then just walk in and check your bags in
✅Thousands of 5 star reviews, hundreds of thousands of bags stored
How do I store luggage near Rittenhouse Square with Bounce?
You can find the closest luggage storage location to Rittenhouse Square really easily. Simply select a location here. Find the shop that meets your preferences in terms of location & hours. Once you've chosen a location, you can book in under 2 minutes. We'll ask for payment details upfront, but you can cancel your reservation if you end up not needing it.

Space does fill up so booking before you go there is required, but you can show up right away. With your booking confirmation in hand, we'll give you the exact details and directions to the shop. Once there, all you have to do is show your booking confirmation and we'll tag and check in your bags.

You're now free to enjoy Rittenhouse Square and Philadelphia without your things!


About Rittenhouse Square
Rittenhouse Square is one of Philadelphia's trendiest neighborhoods. Located in the heart of Center City, and just to the west of Old City, Rittenhouse Square is home to a vibrant eating and shopping scene. The neighborhood also features some of the city's biggest cultural venues, such as the Kimmel Center for the Performing Arts as well as Plays and Players, one of the oldest theater companies in the nation. Rittenhouse Square is actually a park as well as the neighborhood surrounding it in the small town of Center City in Philadelphia, Pennsylvania. Founded in 1683, it was first known as Southwest Square, but was renamed in 1825 to honor David Rittenhouse, who was an astronomer and one of the leaders of the American Revolution.

The park itself was one of five planned by William Penn, a famous politician, writer, and proprietor of the city at the time. You'll find many sculptures in the park, including the Duck Girl by Paul Manship from 1911, a two-foot-tall billy goat of bronze made by Albert Laessle, and the lion and serpent created by Antoine-Louis Barye in 1832. This is a great place to get a selfie with one of the many art pieces in the park.

Surrounding the park is a busy city of retail shops, boutiques, and small markets, as well as restaurants, bistros, and cafés to enjoy. Take a walk along part of the 120-mile Schuylkill River Trail to enjoy the peacefulness of the river and the interesting landscapes. For those who want a little culture, you can find galleries, monuments, and museums to explore and enjoy within the neighborhood.

Fun Fact: President Washington was there to witness the first hot air balloon in the country take off at Washington Square in 1793.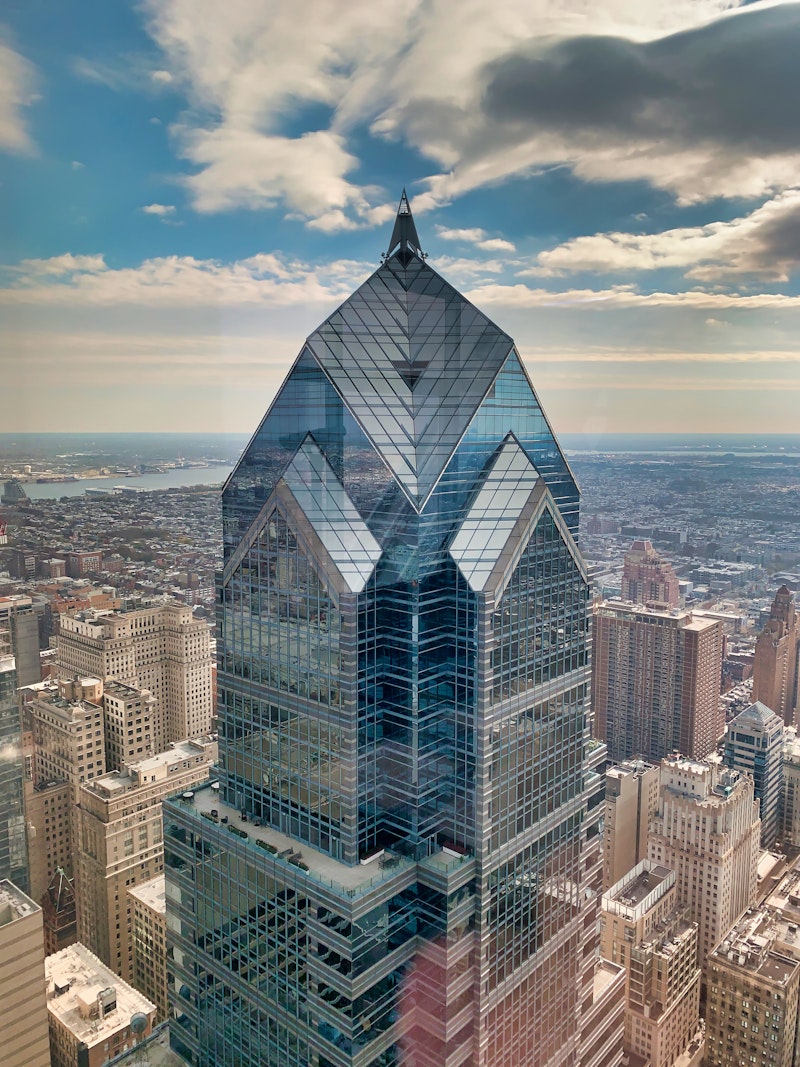 Things to do in Rittenhouse Square
Enjoy a day in the park and spend some time under the trees in Rittenhouse Square

Visit the One Liberty Observation Deck and get a birds eye view of the city

Walk over to Dilworth Park and soak up some sun by the fountains or enjoy the ice skating rink set up during the winter

See what's on stage this season and catch a performance at the Kimmel Center

An aspiring doctor with you? Visit the Mütter Museum to see some medical oddities

Take a selfie with the 45-foot-tall clothespin on Market Street

Check out the Liberty Bell and other landmarks on South 3rd Street at Independence National Historical Park 

Stop by the Museum of the American Revolution at Independence National Historical Park

Visit some animals at the Adventure Aquarium on Riverside Drive
Transit Options
SEPTA: Market-Frankford Line to 15th Street

Regional Rail to Jefferson or Suburban

Trolley Routes: 11, 13, 34, 36

Bus Routes: 2, 4, 5, 7, 9, 12, 16, and more  
Luggage Storage in Rittenhouse Square
It is no fun having to bring your suitcases with you while you are in town, though, so be sure to download our Bounce app. We have locations all over the Philadelphia area where you can leave your things to keep them safe while you enjoy the city. All of our partners are vetted and insured for each booking, so you don't have to worry. Locals can use our app as well if you have bags to store while you head out for the evening. 

Luggage Storage Options Near Rittenhouse Square
From museums to galleries, zoos, and aquariums, you will have no trouble finding something to keep you busy at Rittenhouse Square. For the shoppers who need souvenirs and the partiers who want to play, you can head out for some fun after dropping off your things with one of our Bounce affiliates. 

Luggage Storage Near the Philadelphia Museum of Art

On Benjamin Franklin Parkway, less than 10 minutes from the square, you can find the majestic Philadelphia Museum of Art. You'll see more than 240,000 paintings and other works of art from over 2,000 years if you have enough time to enjoy it all. From the Renaissance, medieval times, and even the ancient world, they have Picasso, van Gogh, and Renoir as well as a Buddhist temple from the 14th century and a collection of suits of armor. The art museum opened in 1876 but moved to its current location in 1928, where it is a group of three Greek temples linked together. One of the oldest and most treasured paintings is the Crucifixion Diptych from 1460 by Rogier van der Weyden. Take your camera out of your suitcase before you drop it off with one of our Bounce partners so you can get some pics to share. 

Luggage Storage Near Sea Life Center Aquarium

You may not want to go to jail while you are in Philadelphia, but visiting the Eastern State Penitentiary is a must-do for historians. Only 10 minutes from the square on Fairmount Avenue, the jail is actually a museum now, but it was used as a prison from 1829 to 1971. See where famous bad guys like Al Capone and "Slick" Willie Sutton were held and get some selfies at the barber shop. Take an audio tour with the provided mp3 player as your guide to learn about the history of the penitentiary and some of the major events. If you want to learn more, get a guided tour to find out about escape attempts, murders, and more behind-the-scenes facts. They even have art exhibits of photos, paintings, and statuary by local and international artists. Just do not bring along your luggage unless you plan on staying because they are not allowed inside the prison. One of our Bounce partners will be happy to hang onto them for you. 

Luggage Storage Near the Philadelphia Zoo

Animal lovers should head over to the Philadelphia Zoo on West Girard Avenue about 13 minutes from Rittenhouse Square. Located on the banks of the Schuylkill River, this historic place was the very first zoo in the United States. It opened in 1874 with 200 animals and now has over 1,300. The 42 acres hold more than just animals, though. You can also enjoy a serene boat ride on the paddle boat lake, take a ride on the carousel, and learn about many of their endangered species. The park has 14 features from the African Plains rhinos and hippos to the birds at the Wings of Asia. While you are there, grab a bite at one of the five eateries and get some souvenirs from one of the gift shops before you leave. But don't bring your bags. Take them to one of our Bounce affiliates nearby.

Other places near Rittenhouse Square
Frequently asked questions
How much does luggage storage cost near Rittenhouse Square?

The price for luggage storage near Rittenhouse Square is just $5.90/bag for the entire day.

Is it safe to store your bags near Rittenhouse Square?

Yes. Every bag is tagged with a security seal and comes with the $10,000 Bounce Guarantee. Every location is required to uphold tight security precautions. You may be asked to show ID and you will be required to use a credit card to book through Bounce in advance. With hundreds of thousands of bags stored, you can count on Bounce to handle your baggage near Rittenhouse Square.

Are there storage lockers near Rittenhouse Square?

Yes, there are storage lockers and many other luggage drop off points in the Rittenhouse Square area. Bounce has multiple luggage storage locations nearby Rittenhouse Square and in the broader Philadelphia area where you can conveniently store your luggage with full security and the $10,000 safekeeping gurantee.

Where are the best hotel accommodations near Rittenhouse Square?

The top-ranked middle to high-range hotels near Rittenhouse Square are The Ritz-Carlton, Philadelphia, Hyatt at The Bellevue, and Alexander Inn. When traveling on a budget, the best hostels near Rittenhouse Square are Hostel.

Where are the best restaurants near Rittenhouse Square?

The most popular restaurants to visit when near Rittenhouse Square are City Tavern, Moshulu, and Vetri.

Where are the best parks and nature attractions near Rittenhouse Square?

Check out the nearby Ridley Creek State Park, Liberty Bell Center, and LOVE Park.

What are the best museums near Rittenhouse Square?

While nearby, you can check out Liberty Bell Center, Elfreth's Alley Museum, and Eastern State Penitentiary.